Music Themed Birthday Party
Table of Contents
A music-themed birthday party is like…well…it's like music to our ears. From the drum cake on a groovy dessert table to the make-your-own musical instrument party favors, this music birthday party theme by Michele from Brave Creative Design (formerly Intrigue Design Studio) is definitely jammin'.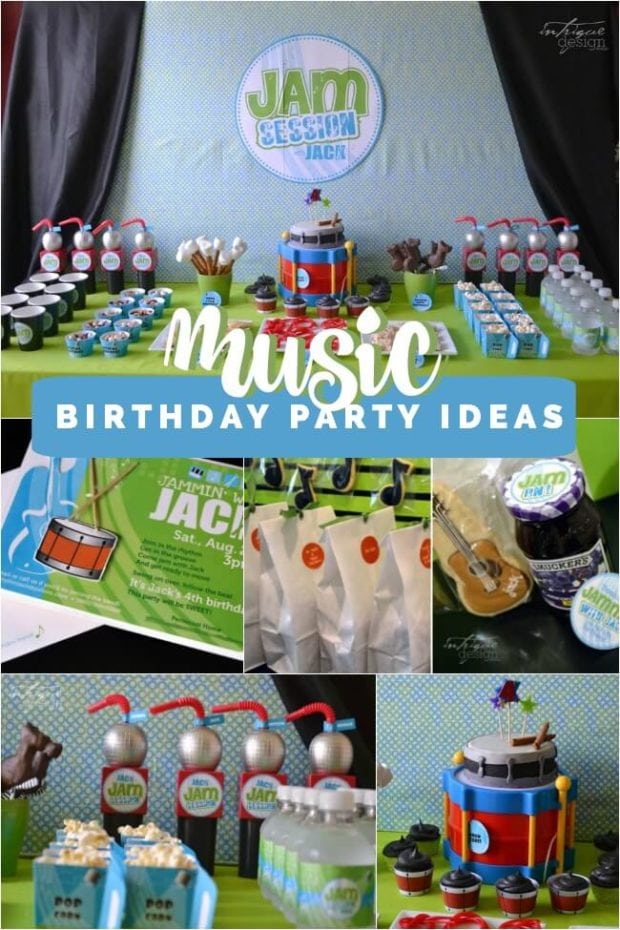 ---
See Also:
---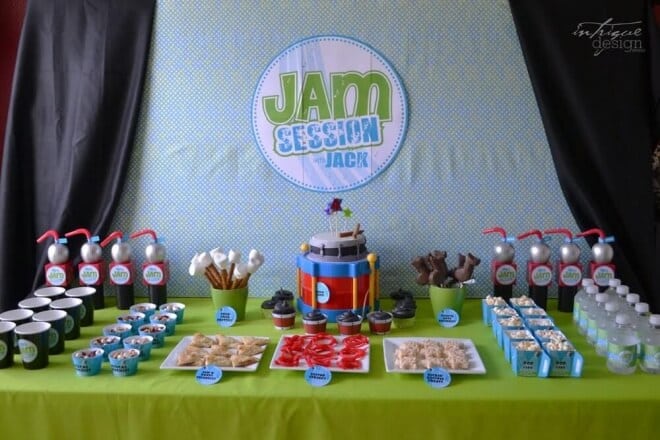 To celebrate her son's fourth birthday, Michele pulled out all the stops! The dessert table sets the stage for the party. Literally, a back curtain frames the table, making it look very much like a music hall stage.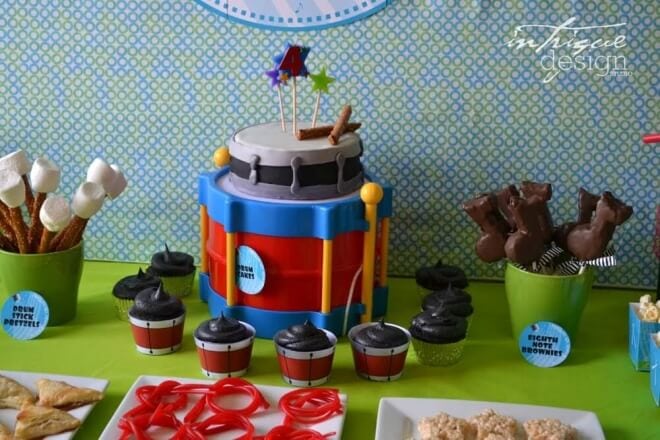 Front and center is the drum cake. The base is an actual toy drum, which gives the cake height and helps it stand out amongst all of the amazing desserts. Circling the drum cake are super cute cupcakes decorated as mini drums.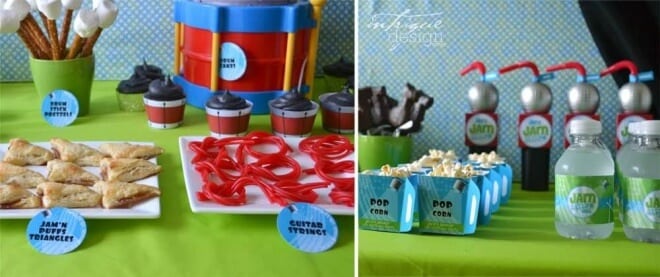 Also on the menu are Musical Munchies (yogurt cranberries and nuts mix), Jam 'n Triangles, Guitar Strings (Twizzlers), Kickin' Krispie Treats, POPcorn, Drum Stick Pretzels, and Eighth Note Brownie (pops), bottled water and a super-special Jazzy Juice (lime sherbet with ginger ale).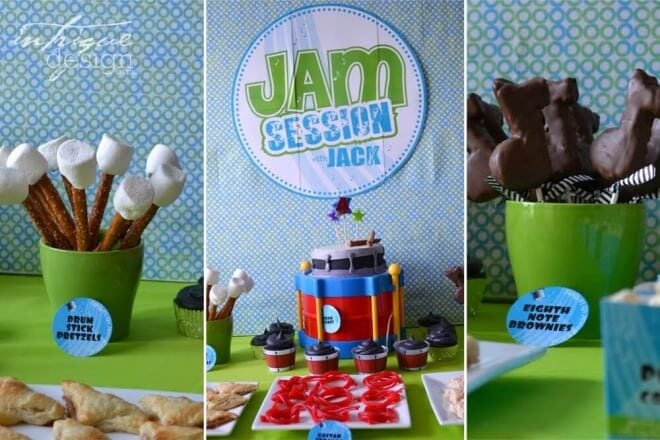 Guests were excited to take home those personalized microphone cups, too!
One of my favorite party decoration ideas is the awesome personalized printables with a fun Jammin' with Jack logo made with funky fonts and a lime green and blue color scheme.
The design is carried throughout the party from the party invitations to the dessert station to the gift and party favor tables.
Guests had a great time using paper plates, cardboard containers, tape, and markers to make their very own bongo drum, tambourine, or shaker. Subsequently, the instruments were used for a couple of lively (and noisy!) games.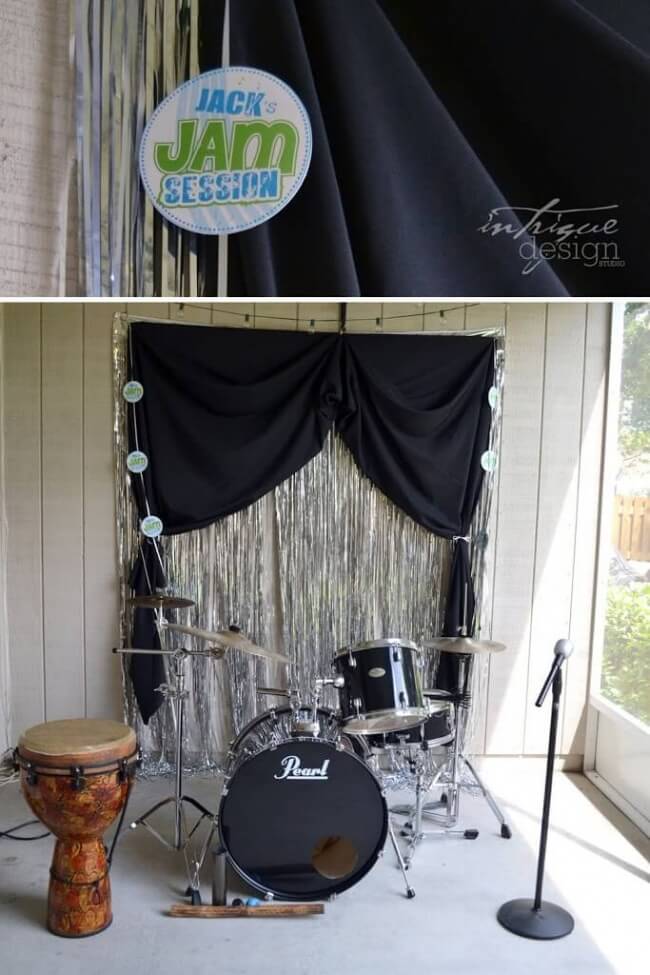 In addition to the microphone cups and jammin' instruments, guests went home with musical note cookies and a personalized bag of surprises.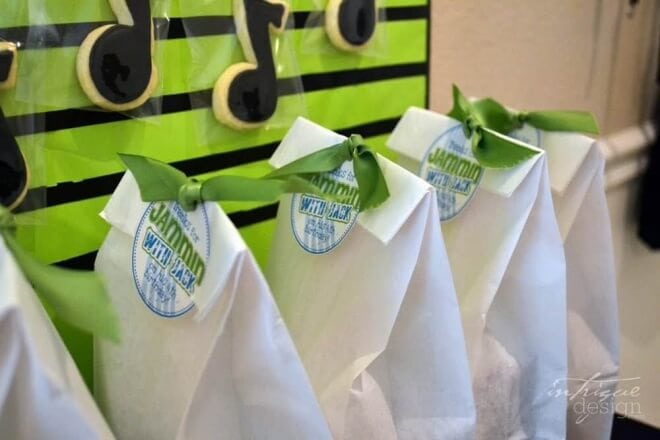 Adults were gifted with their own special guitar-shaped cookie from Bees Knees Creative and a jar of jam.
If you ask me, a music-themed party is sure to create harmonious birthday memories for any little mover and shaker.
Be sure to check out more awesome girl or boy birthday party ideas here: