Cinnamon Roll Monkey Bread Recipe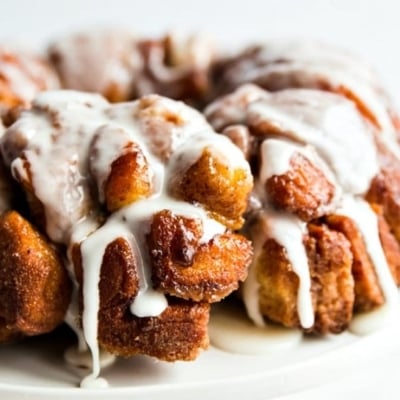 This incredible, easy and delicious homemade cinnamon roll monkey bread.
Jump to Recipe
Table of Contents
Two of my all time favorite easy breakfast recipes have to be cinnamon rolls and monkey bread. So this cinnamon roll monkey bread recipe was a no brainer for me.
With only 5 ingredients, this recipe couldn't be easier. Using prepared large cinnamon rolls, instead of grands biscuits, makes this version of traditional monkey bread so simple. Even better — if you want to add frosting, you can literally just use the premade frosting that comes with the cinnamon rolls.
If you're looking for another great recipe idea, make sure you try our orange monkey bread. It's another fantastic take on the classic monkey bread recipe. For another great breakfast option, check out our sausage breakfast casserole.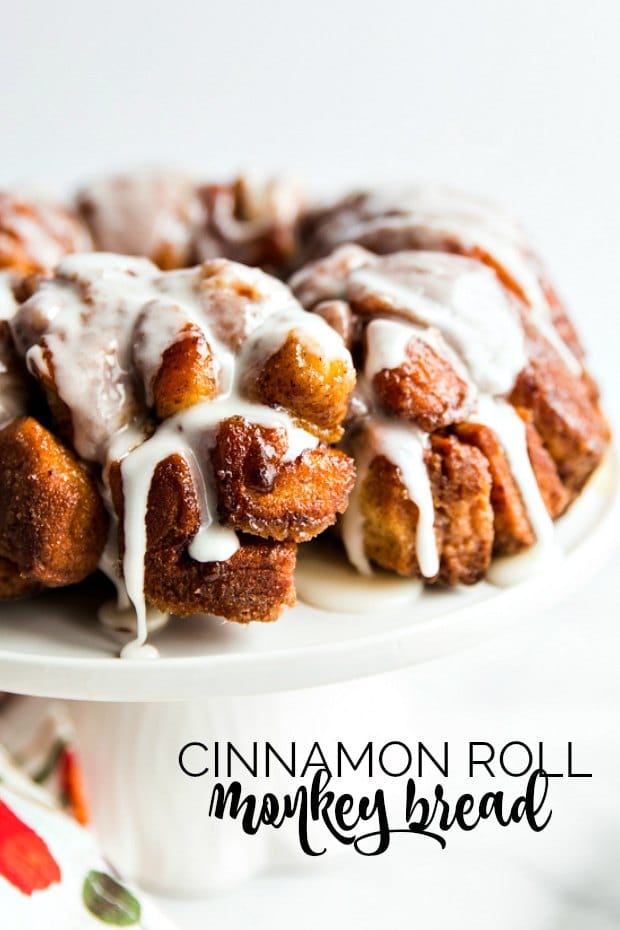 Cinnamon Roll Monkey Bread:
My whole family goes crazy when I make monkey bread. This gooey, pull apart breakfast is definitely a favorite in our house. Perhaps, second behind banana pudding.
There was a time when I didn't think monkey bread could get any better. But the idea to make it cinnamon roll style seemed like a genius combination of two delicious breakfast sweets (try our copycat Cinnabon cinnamon rolls, too!) .
Baking the monkey bread is really easy. The way that the monkey bread gets it's pull apart texture is by cutting the dough and rolling it into balls. When you put the cinnamon roll pieces together in a pan they bake into one another but they don't completely combine, which makes it easy to pull apart when enjoying.

Cinnamon Roll Monkey Bread Ingredients You Will Need
2 (8 ounce) cans of prepared large cinnamon rolls
1 cup of white sugar
1 TBSP of cinnamon
½ cup butter (melted)
¼ cup brown sugar

How to Make Cinnamon Roll Monkey Bread
First, you'll want to preheat the oven to 400 degrees so that it's ready to go when you finish putting everything together.
Next, in a medium bowl, mix together the sugar and cinnamon.Take the prepared cinnamon roll dough out of it's package and cut each of the cinnamon rolls into 4 pieces and then roll each of the pieces into a ball.
As you cut up the cinnamon rolls, mix them in the cinnamon sugar mixture and then add them to a bundt pan.
After you've cut up all of the cinnamon rolls, coated them the cinnamon sugar and added them to the bundt pan you are ready to mix the melted butter and brown sugar in with the cinnamon and sugar.
Mix them together well. You will create a sort of caramel looking sauce. Immediately pour this mixture over the dough balls in the bundt pan. Then, bake the bread and sauce in the bundt pan for about 20 minutes. When finished, let it cool for about 10-15 minutes.
When the monkey bread has finished baking you will flip the bundt pan upside down on a plate to remove it from the pan. Be sure the monkey bread is still warm when flipping but not hot.
In addition, make sure when flipping that you place it onto the plate you will serve it on. It's not easily transferred to a new plate. I like to serve my monkey bread on a platter and I find it's easier for people to remove a portion of monkey bread if they use fork.
Microwave icing provided in the prepared cinnamon rolls for about 10-15 seconds to liquefy it slightly. Pour the melted icing over the top of the monkey bread. But by slightly melting the icing you will create the dripping look on the cake. I think it makes for a really nice presentation.
The bread is sweet on it's own, so icing isn't completely necessary. But, if you're like me, and you love icing… you can't help but add it! It's so delicious and it comes with the prepared cinnamon rolls anyway (try our yummy crescent roll cinnamon rolls, too!) (try our yummy Gorilla Bread, too!)! You can always keep the icing on the side and dip it too.
This is a go to recipe when we have a family breakfast planned. It's easy and delicious and combines two of my all time favorite breakfast items. I can't wait for you to try it out in your home!
More Recipes You Will Love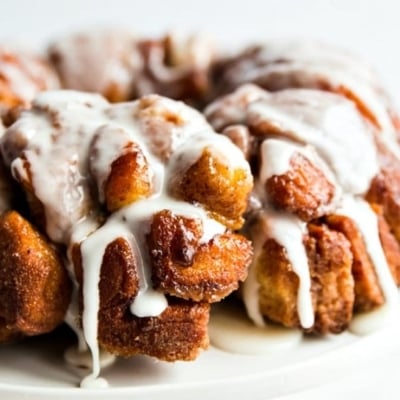 Cinnamon Roll Monkey Bread
This incredible, easy and delicious homemade cinnamon roll monkey bread.
Ingredients
2

8 ounce

cans of prepared large cinnamon rolls

1

cup

of white sugar

1

TBSP

of cinnamon

1/2

cup

butter

melted

1/4

cup

brown sugar
Instructions
Preheat your oven to 400 degrees.

Take the cinnamon roll dough and cut each roll into quarters.

In a medium bowl, mix together cinnamon and sugar and then toss the cinnamon roll dough quarters in the bowl.

Once well coated, add them to the bundt pan.

Melt butter and brown sugar together, then pour over the dough inside the bundt pan.

Bake for 20 minutes, then let cool for 10-15 minutes. Once it's warm, no longer hot, you can flip the cinnamon roll monkey bread onto a plate from the bundt pan.
Nutrition