Party Food
Best Ever Cold Crab Dip
By |
This simple, homemade cold crab dip will leave your mouthwatering with it's fresh and delicious flavor!
If you've been following along the last few days, you'll know I've partnered with Princess Cruises to share memories from — and recipes inspired by — the trip Mike and I recently took to Alaska.
It was the trip of a lifetime and a vacation that we've wanted to go on together for a long, long time.
This homemade crab dip was one of those inspired by recipes. More on that in a moment.
---
See More
---
An Alaskan cruise was actually Mike's first choice for traveling — a definite bucket list kind of trip that he was over the moon about getting take.
Every facet of the cruise was pure magic.
We had so much doing the recursions and the incredible dining. You guys… the food! It was so delicious.
Some of my favorite moments though were the quiet moments we enjoyed together.
Let me give you a peek into our life.
Mike and I have been together for over a dozen years. Our life has changed a lot in those years. For a long time, Mike did shift work which meant we didn't have a lot of time together. I was a workaholic working for a PR agency. We've gone through a lot of life together.
Our lives turned upside down when we became parents to our beloved little guy, Sam. He's almost 9 now — where does the time go!?
We moved two years ago. After years of living in a town we weren't crazy about, we now love the community we're part of. We live close to family, near a beach, with a school that is just the right fit for Sam. Mike doesn't live on a shift work schedule anymore and I'm self employed creating content that I'm passionate about. I love where our life is at now. It's so full of good things.
There are lots of moving parts to our schedule to make this life we love happen — which means sometimes we just need to be able to slow down and regroup. We all need to decompress and recharge from time to time.
So when the chance came to do the Alaska cruise… I jumped at it like white on rice.
Like I said: the events were amazing. But it was those quiet moments that replenished me.
One of my favorite moments of the trip came early one morning.
We were in Glacier Bay. It's a trip to the "Ice Ages." It's a national park and completely awe inspiring.
Not only was it visually stunning, you could hear the ice moving… it was such a unique experience, unlike anything else I've witnessed.
The ice is amazing, but so is the wildlife. You can spot often animals like humpback whales and puffins as you glide along the passage.
It was mind blowing to be sitting in our room, looking out our balcony and see this natural phenomenon before us.
On this particular morning, I was watching Glacier Bay outside, taking in all the sights and while eating breakfast on our balcony.
Which side note: is there any better way to eat breakfast than having it delivered to your room? I think not.
I had crab for breakfast along with the most delicious smoked salmon and quiche.
What an amazing way to start the day.
As we sat and ate, I relished in the peace of the moment.
It was one of those times when you are able to reflect through all the stages that you've walked through and can appreciate where you've arrived.
After we ate, Mike and I were able to sit and drink our coffee while talking about our upcoming day.
Compared to the hustle and bustle of our normal days, it was nice to just sit together. It's so rare that we're able to do that.
After returning home, I've thought of that quiet moment on our balcony enjoying breakfast several times. I'll admit, the delicious crab I ate for breakfast has danced around my head quite a bit too. It was very delicious.
With that crab for inspiration, the team here at Spaceships and Laser Beams and I came up with this crab dip recipe.
Let me tell you, it's easy, delicious and quick. You're going to love this cold crab dip!
You could serve this recipe a number of ways: it's the perfect appetizer for guests, you can make it spicy, or you could make it a hot crab dip by serving it baked.
I have a friend who always makes a crab dip and keeps it warm in her crockpot for parties, which I think is genius.
Any way you make it, it's going to be yummy.
Crab Dip Ingredients
It only takes a few items to make this special treat. You'll need:
cream cheese
Greek yogurt
crab meat
lemon juice
Old Bay seasoning
cayenne pepper
green onion
I love that it's made with cream cheese. You could also add in other items as well like artichoke or spinach. You could make it Buffalo style.
I like this Cajun style version because it reminds me of some of our meals on the ship.
How to Make Crab Dip
My spin on this classic recipe couldn't be simpler, I think you'll be pleased.
In a medium bowl, combine cream cheese, greek yogurt, and lemon juice. Mix until smooth.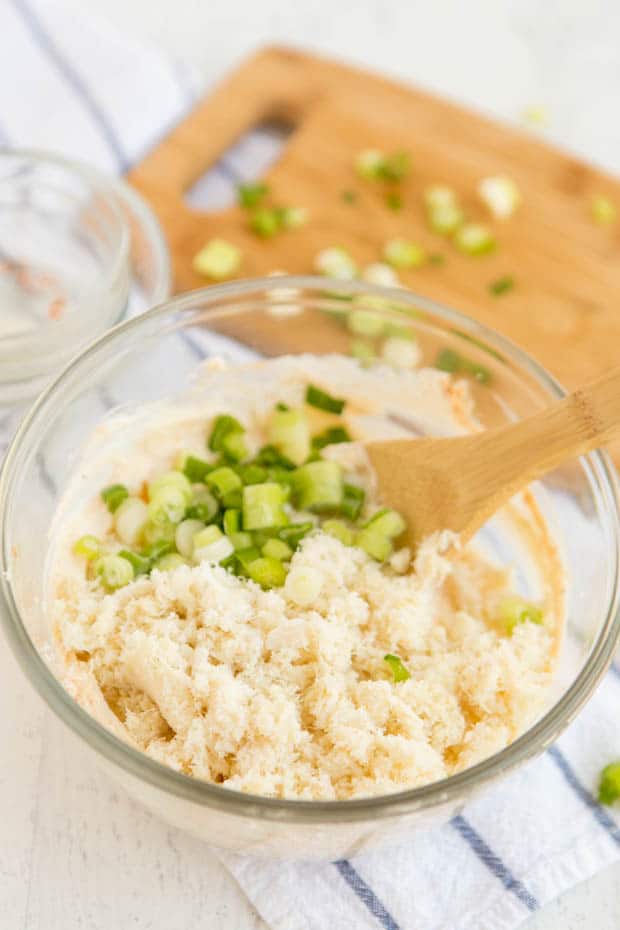 Add crab and seasonings mix until everything is evenly incorporated and serve with crackers or your favorite veggies.
It's that simple.
Each time I eat crab dip, I'm reminded of the delicious food we enjoyed on vacation together. And of our quiet moments on our balcony.
I hope you enjoy this crab dip recipe soon as well.
Crab Dip
This simple, delicious crab dip is an appetizer recipe you'll enjoy!
Ingredients
8

ounces

cream cheese

whipped

1/4

cup

Greek yogurt

12

ounces

crab meat

rinsed and drained to remove moisture

3

tsp

lemon juice

1

tsp

old bay seasoning

1/4

tsp

cayenne pepper

2

TBSP

green onion
Instructions
In a medium bowl, combine cream cheese, greek yogurt, and lemon juice. Mix until smooth.

Add crab and seasonings mix until everything is evenly incorporated and serve with crackers or your favorite veggies!
Nutrition Facts
Crab Dip
Amount Per Serving
Calories 90
* Percent Daily Values are based on a 2000 calorie diet.