We absolutely love this homemade apple cinnamon granola recipe. It's so versatile! Whether you like it chewy or crunchy this homemade granola can be adapted to your specific taste.
Not to mention that granola is super simple to make and can be transported easily. Simple is a good thing.
Apple Cinnamon Homemade Granola
The granola takes care of those between-meal hunger pains and keeps you fueled for these busy days.
No matter how you eat your homemade granola, it's going to be delicious. Make up a large batch, stick it in some tupperware and carry it around in your handbag or put it in your kids backpacks for when hunger strikes! This healthy snack is bound to keep you all fueled on your busy days.
Ingredients Needed To Make This Granola
To make this granola, you will need the following ingredients:
2 ½ cups of rolled oats

½ cup of chopped walnuts

1 tablespoon of cinnamon

A pinch of salt

1 cup of cinnamon applesauce

¼ cup of melted butter

¼ cup of raw sugar

1 teaspoon of vanilla
With less than 10 ingredients in this granola recipe, it's the perfect thing to cook up with your kids. It's so easy to make from scratch! I'm thrilled to be able to share it today. This is a sponsored conversation written by me on behalf of Santa Cruz Organic.
For this Cinnamon Apple Granola, I used Santa Cruz Organic Cinnamon Applesauce. They use USDA certified organic apples with spices and organic fruits to create flavorful fruit sauces—with no added sugar.
How to Bake Granola
Baking this granola recipe from scratch could not be more simple. There's no excuse not to make granola from scratch when it only requires two steps.
First, you combine all of the ingredients in a bowl and mix well.
Then you evenly spread on a baking sheet and bake at 350. Bake for 45-50 minutes for a chewy granola or 50-60 minutes for a crunchier granola. Make sure you stir it every 10-15 minutes while baking.
Simple? Yes. Sweet!
What to Serve with Granola
There are so many things you could pair with this apple cinnamon granola recipe. Granola is one of the most versatile things you could whip up. Here are some ideas to help you construct some healthy snacks to go along with your DIY granola.
One of the most common and delicious things to do with granola is add plenty of fruit and yogurt to it. Plain natural yoghurt and berries are the best match in my opinion.
Another good addition to baked granola is sweet cooked fruit. Adding baked apples to your cinnamon apple granola will be like taking little bites of heaven! The softness of the cooked apple and the crunchiness of the baked granola are made for one another.
If you want to do something a little more unique with your granola, you could bake it into bread or muffins. Small crunchy pockets inside a soft loaf of bread or muffin just add that little something extra and make snack times more exciting. This apple cinnamon streusel muffins recipe is the perfect for this – so yummy. You can also do the same with this french toast casserole.
I'm a fan of oatmeal… But it can get a bit plain sometimes. Recently, I've been putting this homemade granola with my oatmeal and it's given something so classic an entirely new lease of life! Who would have thought that two different kind of oats in one bowl would taste so good!
Other things you could do with your homemade cinnamon apple granola are:
Roll bananas in the granola and freeze them for a delicious snack on a hot day

Add it to your salads

Put a handful of granola in your smoothies

Eat it as it comes with the addition of some nuts, seeds and dried fruit. You could try sunflower seeds, almonds, raisins, craisins, pecans, m&m's, cashews, dried apricots, dried apples, dried pineapple.
More Apple Recipes You Will Love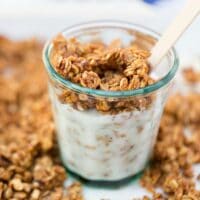 Apple Cinnamon Homemade Granola
This simple, homemade granola recipe is bursting with flavors of apples and cinnamon -- so delicious!
Print
Pin
Rate
Total Time:
1
hour
5
minutes
Ingredients
2 ½

cups

rolled oats

½

cup

chopped walnuts

1

tablespoon

cinnamon

pinch

of salt

1

cup

Santa Cruz Organic Cinnamon Apple Sauce

¼

cup

melted butter

¼

cup

raw sugar

1

teaspoon

vanilla
Instructions
Combine all ingredients in a bowl and mix well.

Evenly spread on a baking sheet and bake at 350 for 45-50 minutes for a chewier granola and 50-60 minutes for a crunchier granola. Stir every 10-15 minutes while baking.
Nutrition