This simple blackberry cobbler recipe came from my grandmother -- and it's oh-so-good!
Jump to Recipe
Table of Contents
This easy blackberry cobbler recipe comes straight from my grandmother. It's a simple fruit cobbler to prepare because it uses cake mix. Fresh, juicy blackberries make this classic shine but if you don't have them, frozen or canned blackberries work too.
Check out our blackberry pie bars for more blackberry recipe ideas as well as our blueberry cobbler version of this recipe.
BLACKBERRY COBBLER INGREDIENTS
You will need:
1 box of yellow cake mix
6 cups of blackberries (4-5 cups if they are large berries)
1-2 tablespoons sugar
1 stick butter (½ cup, 113 grams)
1 cup of water
SUBSTITUTIONS AND ADDITIONS
CRUST: You can use regular pie crust strips if you don't have a yellow cake mix. It does change the taste and texture, but it is still delicious.
CANNED BERRIES: I don't always have the luxury of fresh berries in my refrigerator (or totally carefree days to visit the blackberry patch!), but canned blackberries from the pantry make a fine substitution in this great dessert.
PRO TIP: Cleaning fresh blackberries is easy. Much easier than cleaning some other fresh fruits. Pour the fresh juicy berries into a colander. Discard any errant leaves or stems. Set the colander in the sink and run water over the berries. Leave it there to drain while you begin the recipe.
HOW TO MAKE THIS EASY BLACKBERRY COBBLER RECIPE
STEP ONE: To make this blackberry cobbler, pull out a 9 x 13-inch baking pan or casserole dish and pour in a full box of a yellow cake mix. Don't add water or eggs. Just the dry cake mix.
STEP TWO: Spread blackberries evenly over the cake mix.
STEP THREE: For sure you've tasted a berry or two by now. Depending on how sweet they are, sprinkle one or two tablespoons of sugar over the top of the blackberries.
STEP FOUR: Evenly pour one cup of water over everything. Jiggle the baking dish a little so the water kind of soaks in and settles to the bottom of the dish. If the berries aren't very juicy, you'll want to add a little more water.
PRO TIP: If you're using canned berries, reserve the water they're packed in and use a cup of it instead of the plain water. Unless you don't want the crust to be purple, of course.
STEP FIVE: Dot the top of the blackberry filling with a stick of butter cut into eight pieces.
STEP SIX: Bake at 350°F for 35 to 40 minutes until the top is golden brown.
STEP SEVEN: Slice and serve warm. A scoop of vanilla ice cream and whipped cream on top of the baked fruit dish is optional, but hey—we're making memories here!
HOW TO SERVE
This scrumptious dessert is the ultimate easy dessert to make for summer gatherings. Make sure to have some ice cream on hand to serve it a la mode to cool you down on a hot summer day. The tart blackberries create the perfect mixture with a golden crust. Wash it all down with our refreshing iced tea, raspberry iced tea, sweet peach iced tea, or our southern strawberry sweet tea on the side.
STORAGE
IN THE FRIDGE: The cobbler can be stored covered in plastic wrap in the fridge for 3 to 4 days.
IN THE FREEZER: If you are planning to freeze the cobbler, it is best to do so before baking. Make the recipe right up to the step before you add the pieces of butter, cover with foil and freeze. Thaw in the refrigerator overnight, top with butter and bake.
This dessert will also make you remember carefree summer days when finding juicy ripe berries on the blackberry bushes felt like discovering buried treasure. There's nothing like a bite of warm homemade blackberry cobbler with a yummy buttery crust, fresh from the oven, to right the wrongs of the world.
FAQ
Can I use frozen blackberries to make blackberry cobbler?
You can use frozen blackberries in this blackberry dessert instead of fresh fruit. Just let the frozen fruit thaw a bit and then toss them into your recipe.
Do I make the cake batter according to the box directions first?
Don't make the mix according to the box directions. Just pour the dry cake mix right into your dish.

Can I freeze this easy blackberry cobbler dessert?
We would suggest if you are planning to freeze this simple recipe to use later, do so without adding the butter on top. Place the cut-up pieces of butter right before you are ready to bake it.
MORE RECIPES YOU'LL LOVE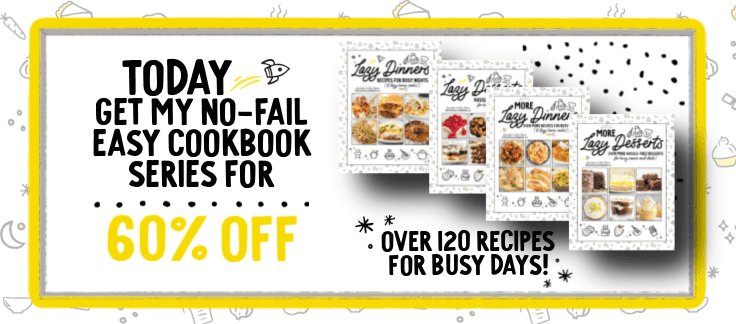 Blackberry Cobbler Recipe
This simple blackberry cobbler recipe came from my grandmother — and it's oh-so-good!
Ingredients
1

box

yellow cake mix

6

cups

blackberries

4 to 5 cups if they are large berries

1 to 2

tablespoons

sugar

1

stick

butter

1

cup

water
Instructions
In the bottom of a 9×13 baking dish, pour one box of yellow cake mix.

Spread blackberries over the top of the cake mix.

Sprinkle on 1 to 2 tablespoons of sugar (depending upon how sweet they are).

Pour 1 cup of water over the top of the berries and cake mix then shake the pan so water settles into the bottom. If berries aren't very juicy, add a little more water. If they are plump, a little less.

Cut a stick of butter into 8 pieces and spread out over the top.

Bake at 350 for 35 to 40 minutes.
Notes
Note: The amount of sugar and water needed in this recipe can vary, depending on the berries. Before you start, taste the berries for juicy sweetness. Adjust sugar and water accordingly. Also, it is important to pour the water over the top and shake the pan. You want the berries and water to really settle into the pan!
Nutrition
Sodium:
459
mg
|
Calcium:
138
mg
|
Vitamin C:
18
mg
|
Vitamin A:
467
IU
|
Sugar:
28
g
|
Fiber:
5
g
|
Potassium:
167
mg
|
Cholesterol:
24
mg
|
Calories:
313
kcal
|
Trans Fat:
1
g
|
Saturated Fat:
7
g
|
Fat:
11
g
|
Protein:
3
g
|
Carbohydrates:
52
g
|
Iron:
2
mg