9 Footprint Crafts Kids Will Think Are Cool
Table of Contents
Sometimes finding crafts that our kids will like to do can be hard but these footprint crafts are a cool and popular choice. Any excuse to pull out the paint is welcomed–and young ones get to dip their feet in the paint with this one. These cool crafts include all sorts of things that start out in the shape of a foot: a car, a monster, a dinosaur, a rocket, a penguin, a koala, a tractor, or even a fleet of construction vehicles. Yup. Painted feet are happy feet!
---
See Also:
VROOM! VROOM!! Kids love cars and getting messy. Grab your paints and paper and of course, little feet, and start creating a race car masterpiece. Use your favorite color and a foot to create the base of your car. Once it dries, add construction paper to create wheels, draw or paint some flames, and don't forget your race car stripes.
What little one doesn't love dinosaurs? Create an adorable dinosaur-themed keepsake with your kids with this dinosaur footprint craft. Two feet dipped in green paint and printed together on paper look just like a dinosaur's head. Then all you have to do is add some sweet little details. Create some jagged tyrannosaurus rex teeth and add a googly eye to complete it. This would be a fun weekend art project or birthday party activity.
3. Footprint Penguin
Transform your kids' footprints into the most loveable winter animal – the penguin! Simply make a print of your child's foot with black paint, and then add the necessary adorable details to make it look like a little penguin. Some black marker wings, washi tape scarf, and google eyes finish it off. If you wanted to you could even add some orange construction paper feet so he can waddle around.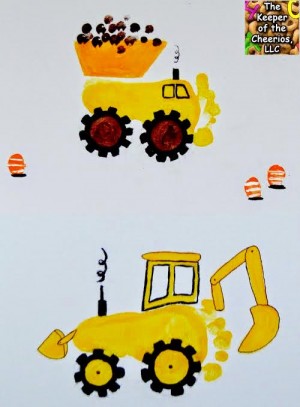 We are pretty sure that at some point or another most kids have wondered about being a construction worker. Make this construction-themed footprint craft with your kids for a sweet keepsake you will have for years to come. You can turn a yellow footprint into different construction trucks with these easy tutorials.
Use your little one's footprint and fingerprints to make this super cute tractor craft complete with three little chickens. Trace circular items from around the house to create the tractor tires, paint some solid green grass, and add adorable details like the "Little Deere" logo on the side of the tractor. This craft would be great framed and hung up in your child's bedroom.
6. Monster Footprint Craft
This footprint project makes the perfect craft for Halloween time or right after reading an adorable monster storybook. Turn your child's painted footprint into an adorably scary monster with paint, a sharpie, and buttons. Let your children's imaginations run wild and let them create any monster they dream up. This is a super fun project for kids and adults alike, and googly eyes are always a fun addition.
Travel far into outer space with this really cool footprint rocket craft. The starry sky background is made using a clever spray bottle technique, then a white or red paint footprint is transformed into an adorable rocket ship. Fiery flames are a must, and the addition of cut-out pictures of your kid's faces takes this craft to the next level.

8. Puppy Foot Print Craft
Kids love puppies and puppies love them. Create a puppy footprint craft that will not only be a perfect keepsake but will actually get kids excited to make it. Grab some brown, black, or even white paint to create your puppy's body. Your toes will create the feet. Add a tail, some ears, and a face. Add spots, stripes, patches, etc. to personalize your pup, and don't forget to give him a name.
9. Footprint Koala
Create your own koala keepsake using grey, white, and pink paint and your child's footprint. You can easily transform a grey print into the cutest koala bear by adding a sweet face and giant ears to the heel, and paws to the rest of the footprint. This little guy would be so cute hung up in a baby's nursery or children's room!
Keep kids busy with more fun craft ideas: