8 Fireman Birthday Party Cake & Cupcake Ideas
Table of Contents
Let's focus on that little one's birthday party favorite theme: firemen, firefighters, and fire trucks. Today the spotlight is on fireman cakes, cupcakes, treats, and a few themed food inspirations, too. Enjoy looking at these dessert tables while you imagine your next party — they're hot stuff. Later this week we will show you more ideas, including decorations and favors, and more.
---
See Also:
---

This fireman sheet cake features a fire truck and miniature boots, a hat, a fire hydrant, and a dog. There's also a clever collection of individual cupcakes, which looks like a fire truck being driven by a Dalmatian fire chief.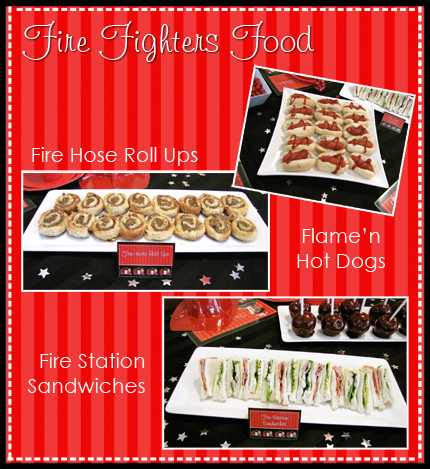 The party menu included: Fire Hose Roll-Ups (sausage rolls), Flame 'n Hot Dogs, Fire Bomb Jelly (Jello), Fire Extinguishers Party Drink, red toffee apples, raspberry/lemonade lollypops and a red birthday cake with red stripes (some recipes are included). A fun aside, guests were asked to wear red for the party.
Mini Dalmatians sit on mounds of red, swirled frosting on top of cupcakes in black and white polka-dotted wrappers. There are also two cakes; each of them is darling.

If you're looking for themed monikers for your food, this party provides inspiration. Discover Ladder High Whoopee Pies; Smoke and Soot Oreo Truffles; Dalmatian Dot Chocolate Macarons; Great Balls of Fire (gum balls and jawbreakers); and Crazy Fire Caramel Apples.
Fire flames and a water hose top this celebratory cake.
These "buckets" are an especially cute idea. The fire truck birthday cake is a simple white round, with fire trucks circling the sides.

7. Fire Truck Birthday Party
Here's some inspiration for a party perfect for a little firefighter who loves fire trucks.
Cute cookies with a fire hose image and sprinkles of water are unique.
Check out more great birthday party ideas: