23 Magical Knights and Dragons Party Ideas
Table of Contents
Hear Ye. Hear Ye. The 23 most magical knights and dragons party ideas in all the land have been collected
Read on for inspiration on making party supplies and decorations, a knight party tunic, jousting lance and amazing coat of arms party favors!
Try your hand at a knight-inspired catapult party game before eating dragon fire balls and other cool party food. A knights and dragons party is royally fun.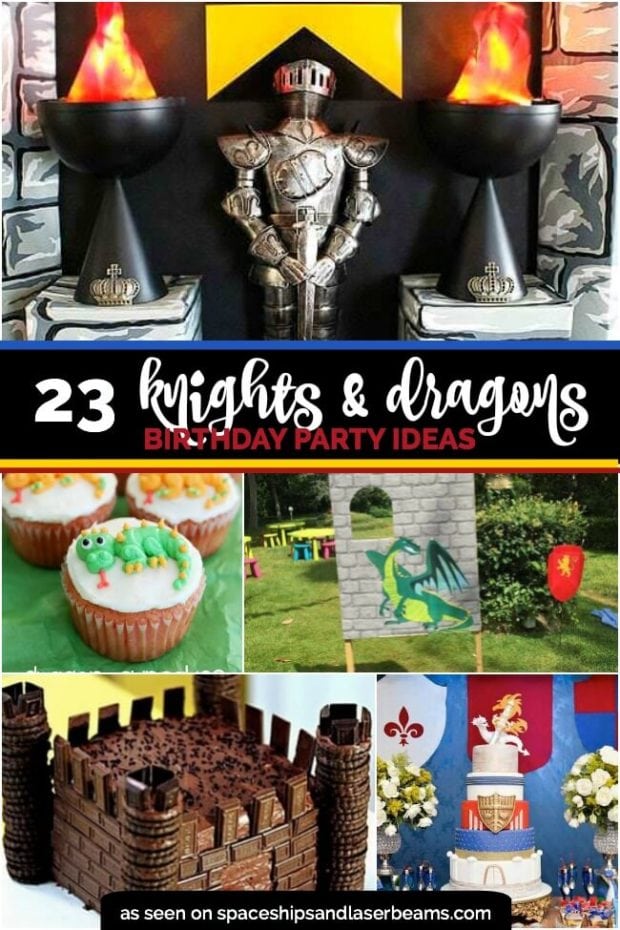 ---
See Also
---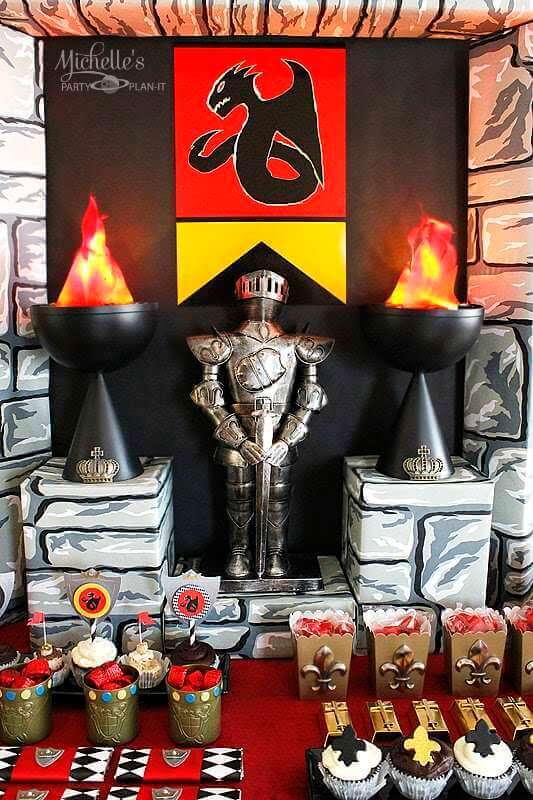 1. Knights and Dragons Party
From Michelle's Party Plan-It, as seen on Spaceships and Laser Beams
Take the age-old theme of knights and dragons and bring it right into the 21st century with the brilliant food and décor ideas from this boy's birthday party.
A formidable knight is stationed in front of stone castle walls flanked with flaming torches and boldly colored dragon banners.
Fleur-de-lis topped cupcakes add to the fierce and graphic feel of the décor, and the addition of a sweet stuffed dragon is a friendly welcome. The royal dessert table is ready.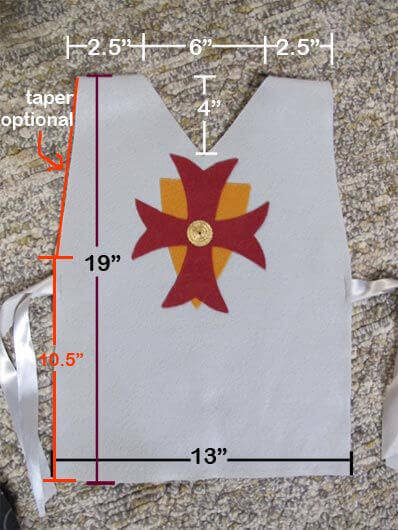 2. DIY Knight Party Tunic
From Avery Boo Arts
Every brave knight deserves to have great gear. Create a no-sew DIY knight tunic with ease just using a bolt of felt, ribbon and your glue gun. Head to the fabric store for a bit of gray felt to mimic shiny armour. Grab a few pieces of red and gold for the emblem. Cut your felt to the measurements included in this tutorial and attach ribbon to the sides to secure.
Have your noble knight grab his tunic, spear and head out on a journey to fight dragons.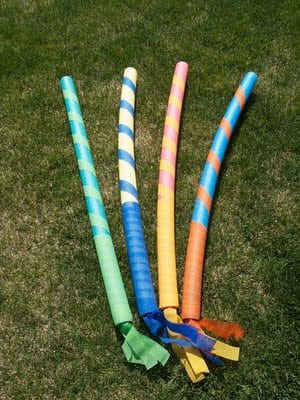 3. DIY Jousting Lance
From Heather Sitarzewski
Every royal knight needs a shield of armour to protect them from fiery dragon breath and enemy's swords. Make your little knight and his party guests their very own tunic with this simple DIY tutorial!
Using felt means you don't even have to sew, so this project is super easy and takes no time at all. You can also make an easy paper pattern by following the measurements on the photos.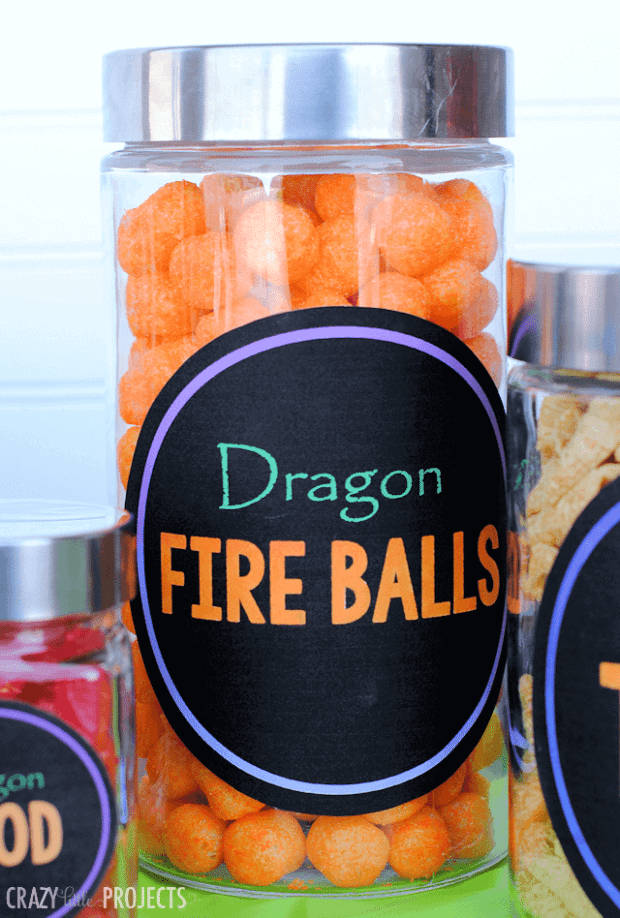 4. Dragon Fire Balls
Every magical medieval kingdom had a dragon terrorizing the knights and townspeople. Turn their fiery breath into a delicious snack with this awesome idea for Dragon Fire Balls.
Simple throw some cheese puff balls into a glass jar, add a cute label, and you have a super fun treat for your party guests. This easy snack is huge hit with kids and an easy treat that requires next to no prep.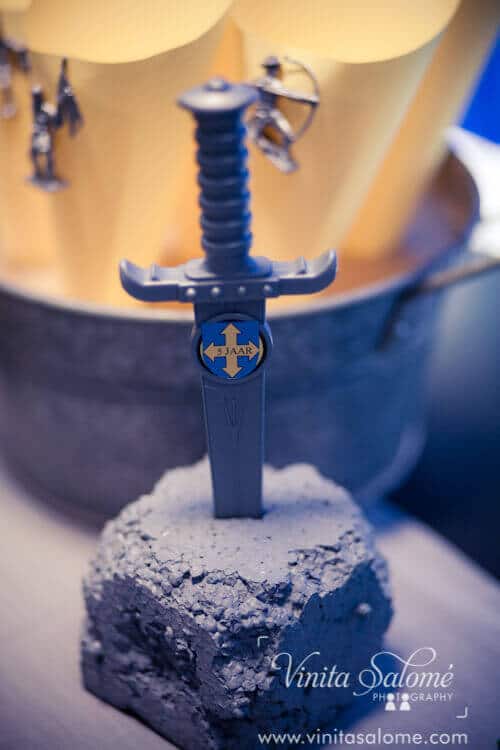 5. Sword in the Stone Party Decoration
From Vinita Salome Photography
One of our favorite fairy tales is The Sword in the Stone. The magical challenge of pulling the sword is a necessary feat for any medieval knight. Use the classic tale to draw inspiration for your dragons and knights party décor.
A plastic sword from the dollar store and a painted chunk of foam from a recent package make the perfect addition to a dessert table or center piece.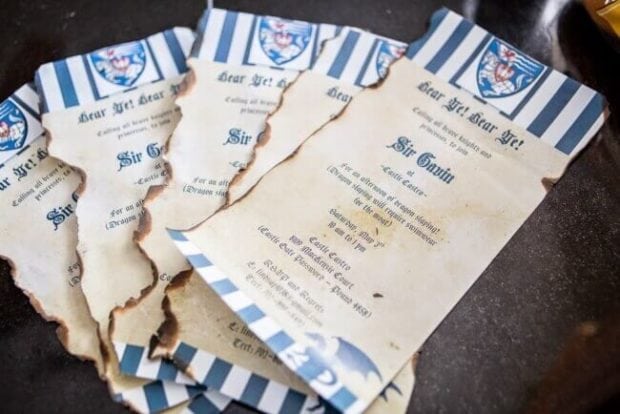 6. Royal Scroll Party Invitations
From Parties by Paris, as seen on Spaceships and Laser Beams
Set the tone for your epic dragons and knights birthday party with these gorgeous royal scroll party invitations. Use free downloadable clip art, medieval looking text, and some clever wording to create your personalized invitations then print onto faux distressed paper.
Roll each invitation into a scroll then singe the ends over a candle flame to give them a real authentic look. Any extras also make great party décor.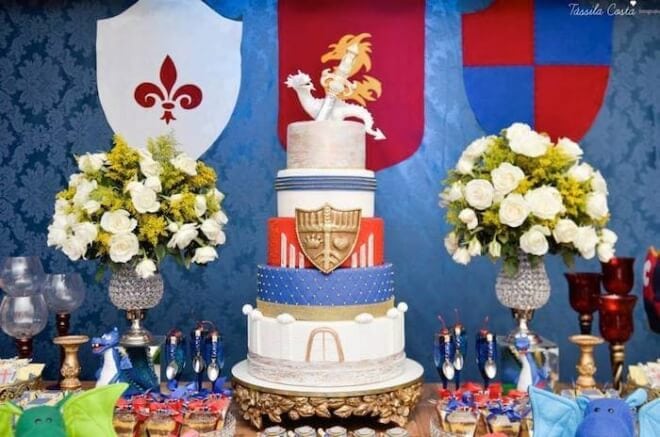 7. Knight Cake
From Coisas da Nika, as seen on Kara's Party Ideas
Your birthday boy or girl will truly feel like royalty with a cake as magnificent as this. The fabulous cake five layers of medieval decorated cake, including a drawbridge castle and textures made for a king.
The very top layer is stabbed with a knight's sword and the front is completed with a beautiful fondant shield. This cake is the star of the show.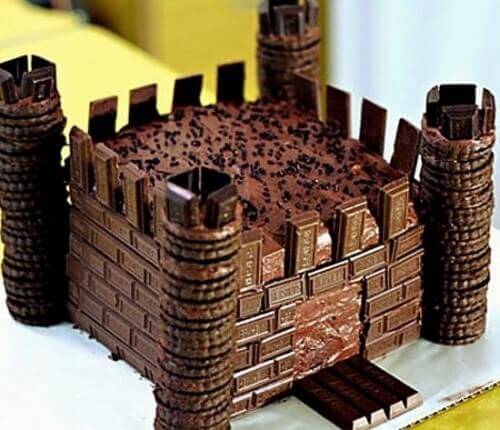 8. Chocolate Castle Cake
From DecoPeques
With a little imagination and loads of chocolate, you can recreate this epic medieval castle cake yourself! Take a plain square layered cake to the next level with chocolate bar brick walls, round chocolate cookie towers, and a Kit-Kat bar draw bridge to go over the mote. A little bit of melted chocolate makes the perfect cement to hold all of the pieces together and make this cake a castle fit for a true, chocolate loving king!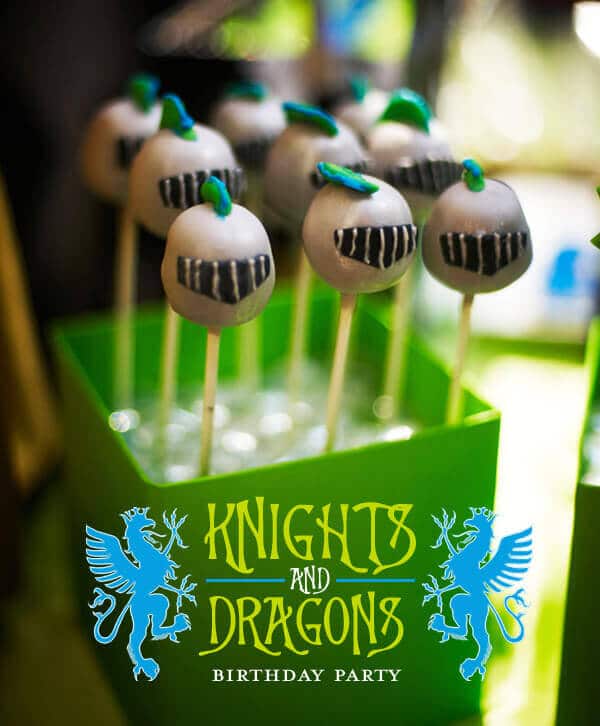 9. Knights and Dragons Birthday Party
From Posh Tot Events, as seen on Hostess with the Mostess
The moment I laid eyes on these adorable medieval knight helmet and complimentary dragon cake pops I knew the party was going to be fantastic. From a traditional medieval tent made from colorful fabric and a few crafty touches, to the fierce dragon fire cake, this party is decorated to the nines. Gold, royal blue, and lime green make a wildly fun color scheme, and the black and white checkered accents are a such a fun addition.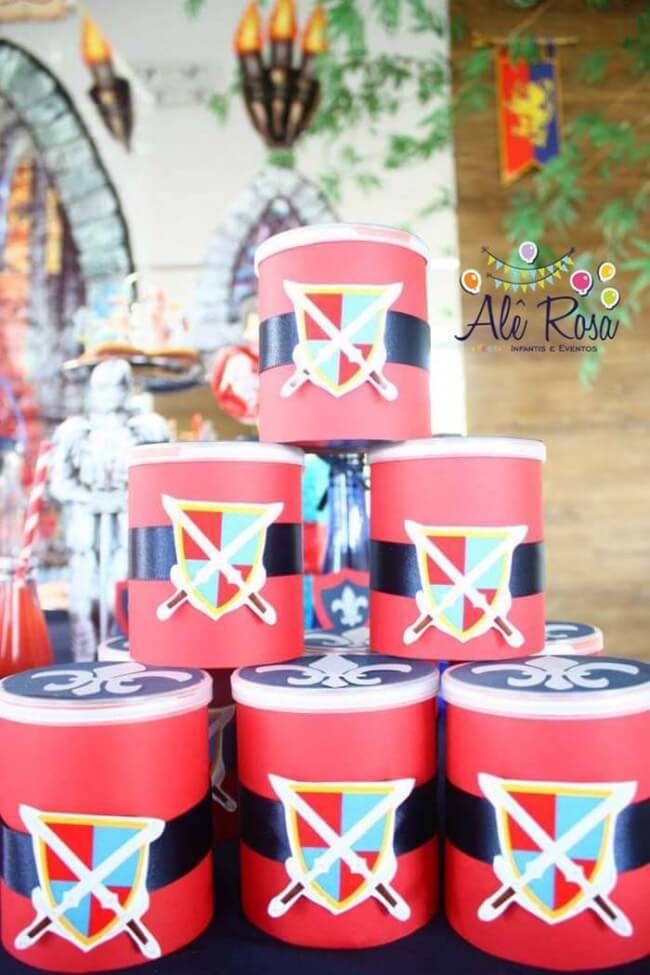 10. Coat of Arms Favors
From Ale Rosa Party Planner, as seen on Kara's Party Ideas
Send your party guests home with a bucket full of goodies decorated with your very own coat of arms. To recreate these simple DIY treat buckets, simply wrap plastic containers with red paper, strings of ribbon, and printed coat of arms and fleur-de-lis graphics. Fill the buckets with any treats you'd like to send home as a thank you! Our favorite loot bag fillers include small dollar store toys, wrapped candies, and thank you notes.
11. Catapult Game
From Joyfully Weary
From Rose & Rex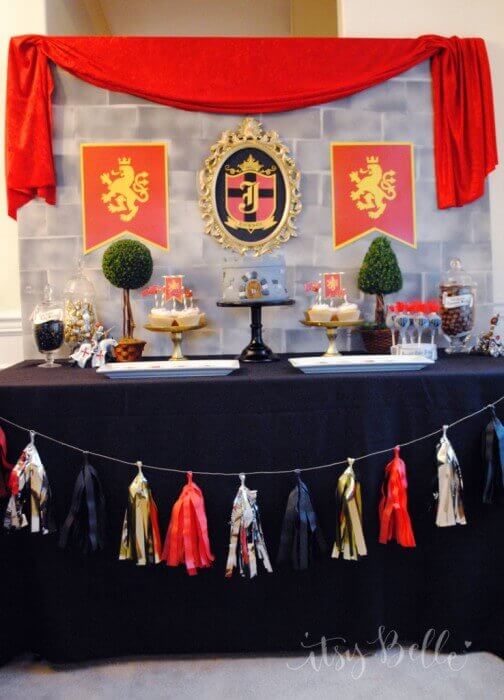 13. Knight in Shining Armor Dessert Table
From Itsy Belle, as seen on Whimsically Detailed
Inspired by the historic castles of Paris and London, this Knight in Shining Armor birthday party looks beautifully decorated and wonderfully fun. The impressive dessert table backdrop was made using an art canvas, spray paint, and a simple rectangle stencil made from apiece of cardstock. Don't miss the chocolate Whoppers cannon balls, the feathered knight's helmet cake pops, or the homemade castle piñata!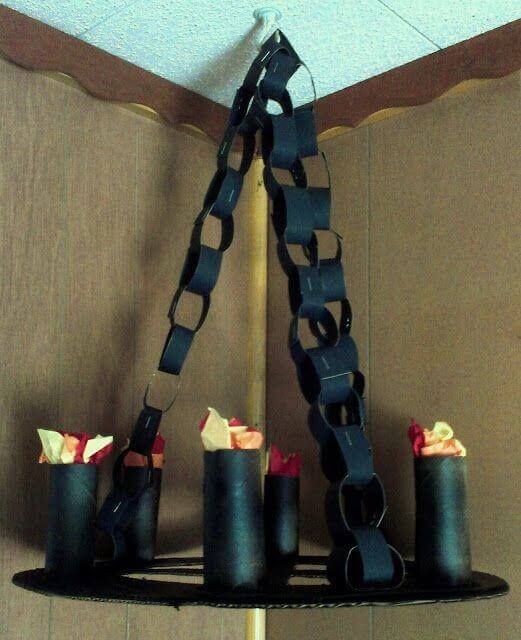 14. DIY Medieval Torch Chandelier
You would never believe that this amazing chandelier was made from recycled cardboard and just an hour or so of crafting. Black poster board, toilet paper rolls, and two cardboard circles make the base of this imaginative medieval chandelier. Complete the party centre piece with tissue paper flames and some cardboard chains!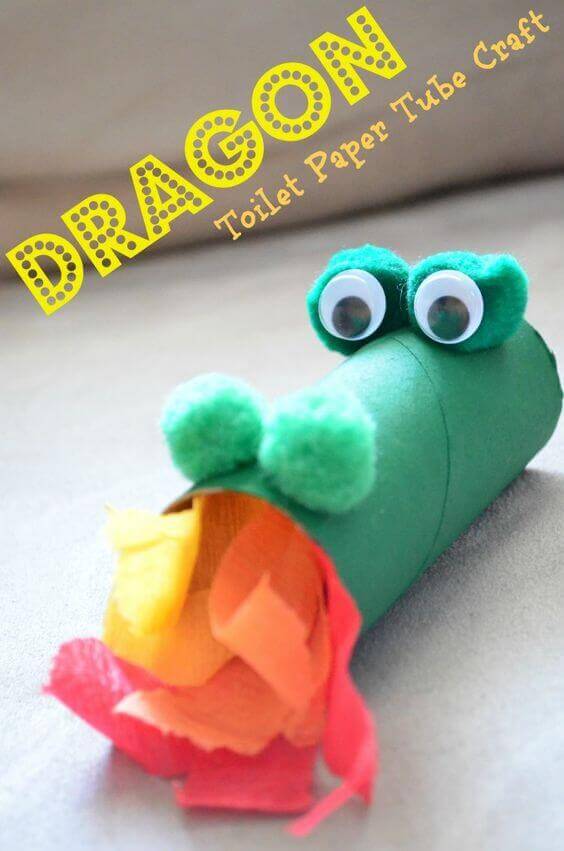 15. Dragon Toilet Paper Tube Craft
From Surviving a Teacher's Salary
I just love how simple and awesome the dragon toilet paper tube craft is for kids! It is ridiculously easy and interactive to make, which makes it perfect for preschool age and up. You can even stick a craft stick though the bottom of the toilet paper tube to create a fun toy for puppet play or pretend knight play. Have them ready for kids to play with or make them as a craft at your Knights and dragons birthday bash.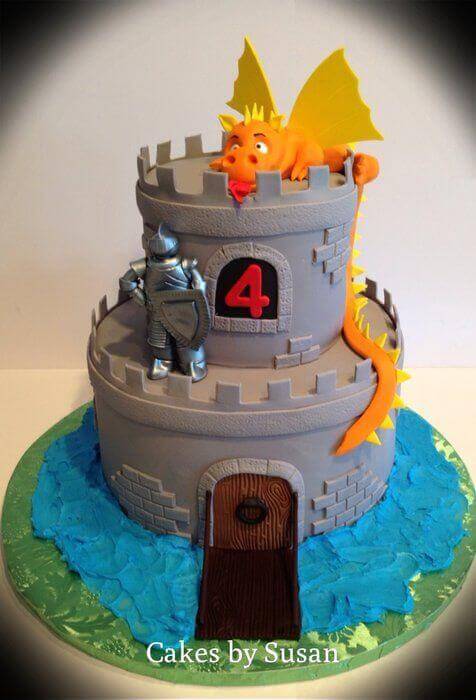 16. Knight and Dragon Castle Cake
From Cakes Decor
This fantastic layered cake uses fondant, gum paste, and icing to recreate an epic medieval adventure scene complete with a castle, knight in shining armor, and fierce yet adorable dragon perched up high. One of my favorite parts has to be the drawbridge gate falling over the mote made from blue icing. This cake would be the perfect center piece for the dessert table, and would surely be a fan favorite.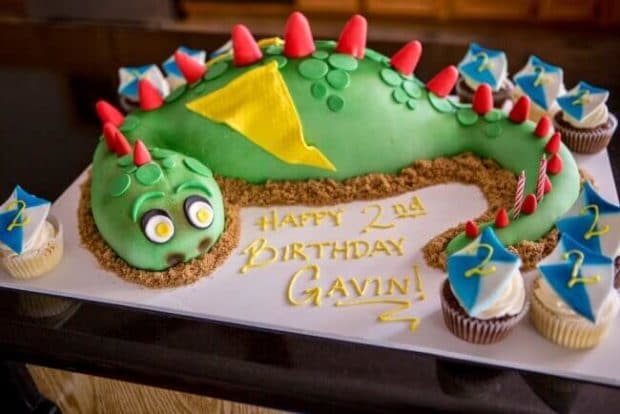 17. Dragon Cake
From Parties by Paris, as seen on Spaceships and Laser Beams
No party is complete without a cake, and this dragon cake is the perfect not-too-fierce dragon party treat! This homemade friendly cake is perfectly decorated with fondant spikes running down the dragon's back and a sweet birthday message. The cupcakes are topped with tiny fondant shields that add just the right touch.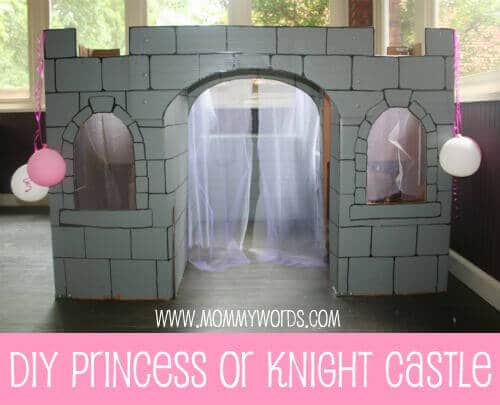 18. DIY Cardboard Castle
From That's Vandy
Princesses, knights, kings, and queens all need a castle to protect them from the neighbourhood dragon. The best part of this DIY cardboard castle is that it is super inexpensive and will keep your kids busy for hours! It takes a bit of work, but it really is worth it in the end. The cardboard castle is durable enough to last a whole birthday party, and will provide a space for imaginative play for months to come.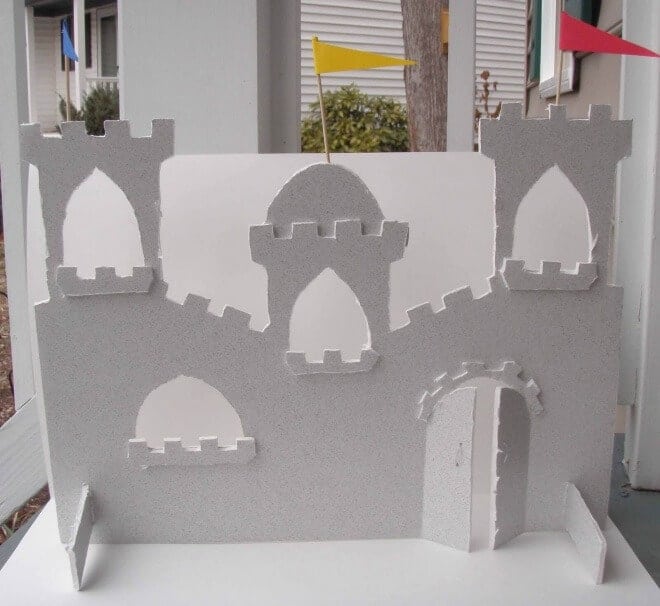 19. Storm the Castle Catapult Game
From Crack of Dawn Crafts
What kind of activity can you plan for an indoor knight party? Get your birthday boy or girl and their party guests to make these crafty catapults used right on the kitchen table. The actual catapults use simple materials including popsicle sticks, craft sticks, and regular masking tape. Once your catapults are constructed, use squares of packing foam as boulders to launch at foam board castle!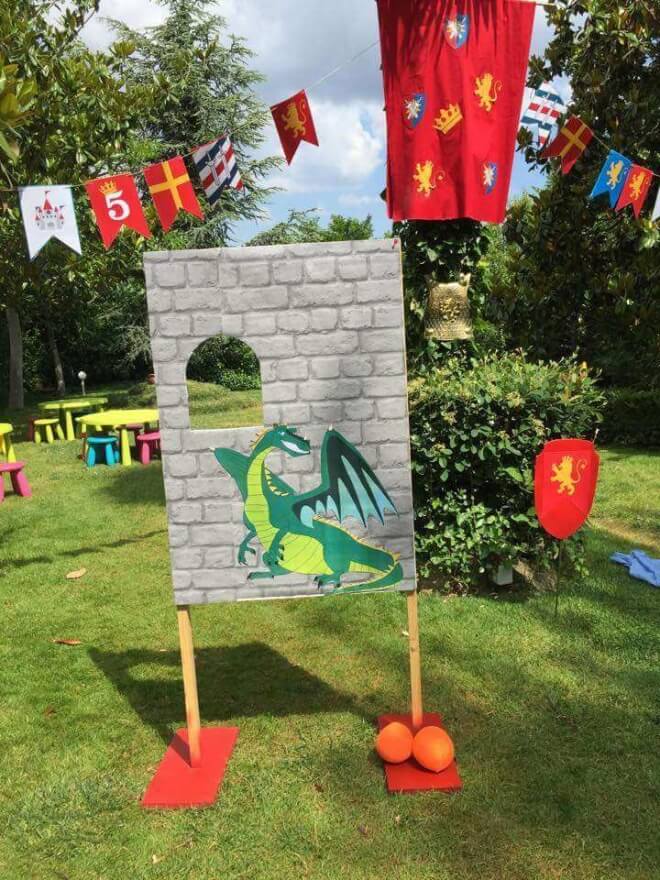 20. Medieval Knights Birthday Party
From Wecandoit for Kids Only, as seen on Catch My Party
This blogger thought of every decoration, snack, and activity possible for their amazing backyard medieval bash. Fabric flag bunting strung throughout the backyard trees and several photo props staked in the grass set the stage for a fun and exciting party. Check out the wildly fun games including a giant dragon piñata and a medieval knight training course. This party is a little knight's dream come true!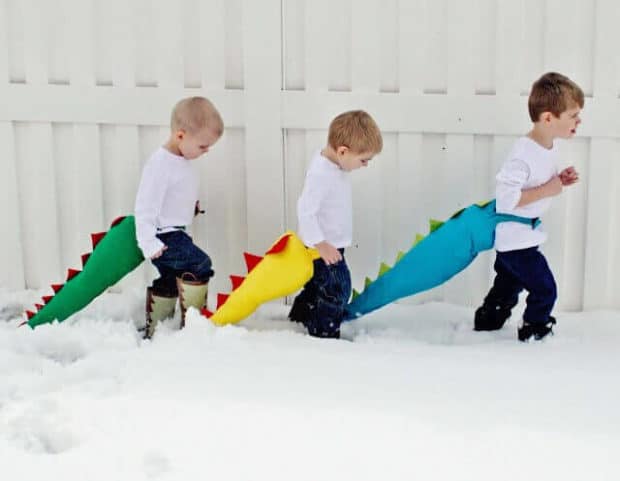 21. DIY Dragon Tails
From Running with Scissors, as seen on Tatertots and Jello
These DIY dragon tails are just about the cutest things I have ever seen. They are designed with two straps that wrap around the waist with a Velcro closure, making it easy for kids to get them on and off all by themselves. For a knights and dragons themed birthday party or for pretend play indoors and out, these dragon tails are sure to be a load of fun. Stick with bright solid fabrics or experiment with textures and patterns for an awesome custom tail.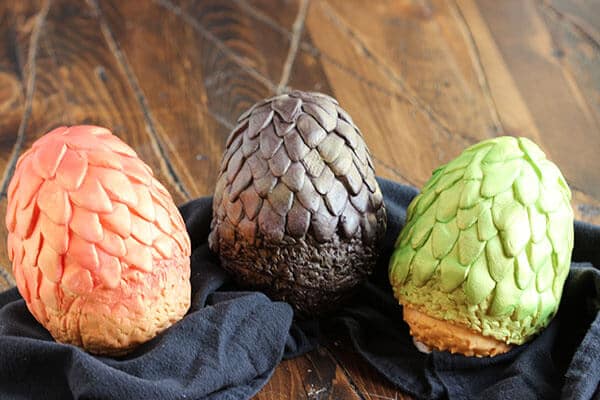 22. Chocolate Dragon Eggs
Chocolate dragon eggs are a true a true work of art and an amazing addition to the dessert table at your knights and dragons themed birthday party! They are surprisingly easy to make with a chocolate egg base and scales cut from ready to use fondant. Paint the eggs with food coloring to make different colors for the different kinds of dragon. Adults take note- these are also great for a Game of Thrones themed party!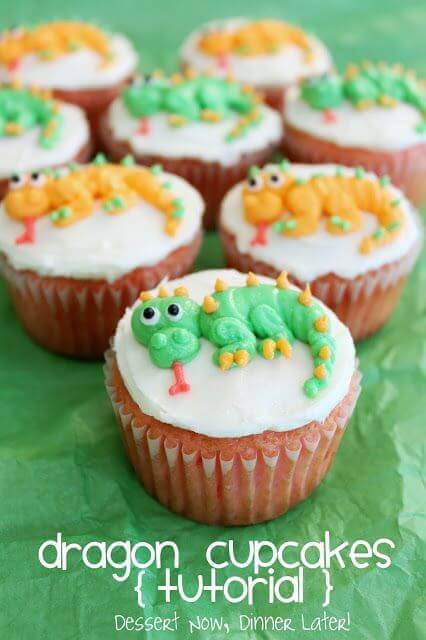 23. Dragon Cupcakes
Another fun cupcake decorating idea! Recreate these adorable little dragons made completely with icing following this super simple tutorial. Bake cupcakes and let them cool, then ice with a thin layer of white buttercream. All you need are two icing bag tips to create the cute dragon body, eyes, nostrils, and tongue!
Throw your own knights and dragons birthday party with these Amazon affiliate links gathered for you by the fair ladies and gents at Spaceships and Laser Beams:
(Amazon Affiliate Links)
Knight Masks Party Accessory
Brave Knights Cupcake Kit
Stairway, Window & Torch Props Party Accessory
Royal Trumpet Banner Cutouts
Brave Knights Party Bags
One Child Plastic Child Knight Helmet
Inflatable Sword & Shield Set Party Accessory
Unique Gold Plastic Jeweled King Crown
Brave Knights Centerpiece
Suit of Armor Cutout
Knight Costume Role Play Set
Castle Shaped Favor Boxes
Inflatable 30-Inch Dragon
Dragon Adventure Birthday Party Cake Decorating Kit
Safari / Plastoy Red Dragon
Jeweled Gold Goblets
Brave Strong Knight Castle Play Tent
Brave Knights Tablecloth
Check out these parties for more knights and dragons inspiration: