21 Hot Wheels Birthday Party Ideas
Table of Contents
Rev your Hot Wheels birthday theme with these 21 party ideas
For a show-stopping party entrance, check out the DIY roadway and all the cool party supplies.
The DIY car frame craft and the trophy race car party favors are certain winners and you will love the Hot Wheels cupcakes and cakes too.
Race through this round-up for first place inspiration.
---
See Also
---
1. DIY Race Track
From Growing Up Gardner, as seen on Photobucket
Every race car party needs a race track, and this amazing do-it-yourself track is a Hot Wheels lover's dream come true. Complete with four lanes, an epic starting gate, and painted flames, this is one to beat.
Most of the building materials are probably pieces you already have in the garage or workshop, making it easy and affordable.
Let your kids help build and paint to involve them in the building process.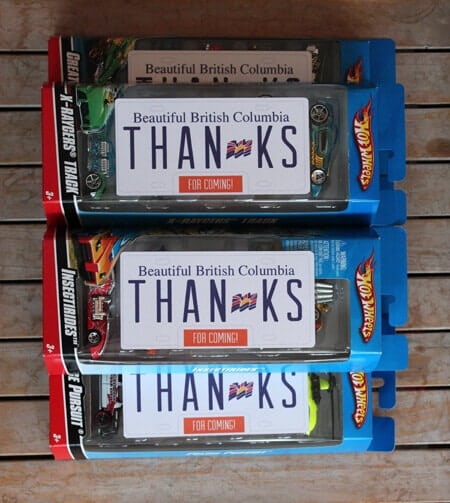 2. License Plate Thank You
From Ink Paper Love
What better way to thank your guests than with these personalized race car licence plates?
Your state or province's licence plate is customized to read a thank you message and then affixed to hot wheels packs, chocolate bars, or other party favors.
This creative do it yourself addition to your child's party favors is a special way to thank guests and keep the race car party theme rolling.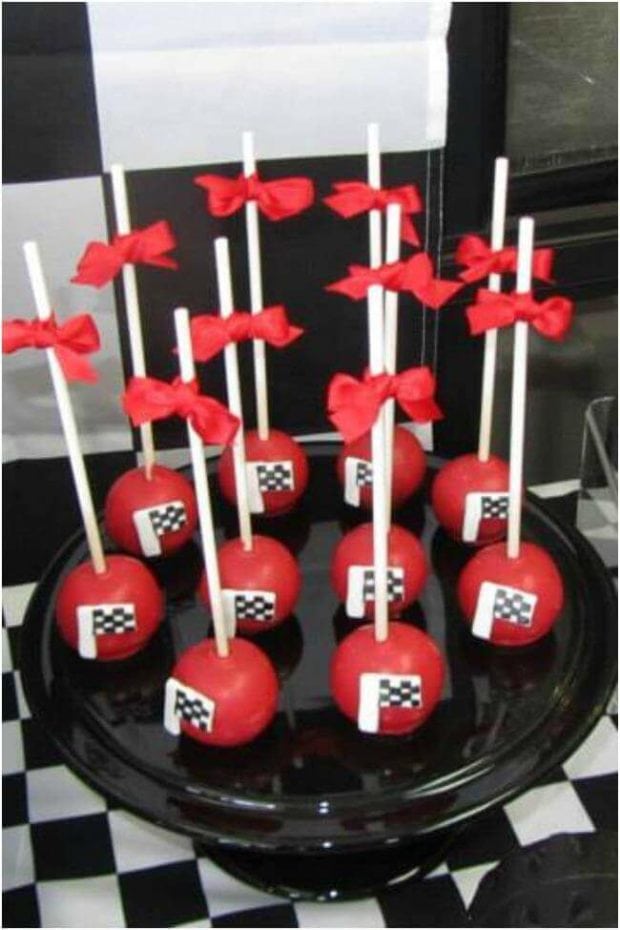 3. Race Car Cake Pops
From Party Rite as seen on Spaceships and Laser Beams
Cake pops are always an adorable, fun, and bite sized addition to a party's dessert table. They can be decorated to match nearly any party theme and kids have a blast eating them.
These race car themed cake pops are colored bright red and perfectly decorated with a checkered finish flag to match a race car party theme.
Recreate them in your own kitchen with red melting candies, white fondant, and edible black paint.
4. Trophy Race Car Party Favors
From Three Men and a Little Hailey
Every little race car driver deserves a golden trophy to showcase their winnings. Transform golden trophies from the dollar store into adorable party favors for your race car loving guests with a printed tag wrapped around the base and a baggy full of candy stuffed inside.
These golden trophies make an extremely affordable and exciting party favor that keep the celebration going even after the party is over.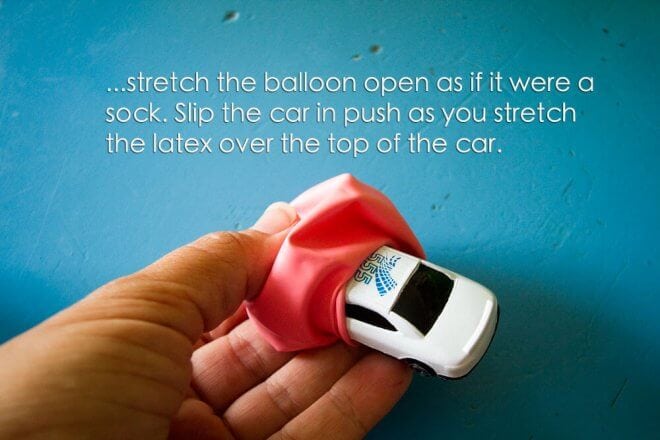 5. Hot Wheels Balloon Game
From Small Potatoes
Turn your party favors into an wildly fun game for your party guests with these easy and inexpensive race car balloons.
Stretch a balloon over top of a matchbox car, then blow them up to create a party decoration with an exciting surprise inside.
Let the children squash, squeeze, and stomp the balloons until they pop to reveal the party favor inside.
6. DIY Wooden Crate Storage and Display for Hot Wheels Cars
From Frugal Fun for Boys & Girls
Display your Hot Wheels or Matchbox car collection with this awesome and practical DIY project.
With a wooden craft crate and some cardboard mailing tubes you can easily recreate this parking garage to store your child's most special toys.
Have it out at your car-themed party for easy entertainment and be ready for races on the go.
7. Hot Wheels Art Project
From Hot Wheels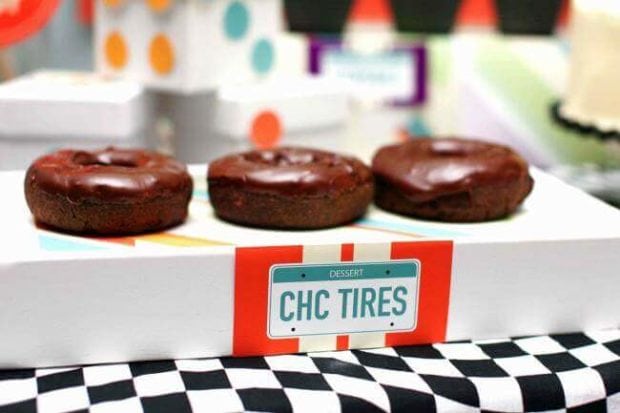 8. Chocolate Spare Tires
From Spaceships and Laser Beams
We love serving themed snacks and desserts at parties. What better dessert to serve guests at a race car themed party than spare tire donuts?
Chocolate glazed donuts make the perfect edible tires, and add fun and deliciousness to your dessert table! Donuts are also a fun change-up from the regular cupcakes and candy.
Who wouldn't welcome a sweet donut treat?
9. Hot Wheels Birthday Party
From Nicole Johnson, as seen on We Heart Parties
If you are tired of hunting for ideas in Pinterest and Google, make sure you check out this post that is chock full of creative decoration and food ideas for a race car themed birthday party.
All of the ideas are super easy to recreate, and most are inexpensive too.
Some of our favorites include the traffic light brownies made with M&Ms, "motor oil" chocolate ice cream treats, and pylon tablescape.
Any kid would love these fun ideas for their party.
10. Dipstick Pretzel Rods
From Renee's Soirees, as seen on Design Dazzle
Racers, start your engines! No race car party is complete without some super fun and car-themed snacks.
Create dipsticks, a necessary tool found in any car garage out there, with pretzel rods and some melting chocolate.
Sweet and salty treats are always a fan favorite and you can never go wrong with chocolate covered pretzels.
11. Make the Jump Party Game
From Hot Wheels
12. DIY Roadway
From Jennifer, as seen on Me and My Insanity
Sometimes an unlikely spot for decorations, your home's hallway makes e perfect space create a roadway or racetrack leading to the heart of the party.
Transform the space into a racetrack by laying down black tarps or fabric then keep it is place using some white duct tape.
Don't forget to create some racing lanes so that your kids can race down the hallway.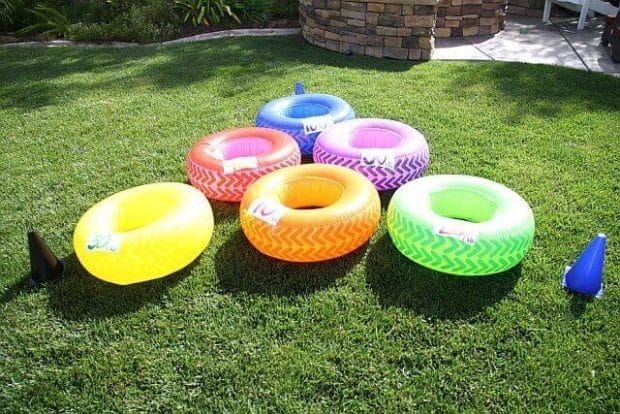 13. Tire Target Game
From Party Loves
Interactive games and activities are an essential at any kid's birthday party. This Tire Target Game is loads of fun for kids of all ages and is incredibly easy to set up.
Label inflatable tires with different point amounts, then arrange in a triangle to get ready to play.
Let the party guests take turns throwing a ball or beanbag at the tires to try to get the highest amount of points. The kid with the highest score wins!
14. Race Car Dessert Table
From Bash Party Styling, as seen on Spaceships and Laser Beams
This race car themed dessert table is full of high impact details from creative decorations to wildly fun themed foods. The brilliant center piece uses an upcycled spare tire topped with black and white checkered cupcakes and a beautiful display of bright red cake pops.
The flame inspired table cover is the perfect touch, bringing images to mind of speeding cars and burning rubber.
Cool race car glasses, fake mustaches, and laminated driver's licences are a clever final touch.
15. Hot Wheels Car Cake
From Sarah's Sweets and Treats
Celebrate your child's birthday with these fantastic DIY Hot Wheels cakes. Your favorite flavored cake gets carved into a giant number frosted in sweet vanilla buttercream.
Black fondant makes a pavement racetrack, fondant square sides mimic the checkered finish flag, and fun details bring the racetrack to life.
Don't forget to add some matchbox cars on top to race to the buttercream finish line.
16. Stoplight Gumball Favors
From Alison J., as seen on Catch My Party
I always love to send our party guests home with a little favor to say thank you. Finding something that matches the party theme, is inexpensive, and will be loved by the kids can be tricky.
These stoplight gumball favors are the perfect solution!
Pick up some yellow, red, and green gumballs from the closest bulk store then wrap them in some cellophane with a black and white ribbon for the perfect thank you treat.
17. DIY Car Frame Craft
From Spaceships and Laser Beams
If you have boys in your house it's pretty much a given that you have toy cars littering the playroom and bedrooms.
Borrow a few toy cars for this fun project!
Use a hot glue gun to securely attach a number of toy cars around a plain picture frame.
For a birthday party, you could do this as a group craft with thrifted toy cars or have one big frame set up for a group picture or written messages from your guests.
18. Cheese Road Cones
From Megs 7837
Are you in need of a super easy snack idea for your race car themed party? Look no further. There cheddar cheese road cones are a special way to make transform your cheese plate nibbles into cute themed snacks.
Simply cut your cheese cubes into triangles instead of squares, and stand them upright to look like traffic pylons.
It's a genius way to turn an average snack into fun fuel for your race car drivers.
19. Hot Wheels Printables
From Merydwen P., as seen on Catch My Party
The easiest and most exciting way to serve pre-packaged drinks at a kid's birthday party is to add a personal touch with a customizable label.
This Hot Wheels design is perfect for any car themed party, and you can even personalize them with your child's name.
The black and white checkered finish flag background looks perfectly on theme when wrapped around water bottles or red juice drinks.
20. Car Photo Booth
From Vicky Barone
Make memories at your child's party by taking pictures with this adorable DIY car photo booth. This blogger's tutorial is super easy to follow and you like already have all of the required materials on hand.
Set it up in a quieter space and let your guests go crazy taking pictures.
Keep a disposable camera or Polaroid camera nearby so that you have a copy of all of the wonderful photos.
21. Hot Wheels Birthday Party + Cupcakes
From Mom vs the Boys
Cupcakes are a great alternative to big cakes and large group parties.
They are easier to serve, easier to clean up after, and if you decorate some store-bought cupcakes they are easier to prepare as well. These Hot Wheels Cupcakes are the perfect treat for a race car themed party.
A golf tee gets glued to the bottom of a matchbox car, making the perfect topping for a chocolate iced cupcake.