20 Transformers Birthday Party Ideas We Love
Table of Contents
This round-up of Transformer birthday party ideas is a super resource for birthday cakes, dessert tables, decorations, favors, games — and all party supplies.
With the ability to reconstruct their external appearance, the Transformers have captured the imagination of many a guy.
If your little Autobot is hoping for a party, the Transformers theme might be just the energy source he is looking for.
1. Transformers Dessert Table
From Festa com Ideia – Claudia Carossi Via Kara's Party Ideas
Get ready to roll out the coolest Transformers birthday party dessert table with loads of inspiration from this yellow and black Transformers party. Details abound!
From an incredible Transformers backdrop logo sign in shades of yellow and black to gourmet desserts made to coordinate with the theme, this is a prime example of an awesome Transformers party.
Don't miss the robot inspired gear detailing on desserts or the awesome Optimus Prime cake.

2. DIY Printable Megatron
From Toy-a-Day
Megatron, a feared leader of the Decepticons can become a feature in your Transformers birthday party with just a few simple steps.
You'll need to download the PDF file before you can DIY your own Megatron toys which make great decorations or party favors.
Print, cut and assemble this enemy of Optimus Prime.
3. Transformers Birthday Cake
From Pizzazzerie
How cool is this three-tiered Transformers birthday cake made to look like Optimus Prime, ruler of the Autobots?
The precision on the fondant detailing, the hand pieced layers, and over all craftsmanship will definitely capture the attention of party guests, especially Transformers fans.
4. Invitation and Favor Box
From Fit, Crafty, Stylish and Happy
Don't be afraid to make your own Transformer party invitation and/or favor boxes.
The cool handmade invitations seen here involved making a Transformer stamp, stamping it with Versamark and heat embossing it with silver embossing powder to achieve that metallic robot look.
The favor boxes are 2 ½" squares designed to look like the allspark cube and can be filled with candy.
5. Paper Optimus Prime
From Cake Events Blog, Inspired by Paper Robots 1999 free transforming paper figure
Whether you construct your own paper Optimus Prime figures to use as party decorations or send them home as party favors, they are a great addition to a Transformers themed party.
What a fun way to incorporate the leader of the Autobots into your celebration.
You could also include these as a DIY craft, depending on the ages and abilities of the guests at your party.
6. Transformers Birthday Cake
From Q Favors, Via Catch My Party
Give party guests that "more than meets the eye" experience by including an amazing Transformers birthday cake as part of your celebration.
Children love when their birthday cake is created to look like a favorite character to coordinate with their birthday party theme.
This Transformers birthday cake includes awesome fondant detailing and the guest of honors name in fondant too!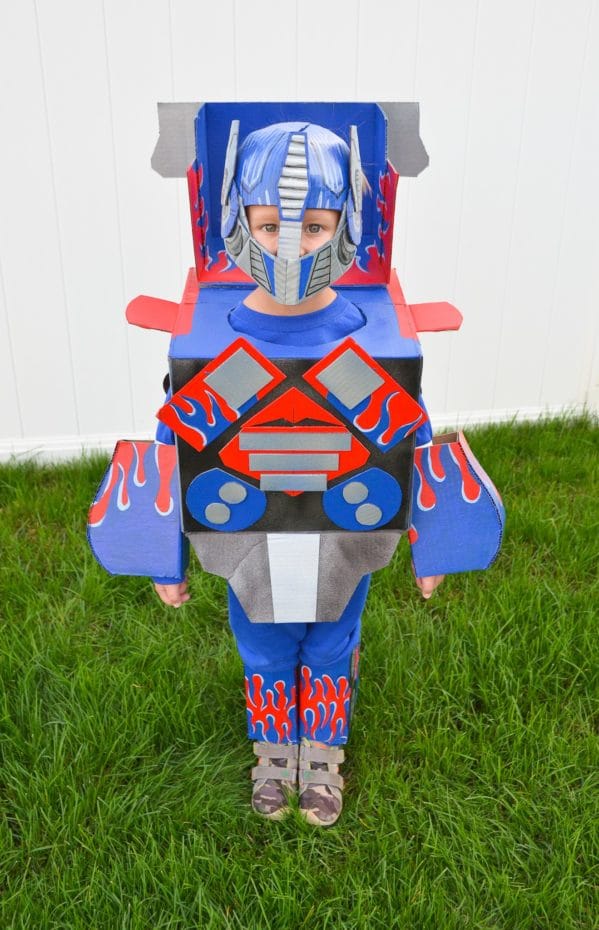 7. DIY Cardboard Autobot
From Cardboard Creatures
Planning a Transformers birthday party? Don't throw out those cardboard boxes. You'll need them to DIY your own Optimus Prime!
This tutorial will walk you through the process of transforming wrapping paper tubes, 2 large boxes, 2 long skinny boxes, red and blue disposable tablecloths, red poster board and aluminum foil into an Optimus Prime that kids will love.
8. Transformers Favor Ideas
From Corner House Blog
At this Transformers party, guests went on a treasure hunt to find the Energon to defeat the Decepticons.
Thankfully, Optimus Prime had left some clues, and party guests were able to find the Energon and the accompanying party favor loot.
Party favors consisted of themed Transformers loot bags filled with a variety of Transformers toys, tattoos, stickers, and yo yos.
9. Transformers Party Favor
From My Creative Stirrings
Looking for a Transformers themed party favor that you can DIY and will keep your guests entertained long after the party has ended?
This Transformers "game can" party favor definitely meets that criteria.
Guests will love the fact that it comes with 5 interactive games. You'll love that creating it is easy using the free download, which includes the free games and instructions in PDF format.
Check out the tutorial for creating your own Transformers party favors.
10. Transformers Cookies
From Whimsically Detailed, Via Popsugar
When you see how cool the details of these Transformers cookies are, you will agree that some serious talent was involved in making them.
The hand-piped details are amazing. Party guests surely loved looking at them and choosing their favorite character.

11. Transformers Matching Game
From An Organized Family
Add this Transformers matching game to your line up of activities at your child's Transformers birthday party.
It's a quick DIY and features a free Transformers inspired font on one side and printed Transformers characters found online on the other side.
Guests must find the two of the same character to create a match.
12. Transformers Theme Birthday Party
From Photography by Sandra and 3's A Party
Gear up for your Transformers themed birthday party with ideas from this one.
One of the highlights is the Autobot refueling station, featuring an awesome fondant embellished Transformers cake, incredible Autobot sugar cookies, custom wrapped chocolate bars, and enough candy to easily fuel a Decepticon defeat.
Don't miss the oversized paper Transformer and gear inspired decorations.
13. Transformers Dessert Table Decorations
From Elianna Noelle Events, Via Catch My Party
Roll out your own awesome Transformers dessert table decorations. This dessert table backdrop idea features a colorful red and blue gear banner with silver letters that spell out "Happy Birthday"!
Red tubs filled with yellow paper shred serve as colorful homes to Transformers themed lollipops.
Other colorful treats include Autobot "roll out" gumballs, "taste my wrath Oreo cookies" and Transformer cupcakes.
Including an edible centerpiece, such as the Transformer birthday cake is always a great choice.
14. Transformers Place Setting
From Idea! Event Style via Catch My Party
Transform your tabletop into a Transformer themed fueling station with some cool place setting ideas.
Layering plates on colored placemats with gear-like graphics is an easy foundation.
Top off with a personalized Transformers name card and custom wrapped water bottles with Autobot Fuel labels.
15. DIY Transformers Lollipops
From Tina G, Via Catch My Party
DIY your own Transformers lollipops! Not only will they look cool and colorful as party of your Transformers birthday party dessert display, but you can send them home with party guests as party favors.
You'll need a Transformers shaped chocolate mold and melting chocolates to create the lollipops, plus sucker sticks and glassine bags for packaging them.
(Tip: the same mold used to make suckers can also be used to make Transformers crayons using melted crayons.)
16. Transformer Beverage Wraps
From Handmade Charlotte
Party guests at your Transformers party will love fueling up on beverages outfitted in these cool red and blue Transformer beverage wraps.
You can download the printable "Fuel Up!" wrappers, print on matte sticker paper, trim and attach to unrefrigerated 7.5 oz. canned drinks.
Talk about a cool party transformation!
17. Transformers Dessert Table Decorations
From Deliciously Darling Events, Via Catch My Party
Stuck on dessert table decoration ideas for your Transformers birthday party? Check out this party for some fabulous DIY ideas.
Many party decorations can be created using cardstock and a cutting system capable of precision cuts.
Notice the centerpiece sticks that feature popular Transformers logos and characters, all cut by machine and paper pieced by hand.
Jumbo balloons, a patterned tablecloth, custom cake topper and birthday name banner, all add to the dessert table decorations.
18. Transformers Bumblebee Dessert Table
From Photography by Sandra, Via Catch My Party
Putting together a Transformers Bumblebee dessert table? Check out this fabulous example, featuring predominantly yellow and black party decorations.
You'll notice printable Bumblebee characters added throughout the styling, both in toy form and by way of printable embellishments.
Silver takeout boxes make it easy for guests to fill up on their favorite candy and treats from the table and take them home as party favors.
Notice the custom wrapped Bumblebee chocolate bars, amazing birthday cake, cake pops and cookies—all great dessert choices for a Transformers birthday highlighting Bumblebee.
19. Transformers Birthday Cake
From Partylicious
Transformers birthday party guests will instantly recognize Bumblebee as the star of the dessert table.
A popular Autobot, and one of Optimus Prime's most trusted lieutenants, Bumblebee looks impressive in birthday cake form.
The only downside to such an incredible Transformers birthday cake, is having to cut into it, destroying the incredible fondant details.
20. Transformers DIY Mask
From The Beddes Bunch
Transport all of your Transformers party guests into this robotic world with their very own Transformers masks.
These masks are an easy DIY and make an awesome and inexpensive party favor. Print out a black and white picture of a transformer to use as a pattern and cut the shape from foam.
Trace the facial features onto the foam (they will leave a small indent) and go back over the tracings with permanent black marker. Add some elastic cord to make the masks wearable.
Now sit back and watch as party guests transform into their favorite character!
RELATED:
Need a Minecraft party idea? Check out these 22 Minecraft Birthday Party Ideas for Boys for lots of inspiration.
Keep kids busy no matter what the weather outside is with these 25 Awesome Indoor Activities for Kids.