17 Totally Cool Transformers Party Ideas
Table of Contents
Trying to plan a party that's "more than meets the eye"? These 17 totally cool Transformers party ideas can help you accomplish that mission.
Just wait until you see the Bumblebee cake and fondant cupcake toppers.
There are ideas for party supplies, decorations, table centerpieces, party favors and even a DIY Optimus Prime costume and party games. Roll out!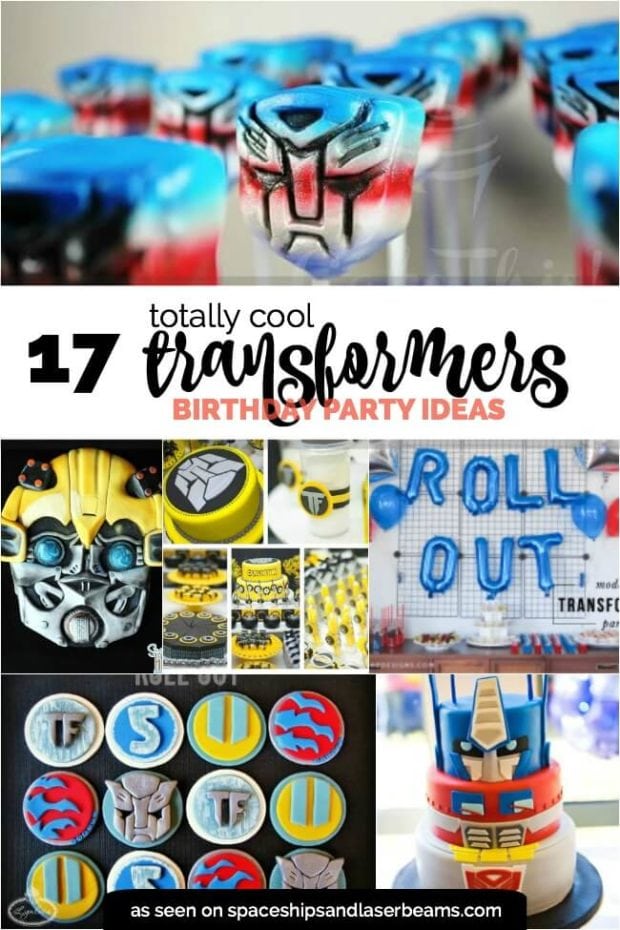 ---
See Also
---
1. Modern Transformers Party
From Brenda Bird Designs
This modern Transformers party rolls out some fantastic ideas!
Kids will love crafting their own cool Transformer mask, learning Transformer moves and hunting for the Energy Cube containing goodies!
You'll love how easy the ideas are to replicate, and how customizable they are to your own birthday boy's likes.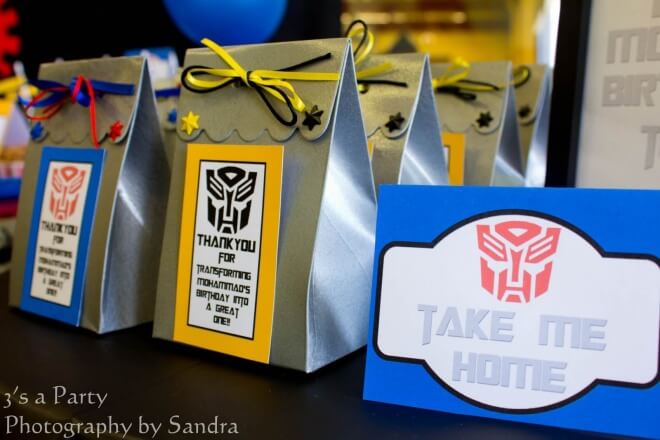 2. Transformers Party Favor Bags
From 3's a Party
Guests really do help transform a party into something memorable. What better way to thank them for coming and celebrating than by sending them home with a Transformers themed party favor bag?
These party favor bags are pretty awesome, constructed in Transformer character colors and affixed with a cool Transformer logo and message.
3. DIY Optimus Prime Costume
If you want to provide party guests with "more than meets the eye", invite Optimus Prime to your party by DIYing your own costume!
This costume is perfect for the guest of honor, or another person to wear to the party. Made from a lot of recycled materials, it's also inexpensive!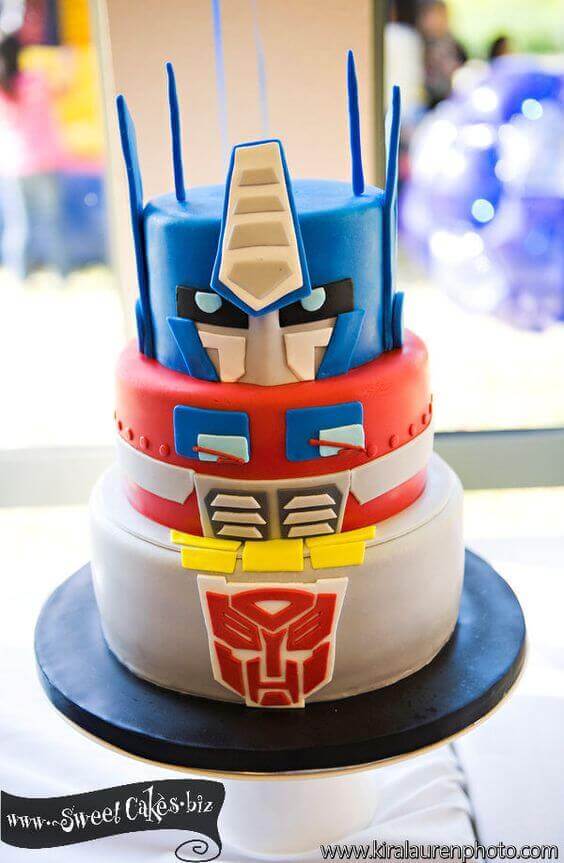 From Custom Dessert Shoppe via Pizzazzerie
This three-tiered Optimus Prime cake will blow your mind.
Whether you are a fan of Autobots or Decepticons, I'm pretty sure you'll agree this cake is awesome! Just look at the incredible fondant detailing!
5. Transformers Cake Pops
From Sweet Lauren Cakes, as seen on flickr
Tying desserts to your Transformer party theme ramps things up a notch in my book! Take these cake pops, for example.
The addition of an edible version of the Transformers logo on the front of red, blue, and yellow cake pops is awesome!
6. Transformers Party Favor
From My Creative Stirrings
Send your Transformers party guests home with a party favor that will keep them entertained for hours.
This Transformers "game can" party favor definitely isn't your run-of-the-mill favor. It contains 5 interactive games.
The best part? You can download the completely free games and instructions in PDF format via the tutorial.
7. Transformers Dessert Table
From Partylicious E, as seen on Catch My Party
This Transformers birthday party was styled around the guest of honor's favorite Autobot—Bumblebee.
Styled in a black, yellow, red, and blue color scheme, the dessert table utilizes an oversized backdrop featuring Bumblebee and Optimus Prime.
The dessert table offered an array of birthday treat favorites like cake pops, brownies, pastries, chocolate, cupcakes and lollipops, but the star was definitely the Bumblebee cake.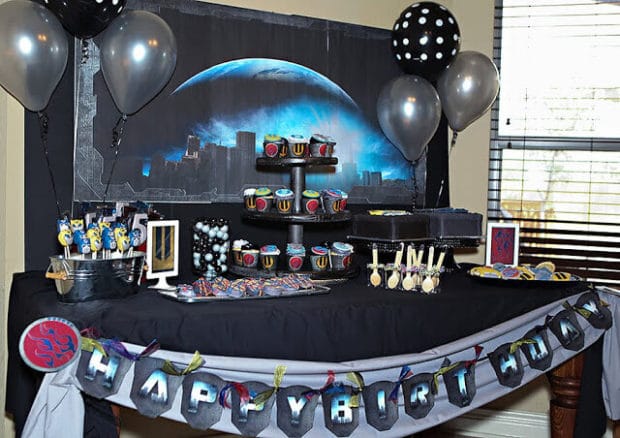 8. Transformers Party
From Whimsically Detailed, as seen on SL Smith Photography
Planned for twin boys, this Transformers Party is full of extra cool details.
Check out the printable decorations which tie everything together, the incredible Transformers themed desserts (cake pops, cookies, cupcakes, and more), and the party favor station. So much party inspiration can be found.
9. Transformer Cookies
From 3's a Party
Bring Autobots to your Transformers themed party dessert table by way of Transformers cookies.
These sugar cookies shaped and iced to like Transformers are amazing.
We're pretty sure guests will want one of each color! Wouldn't you?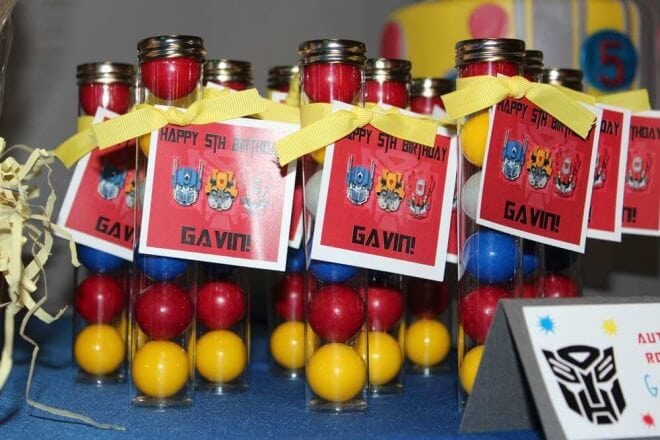 10. Transformers Gumball Favors
From Elliana Noelle Events, as seen on Catch My Party
Get some momentum for your Transformers party favors by peeking at these gumball favors.
Candy tubes can be filled with color coordinating gumballs, tied with ribbon, and embellished with a Transformers themed printable tag.
11. Transformers Birthday Party
From Kara's Party Ideas
Get ready for full-on Transformers birthday party inspiration overload! No detail was spared.
You'll appreciate the incredible Transformers party decorations in shades of yellow and black, gourmet desserts made to coordinate with the theme—including the coolest Optimus Prime cake—and so many cool party favors.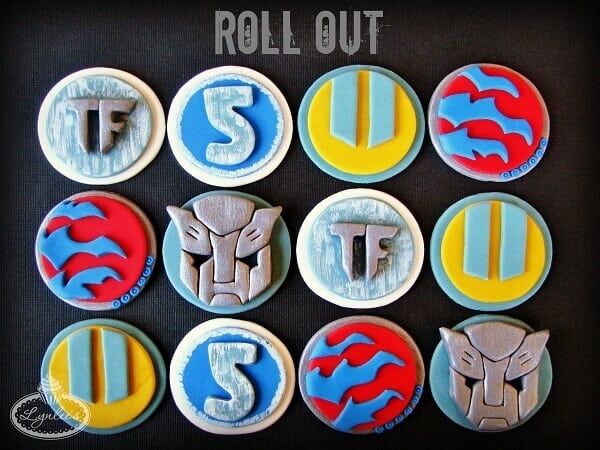 12. Transformers Cupcake Toppers
From Lynlee's via Be Crafty
These incredible Transformers cupcake toppers were inspired by graphic designs. Taking different elements and logos from the printables, fondant and a precision knife was used to cut the shapes. Shimmer dust and soft gel pastes were used to achieve the metallic and opaque looks.
13. Transformers Centerpiece
From Partylicious E, as seen on Catch My Party
Don't struggle with trying to come up with Transformers centerpieces for your party tables! Take inspiration from this one! Fill containers with foam blocks, covered in paper shred.
Add a custom printable embellishment to the front that features a Transformers inspired font and clipart images. Attach a Transformers logo sign to a skewer and insert it into the foam for stability. Voila!
14. Bumblebee Transformers Cake
From Sugar High Inc., as seen on Be Craftsy
Are you as obsessed with this Bumblebee Transformers cake topper as we are? To create the robot's head, pieces had to be modeled, cut, and glued together from fondant.
But what really sets this finished cake topper apart, is the shading and hand-painting techniques that were used to bring this edible work of art to life!
15. Transformers Cake Pops
From Cake This, as seen on Be Craftsy
Now you can transform your Transformers dessert table confections into more than meets the eye with inspirational ideas like these Transformers cake pops.
You'll love the tips for creating your own, such as making indentations on the shaped cake prior to dipping to help facilitate the embellishing process once the chocolate has dried.
Read on to learn about creating the red, white and blue effect.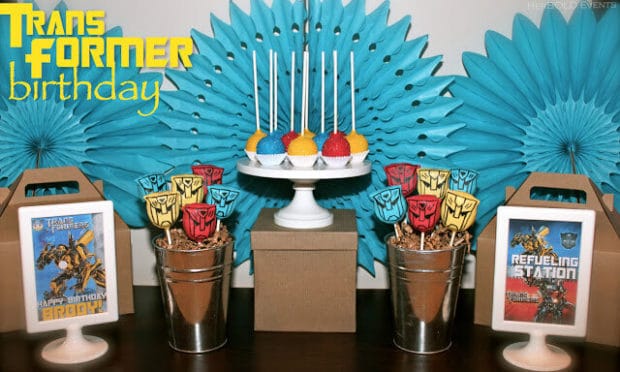 16. Transformers 4th Birthday
From Her Bold Events
This is one cool Transformers 4th birthday party.
If guests at this party didn't know who or what Transformers were upon arrival, the custom Transformers signs on the dessert table, edible rice paper images and fondant details on the cupcakes, and awesome Transformers-shaped cake pops certainly clued them in on these exciting characters.
What an awesome refueling station setup for a Transformers celebration.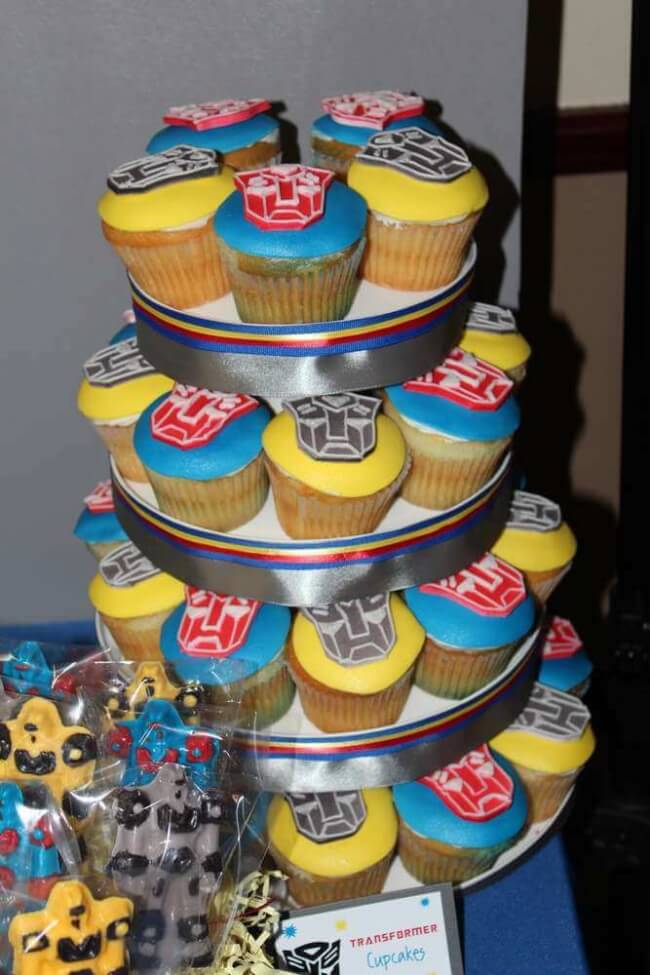 17. Transformers Cupcakes
From Elliana Noelle Events, as seen on Catch My Party
Edible cupcake toppers are still on trend.
Check out these Transformers cupcakes and how fondant toppers, featuring edible ink marker detailing, turned ordinary yellow and blue cupcakes into something extraordinary.
Plan the ultimate Transformers themed birthday party your kids will love with these great products gathered by the team at Spaceships and Laser Beams.
(Amazon Affiliate Links)
Transformers Birthday Party Supplies Set
Transformers Party Favor Goodie Small Gift Bags
Transformers Prime Swirl Hanging Decorations
Transformers Prime Party Game
Transformers Printed Tablecover
Transformers Rescue Bots Stickers – Birthday and Theme Party Supplies
Transformers 48 Piece Mega Mix Value Party Favor Pack
Transformers Table Decorating Kit
Check out more great gift Transformer party ideas.
Transformers Construct-bots