20 DIY Gift Ideas For Teachers
Table of Contents
Teachers play a huge part in shaping the future of our kids. As the school year winds down, let your children's teachers know you recognize and appreciate their classroom efforts with these great DIY gift ideas. In this post, you'll find suggestions for using clever wordplay to go with gifts including Owl Miss You, Thanks A-Latte, and Soda-Lighted You're My Teacher. What a terrific way to say, "Thanks!"
---
See Also: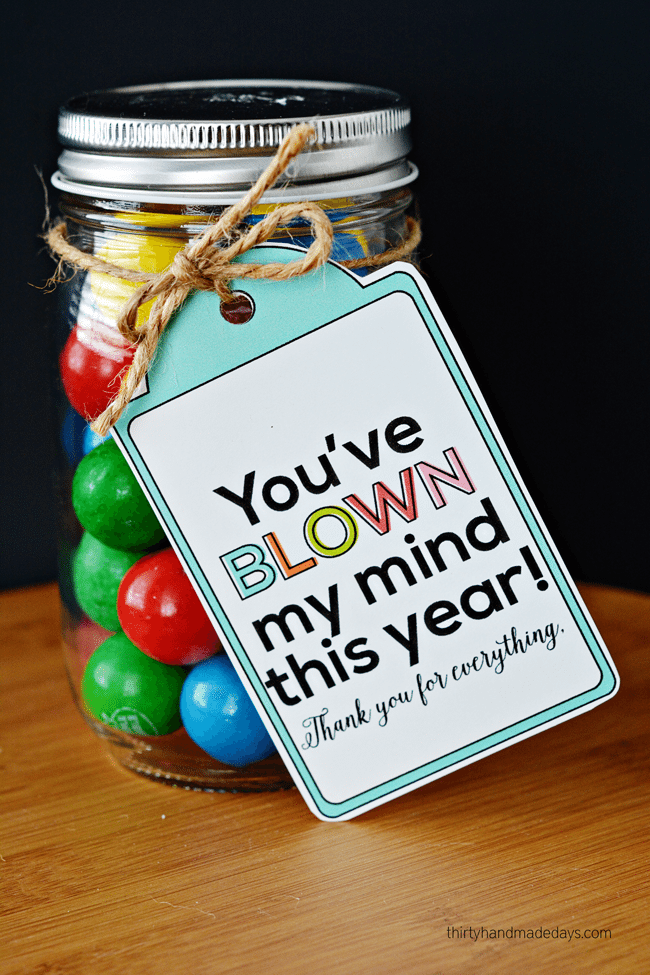 ---
Thank your teacher by letting them know how they "blew you away" with all the great knowledge they shared with you. Grab a mason jar and fill it with gumballs and add this printable appreciation gift tag. Plus, you can make it extra special by filling it with gumballs in their favorite colors or adding a gift card to their favorite restaurant or place to shop.
2. Excellent Teacher
Chocolate is always a great gift to give and even more special when it comes from a student. Decorate a plain box with these fun labels and fill it with a chocolate surprise like Kinder Surprise chocolate eggs.
Grab a large mason jar and fill it with great goodies to pamper your teacher. This unique gift idea will go a long way when filled with essentials to help them relax and take time for themselves. Homemade hand scrubs and sugar scrubs, nail files, clippers, and even chocolate. This is one gift they will appreciate getting.
You don't have to spend a lot of money on a gift to thank your teacher. Simply grab a large mason jar, ribbon, stencil, and some etching cream to create a personalized gift they can use over and over again. Create an etched monogram on a jar and fill it with their favorite candy, pencils, markers, or other gift ideas your teacher will love.
5. Monogram Wreath & Crayon Chalkboard Sign
Break out the craft tools and school supplies to create this amazing monogram wreath and sign your teacher will love. Crafted from crayons, pencils, and glue, your teacher will love the time and dedication it took to create this one-of-a-kind personalized gift.
Apples and teachers go hand and hand but these "candy apples" go one step further. Red ramekins, red hot candy, and ribbon are all it takes to create a unique apple gift they can enjoy longer than an actual apple.
7. Chalkboard Globe
Teachers open the world to their students so why not give them a gift that can last a lifetime? Let them know they mean the world to you by repurposing an old globe from a yard sale or thrift store, painting in chalkboard paint, and decorating with maps, words, phrases, etc. They will love to display it in their classroom for years to come.
A DIY Mug craft idea is the perfect way to get kids involved in creating a great gift for their teachers. Grab some colored Sharpies and let them use their imaginations. Tuck some candy or even a gift card inside the mugs to complete the special gift.
9. Crayon Candy Dish
Grab a jar, some crayons, and a glue gun, and start crafting this fun crayon candy dish. Fill with your teacher's favorite candy and surprise them for teacher appreciation week. Think of how cute it will be sitting out on their desk!
Fresh flowers are always a great gift to give to anyone and this painted pot is perfect for your favorite teacher. Use chalkboard paint to create a great space to write a sweet note and don't forget to paint the rim to look just like a ruler.
Say "Thanks a Latte" for all they do with the gift that keeps on giving, coffee. Simply print out the printable on card stock, staple a coffee sleeve to the printable and add some twine to create a gift that is you know they will love.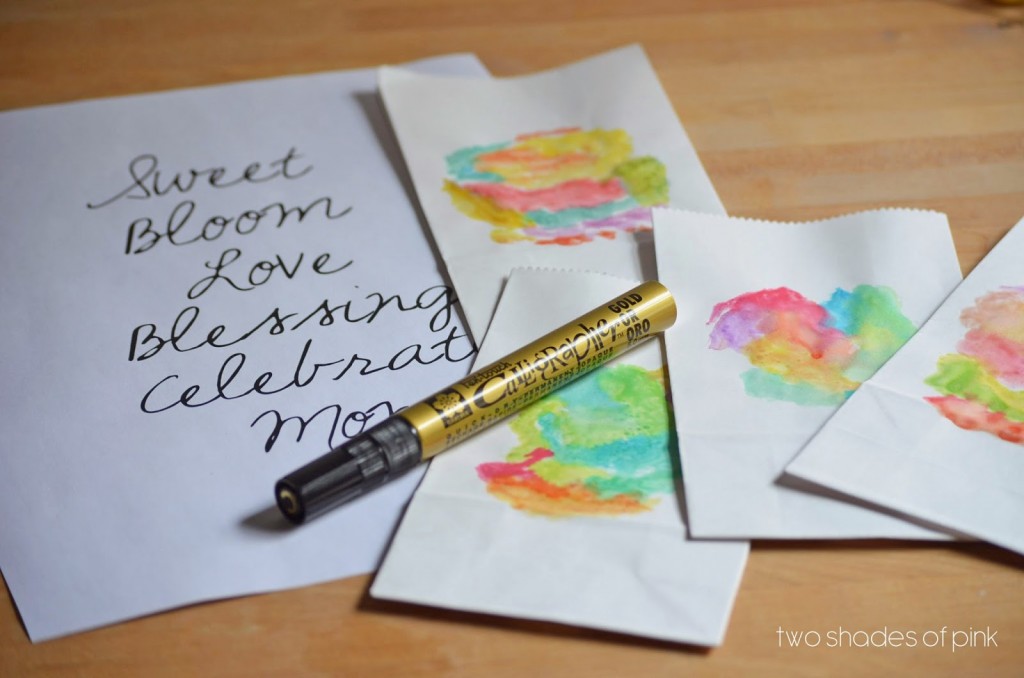 These watercolor gift bags are so sweet and when filled with beautiful flowers, make a great gift. Grab your watercolor paints and let the kids use their imagination to create a beautiful masterpiece on white paper sacks. Once they dry, fill them with fresh-cut flowers and surprise your teacher with this special, one-of-a-kind gift.
Don't you just love "pun"-y gifts! Especially when you want to give something fun and dare we say, "practical". Pick up some fun and funky push pins and attach this printable label to let your teacher know just how much you appreciate them pushing you to do your best. Plus, these push pins are something they can definitely use in their classroom.
14. Coloring Our Lives
Markers are always something that our teachers never seem to have enough of. Surprise them with a gift that makes a colorful statement. Upcycle an empty drink packet container and attach this free printable to create a special gift to let them know how much they truly mean to you.
Teacher appreciation week is the time when we can show our teachers just how much we appreciate everything they do for us all year long. But, it doesn't mean we have to spend a lot of money to do so. Add these free printable straw flags to a simple tumbler or cup and fill them with single-serve lemonade packets and you have a great gift idea.
16. Soda-Lighted You're My Teacher
Looking for an out-of-the-box gift idea your teacher will love? They will be "soda-lighted" when you surprise them with their favorite soda drink as a gift. Plus, don't forget this adorable free printable gift tag, it is printed to look just like notebook paper.

17. You're The Highlight Of My Year
Teachers love getting school supplies as gifts, especially if it's something in high demand like markers, pencils, and even highlighters. Create a fun and cute gift idea by printing out this free printable and attaching it to a few highlighters. They will love to know that you loved being in their class this year.
Germs are everywhere, especially in school. Hand soaps and sanitizers are very popular gift ideas throughout the school year but, when you add this " hands down, best teacher around" free printable tag, it makes a perfect gift to show your love and admiration during teacher appreciation week.
The school year is quickly coming to an end. Let your teacher know how much you'll miss them with these super cute owl printables that wrap around a mini chocolate bar. Such a sweet and simple gift they will love.
Teacher gifts do not always have to be centered around candy and drinks. Give them something they may not think of themselves like a pack of empty note cards. That way when they need to send a note home to a parent or want to send a thank you card, they will have a set ready to go. Plus, anytime they will think of your thoughtfulness every time they write a special note.
Get more party inspiration from these ideas: