Table of Contents
Cool DIY Ideas You Can Make Out of Used Tires
Reduce. Reuse. Recycle. We've heard those three words over and over. Wondering what to do with those old tires you've been holding on to?
Check out these 19 DIY tire project ideas, and put those worn treads to good use.
From teeter-totters to planters to swings and more, you'll be so happy you hung on to those tires.
Bonus: you'll feel great about not adding more to the landfill.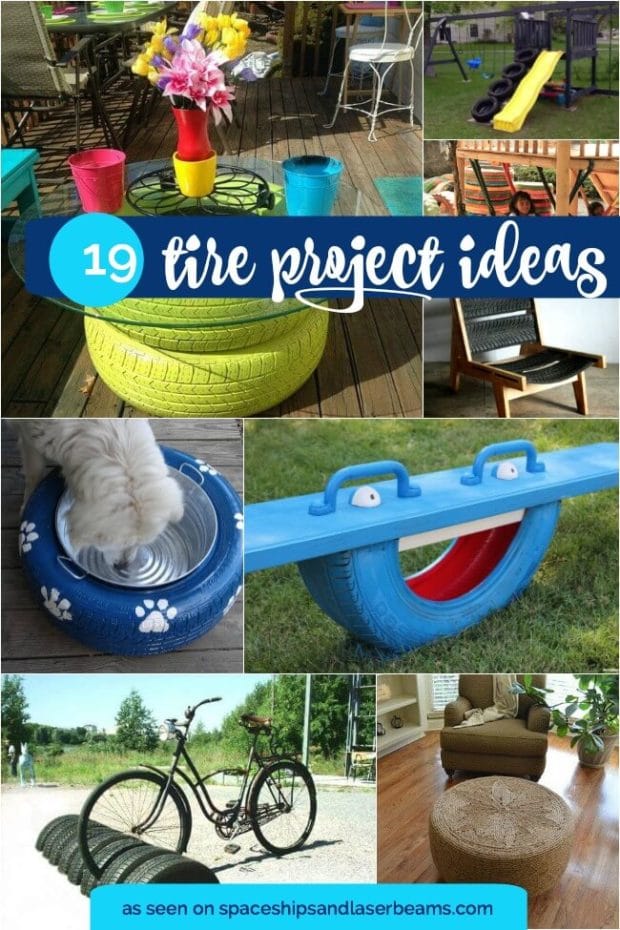 ---
See Also
---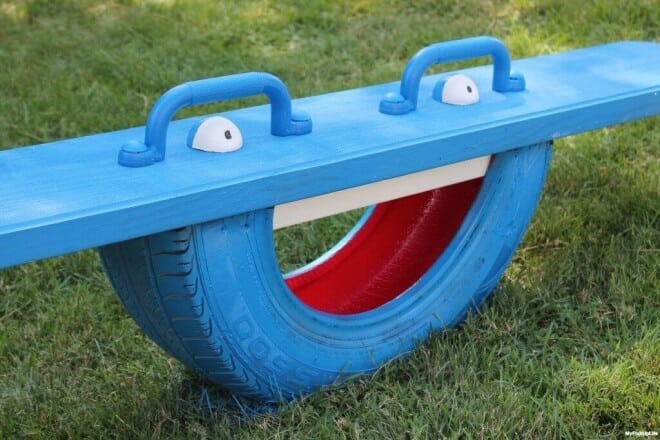 1. Tire Totter
From My Fix it Up Life
What do you get when you combine a recycled car tire, a piece of cedar, some bright colored paint and a smiley-face? A Tire Totter of course!
This is a great backyard project that the whole family can help out with. It's easy to make with a few simple tools and a little bit of elbow grease.
The end result is super cute and a fun teeter totter that your kids will love playing on together.
2. Tire Table
From East Coast Creative
There are some pretty nice end tables out there, but this DIY Trendy Tire Table ranks way up there on the coolness scale. Upcycle an old tire to make this beautiful rope-wrapped table for your home that looks like an expensive piece of furniture you'd find in a store.
I love the color blocked legs to add a surprise splash of color, and it's so easy to customize to the color scheme in your home.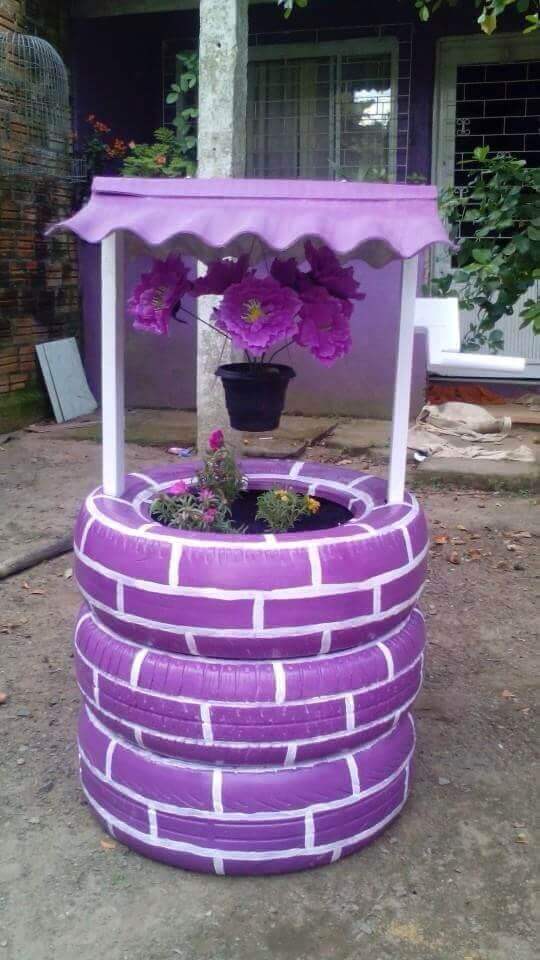 3. Tire Wishing Well
From Smart School House
A fun addition to your backyard or garden, this wishing well made from recycled tires is a fun and eco-friendly way to add some color to your outdoor space.
Just stack the old tires, drill some holes, and nail a roof on, then paint whichever color you would like.
It looks extra cute with some bright flowers planted in the base and hung from the roof.
4. DIY Tetherball Set
From Simply + Kierste
Tetherball has always been one of the best schoolyard games. If you want to take the fun back home tetherball sets can get really pricey, but this easy DIY is budget friendly and makes a fun family project.
It only takes about an hour to put together and one day of drying time, then you are done and ready to play. Tetherball is such a fun game and can be played by kids and adults of any age.
5. DIY Tire Planter
From DIY Show
These DIY Tire Flower Planters are an easy weekend project that will add some fun color to your backyard this summer. Mount to a wall or hang from a tree for a beautiful space to display floral arrangements.
The project is as simple as giving some old tires a good scrubbing, giving them a couple coats of spray paint, and drilling some holes to allow for water drainage.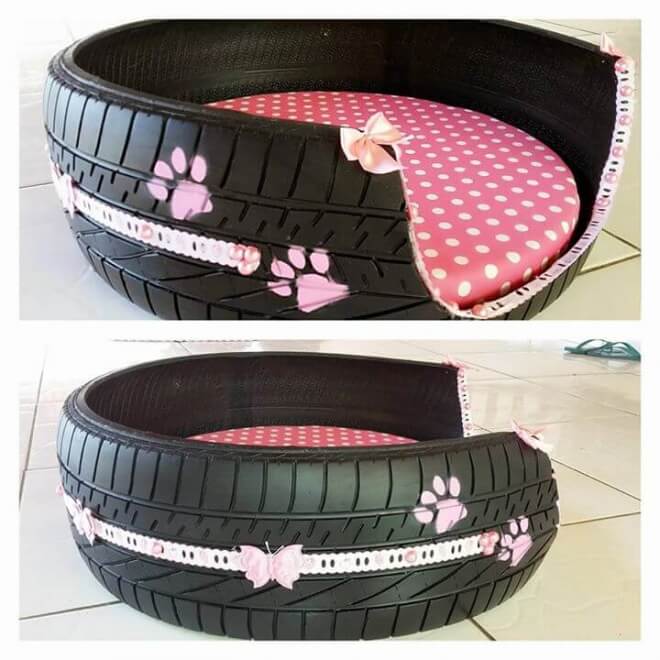 6. Tire Dog Bed
From Portal do Dog
Every dog deserves a comfy and cute bed that will stand the test of time. This fun upcycle is easy to DIY and makes an amazingly durable bed for your furry friends.
Decorate an old tire with a comfy fabric cushion, some painted paw prints, and a few little trinkets for an adorable DIY dog bed.
7. Tire Sandbox
From Raise a Boy, as seen on I Heart Naptime
With summer coming up backyard improvements are always on our mind. Follow these easy instructions to turn an old tractor tire into a fun backyard sandbox for the kids.
This blogger found an old tire for FREE at a tractor supply store, but also check out your local online classifieds. Make it a family project and let your kids help paint the tire too.
Add some colorful handprints, polka dots, stripes, or anything else you can think of.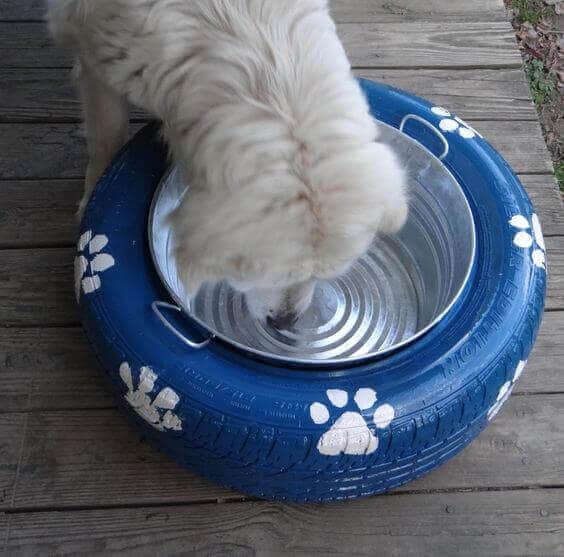 8. Spill Proof Tire Dog Bowl
From Rural Mom
If you own a dog I'm sure you know the pain of knocked over water dishes. Make a spill-proof bowl for your furry friends with an old recycled tire.
Paint the tire any color you'd like then add fun patterns like puppy paw prints or colorful stripes. A galvanized or plastic bucket should fit snuggly right in the middle of the tire, and voila. You have an attractive, recycled tire spill proof dog bowl.
9. DIY Tire Seating
From Home Talk
These upcycled tire seats are the perfection addition to a kid's bedroom or playroom to make a comfy-cozy reading nook. If you use outdoor-friendly fabric these seats would also be great for a patio or garden.
Spray paint the tires then make a simple cushion from plywood, a fun fabric, and polyester stuffing. The cushion nests on top, letting the tires play double duty as a seat and storage.
10. Tire Ottoman
From That Was a What?!
This rope wrapped ottoman looks like it belongs in an expensive fancy furniture store. Can you even believe it used to be an old, dirty tire?
This awesome upcycle project is pretty easy to make and budget friendly too.
Most of the pieces are easy to find in online classifieds, thrift stores, or even the dollar store.
A few hours of DIY work later you have a beautiful ottoman perfect for a coffee nook or living room.
11. Swing Set Tire Ladder
Tires are the perfect found object for playgrounds and swing sets. They are incredibly easy to find, they hold up great outside, and there are so many things you can do with them.
This DIY swing set tire ladder makes a safe climbing wall that your kids will love running up and down.
It's also super easy to make with a wooden platform and a few drilled holes for water to drain out.
12. Tire Table
From Madcap Frenzy
Tires are a great material for outdoor projects. They are durable, weather proof, and incredibly easy to work with. Brighten up your backyard décor with this funky upcycled tire table.
Spray paint a few old tires with a color that matches your outdoor furniture, then stack them and add a glass or wood piece on top to create the table.
It's an easy and inexpensive way to add color and functionality to your patio.
13. Tire Valance
From Itsy Bits and Pieces
Go for a planes, trains, and automobiles theme for your car-loving kid's bedroom! This tire tread valance makes a fun and funky window covering for a transportation themed room. Reuse an old tire, pick one up from a junk yard, or check out your local online classified listings! It is a cheap and fun way to spruce up a kid's bedroom!
14. Tractor Tire Pond
From Dream Garden 101
Start searching your local classifieds and junk yards because this recycled tractor tire pond is calling your name.
A great risk-free free alternative to PVC foil and other building materials, a recycled tractor tire is the perfect inexpensive and durable choice for an outdoor water feature.
This easy DIY tutorial will help you make a beautiful backyard pond that you and your family can enjoy for years to come.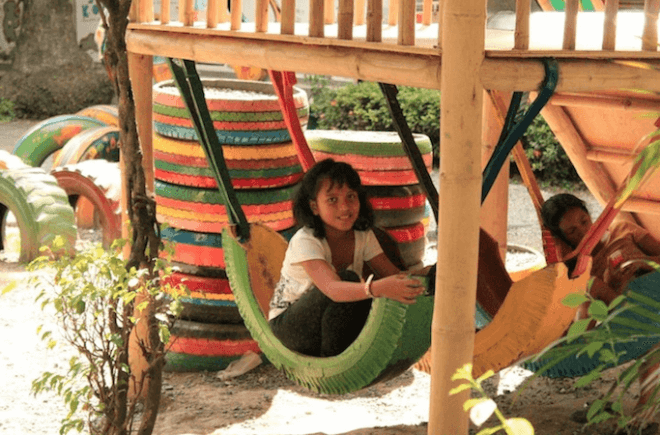 From Playground Ideas, as seen on Shareable
We are always looking for fun and innovative ideas for backyard playgrounds. Recycled tires are super durable and safe for kids to play on, making them the ultimate material to work with for new playground features. These tire hammocks are a fun way to upcycle and make a cool hangout spot under the playground for your kids and their friends. Cut a tire in half, paint it with some outdoor paint, and string them up. It's as easy as one, two, three!
16. Tire Bike Stand
From RecycleArt
We love taking out our bikes in the summer and going for family bike rides or letting the kids bike around the block. The only problem is storing them.
Solve that problem with this excellent idea for a bike rack made of old recycled tire.
Cut the tires in half and line them up on the ground against a fence or wall for an east and functional DIY that will make it easy to grab your bike and go!
17. Tire Chair
From Gideon Zadoks
Upcycle an old chair and some cleaned tires to make this modern, comfortable, conversation piece. Tires look surprisingly sleek paired with some simple stained wood in a cool furniture design.
These would be super easy to DIY with some spare wood or an old chair, one or two old tires, and an afternoon of work.
Power wash or scrub down the tires to get them nice and squeaky clean.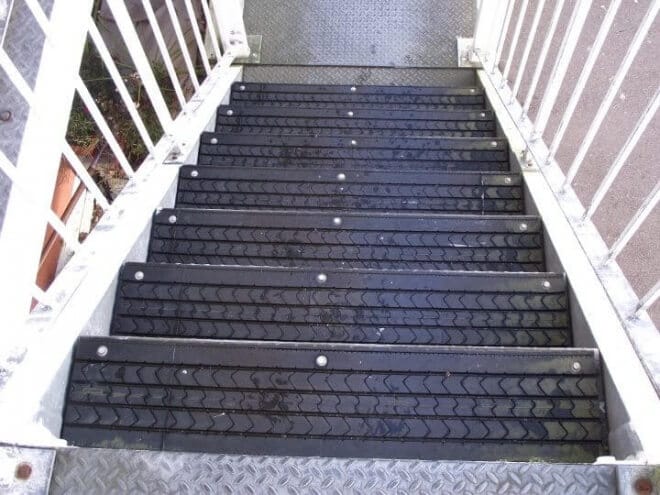 18. Tire Tread Stairs
From Nyssa
Do you have a slippery flight of stairs going to your garage, basement, porch, or yard? It can be scary when stairs get slippery, especially if you have little ones around the house.
Repurposing old tires is the perfect way to add some tread and avoid slips! All you have to do is clean and flatten some old tires, then bolt them to each step and bam.
There you have it, tire tread skid proof stairs.
19. DIY Tire Toy Shelves
From Spaceships and Laser Beams
If you have any leftover tires in your garage (who doesn't?), turn them into a fun shelf for all of your kids' toy cars with this awesome DIY project.
It doesn't cost that much to put together and makes a cool storage solution for playrooms or bedrooms. Add some wooden shelves to the inside of an old tire then spray paint the whole thing for a colorful and car-themed shelf!
Check out more DIY ideas your kids will love creating with you.