DIY Toy Shelves from a Used Tire
Table of Contents
Thanks to the partnership I have with Discount Tire on this post, I am sharing my recycled tire DIY project for holiday gift inspiration.
Commercialization abounds during the holidays. I can spend with the best of them, but I also like it when I come up with an eco-friendly idea that doesn't blow my budget. I was intrigued when I saw the challenge that Discount Tire put out to use a recycled tire for a DIY holiday gift. I immediately had an idea. With three boys, toy storage space is at a premium in our world. They are perfect for the backyard where the boys can play with their toys!!!
If you have any leftover tires stored in your garage (doesn't everybody?), I know something you can do with them. This toy storage shelf unit is a super recycling idea that doesn't cost much to put together and I think it looks really awesome. It would make a fun Christmas present that would be just as perfect for a three-year-old or a thirty-three-year-old! Minus the toy cars. 😉
No, it's not difficult to make. Here's what worked for our tire shelf:
1 auto tire
1 8' 1X6 pine board (not pressure treated and if you have wood scraps that are the right size for your tire, use 'em)
12 #6X1" panhead screws
1 can quick-dry grey spray primer that bonds to plastic
1 can quick-dry spray paint that bonds to plastic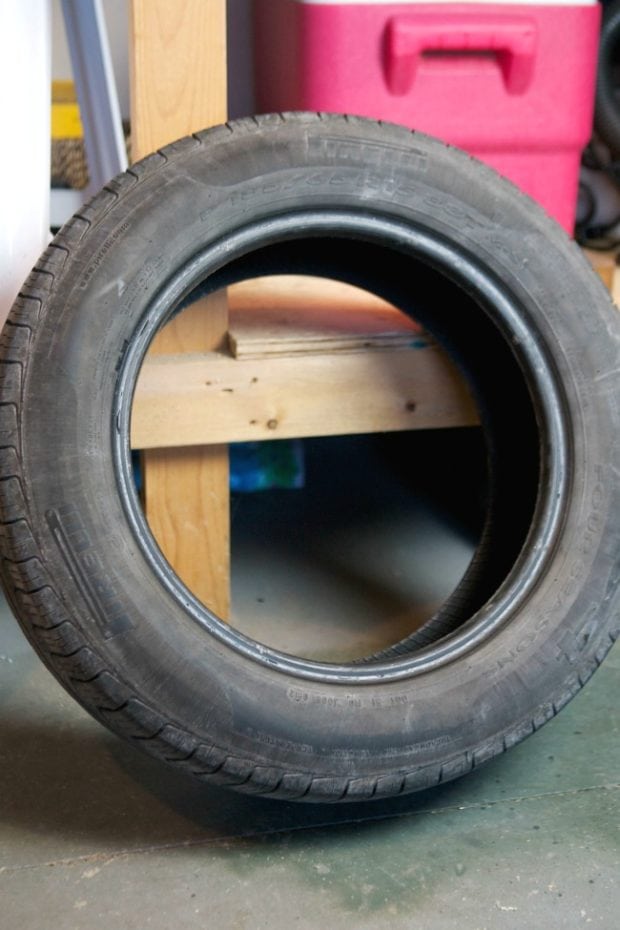 Give your old tire a good scrubbing first and let it dry.
For the middle board, measure the diameter of the inside circle and add 2" to each side. For the top and bottom boards, use the inside center circle diameter. Using a mitre saw for cutting the shelves is a lot quicker, but you could use a handsaw.
Take your center board and wedge it into the tire. Repeat with the top and bottom boards.
Use a metal drill bit and predrill through the side of the tire and into the boards, using a bit slightly smaller than the screw size. This will keep the wood from splitting.
If you want the shelves and tire the same color, you can assemble now. If you would like the shelves a different color, disassemble and prime everything separately.
Spray tire and shelves with primer (do two coats). Once it is dry, spray paint the tire and shelves (ours needed two coats).
When paint is thoroughly dry, reassemble.
The next time you go get your tires changed, stop by Discount Tire. They're the world's largest independent tire and wheel retailer. Most know them as Discount Tire, but in the western states they do business under the name of America's Tire. They operate more than 900 stores across the country and have been in business for over 50 years so you know they're doing something right. We've gotten all of our replacements there and we've always been pleased with the quality products. Also, their staff not only does expert work, they're pleasant to deal with. That counts. For more information, including locations, visit their website.
How about you? Have any old tires in your garage? Go check and get going. You've still got time to make this eco-friendly Christmas gift idea!