15 Frozen Party Ideas Boys Will Enjoy
Table of Contents

Create the ultimate boy approved Frozen themed party with these great sources gathered by the crew at Spaceships and Laser Beams...
Disney's Frozen is a hit with kids, no matter age or gender and for good reason: it's adorable! Who doesn't appreciate sisters that love each other, songs that you can't get out of your head, and a talking snowman? So with all that good stuff going on, lots of kids are asking their parents for a Frozen themed birthday party.
---
See Also
Easy Snowman Favors are the perfect to add a special touch to your winter party.
Have fun indoors or out with this Paper Snowball Launcher.
---

Finding Frozen party ideas for boys has proven to be a little tough, so I wanted to share these great Frozen Party ideas that boys will like that work especially well for our guys. The Frozen Fun Ice Block Races are especially popular and boys will also like the Snowman Slam Game and Frozen Toys for Boys. You want more ideas? Snowman Parts Snack, Snowman Pizza, Snowman Cello Bag Treats, Pin the Nose on Olaf, Snowman Cupcakes, Frozen Jello Ice Cubes, Frozen Rice Krispie Treats, Disney's Frozen Drinks, Frozen Party Ideas, and a Frozen Party for Boys and Frozen themed party supplies and party favors will get the (snow)ball rolling!
1. Frozen Fun Ice Block Races :: Mom Endeavors
Need a Frozen themed party activity perfect for the boys? This Frozen fun ice block race idea is a winner! Kids pull small DIY'd sleds holding ice blocks and race to the finish!
2. 24 Frozen Themed Party Supplies and Party Favor Ideas :: Spaceships and Laser Beams
Throwing a Frozen themed party? Check out these 24 Frozen party supplies and party favor ideas! From Frozen stickers to balloons, to cupcake rings and edible image toppers, there are so many fun Frozen products to add that icy touch to your celebration.
3. Snowman Slam Game :: Growing a Jeweled Rose
If you're looking for a fun Frozen inspired game that is easy to assemble, this is it! Decorate 6 Styrofoam cups with orange and black craft foam. Stack them up, and use 3 balled-up white socks as snowballs to knock down the snowmen.
4. Snowman Parts, Snack Sack Free Printable :: She Saved
Snack time just got a whole lot cuter! Assemble bags of "snowman parts" by affixing this adorable free printable topper and filling with creative edible like: marshmallows, chocolate chips, pretzel sticks and candy corn. Be prepared for kids to play with their food and love every minute of it!
5. Snowman Pizza :: Delia Creates
Follow this basic pizza dough recipe to create the cutest snowman pizzas! The carrot nose and olive buttons, mouth and eyes will make you smile!
6. Snowman Cello bag Treats :: The Celebration Shoppe
We're pretty sure you'll love these jolly snowman treats made from white powdered donut holes creatively packaged in cellophane bags! Just add a hand-drawn snowman face on the front, and paper top hats!
7. Pin the Nose on the Olaf :: The Style Sisters
A twist on the classic Pin the Tail on the Donkey, this Pin the Nose on the Olaf is made out of an upcycled cardboard box cut in the shape of Olaf and painted white. Cute orange noses are cut from orange paper, 1 per guest.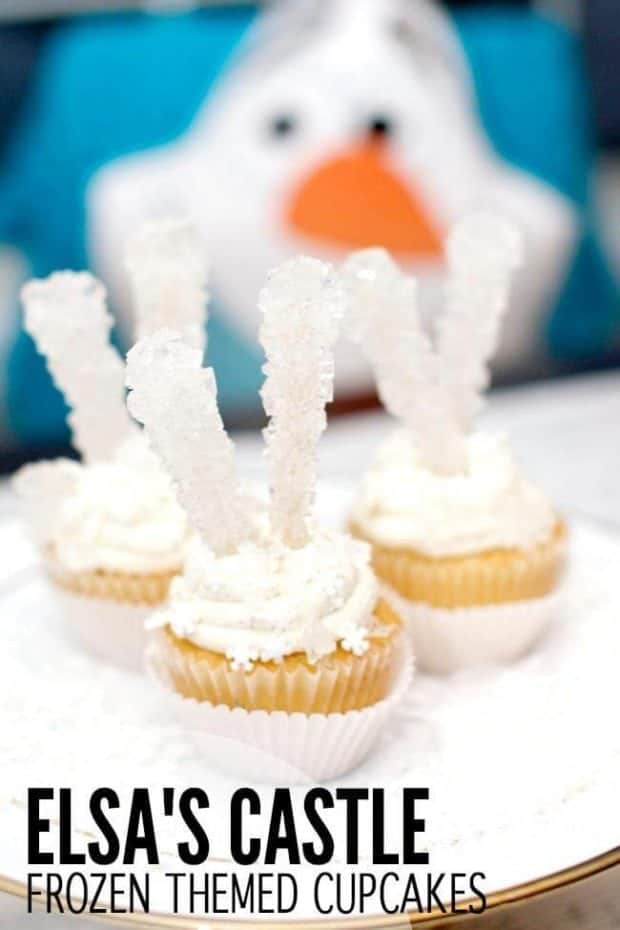 8. Elsa's Ice Castle Cupcakes :: Spaceships and Laser Beams
Your heart may just melt when you see these cute snowman cupcakes! But you'll rejoice when you realize you can replicate them so easily.
9. Frozen Jello Ice Cubes :: Bubbly Nature Creations
Serve up some Frozen inspired Jell-O ice cubes at your next party! This layered, two-toned Jell-O ice cube recipe will delight your guests!
10. Frozen Rice Krispie Treats :: A Thrifty Mom
Turn ordinary rice krispie treats into a frozen themed dessert in minutes! Just add blue sprinkles to the rice krispie treats & embellish with toppers made from toothpicks and frozen stickers!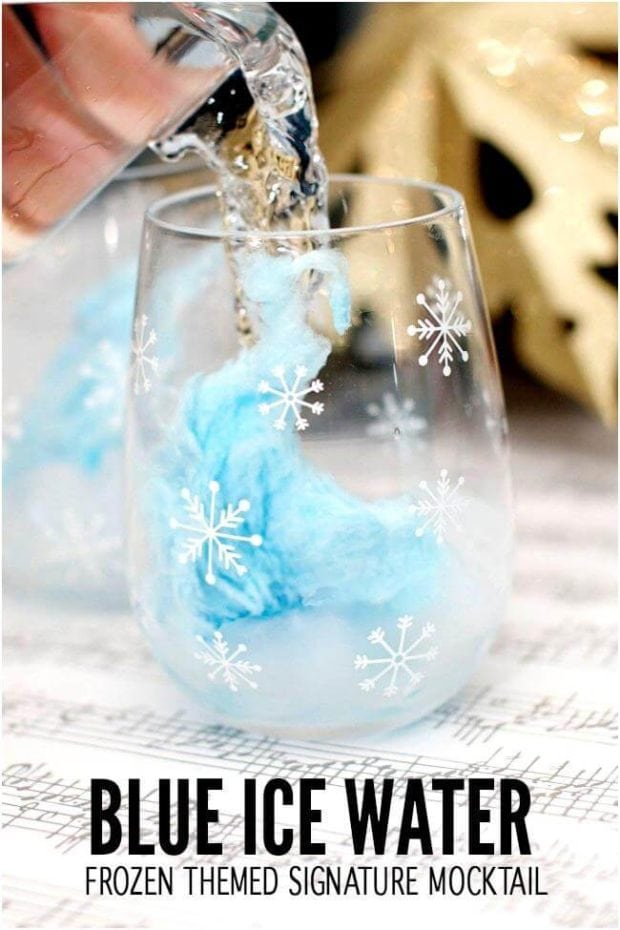 11. Frozen Party Signature Mocktail :: Spaceships and Laser Beams
Making frozen mocktail drinks for your frozen themed party is easier than you think! You could even finish the look of the drink with sprinkled rims, made by dipping glasses in corn syrup, followed by sprinkles!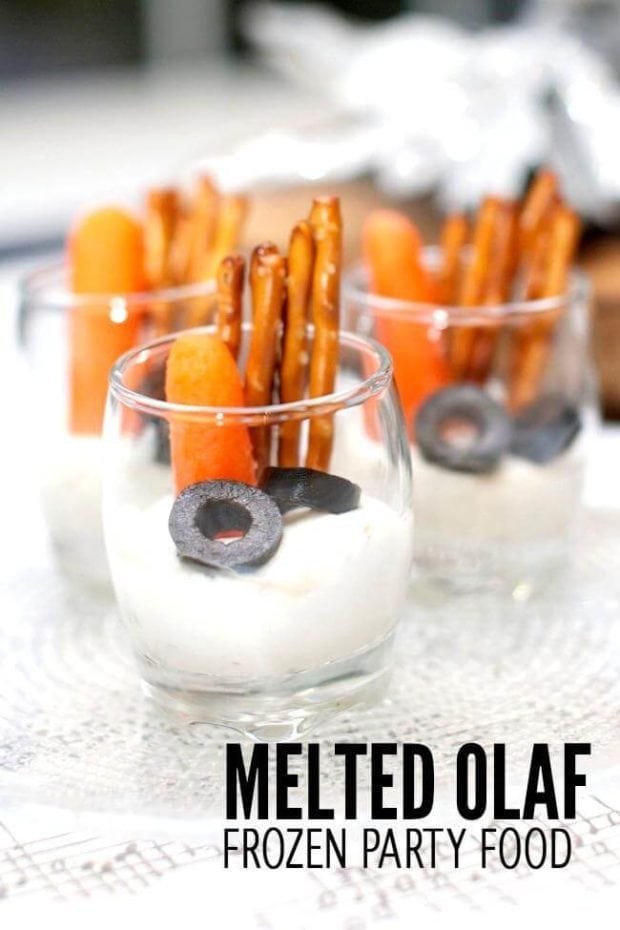 12. Melted Olaf Party Food Idea :: Spaceships and Laser Beams
For the Melted Olaf Snacks, place veggie dip at the bottom of a clear shot glass. Add a baby carrot, pretzel sticks and two olives in the glass.
13. Frozen Party Theme Ideas :: Mom Endeavors
Check out all of these Frozen party theme ideas! You'll find inspiration for indoor and outdoor Frozen decorations, party favors, food & dessert table and more!
14. Frozen Party for Boys :: Disney in the Desert
If your Frozen party has a "no princess" zone, my guesses are you are throwing a Frozen party for boys! Be sure to check out this party. These Frozen party ideas focus on Olaf, Sven and Kristoff! I'm obsessed with the "Troll Snot" activity and "Sven Antlers"
15. Disney Frozen DIY Play Snow :: Two Sisters Crafting Blog
You may just win best party activity with this Disney Frozen DIY play snow! Everyone will want to build a snowman with you!
Create the ultimate boy approved Frozen themed party with these great sources gathered by the crew at Spaceships and Laser Beams…
(Amazon Affiliate Links)
Olaf the Snowman Disney Frozen Balloon Birthday
Frozen Peel and Stick Wall Decals
Snowflake Winter Holiday Balloons
Disney Frozen Movie Stickers
'Do You Wanna Build a Snowman' Candy Party Favor Kits
Olaf Disney's Frozen Life Size Cardboard Standup
Snowflake Mobile Party Accessory
Disney's Frozen Party Game
Frozen Olaf Snowflakes Balloons
Sven and Olaf Life Size Cardboard Standup
Check out these great winter themed parties for more frozen fun.
Snowman Themed Winter Tablescape
Winter Birthday Toddler Dessert Table