10 Frozen Party Ideas Kids Will Enjoy
Table of Contents
Disney's Frozen is a hit with kids, no matter age or gender and for good reason: it's adorable! Who doesn't appreciate sisters that love each other, songs that you can't get out of your head, and a talking snowman? So with all that good stuff going on, lots of kids are asking their parents for a Frozen-themed birthday party. You want more ideas? Snowman Parts Snack, Snowman Pizza, Snowman Cello Bag Treats, Pin the Nose on Olaf, Snowman Cupcakes, Frozen Jell-O Ice Cubes, Frozen Rice Krispie Treats, Disney's Frozen Drinks, Frozen Party Ideas, and a Frozen Party for Boys and Frozen themed party supplies and party favors will get the (snow)ball rolling!
---
See Also:
Need a Frozen-themed party activity perfect for the kids? This Frozen fun ice block race idea is a winner! Kids pull small DIY sleds holding ice blocks and race to the finish!
If you're looking for a fun Frozen-inspired game that is easy to assemble, this is it! Decorate 6 Styrofoam cups with orange and black craft foam. Stack them up, and use 3 balled-up white socks as snowballs to knock down the snowmen.
Snack time just got a whole lot cuter! Assemble bags of "snowman parts" by affixing this adorable free printable topper and filling it with creative edibles like marshmallows, chocolate chips, pretzel sticks, and candy corn. Be prepared for kids to play with their food and love every minute of it!
Follow this basic pizza dough recipe to create the cutest snowman pizzas! The carrot nose and olive buttons, mouth, and eyes will make you smile!
A twist on the classic Pin the Tail on the Donkey, this Pin the Nose on the Olaf is made out of an upcycled cardboard box cut in the shape of Olaf and painted white. Cute orange noses are cut from orange paper, 1 per guest.
Turn ordinary Rice Krispie treats into a Frozen-themed dessert in minutes! Just add blue sprinkles to the Rice Krispie treats and embellish them with toppers made from toothpicks and Frozen stickers!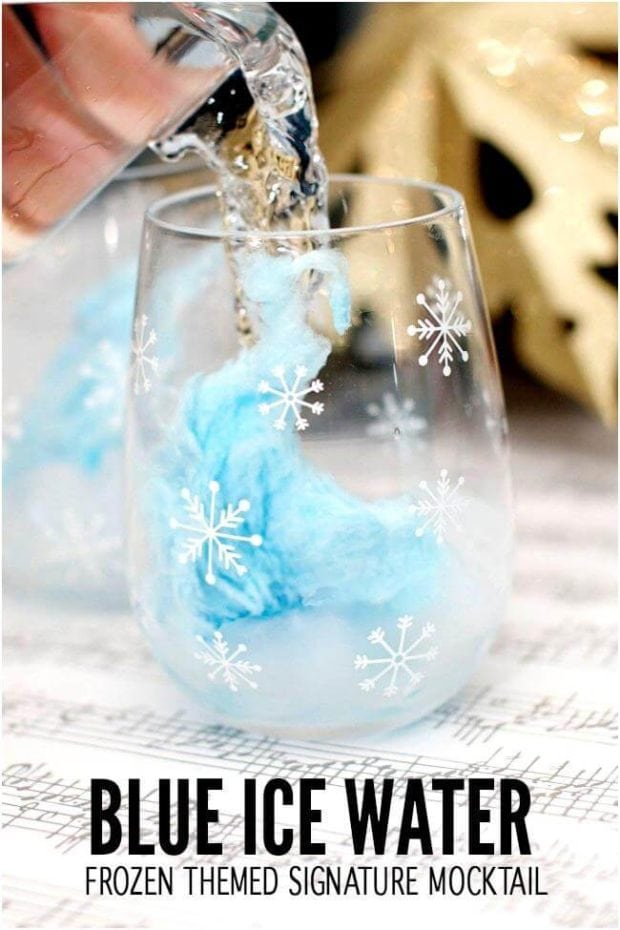 Making mocktail drinks for your Frozen-themed party is easier than you think! You could even finish the look of the drink with sprinkled rims, made by dipping glasses in corn syrup, followed by sprinkles!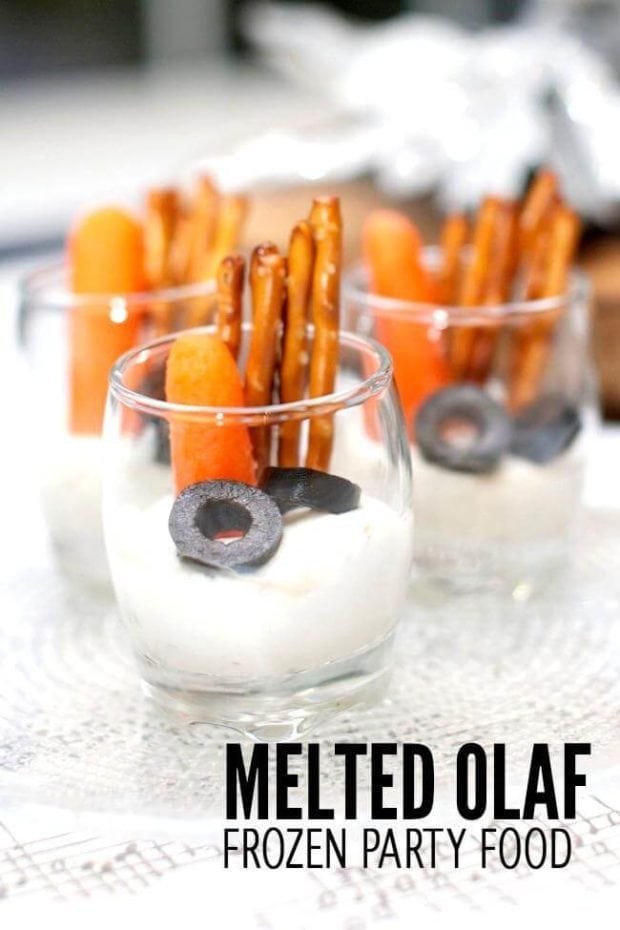 For the Melted Olaf Snacks, place veggie dip at the bottom of a clear shot glass. Add a baby carrot, pretzel sticks, and two olives into the glass.
Check out all of these Frozen party theme ideas! You'll find inspiration for indoor and outdoor Frozen decorations, party favors, food & dessert table, and more!
You may just win the best party activity with this Disney Frozen DIY play snow! Everyone will want to build a snowman with you!
Check out these great themed parties for more fun: