12 Dinosaur Birthday Cake Ideas We Love
Table of Contents
Aren't Dinosaur Birthday Party Cakes Amazing? Given the popularity of dinosaur birthday parties as a theme for kids, we thought we would showcase some of our favorite dinosaur birthday cakes. These birthday cakes represent a range of budgets — from the homemade to the ordered from professional cake decorators — and a variety of variations on the dinosaur theme itself — from pop art dinosaurs to realistic dinosaurs and everything in between. We even have dinosaur cupcakes — because who can ever ignore cupcakes?
See Also:
See Also:
---
Construction trucks dig into this cake and unearth some pretty awesome dinosaur bones in this dinosaur fossil cake. The cake is an actual edible excavation site. With the help of some fondant and some cake crumbles, you can have a Dino dig site right on top of your cake too. Everyone will be fighting over who gets which dinosaur bones.
What's not to love about this budget-friendly dinosaur cake? Although simple, it looks adorable and would be perfect for any dinosaur lover. It not only looks great but will taste divine as well.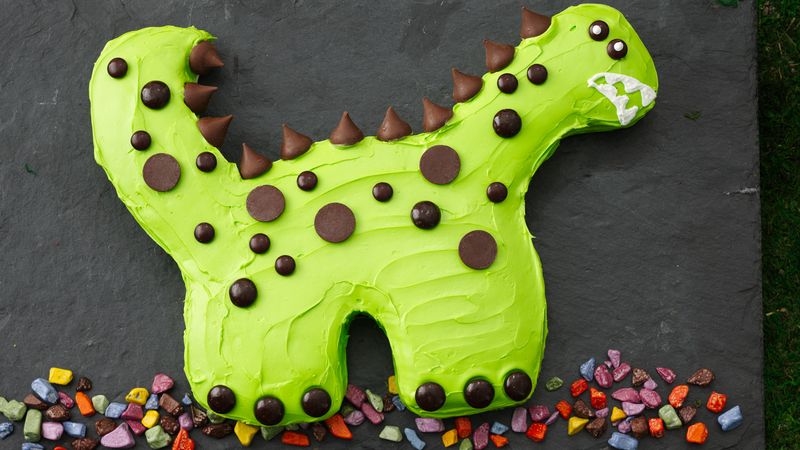 A dinosaur party cake was never so much fun and all of the details on this cake look wonderful and taste even better. All the kiddies will love this one.
4. DIY Dinosaur Birthday Cake Fondant Toppers
The cutest fondant dinosaurs can top your cake with this tutorial. Plus, the personalization of name and age in fondant really makes this cake special. This cake topper would be perfect for any little lover of dinosaurs in your life.
Sheer cuteness makes this Dino birthday cake dessert table the perfect inspiration for your next dinosaur party. Plus, the entire dessert table is full of fun preppy details!
The great thing about these dinosaur cupcakes is the variety of fun dinosaur-inspired options your guests can choose from. There won't be any fights over which one will get a certain dinosaur. Which would you choose?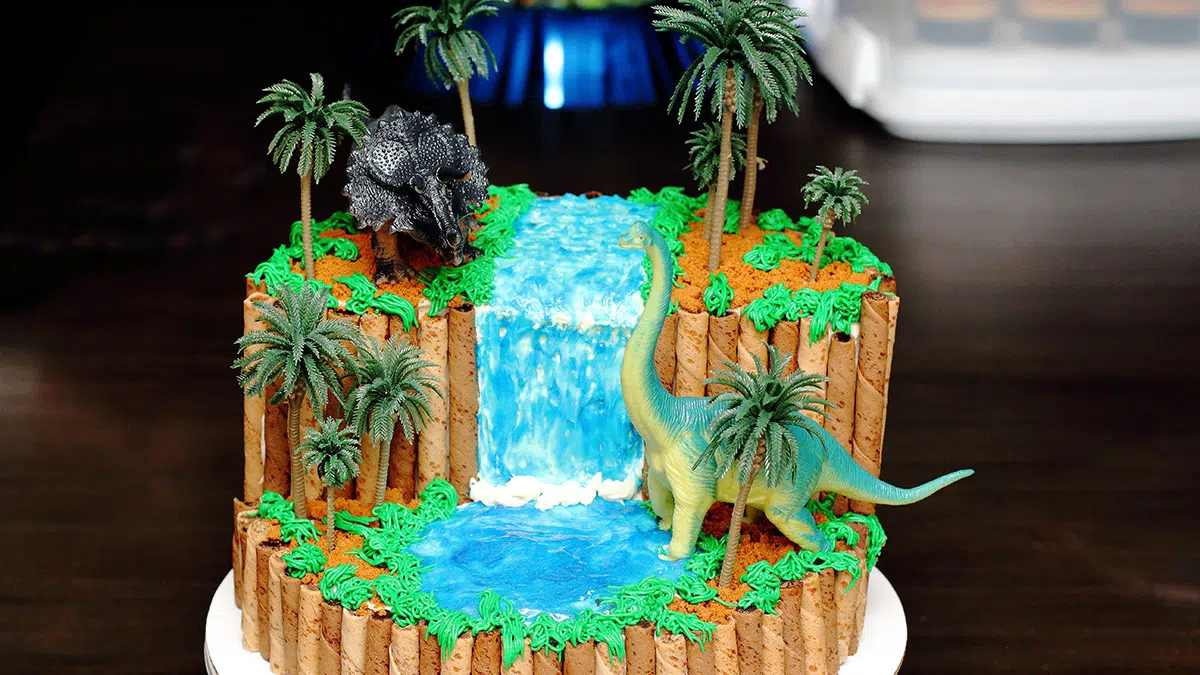 This impressive dinosaur birthday cake may just inspire you to make your own cake for your next party. Handmade and detailed it's a show stopper that is much easier to make than it looks. Definitely keep this adorable and homemade cake in mind for your party!
Chances are, you'll want a dinosaur as a pet when you see this darling dinosaur pet cake. Molded out of Rice Krispies and covered with fondant, this dinosaur is so cute with his teal polka dots, yellow collar, and green fondant spikes from head to tail. Or, create your pet dinosaur with your very own color scheme for a more personalized cake.
This dinosaur slab cake is awesome. Get ready for a ROAR-some birthday with this Dino-riffic Sheet Cake. Made using a printable stencil, this sheet cake is decorated with various shades of green icing to give it a camouflage effect. Also, if you're looking for a menacing dinosaur, then this is the way to go, as this T-Rex is mid-roar.
These dinosaur cupcakes are the cutest. Pick these cupcakes for a sweet addition to your dinosaur party.
You'll not only get a great simple dinosaur birthday cake idea but also ideas for an entire dinosaur dessert table. We love that this is doable, even last minute!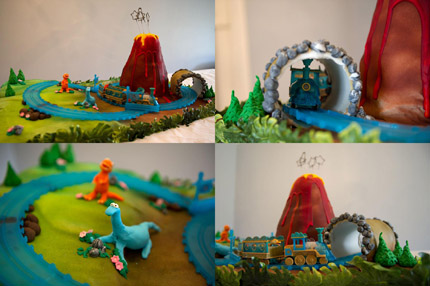 An electric train really moves atop this "Dinosaur Train" themed cake. Sweet little dinosaurs made from sugar paste and a volcano made from layers of red velvet and vanilla cake really set this cake apart. All of the little details throughout this cake make for a truly show-stopping dessert that the birthday girl or boy will absolutely love.
Be sure to check out more birthday party ideas here: