Party Food
29 Colorful Rainbow Food and Drink Ideas
By
| Last Updated:
If you love showy food and drinks, you've got to see the 29 colorful rainbow food and drink ideas we put together!
A dessert table with a rainbow of strawberries, meringue cookies and parfait is ready to party.  Snack mix, veggie salad and salmon look lovely in color. From rainbow sangria to rainbow veggie pinwheels—or pizza—you'll find a wealth of ideas that will definitely add some color to your life!
---
See Also
---
1. Rainbow Sangria
From Gimme Some Oven
This Rainbow Sangria is so full of fruit that you can basically call it a healthy meal, right? I mean, you've got to get those servings of fresh fruit in somehow!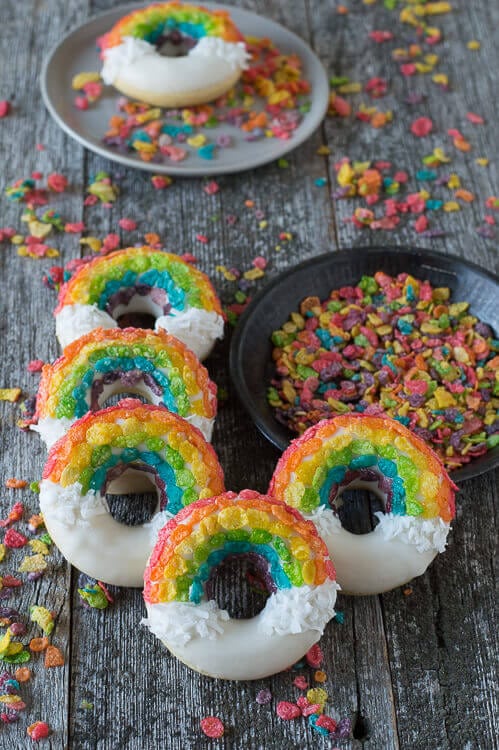 2. Rainbow Donuts
From The First Year Blog
It may take a little time and effort to separate all the different colors to make the fruity pebbles rainbows on these Rainbow Donuts, but don't you think it's worth it? I sure do!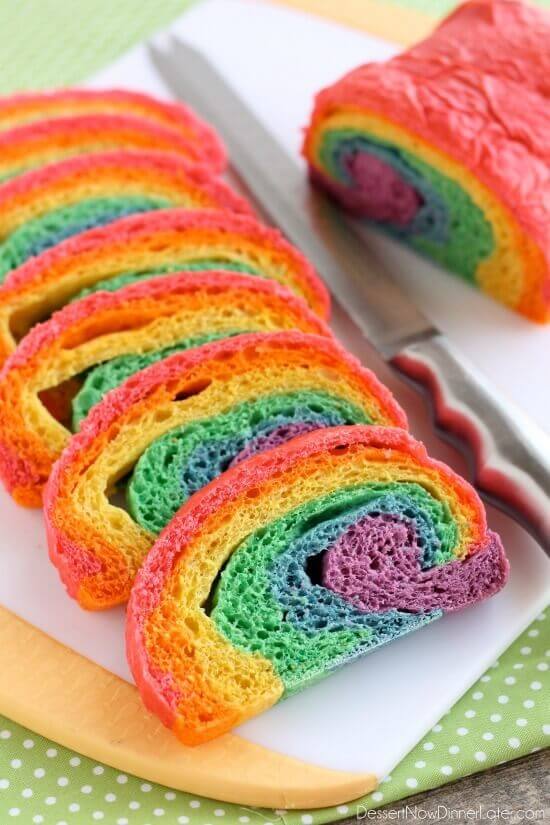 3. Rainbow Bread
Using pre-made bread dough makes this Rainbow Bread a little quicker to put together. A sandwich made out of this bread would just be astoundingly gorgeous!
4. Rainbow Veggie Pizza
From Gimme Some Oven
If you're struggling to get kids onto the veggie-loving bandwagon, then try to get them on the rainbow trend. This Rainbow Veggie Pizza is a great way to get all kinds of veggies into your diet, and the kids will love it!
5. Rainbow Cake Roll
From Hungry Happenings, as seen on Tablespoon
Jelly rolls or cake rolls are actually surprisingly easy to make, so this Rainbow Cake Roll is definitely worth trying.
6. Layered Rainbow Cupcakes
A cupcake is cute, but a Layered Rainbow Cupcake is just about the cutest thing you'll ever see. Plus, it's delicious!
7. Rainbow Spring Rolls
From Minimalist Baker
These Rainbow Spring Rolls are actually really healthy and nutritious – a great way to stay on trend while eating well.
8. Rainbow Smoothie
From This Mama Loves
This is another great way to get kids introduced to new flavors and fruits by putting them in a familiar dish — a smoothie. It's a really fun way to squeeze a whole bunch of your daily servings of fresh fruit into a single meal.
9. Rainbow Salmon Skewers
From The View From Great Island
These Rainbow Salmon Skewers are just made for summer dining, and would be perfect to grill at your next barbecue.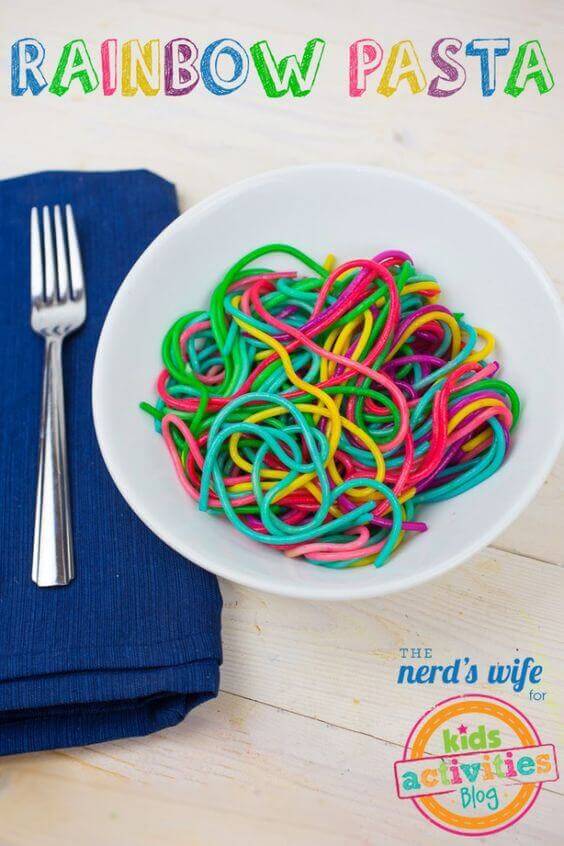 10. Rainbow Pasta
From Kids Activities Blog
Making Rainbow Pasta is an exciting activity that kids can do (mostly) on their own. Though it might get a little bit messy, embrace it and let that be part of the fun.
11. Rainbow Fruit Salad Parfaits
From Just Another Day in Paradise, as seen on Thirty Handmade Days
Colorful Rainbow Fruit Salad Parfaits are easy to put together, and would be a great way to sneak fruit onto the dessert table of your next kids' party.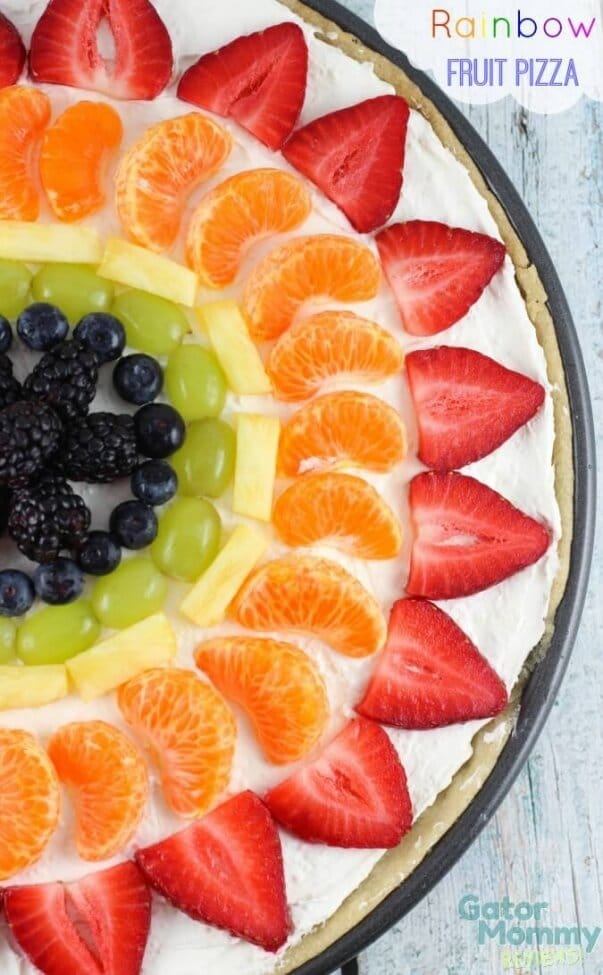 12. Rainbow Fruit Pizza
From Sugar, Spice and Family Life
A fruit pizza? Not just that, a rainbow fruit pizza. Still confused? Try it! It's far more delicious than you think!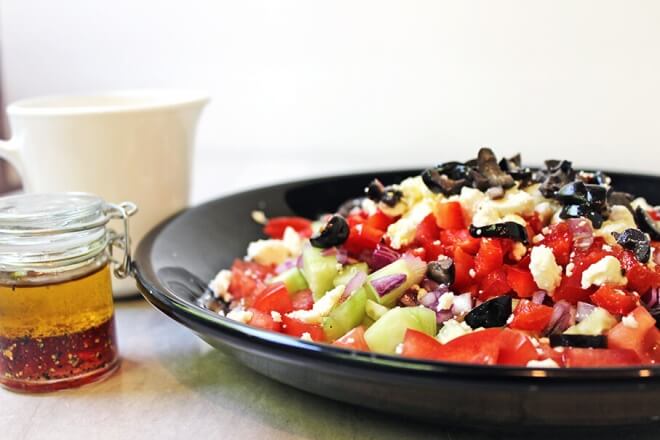 13. Greek Rainbow Vegetable Salad
From Dinner, Then Dessert
This is another healthy take on the rainbow food trend — Greek Rainbow Vegetable Salad. It sounds delicious, and is definitely something I'm going to try this summer.
14. Rainbow Jell-O
From The First Year Blog
This Rainbow Jell-o looks pretty much amazing. So colorful and bright! This is definitely something to think of for your next birthday party, especially if you're catering to kids with allergies — it's gluten, egg, and dairy free!
15. Rainbow Heart Cookies
From Eugenie Kitchen
These cookies really stole my heart (excuse the pun!), and time consuming as they seem, I'm definitely going to have to give them a try.
16. Rainbow Strawberries
These Rainbow Strawberries are a whole lot of fun, and they look darn delicious too!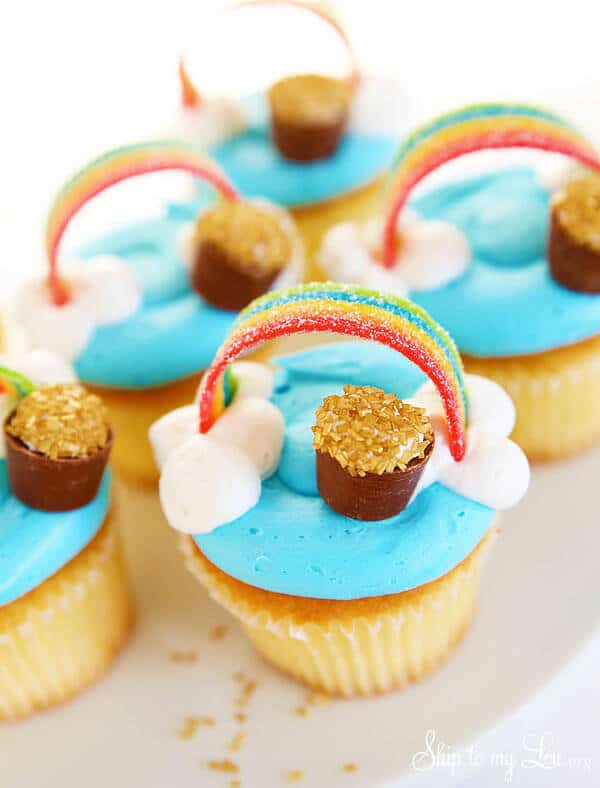 17. Rainbow Cupcakes
From Skip to My Lou
These cupcakes really are the pot of gold at the end of the rainbow. How could ANYONE resist them? I doubt they could!
18. Rainbow Trix Krispie Treats
From SWEETHAUTE
Getting a little tired of rice krispie treats? Say hello to our new favorite, Rainbow Trix Krispie Treats!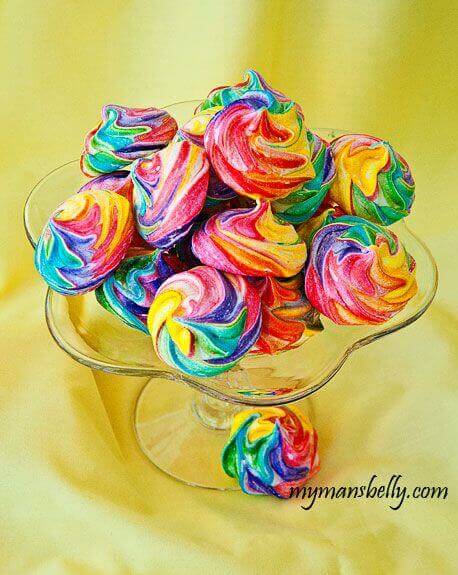 19. Easy Rainbow Meringue Cookies
From My Man's Belly
These Easy Rainbow Meringue Cookies, also known as unicorn poops, are definitely worth a try!
20. End-of-the-Rainbow Cookie Parfaits
From Tablespoon
What's at the end of the rainbow? Maybe I was wrong when I said it was the Rainbow Cupcakes, because it looks like it's these End-of-the-Rainbow Cookie Parfaits.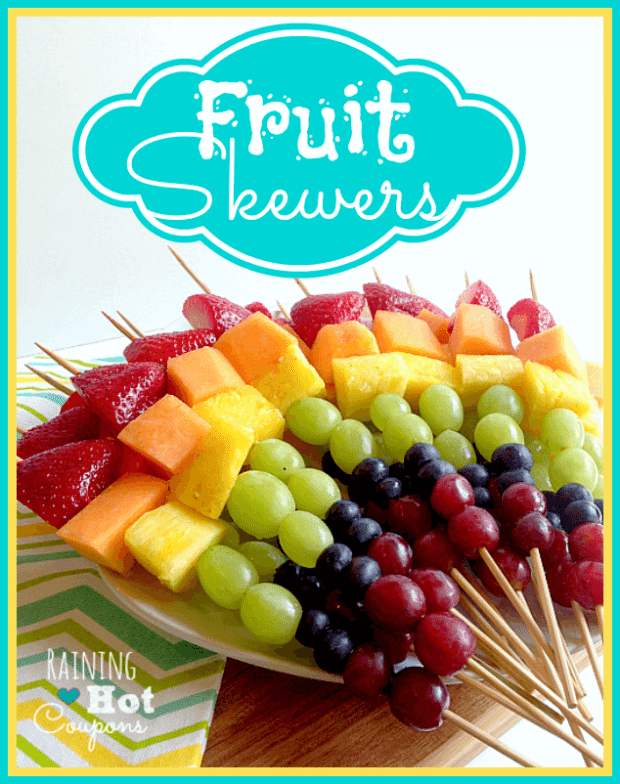 21. Rainbow Fruit Skewers
From Raining Hot Coupons
These Rainbow Fruit Skewers would be perfect for parties, picnics, snacks and lunchboxes. If your kids are quite young, just snip the ends off the skewers and keep an eye on them.
22. Jell-O Crusted Rainbow Marshmallows
From DIY & Crafts
This is a super quick, super fun rainbow food, and it's something that kids can do themselves (though they might eat them all before they get to the skewers!).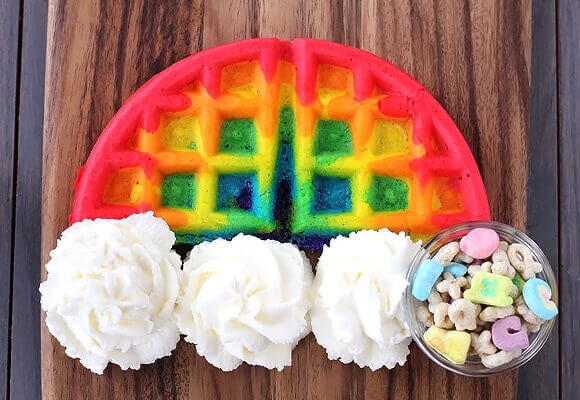 23. Rainbow Waffles
From Gimme Some Oven, as seen on Tablespoon
These adorable waffles are way easier than you'd expect, and your kids will go crazy for them!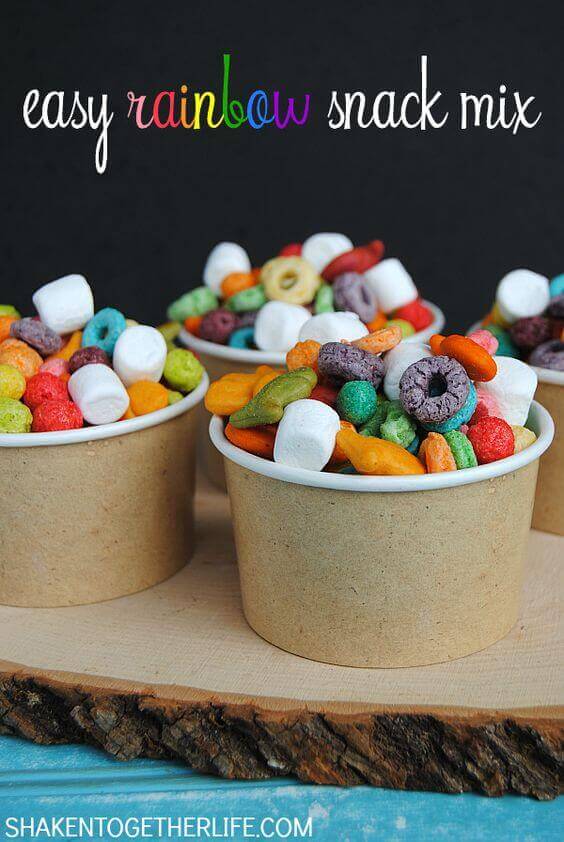 24. Easy Rainbow Snack Mix
From Princess Pinky Girl
I'm getting pretty inspired to throw a rainbow themed party. If I did, this Easy Rainbow Snack Mix would definitely be on the table.
25. Rainbow Cookies
From Pillsbury
These Rainbow Cookies are fun and easy to put together, and work really well to make ahead.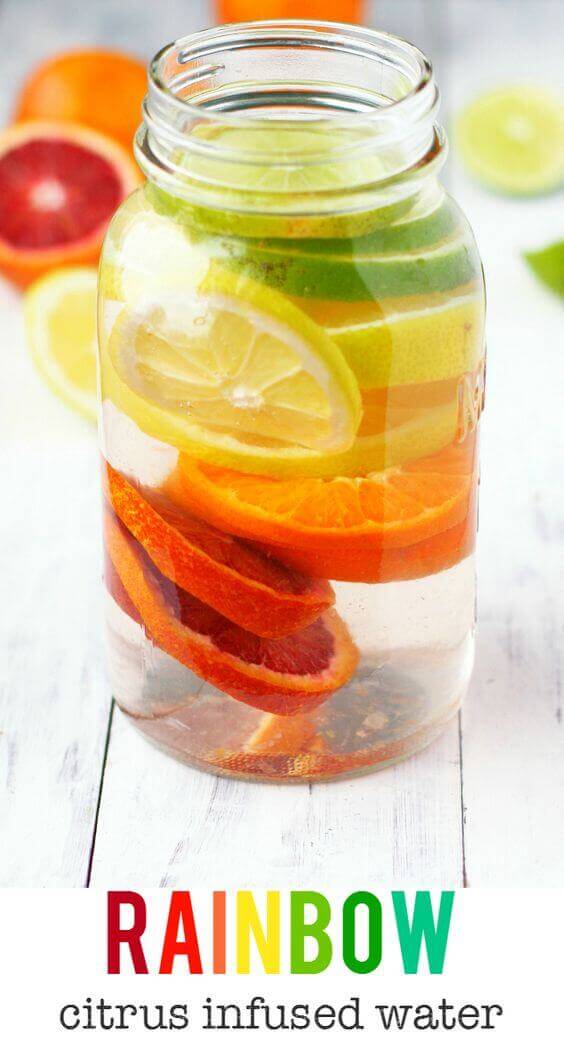 26. Rainbow Citrus Infused Water
From The Pretty Bee
Adding fruit to your water is a great way to add a little flavor and zest, and that's definitely what you'll be getting with this Rainbow Citrus Infused Water.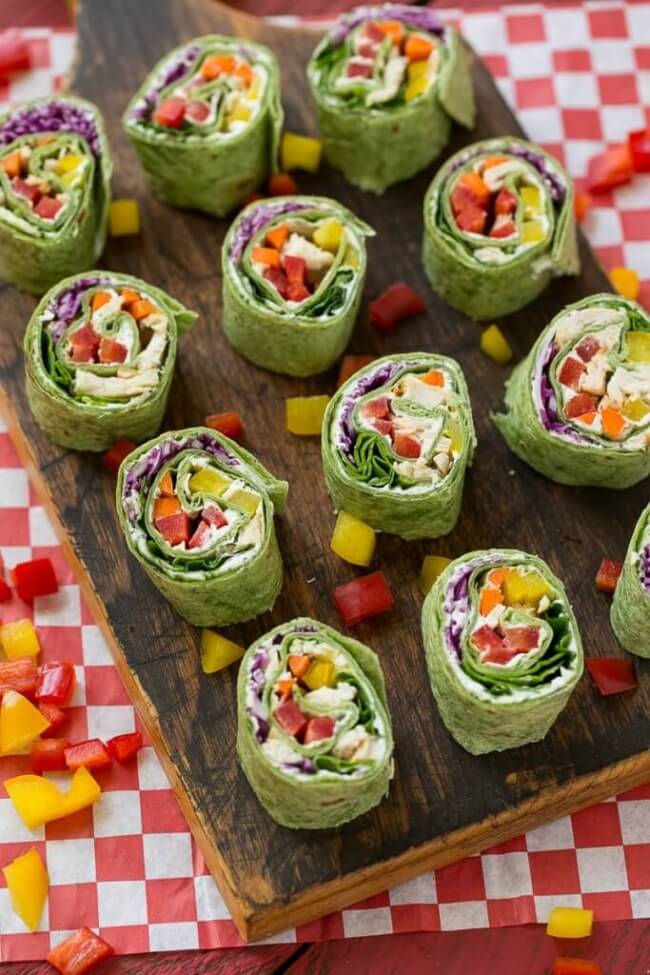 27. Rainbow Veggie Pinwheels
From Dinner at the Zoo
These Rainbow Veggie Pinwheels are nutritious, easy to make and delicious to eat. What more could you want?
28. Rainbow Fruit Salsa Cheesecake Dip
From Carlsbad Cravings
I LOVE the idea for this Rainbow Fruit Salsa Cheesecake Dip. I've never had a communal dessert like this, and it definitely looks like it's worth trying.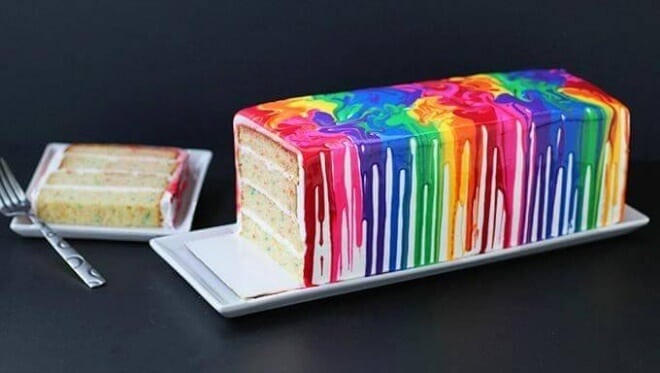 29. Melted Rainbow Cake
From Hungry Happenings as seen on Tablespoon
Colorful white chocolate ganache drips off this cake to make one of the most stunning rainbow cakes I've ever seen.
Make your own rainbow treat with these Amazon affiliate links gathered by the crew at Spaceships and Laser Beams.
(Amazon Affiliate Links)
Don't miss more dessert ideas perfect for Spring.