Party Central
41 Farm Themed Birthday Party Ideas
By
| Last Updated:
What birthday boy wouldn't have fun down on the farm? Fresh air, wholesome food, amicable livestock and a wagon load of friends make this a popular boy birthday party theme.
Whether you actually have a farm as your venue or just want to reference all that it stands for, you'll discover imaginative approaches to include at your celebration.
Unique invitations, innovative decorations, bountiful dessert tables, delightful cakes and cupcakes plus welcomed take-home favors are all here in our farm themed birthday party round-up.
---
See Also
---
41 Farm Themed Birthday Parties

1. Farm Themed Birthday Party
From Jenny Cookies via Spaceships and Laser Beams
See an unbelievable amount of style and detail in this awesome party. Classic particulars and innovative touches are combined in one terrific celebration.

2. On the Farm 1st Birthday Party
From Something Detailed via Pizzazzerie
From the welcome spot offering straw hats (Grab yer gear and get in here) you can tell this is going to be a fun party—and it's darling. Fabulous table backdrop, fun cupcakes…lots of details to notice.

3. Barnyard Joint Birthday
From Bird's Party
Hatching chick cake balls, berry pie and pigs in mud chocolate pots give you a clue about the cute ideas at this barn.

4.  On the Farm Party
From Kiss Me Kate via POPSUGAR
Daisies growing in the grass on the dessert table? Why not?! That's not the only farm fresh suggestion on this terrific table.

5. Farm Tractor Birthday Party
From Whimsy Farm Parties via Spaceships and Laser Beams
A burlap covered straw bale table is topped with mini apple pies, tractor cookies, cupcakes, chocolate tires and more taste tempting treats. It's even fun just to look at this party.
6. Farm Themed 2nd Birthday Party
From Amy Nation via Kara's Party Ideas
You must take time to check out these pictures. So many good, do-able ideas and unique activities-even the straws are cute.

7. Farm Birthday Party
From Festinhas via Catch My Party
There are lots of display ideas here and the variety of farm scene backdrops are a great inspiration.  Maybe make them in felt?
8. Red Rustic Country Farm Party
From The Little Nook via Cake Events
This rustic farm party not only looks inviting, there are fun activities like a petting zoo with real farm animals and apple bobbing, too.

9. Barnyard Extravaganza
From Entwined Design Event and Florals via Pretty My Party
Don't have a barn for your party? No problem! Build a façade with a shadow box. Yee-haw plus Gulp and Grub banners welcome guests to a delightful party.

10. Barnyard Themed 1st Birthday
From Dreamflavours Celebrations Party and Favors via Kara's Party Ideas
This is one over-the-top celebration. The cake is awesome, the backdrop is AMAZING, and the guest tables are terrific.  You're certain to glean several wants from this party.

11. Down on the Farm
From Mariana Sperb Party and Design via The Party Wagon
There are all sorts of witty decorations on this marvelous buffet that transport you right to the farm. Dipped apples that are disguised as farm animals plus the fabulous animal candies are just two of my favorites here.

12. Pedro's Farm
From Sweet Memories Party Design 
Here are more suggestions for a precious set-up. The (faux) mice scurrying around the display made me laugh.

13. Boy's Farm Birthday Party Barn Bash
From Two Little Jays via Spaceships and Laser Beams
A wagon wheel and a darling cake stand out in the midst of a winning dessert table.
14. Farm Barnyard Party
From Julie Parnell via Design Dazzle
Denim pockets on the tablecloth hold all of the utensils plus leave more room on the table for treats.

15. Country Farmyard 3rd Birthday
From Bebe A Porter via Pizzazzerie
This entire table presentation is delightful! Animal cake pops and lollipops are especially cute and the red barn favor boxes would be sure to excite. The guest place settings are awesome, too.

16. Birthday Farm Party
From My Paper Pinwheel via Hostess with the Mostess
Red gingham and burlap dress up a sweet barnyard table populated with piggy cake pops and animal cookies.

17. Farm Party for Kids
From Lia Griffith
Animal finger puppets, feed sack favor bags, awesome food ideas…check this celebration for really nice suggestions.

18. Red Barn Bash
From Little Party Place via The Party Wagon
A happy cake will make you grin even before you eat it. Amusing sheep cupcakes are another fun addition at this party, plus the children's chairs all wear animal masks.

19. Vintage Farm Party
From Rebecca Wood Photography via Spaceships and Laser Beams
Pinwheels and paper chains, apples and a blue-ribbon winner of a cake are just a few of the sweet ideas on this dessert table.
20. Barnyard Birthday
From Live Smile Celebrate via A to Zebra Celebrations
The guest table is especially noteworthy at this party and the novel cake arrangement is a good idea, too.
21. Farmyard Fun
From Party Cakes Canbrerra via Amy Atlas
Egg cupcakes, frogs in Jello ponds, an apple orchard and a strawberry patch are just a few of the fun party angles at this farm table.

22. Farm Tractor Themed Party
From Where the Green Grass Grows via Spaceships and Laser Beams
If your little farmer is big on tractors, you'll find inspiration for a farm party that includes corn rows to run through and corn to pick plus John Deere tractors to climb on.

23. Old McDonald Barnyard
From RV Parties via Pizzazzerie
Burlap, denim, and sunflowers are just the beginning at this sweet event! The predominant blue shades are refreshing, too.
24. Fun on the Farm
From Polka Dots and Pirates via Cake Events Blog
What fun the kids had; looks like playing with straw bales is on par with cardboard boxes.

25. Backyard Barnyard
From Candice via The Party Wagon
Horses star at this barnyard with horse-on-a-stick cake pops, cookies and a pin-the-(raffia) tail on the horse game: sweet!
26. Farm Tour Birthday
From My Poplin via Spaceships and Laser Beams
Hey, you don't really have to live on a farm to have a farm themed party, you know. This mom had cardboard chickens, cows and all sorts of farm right in her own back yard.

27. Vintage Farm Party
From Pixie Perfect Children's Parties and Events via Kara's Party Ideas
Dare I call a farm party pretty? This one is! Interesting details and lovely fabrics and flowers add to the celebration.
28. Barnyard Feature
From Invento Festa via Amy Atlas
Periwinkle and orange are a new color combo for a farm party. I like it. Discover LOTS of cute treat ideas; my favorite is the cow print candy apples–with bells.

29. Samuel and Stella's Fun Farm
From beesilver via Project Nursery
A birthday party for twins! The Farmer's Market food buffet is a great idea. You MUST SEE the darling smash cakes; the twin piggies stayed home.

30. A Beautiful Day on the Farm Party
From Dulce Design via Spaceships and Laser Beams
A mini apple cart and picket fences are just a couple of the precious details on the dessert table that features a terrific theme cake.

31. Farm Dessert Table
From Lee Laa Loo via YouTube
The barn cake and sunshine cupcakes are only two of the many treats on the table. My favorite idea is the popsicle sticks mini fence used for table décor.

32. Farm Yard Party
From RubyJu via Pizzazzerie 
Milk bottles painted in cow print, little chick cake pops in mini pails of candy eggs, sheep cake pops in green tissue grass,  pig cake pops contained in brown popsicle stick fences-yes, they nailed details in this one.

33. Country Farm Birthday
From Via Blossom via Anders Ruff
A red wooden barn, a vintage red tractor and rustic wood slice serving platters make great focal points on a serving table. Also see fun red trucks filled with candies and old fashioned toys used as favors.

34. Handmade Farm Birthday Party
From According to Jenny via Spaceships and Laser Beams
Check out the sweet cupcakes with pigs, cows and sheep.

35. Lucca's Farm
From Kreative P via Catch My Party
Flowers, fruit, mini topiaries and faux grass pull some of the farm life right onto the party table. Find lots of display ideas here.

36. Barnyard Party
From A Blissful Nest via A to Zebra Celebrations
A big MOO to you backdrop and such cute milk bottles will spark your imagination.

37. Barnyard Birthday
From Juliana via Catch My Party
If you enjoy balloons at a party, you'll like to see this table's barn backdrop made entirely from balloons. Don't stop at the backdrop though; there are lots of display suggestions to consider.

38. Barnyard Bash
From Shindig Diva via Spaceships and Laser Beams
See even more DIY inspiration with the balloon chicken, marvelous cupcakes and little red barn favor boxes.
39. Farmyard Birthday
From Sunshine Parties
What a dear first birthday party! The cake is especially cute, too.
40. Barnday for Lucas
From THREElittleBIRDS via Project Nursery 
A farm themed party for a two-year-old is a great idea, especially with farm stations right in your own back yard: pick apples from the orchard, gather eggs, work in the garden and take wheel barrel rides. Fun!
41. Farm Themed 2nd Birthday
From Visionary Weddings and Events via Kara's Party Ideas
Rustic details perfectly compliment the setting and make it an even more welcoming event. The seed packet banner, patchwork, and chalkboard signs are perfect!
Bonus:
42. A Precious Farm Themed Boy's Birthday Party
From Jo Studio via Spaceships and Laser Beams
Old MacDonald may have had a farm, but Levi had an adorable farm themed birthday party. From the delightful printable invitations to custom printable decorations and an amazing cake and dessert table, this farm party had it all.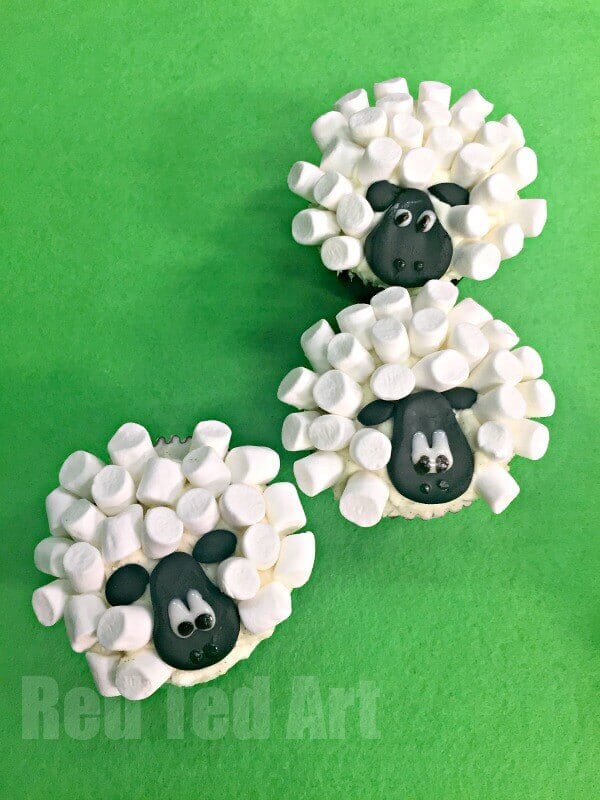 43. Easy Sheep Cupcakes
From Red Ted Art 
See how easy it is to create these super cute sheep cupcakes made from marshmallows.
Planning a farm themed boy birthday party? Check out these party supplies:
(Amazon Affiliate Links)