Party Central
A Bumblebee Boys' Birthday Party
By
| Last Updated:
Buzz through the beautiful ideas of this bumblebee boys' birthday party with us! The images by Redmoose Photography capture the fun, modern vibe of this party planned by Sarah Osmotherly, of Sugar Coated Mama, for her two lucky nephews!  You'll love the decorations in a black, yellow and white color palette, showcased through bold patterns, adorable printable designs and the sweetest beehive birthday cake and cupcakes!  I'm not sure if a birthday party theme can "bee" any cuter!
---
See also:
---
Inspiration for this buzzworthy birthday party theme came when Sarah's nephew, Max, was stung by a bee a few months earlier.  He became obsessed with bees, and a "bee day" seemed an appropriate pick for a party!
Utilizing her new backyard, Sarah styled a gorgeous celebration underneath a large, white party tent.  Jumbo balloons from Balloonaway Broadmeadow and yellow and black bunting dressed up the tent and provided an attractive welcome to the festivities.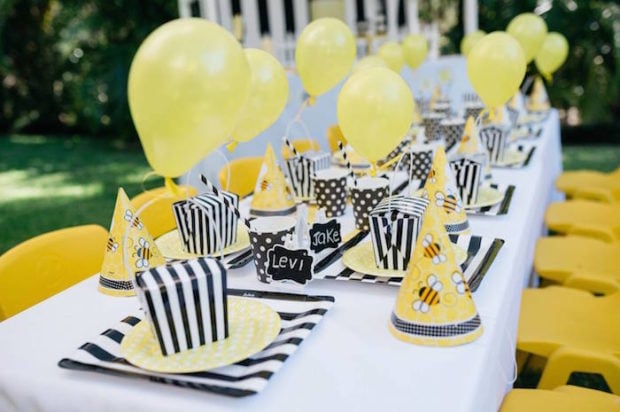 Underneath the tent, Sarah set a darling table for guests to enjoy refreshments.   Each place setting was decked out with a black and white striped paper plate, layered with a yellow and white polka dotted plate and topped off with a striped take-out favor box. How delightful are the little balloons tied to each handle?  Sweet party hats, with little bees, accented each place. Individual name cards helped identify every guest's spot.  And just when you think the table can't get any cuter, you notice the cheery yellow chairs round out each spot (table and chairs from Central Coast Newcastle Party Hire).
A black and white striped, scalloped fabric awning provided such an attractive backdrop for bee themed treats on the darling dessert table!  The "bee day" banner on the front was such a simple and charming way to tie in the theme.
Sarah displayed the appealing sweets atop cake stands and striped bowls from Robert Gordon Pottery. Don't you just love the beehive cake with the sweetest little bees hovering on top?  Get Frosted did an amazing job creating it and coordinating the darling bee cupcakes.
If you are more of a cookie person, you would have loved the bee cookies by MaR-Valicious BiteS.  Each one looked perfectly delicious!
Donuts with a hint of yellow were served up opposite vibrant skewers of pineapple and blueberries.
Yellow treat cups were filled with chocolates and Oreo cookies—perfect snack-size portions for little hands.
Even the candy selections were dressed in party colors!
Thirsty guests could find refreshing lemonade at the beverage station under a second striped awning. A coordinating, printable banner hung on the table front, honoring the birthday boys. Striped straws, napkins and polka dotted cups were on hand for easy thirst quenching and refills.
For fun, Sarah arranged some kid-friendly games, including "Bee, Bee, Stinger" in lieu of "Duck, Duck, Goose." There was also a bee treasure hunt with bee chocolates and a bee piñata. Guests played "Pass the Parcel" and won bee themed prizes.  And always a party favorite, Sarah arranged for Danielle Whiting to paint faces!
What a captivating party theme for two little boys! Dare I say it was sweeter than honey?!
Need some great sources for planning a boy's birthday party?  Check out these party sources put together by the Spaceships and Laser Beams crew.
Gain loads of inspiration from these boy's birthday party ideas here: