23 Gingerbread and Gingersnap Recipes
Table of Contents
Is there anything, come holiday time, which delights the senses more than the smell of favorite gingerbread and gingersnap recipes baking in the oven?
The sugar and spice combines for such a lovely aroma that fills the whole house and brings a smile to my face! I'm especially excited to share this roundup of scrumptious looking recipes including everything from waffles and cookies to cheesecake, pie and spice cake, milk shakes and steamers and just about anything that can be made from gingerbread and gingersnap!
Go ahead, add a little spice to your holidays!
---
See Also
---
1. Gingerbread 7 Layer Bars
From The Domestic Rebel
If I had you at "7 layer bars", and you happen to love gingerbread too, this dessert recipe is definitely a must try! Just imagine out-of-this world flavors and textures that combine in to one soft, yet crunchy, buttery, gooey, totally delectable dessert bar! When gingerbread combines with white chocolate pretzels and chips, chopped pecans, toffee bits, mini Rolos and a topping of sweetened condensed milk, how could things go wrong?
2. Butterscotch Pumpkin Spice Filled Gingersnaps
From Say Not Sweet Anne
Get ready to add a new go-to recipe to your fall and winter dessert lineup. These butterscotch pumpkin spice filled gingersnaps are delicious! The great thing about this recipe is it works great with homemade or store bought ginger snaps, so you have the option for a shortcut if you are low on time!

3. Pumpkin Cheesecake with Gingersnap Crust
From Spaceships and Laser Beams
You will not be disappointed by this pumpkin cheesecake which features a gingersnap crust! The crust is a simple combination of gingersnap cookies (crushed), melted butter and sugar! To that, a cheesecake layer is added (cream cheese, sugar, butter, pumpkin, spices eggs and flour). The final step is a simply waiting for it bake. Definitely dreamy!
4. Gingersnap Scones
Your entire kitchen will smell like fall when you make these gingersnap scones! Moist and spicy, these gingersnap scones actually include gingersnap cookie crumbs as one of the ingredients. Once the scones have baked they are topped with a mouthwatering maple glaze and another dose of gingersnap cookie crumbs for good measure.
5. Gingerbread Cheesecake
From Tastes of Lizzy T's
The holidays call for decadent desserts, and this recipe for gingerbread cheesecake is definitely decadent. What's not to love about rich, thick gingerbread cheesecake layered with a gingerbread loaf batter? Add a spiced whipped topping, some crushed gingersnaps, and swirls of caramel and get ready to indulge. The fact that this can be made ahead is a bonus!
6. Gingersnap and Pumpkin Cinnamon Roll Cookies
From Mama Loves Food
Cookie exchanges are all the rage come holiday season, and boy do we have a great cookie recipe for you to share! Gingersnap and pumpkin cinnamon roll cookies are not only simple and fun, they are delicious. Would you believe this recipe begins with a packaged gingerbread cookie mix?
7. Gingerbread Cheesecake Dip
From Food, Folks and Fun
Holiday parties call for a yummy and festive dip! Gingerbread cheesecake dip has the flavor of gingerbread, but the texture and creaminess of cheesecake. It is so easy to make, and will become an instant holiday favorite! Set aside 5 minutes of prep time, and refrigerate until you are ready to serve. The dip will last up to a week in the refrigerator. Graham crackers are a great option to accompany this dip.
8. Gingerdoodle Cookies
From Like Mother Like Daughter
What do you get when you combine snickerdoodles with gingersnaps? You get a gingerdoodle cookie, that's what! To create this scrumptious cookie, you make up a batch of each kind of cookie dough and roll them together to make a swirled dough prior to baking. Once baked, the results are amazing. Just imagine the cinnamon-sugar snickerdoodle half combined with the ginger-molasses-cinnamon half. Are you salivating yet?
9. Gingerbread Waffles
From Butter with a Side of Bread
Your family will love waking to the smell of gingerbread waffles cooking in the Belgium waffle maker! It's an especially great recipe to prepare around holiday time. You can serve it with warm butter syrup for an amazing breakfast! The ingredients are mostly pantry and baking staples (flour, baking powder, salt, brown sugar, eggs, ginger, cinnamon, nutmeg, butter, molasses, and buttermilk).
10. Gingerbread Cake Roll
From Crazy for Crust
This gingerbread cake roll blends gingerbread and eggnog resulting in one amazing holiday dessert. How can it not be amazing when it is topped with eggnog whipped cream? Who knew there was such a thing? And if you are knew to the cake roll phenomenon, don't be intimidated. You can get the step-by-step tutorial and some tips and tricks for cake roll success via this recipe post.
11. Gingerbread Fudge
From Crazy for Crust
Fudge that tastes like gingerbread? Yes! Sounds too-good-to-be-true, but it's not. Molasses, brown sugar, evaporated milk, spices, and white chocolate chips are the key ingredients. You can cut up and serve this gingerbread fudge in squares or get creative with gingerbread cookie cutters! Either way you cut it, it's delicious!
12. Gingerbread Kettle Corn
From Wine and Glue
Gingerbread kettle corn is so delicious! Just imagine kettle corn flavored with gingerbread and then topped off with a drizzle of white chocolate! Make a batch for movie night in or bag some up to share with friends and neighbors.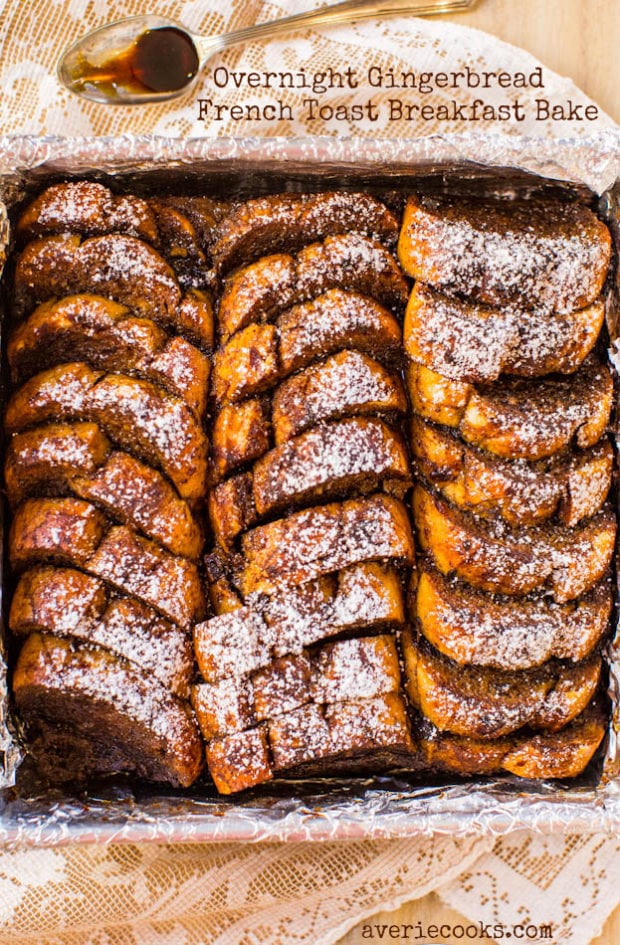 13. Overnight Gingerbread French Toast Breakfast Bake
From Averie Cooks
If you're on the hunt for a tasty make-ahead breakfast recipe this overnight gingerbread French toast breakfast bake is a winner! Imagine buttery soft French toast that tastes like a combination of molasses cookies and soft gingerbread. It is especially good for cold winter mornings, lazy weekend brunch, or even for a Christmas morning breakfast! You'll need French bread, butter, eggs, milk, confectioners' sugar, maple syrup, molasses, salt, and spices (cinnamon, ginger, allspice, nutmeg, cloves).
14. Gingerbread Steamer
From In Katrina's Kitchen
Winter months call for cozy evenings in and warm drinks by the fire. We've got just the warm drink recipe for you that is perfect for children and adults alike—a gingerbread steamer! This drink recipe pairs the seasonal flavors of brown sugar and molasses plus pumpkin pie spice, vanilla extract and milk to create the perfect warm cup of cheer! Top it off with fresh whipped cream for a seasonal favorite!
15. Gingersnap Pumpkin Pie Bites
From Mama Loves Food
Gingersnap pumpkin pie bites are made by combining tasty gingersnap cookies with silky pumpkin pie, resulting in a delicious bite-sized treat! The prep time is only 15 minutes since the recipe calls for 1 packaged gingerbread cookie dough mix, 1 can of pure pumpkin, sweetened condensed milk, eggs, and some spices. An hour of bake time later, and you'll be wishing you invited some friends over to keep you from eating the entire pan of gingersnap pumpkin pie bites yourself.
16. White Chocolate Gingerbread Chex Mix
From Butter with a Side of Bread
Two holiday favorites collide in this recipe for white chocolate gingerbread Chex Mix—gingerbread and Chex Mix. With only 10 minutes of prep time needed, you can't go wrong with this sweet and simple holiday snack mix! The spices pair so nicely with the chocolate. It's sure to be a popular addition to any holiday refreshment table.
17. Gingerbread Cookie Bark
From Something Swanky
If you're not a gingerbread fan, this gingerbread cookie bark just might change your mind! And if you're already a fan, then this recipe is definitely for you! The base for this cookie bark is a Betty Crocker Gingerbread cookie mix, so you can count on the recipe being a simple one! You'll need the cookie mix and the called-for ingredients to make it (butter, water, egg), coconut oil, white chocolate candy melts, and sprinkles and candies for decorating. This is a perfect recipe for involving kids in the baking process.
18. Nutella Stuffed Gingerbread Cookies
From The Food Charlatan
Four words—Nutella stuffed gingerbread cookies. Yeah, you read that right! Imagine heaven in a cookie and that's what you'll get with these spicy gingerbread cookies that are bursting with yummy Nutella! The secret to getting the Nutella in the center of these cookies is freezing dollops of the Nutella on a wax paper lined baking sheet! Once frozen (about 2 hours), you'll smash the gingerbread cookie dough (made separately) around the frozen dollop of Nutella prior to baking.
19. Gingersnap Spice Cake
From Chef in Training
Ginger, nutmeg, cinnamon, cloves, oh my! The fall and winter months are definitely a great time for recipes with a kick of spice! This gingersnap spice cake combines delicious spices into a tasty cake that is topped with cream cheese icing. Crushed gingersnap cookies add a nice coating to the cake and give it a great texture and flavor. The four layers are packed are so moist and yummy! This cake is especially great for the holidays!
20. Gingersnap and Egg Nog Cookies Pops
When you think of your favorite winter holiday flavors, do they include gingersnap and egg nog? If so, we recommend checking out this no bake recipe for gingersnap and egg nog cookie pops! Instead of the traditional cake pop center, these pops feature ground up ginger snap cookies. Eggnog truffles serve as the frosting. These cookie pops are delicious without being overly sweet.
21. Gingerbread Milkshake
From Who Needs a Cape
Whether you are celebrating Christmas in July, or want a treat during Christmastime, a gingerbread milkshake is a fun and festive treat featuring the fabulous flavors of the season! Ice cream and holiday spices are definitely a winning combination! Gingersnap cookies make a great garnish for the rim! Crush them and add them with a bit of molasses to help them stick!
22. Gingerbread Cookie Cups
From Just Us Four
Little bite-sized bits of deliciousness, that's what you can expect when you make up a batch of these gingerbread cookie cups! The smell of the gingerbread cookies baking will have your mouth watering! It's a good thing that the bake time is only 10 minutes! Once these bad boys come out of the oven and are cooled completely, you better summon your will power. Once filled with the cream cheese frosting, they are simply irresistible.
23. Gingersnaps
From Chef in Training
Good luck keeping your family's paws off of these gingersnaps! The recipe yields cookies that are softer and chewier than traditional gingersnaps making them even harder to resist! An especially fabulous winter recipe, these cookies would make a great choice for a holiday cookie exchange.
Serve up a warm treat this holiday season with these sources gathered by the crew at Spaceships and Laser Beams.
(Amazon Affiliate Links)
Ice Cream Dessert Bowls and Spoons
Mixing Bowls
Mixing Bowl Set
Mixing Spoon
Measuring Spoon Set
Pillsbury Creamy Supreme Frosting
Silicone Baking Mat Set
Measuring Cup and Measuring Spoon Set
Mini Springform Pan
Angled Icing Spatula
Check out more great gingerbread party food ideas.
You do not want to miss 10 Christmas Party Food Ideas…