21 Creative Christmas Cupcake Ideas
Table of Contents
This holiday season is the perfect time to gather the family in the kitchen and bake, bake, bake!
You'll get everyone in the holiday spirit when you serve these gingerbread house cupcakes and snowglobe cupcakes or any of these 21 creative Christmas cupcake ideas that add a magical touch to any dessert table.
---
See Also
---
1. Cupcake Christmas Tree
From Anita Singh
Looking for a centerpiece for your holiday party dessert table? Look no further.
This cupcake Christmas tree is easier to make than you think!
Would you believe toothpicks and a foam cone are the top secret items needed to create this masterpiece?
2. Gingerbread House Cupcakes
From A Little Bit of Silliness Really
Would you ever think to set a mini gingerbread house on top of a cupcake?
These gingerbread house cupcakes area absolutely precious.
They bring all the fun of decorating gingerbread and a delicious cupcakes into one fun treat.
3. Snowman Cupcakes
From All You
Is there anything cuter than snowman cupcakes wearing earmuffs made from Vanilla Wafer Cracker Cookies and Christmas colored sanding sugar?
We don't think so! These cupcakes make us smile.
4. Elf Hat Cupcakes
From Party City
These elf hat cupcakes are so creative!
Transform a sugar ice cream cone into an elf's signature hat with a little bit of frosting, sanding sugar and Air Heads candy.
Don't forget the gumball on top.
5. Ornament Cupcakes
From Cakes Decorating
While you won't be hanging these on your Christmas tree, these ornament cupcakes are definitely festive and unique.
These Christmas bulbs will sparkle and shine on your dessert table this December.
See how many different designs you can create with your festive treats.
6. Snow Globe Cupcakes with Gelatin Bubbles
From SugarHero!
While the cupcakes can be homemade or store bought, what makes these snow globe cupcakes so show stopping are the beautiful gelatin globes on top.
These are sure to be the talk of your next holiday gathering.
While they might take some time to get just right, your hard work will definitely pay off.
7. Hot Chocolate Cupcakes
From SheKnows
Cupcakes that look like mugs of hot chocolate? While these may not warm you up the same way, they'll still taste great!
They're also super easy to make.
These are made by adding miniature candy cane handles and topping them with "whipped cream" frosting, mini marshmallows and some holiday sprinkles.
8. Snowman Cupcakes
From One Little Project
Sometimes the simplest things result in the cutest results! Take these snowman cupcakes for example.
They are just basic white frosted cupcakes dipped in crystalized decorating sugar and embellished with mini chocolate chip eyes and mouths and a butterscotch chip nose.
But, how cute are they?
9. Santa Cupcakes
Uh oh. Santa has fallen, and he can't get up! These cute Santa cupcakes show cute little Santa feet sticking out of a snow bluff! How cute!
10. The Grinch Christmas Cupcakes
From Living Locurto
Invite "The Mean One" to your dessert table by making these awesome Grinch Christmas cupcakes.
All you really need is frosting in Grinch colors (although yellow candy eyes can simplify the process)!
Even though the Grinch isn't known for his Christmas spirit, these will definitely bring some Christmas cheer to the dessert table.
11. Rudolph the Reindeer Cupcakes
From Ohh La La Dessert Boutique
Besides being oh-so-cute, these Rudolph the reindeer cupcakes are oh-so-easy to make.
Just combine whipped chocolate mousse topping or brown frosting with a shiny gumball for the nose and some pretzel antlers.
Festive, simple, and fun.
12. Santa Hat Cupcakes
From Midget Momma
Everyone will want one of these Santa hat cupcakes.
Easily making them with frosting and a round and star pastry tip.
With simple decorations, these will bring some Christmas cheer to your kitchen.
13. Christmas Tree Cupcakes
From Preppy Kitchen
What could be more Christmassy than Christmas tree cupcakes?
You'll be surprised by how easy it is to make these beauties using a star frosting tip and sugar cones.
Add some decorations to your trees by using colorful sprinkles or maybe add some little stars on top.
14. North Pole Cupcakes
From Jenny Cookies
Add a little printable North Pole sign to some peppermint sticks with a red candy frosted on top and you've got North Pole cupcakes.
No one will have to guess what these decorations for for with your little signs.
Some sugar dusted on top helps give the look of fresh snow to the frosting.
15. Marshmallow Snowmen Cupcakes
From Launa at Cake Central
Piles of frosting snow with the cutest little marshmallow head on top make these snowmen cupcakes deliciously cute.
These could be fun to let the kids decorate too!
Use some little candies or sprinkles for buttons and some licorice for a scarf.
16. Peppermint Mocha Cupcakes
From Baker by Nature
If you're a lover of Christmas flavors, especially peppermint mocha, these cupcakes are right up your alley.
Topped with a peppermint mocha frosting that is easy to make, you can bring the Christmas flavors you love to your cupcakes.
17. Pull Apart Cupcake Snowman
From Cupcake Central
Put this pull apart cupcake snowman cake together using 24 cupcakes with vanilla buttercream icing and sprinkle with white sparkling sanding sugar to give that frosty snow look.
Don't forget the solid milk chocolate hat. Much easier than a full sized cake, but still beautifully decorated.
18. Candy Cane Christmas Tree Cupcakes
From Bakerella
These sweet little candy cane Christmas tree cupcakes veer from the traditional sugar cone trees just a smidge.
Trimmed sugar cones dipped in white chocolate and sprinkled with white sugar crystals are attached to the candy cane "trunks".
Fondant presents with snowflake sprinkle bows create such a beautiful look to the Christmas tree scene.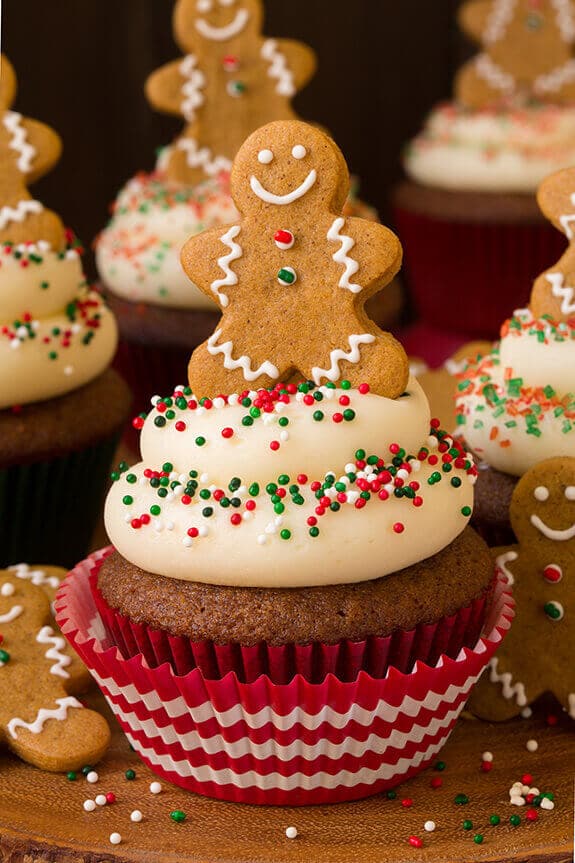 19. Gingerbread Cupcakes
From Cooking Classy
Run, run as fast you can, because these gingerbread cupcakes will need to be eaten before everyone else eats them.
While this cute recipe idea uses homemade gingerbread boys, you could substitute a store bought gingerbread cookie to simplify the process.
Either way, these cupcakes are a perfect holiday dessert.
20. Polar Bear Cupcake Minis
From Bakerella
It doesn't take much to transform mini cupcakes into adorable polar bears.
Soft edible pearls for ears, black sugar pearls for eyes, candy eyes for the nose (yes, you read that right) and a piece of pink confetti sprinkles for the tongue.
These friendly bears will be a welcome addition to your table.
21. Santa Baby Pull Apart Cupcake Face
From Wilton
Cupcakes are easier to serve up than a sheet cake, so these would be perfect for your next holiday party.
Armed with cupcakes, frosting, frosting tips and a little patience, you can follow this great tutorial for recreating this Santa baby pull apart cupcake face!
A festive and easy treat!
Check out more great cupcake ideas perfect for the holidays.