19 Graduation Party Decorations and Ideas
Table of Contents
Graduation party decorations have never been cuter and today I'm showing you 19 of my very favorite ideas. Get ready to celebrate in style!
Graduation parties are one of the most important occasions for any family and we all want it to be memorable (remember those adorable rolo graduation caps?).
The easiest way to style a party is to use graduation decorations that the graduate will love. Skip on over the party store and come up with a few creative ideas of your own.
---
SEE ALSO:
---
Here are 19 of my favorite graduation party ideas to inspire you…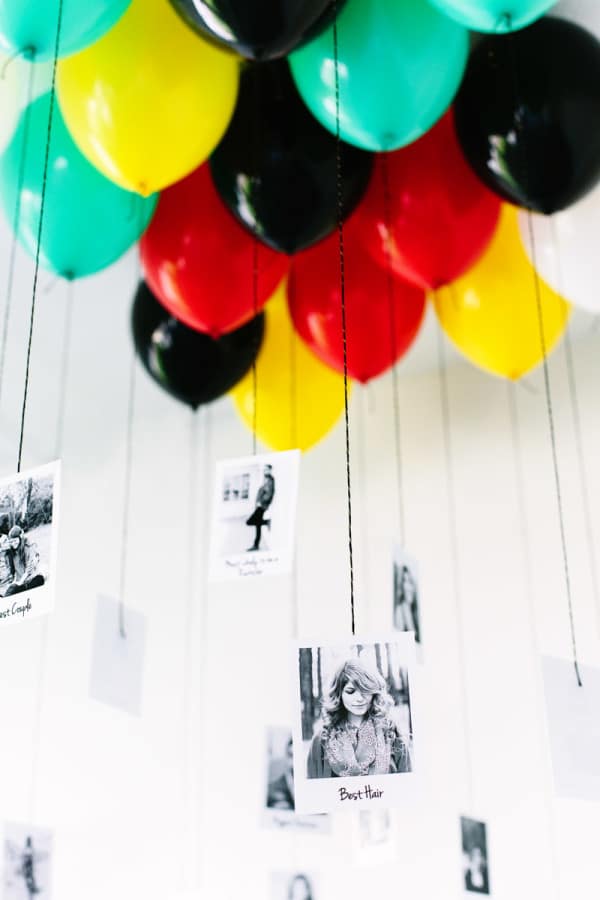 1. DIY Graduation Balloons with Photos
Fill your party space with helium balloons anchored with photos. I love this idea of giving a superlative to each graduate under their photo. I wonder what I would have been back in the day? I would have never guessed "Most likely to be a blogger". They did not even exist in my day!
2. Graduation Photo Booth Props
If we know one thing about today's youth, they love to get their picture taken. These photo booth props are sure to bring the fun and the pictures will be enjoyed for years to come. I love these designs, too!
3. School Colors Graduation Party Decor
Use your school colors to dress up a dessert bar. This party is full of purple and gold and I just love the graduation cap treat holders. Check out all of their fun ideas, including those adorable edible diplomas.
4. Gourmet Popcorn Bar
Every man, woman and child loves popcorn and this fancy popcorn bar idea is so creative. I love the spices and flavoring suggestions and the oversized chalkboard sign is to die for.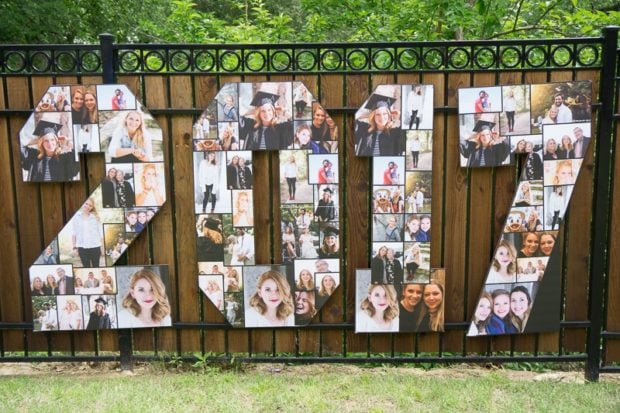 5. Graduation Year Photo Collage Numbers
These oversized graduation year numbers are just awesome. Making a collage has never been easier and it certainly packs a decor punch.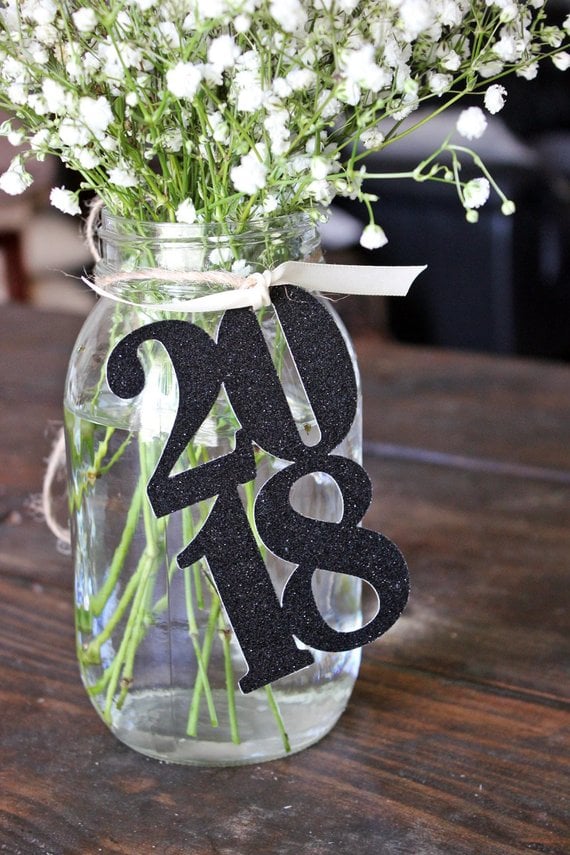 6. Graduation Year Mason Jar Centerpiece
From Montana Snow on ETSY
These simple centerpieces are just perfection. They help keep costs down and the decor is great for guys and gals alike.
7. Signed Initial for Graduation Party
From TJ Maxx
Grab your paint pens and write a special note to the graduate. They can take this oversized letter with them on their next stop on the journey. Perfect dorm decor!
8. Free Printable Graduation Party Banners
I love, love, love a good free printable and these free printable grad party banners rock my world. Just download and click print!
9. Paper Graduation Mason Jar Bouquet
These mason jar bouquets can double as graduation gifts and decor. Fill them with your favorite treats or even a little cash and they work double time.
10. Graduation Photo Collage Board
I can totally see this idea being used for any kid. For any athlete, include their jersey or uniform. You could also hang the graduates cap and gown, too!
11. Graduation Photo Wreath
This photo wreath looks like loads of fun to make. Just gather 4×6 photo prints and you are on your way to the perfect wreath to greet your party guests.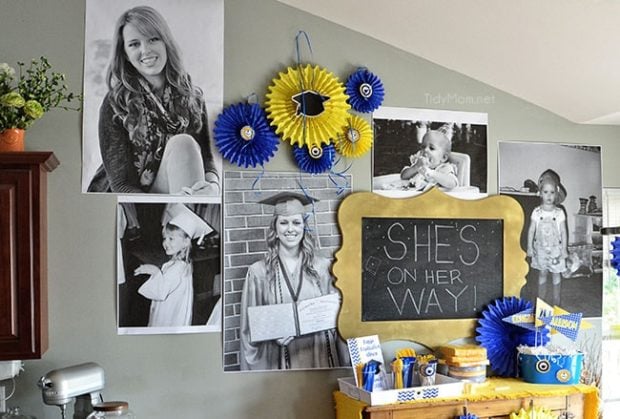 12. Giant Graduation Photo Wall
I love gigantic decor and this graduation photo wall is awesome. You guys won't believe how easy and inexpensive it is. I would have never guessed!
13. DIY Giant Balloon Grad Year Bouquet
Add your current graduation year to the tissue tail of a huge balloon and you have an instant party! Use your graduates school colors or the colors of the school they will be attending.
14. Words to Live By Wall Art Idea
Every one needs some good advice and this DIY art for Word to Live By will help keep them wise. How great is the idea to have chicken wire and fun cards. You can gather the ideas ahead of time or your guests could write their word of advice when they arrive at the party.

15. Graduation Cupcake Table
Cupcakes… need I say more? Make an entire dessert table when you spell the graduation year with colorful cupcakes. Food always makes economical sense to use as decor.
16. Alma Mater Colors Party
This set up is just so fun. The attention to detail just blows my mind. Everything is in school colors, down to the candies that the pretzels are nestled in. Totally stealing that idea.
17. End of School Graduation Party
I love the vintage touches with this party tablescape. School colors, sweets and grad pics. What else do you need?
18. Hanging Graduation Decorations
This idea for hanging decorations will jazz up any wall or outdoor tent. I am also so crazy for those blue gingham tablecloths, too.
19. Congrats Fringe Banner
From Cottage and Vine
You will be able to use this Congrats banner for all sorts of things. High school graduation, college graduation, babies, retirement… so many great uses!
I hope you've found a few ideas to use for your upcoming graduation party. Decorating for parties is so fun!