19 Creative Crayola Crayon Party Ideas
Table of Contents
Here's a list of 19 ideas that you can incorporate into a Crayola Crayon themed party or even an art or craft party.
Crayola Crayons are a favorite household art supply and they also make a creative birthday party theme.
I can't wait to try my hand at making the edible crayons and crayon push-up pops! And how cute is that felt crayon garland? You're sure to add color and creativity to the cake, party supplies and more with these fabulous ideas!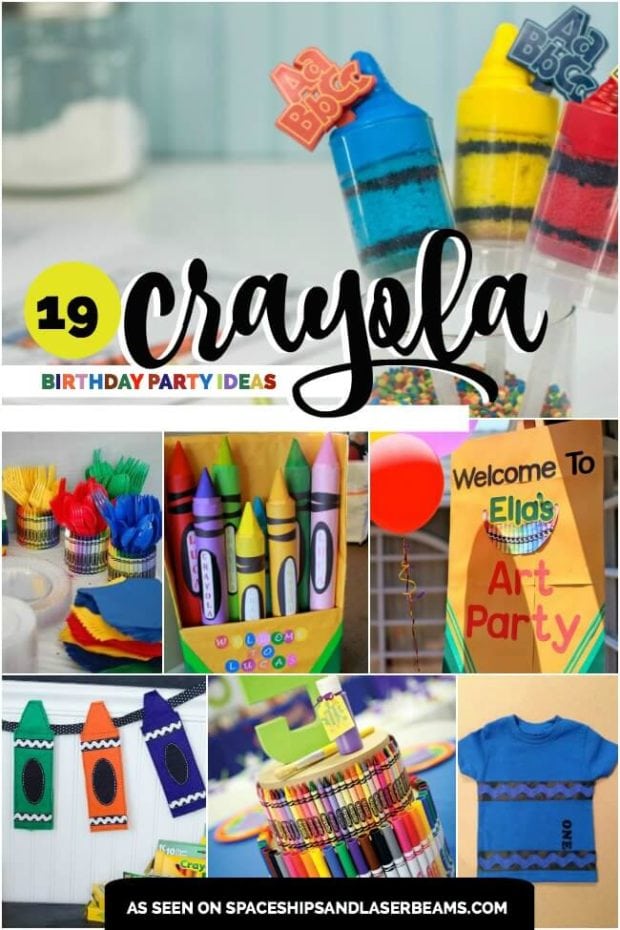 ---
See Also
---
1. Felt Crayon Holders Party Favor
From Skip to My Lou
These felt crayon holders make the perfect party favors for a crayon themed birthday party. They are super easy and inexpensive to make, too.
Follow the instructions to cut the proper pieces of felt, make a few simple stitches to create crayon-sized pockets, and secure a ribbon and button to close it. It's a fun craft to teach your kids basic sewing skills as well.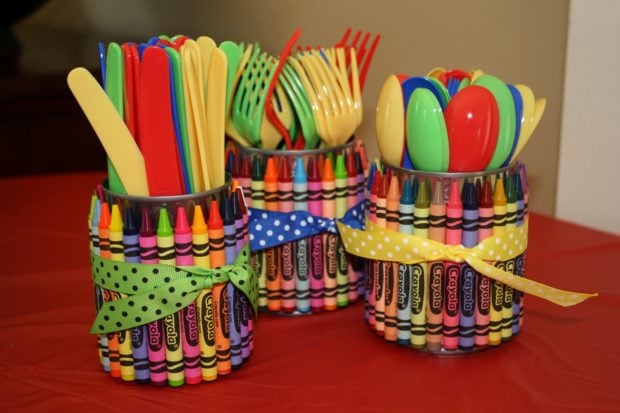 2. Crayon Utensil Holders
From Creative Creations
Combine all things crafty and fun with this creative untensil holder made from crayons.
Hot glue a layer of crayons to a metal can to create a simple and unique way to hold colorful forks, spoons, and knives for your crayon themed artistic party.
3. Rainbow Pretzel Wands
From Mom on Timeout
Guaranteed fun, these easy Rainbow Pretzel Wands take just minutes to make and perfectly match a rainbow or crayon themed birthday party.
Full sized pretzel rods get smothered in melted candy coating then sprinkled with a colorful mix of sprinkles or candies. These treats are perfectly scrumptious and festive.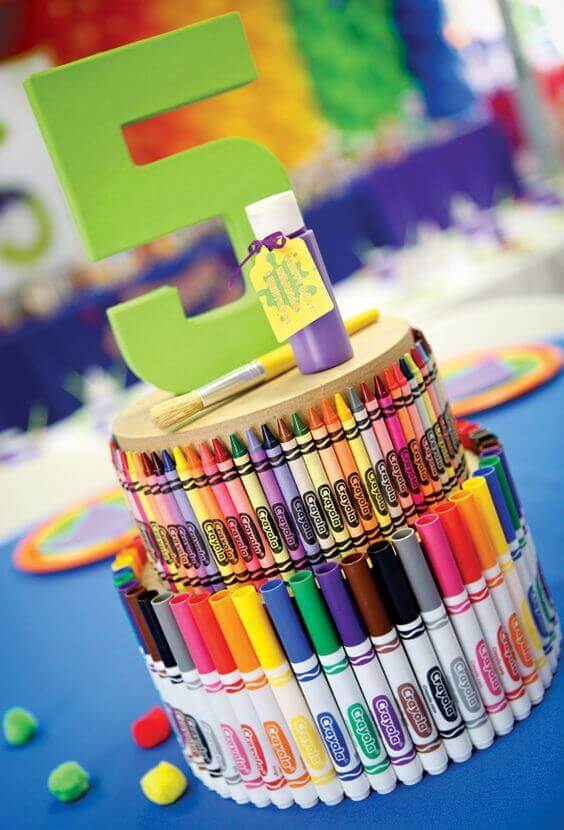 4. Crayola Art Party Centerpieces
From Top It Off Designs, as seen on Hostess With the Mostess
Combine all things artistic with this beautiful and creative Crayola art party centerpiece.
Hot glue a layer of crayons and a layer of markers to wooden disks, then stack to have the ultimate party decoration for your child's birthday party. Easy to make and incredibly adorable decorations are always my favorite!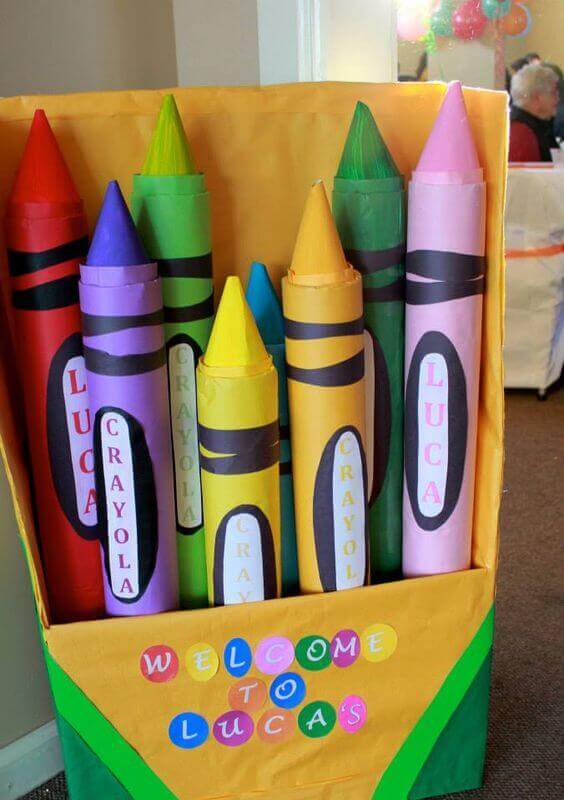 5. Crayon Photobooth Backdrop
From We Make Your Cake
What is more fun than a photo booth backdrop with life-sized crayons? This giant crayon box would be easy to recreate with some rolls of paper, different colors of paint, and a little creativity.
Feel free to personalize your crayon box with your child's name on each crayon and the box. Your friends and family will have so much fun making memories and capturing pictures with these giant crayons.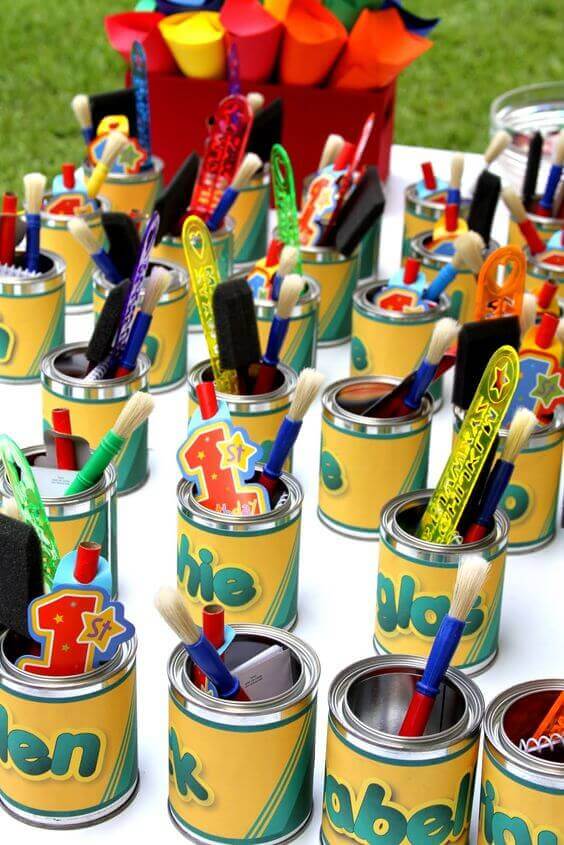 6. Crayola Favor Buckets
From Photos by Bello
Send your party guests home with these incredible, personalized, paint can favors. Upcycle old paint cans with a fresh new Crayola label and an assortment of art supplies from the dollar store.
Throwing in a few paint brushes, paints, rulers, and markers will keep the creativity flowing. It's a fun way to thank your child's friends for coming to celebrate with you.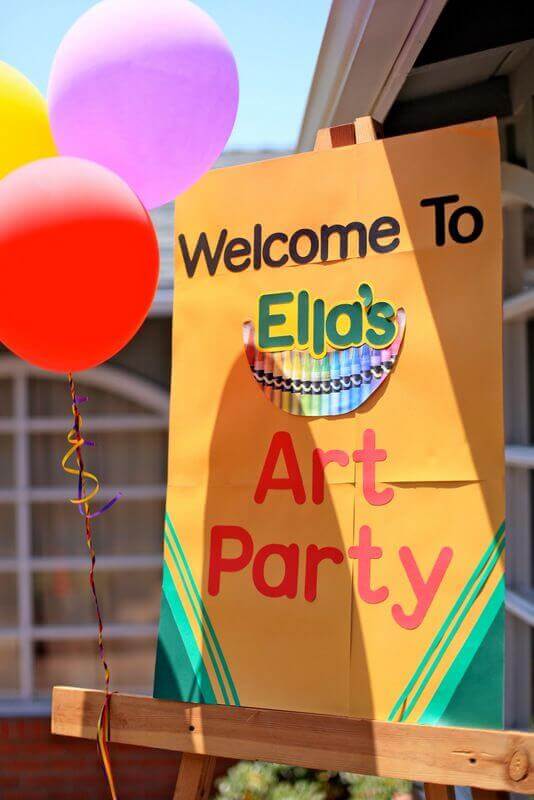 7. Crayola Crayon Party Welcome Sign
From Invite and Delight
Welcome your guests to the party with this giant, do-it-yourself rayon welcome box! Sit it on an art easel with some colorful balloons to get the party started.
Use a Cricut machine or some good old scissors to cut out all of the letters then paste then onto some Bristol board with a print out of the Crayola crayon box.
8. DIY Crayon Favor Bags
From Invite and Delight
For a fun and festive take-home gift, make these crayon bags from colored cardstock for your guests.
Tape or glue crayon shaped pieces of paper to boring old favor bags, then add some details with black paper or marker.
Inside, add some paint sets from the dollar store, a few colored pencils, and a homemade muffin tin crayon. It's a fun way to reuse old crayons.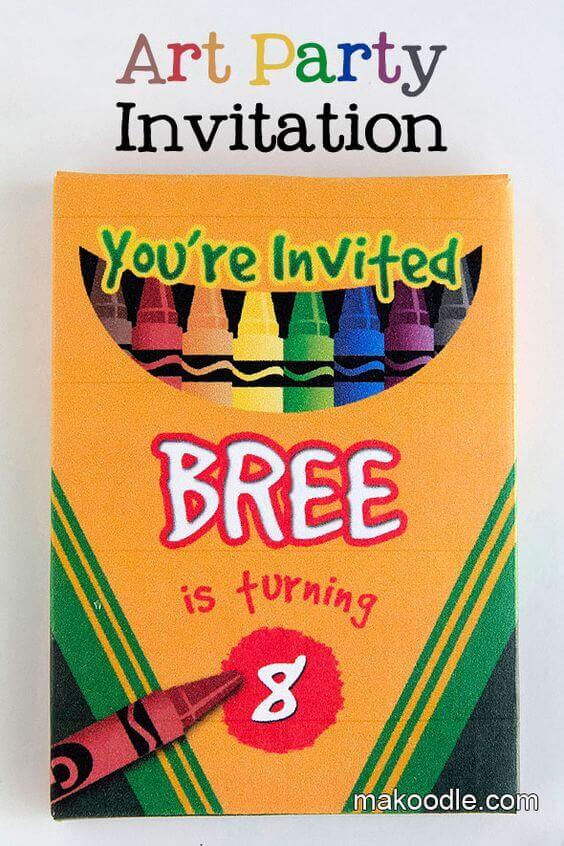 9. Crayon Birthday Invitation
From Makoodle
The first thing you need for an art-themed birthday party are create art party invitations. These fun party invitations are designed to look like a crayon box with a little bit of birthday flair.
Custom labels on the outside of the box direct you to take a look inside, where your guest will find all of the party info on custom crayon wrappers!
Buy boxes of crayons from the dollar store or make your own to use up spare crayons you surely have lying around.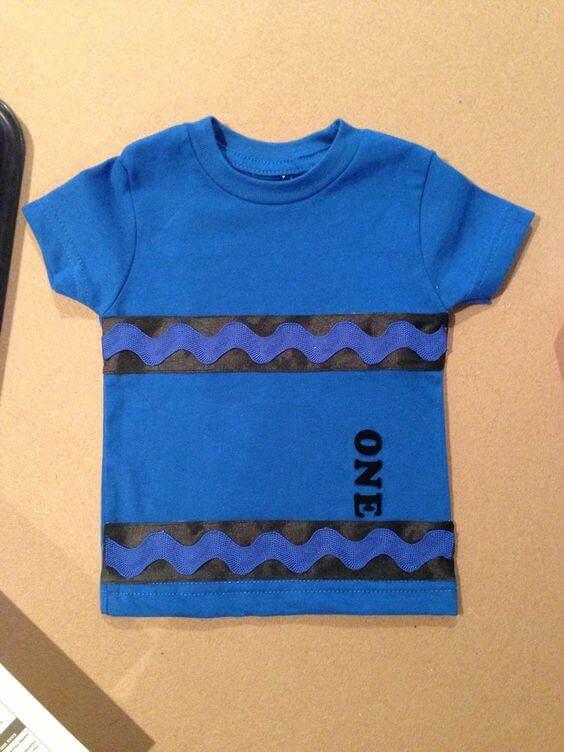 10. DIY Crayola Shirt
From Mommy 2 Branson
Transform plain colored shirts into wearable crayon costumes with this simple and fun do it yourself project.
Glue some black ribbon layered with blue Ric Rac to the top and bottom of the shirt, then use iron on letters to spell out the name of your child or their age.
This shirt would be great to make for the birthday boy or girl, or for all of your guests at a smaller party.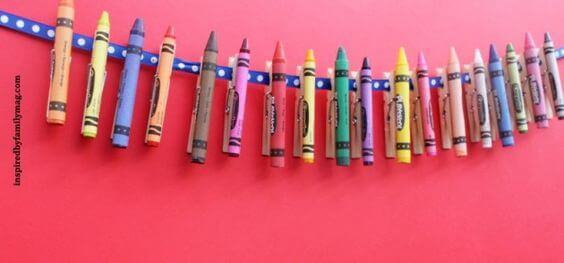 11. Crayon Bunting
From Inspired by Familia
This is a great banner to greet guests at your crayon themed party or to greet your kids with on the first day of school. All you need to make it yourself is hot glue, clothes pins, crayons, and some ribbon or string.
Try using different sized crayons or different colors to make a pattern. You could also use these sweet little clothespins to display arts or crafts made at the party.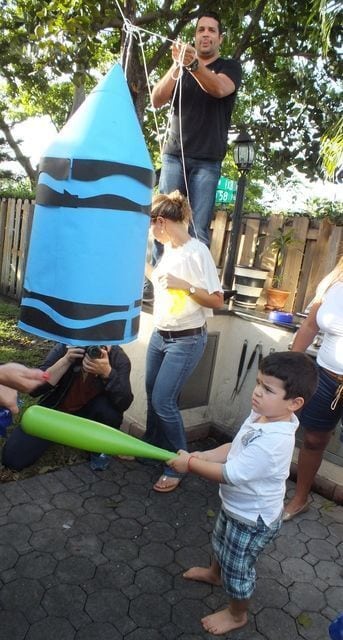 12. Crayon Pinata
From Jenni L, as seen on Catch My Party
Piñatas are always a major hit at children's birthday parties. There's something about the challenge of hitting it and the surprise of candy that makes kids laugh, giggle, and jump for joy.
DIY this awesome Crayon piñata for your crayon themed party. It is easy to make with either papier mache or some Bristol board and kids are sure to have a blast playing with it.
13. Crayon Cookies
From Sweet Sugarbelle
Crayon cookies are sure to add some colorful fun to your art or crayon bash. The cookies themselves are super easy to make, then all you have to do is follow the tutorial to ice them.
An oval in the middle and two squiggly lines transform a boring sugar cookie into an artistic masterpiece. These multicolored cookies make a beautiful presentation!
14. DIY Jumbo Crayon Decorations
From Smart School House
Learn how to make gigantic pencils, crayons, and markers with pool noodles. These easy to make decorations are great for taking pictures with at your crayon themed birthday party.
Paint a snow cone cup or paper cone and hot glue it to the top of a pool noodle. Use some black paint for the rest of the crayon details and you have yourself a fun, life-sized party decoration.
15. Edible Crayons
From The Girl Who Ate Everything
Edible crayons make a deliciously festive treat for birthday parties, school snacks, and teacher gifts. They are made with pretzels and chocolate for a sweet and salty treat. I mean who doesn't love pretzels and chocolate?
The adorable and hilarious crayon wrappers are available as a printable, or you can make your own with the birthday kid's name.
16. Crayon Party Hat Tutorial
From The House that Lars Built
Party hats are fun, but crayon party hats are fun-er. These crayon party hats are the perfect wearable decorations for your party guests to sport at your crayon celebration.
They are incredibly easy to make too. Use the downloadable template to cut the hat from pieces of cardstock paper, then attach a paper brim and a piece of ribbon to keep it on.
17. Felt Crayon Garland Tutorial
From Love the Day
What is a party without garland? Find out how to make this super easy and no—sew crayon garland for your next birthday party or back to school bash.
The crayons are made from stiff felt sheets with a little white Rick Rac and embroidery thread.
String up your homemade crayons on a cute polka dot ribbon and you have the sweetest garland you've ever seen.
18. Crayon Push-Up Pops
From Everyday Parties
Add some fun to your crayon party with these Crayon cake push pops to your party. Kids will love these handheld, easy to make push pops.
19. Crayon Party
From Our Mom Rocks
A fresh new box of Crayola crayons is what I dreamed about as a kid. It just so happens to make the cutest theme for a young child's birthday, too.
This Crayola crayon themed party post is packed with all kinds of fun and funky ideas including decorations, food, and more. Check out the custom Crayola crayon box invitations, colorful candied popcorn, Crayola pretzel treats, and more.
Create your own colorful party with these supplies, gathered by the crew at Spaceships and Laser Beams.
(Amazon Affiliate Links)
Children's Artists Aprons
Mini Easel & Canvas Collection
Paint Tray Palettes
Finger Paint Party
Bookmark Scratch Art Party Pack
Plastic Clear Paint Can
Play-Doh Party Bag Dough
Dozen Cardboard Bright Colors Treat Boxes
Art Alternatives Canvas Panel
Mini Paint Can Puzzles
Bright and Bold Happy Birthday Dinner Plates
Check out more great arts and crafts themed parties: