15 Creative Baby Elephant Party Ideas
Table of Contents
Baby Elephants make for an adorable party theme! We can't wait for you to see these 15 creative baby elephant party ideas we've rounded up to share with you today.
From a peanut garland to an elephant made from watermelon to a fondant elephant tutorial, you will just squeal with delight over the cuteness!
How will you incorporate elephants into your next party theme?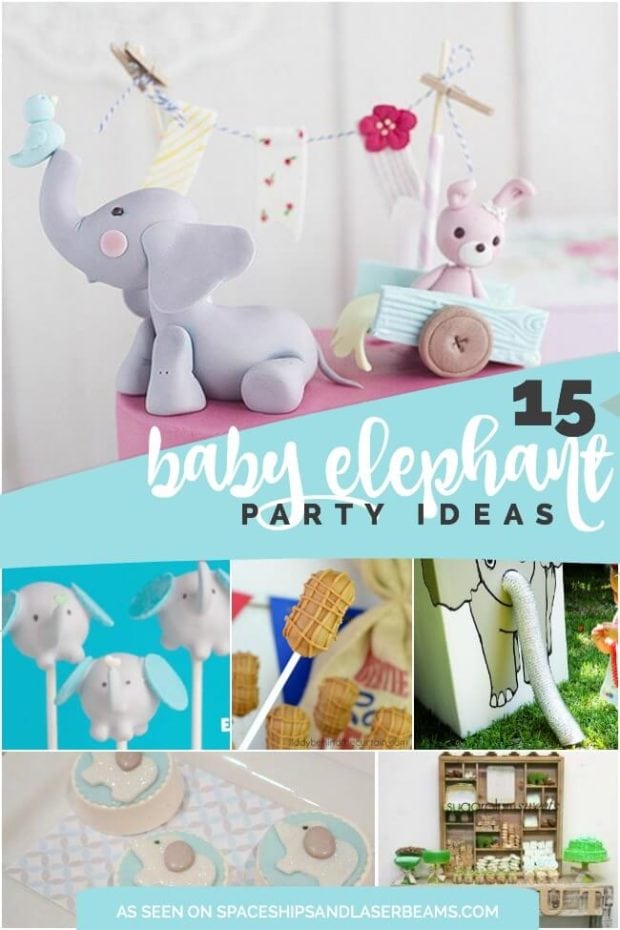 ---
See Also
---
1. Peanut Butter Cookie Pops
Celebrate your little peanut with these no-bake peanut butter cookie pops that make the perfect treat for an elephant themed party or baby shower. They are made by grinding up nutter butter cookies and adding cream cheese to get a delicious peanut butter flavor with a creamy centre. Creating these pops are so much fun and they are an easy single serve treat to display on dessert tables.
2. Feed the Elephant Game
From Planet of the Apels
Feed the elephant is a wildly fun game that is a big hit with little kids at backyard birthday parties. Paint a friendly elephant on the side of a big cardboard box then feed a dryer vent tube through the middle to create the trunk! The kids place peanuts in the trunk to feed the elephant and raise the trunk until the peanuts drop inside. Somebody stands in the box to take the peanuts and slide carnival tickets back for the kids.
3. DIY Elephant Ear Headband
From Red Balloon Events P, as seen on Catch My Party
You baby elephant needs a pair of elephant ears for their party. Just think of the adorable pictures you can snap of your little one wearing this adorable elephant ear headband! It would be so easy to recreate this sweet headpiece with blue and grey felt, a plastic headband from the dollar store, and some basic sewing skills. Make it even easier for yourself by using hot glue instead of a needle and thread.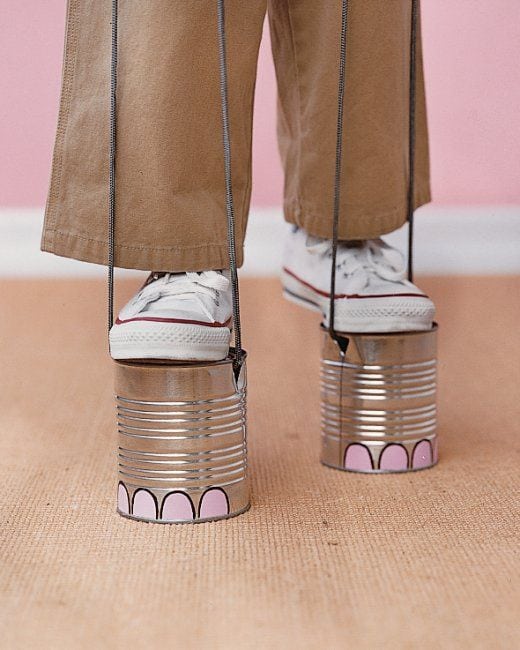 4. Elephant Feet
From Martha Stewart
The coolest elephants stomp through the playroom jungle on tomato can stilts. This DIY elephant foot toy is great to have at the party for older kids and they are incredibly easy to make. Use acrylic paint to paint four round elephant toes on each can, then thread nylon stretch cord through the cans for the children to hold on to. If there are enough children, you could even have an elephant stomp race!
5. Baby Elephant Ears
From Pillsbury
Grandmas all over the country have long used scraps of unused pie crust dough to make these sweet, cinnamon treats. They are usually pretty big, but these miniature versions are just the right size and much easier to assemble! Plus, because they are smaller they make the perfect hand held sweet snacks for birthday parties, baby showers, and everything in between.
6. Watermelon Elephant
From geelalagee, as seen on Flickr
Serve a fresh and healthy snack for your party guests with this brilliant and adorable watermelon elephant. Fill the hollowed-out watermelon with melon balls, fresh berries, and a cantaloupe baby in it's for a baby shower. The cut-out rind gets repurposed to create a cute little trunk and some big, floppy, elephant ears. Set the watermelon on a bed of peanuts for a festive and deliciously healthy treat.
7. Peanuts Guessing Game
From Courtney N, as seen on Catch My Party
Everyone knows that an elephant's favorite food is peanuts, but how many peanuts does an elephant need to fill up their tummy? Fill up a big glass jar with shelled peanuts with instructions for your guests to guess how many peanuts are in the peanut jar. Leave a bucket and a pad of paper nearby for guests to drop their guesses in, then read through them to announce the winner. Such a fun idea!
8. How to Make Elephant Cake Pops
From Pint Sized Baker
Could these sweet elephant cake pops be any more perfect for an elephant themed first birthday party or baby shower? The blog post includes a full tutorial on how to make them, and they are so, so easy to make! You can make a dozen in less than an hour. The big floppy ears made from melting chocolates and the candy molded trunk have to be the cutest thing I have ever seen.
9. Elephant Handprint Craft
From Our Knight Life
This sweet elephant handprint craft will be a great way to showcase your child's artistic side at their party as well as make a wonderful keepsake for the future.
10. Baby Elephant 1st Birthday
From Oh So Chic Celebrations, as seen on Spaceships and Laser Beams
Using grey and white chevron decorations, accents of turquoise blue and cherry red, and a sweet elephant theme, this blogging mom created a classic party with a fresh vibe. Sweet elephant images are used throughout the celebration to decorate the cake, favor cookies, and other party supplies. Pretty polka dots also make their way into the party, decorating tasty cake pops, a beautiful fondant cake, and a macaroon tree!
11. Peanut Garland
From Haute Apple Pie
Peanuts can be used for so many cute and festive details at an elephant themed party! Bags of shelled peanuts are inexpensive and perfectly on theme. String peanuts from the chandelier to make the sweetest peanut garland. This blogger attached pictures of the birthday boy to the bottom of each one for a beautiful personal touch.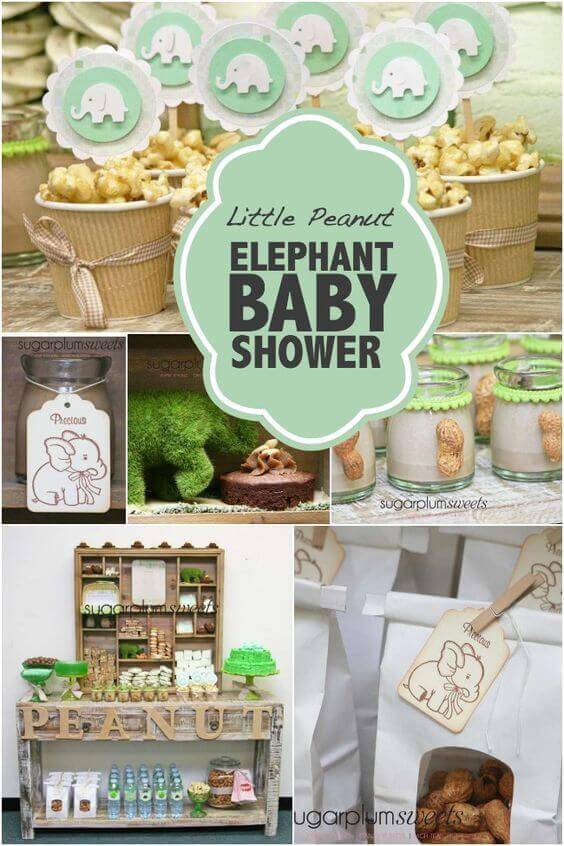 12. Little Peanut Elephant Baby Shower
From Sugarplum Sweets, as seen on Spaceships and Laser Beams
Welcoming a new little peanut into your lives and homes calls for a grand celebration! This gorgeous little peanut baby shower dessert table features a combination of absolutely beautiful-meets-rustic inspired decorations, a mouth-watering menu of stunning desserts, and clever party favors. Soft greens and browns make a perfectly fresh color pallet, and beautiful printable menus and scalloped tags add to the fun.
13. Elephant Chocolate Covered Oreos
From Kelli M, as seen on Catch My Party
Chocolate covered Oreos are one of our favourite desserts. The tasty single serve treats are easy to make and can be decorated in so many beautiful ways. These elephant chocolate covered Oreos are certainly no exception. Oreos are dunked in white chocolate and then topped with the most adorable fondant elephant in edible glitter.
14. Elephant Centerpieces
From Some of the Best Things in Life are Mistakes
These elephant themed centerpieces are absolutely wonderful for an elephant themed bash! They are budget friendly too, as most of the crafting materials can be found at your local dollar store or craft store. Fill a galvanized steel bucket to the brim with raw peanuts and top with a homemade paper elephant graphic. A big ribbon bow and button accent finish it off!
15. Fondant Elephant Tutorial
From Meg Silvita
For a first birthday celebration or beautiful baby shower, this fondant elephant cake is completely to die for. Plus, it comes with an easy to follow tutorial so you can make it right at home! Switch up the colors to match your party's theme then use your creative hands to mold the elephant, blue bird, bunny, and wagon.
Plan an elephant themed birthday with these party supplies:
(Amazon Affiliate Links)
Two Elephant Party Sticker
Blue Elephant Party Bundle
Elephant Zoo Animal Inflate
Buddy The Blue Elephant Poly Resin Planter
Elephant Cookie Cutter
Elephant Cupcake Decorating Kit
Elephant Candy Mold
Blue Elephant Cupcake Boxes
Little Elephants Edible Cupcake Toppers
Sitting Elephant Holding Cupcake
Looking for more inspiration for your elephant-themed event? Try these: