Table of Contents
We are totally in love with this Toy Story birthday party and the lovely dessert table that Zoila from Squared Party Printables threw for her own son's birthday. The execution is a perfect blend of character and creativity — we love how she was able to do this party without infringing on copyrights. Zoila used Toy Story toys (which belong to her son) to decorate. This included Mr. Potato Head, Woody, Buzz, Slink, and Rex. She found the perfect tablecloth at Target, which looked like a Twister game. As the finishing piece — just like in Andy's room in the movie — her son had a red Luxo-style lamp and that became part of the dessert table decor as well.
See Also:
Says Zoila about the party:
The decor was based on my son's (and my own) love of the Toy Story movies and the actual toys. Lots of the decor came from his bedroom where I had used my vintage (1995) Toy Story toys to decorate. Vintage toys included an old Mr. Potato Head, and vintage Woody, Buzz, Slink, and Rex. I wanted to keep everything about fun and about the toys and I found a great tablecloth at Target that reminded me of a Twister mat that really tied the table together. And just like in Andy's room, my son had a red Luxo-style lamp which I placed on the table as well.
Rather than designing a graphic invitation, I used our toys and posed them around a vintage Lite Brite that I found and manipulated the Toy Story 3 logo to say TY Turning 3 instead.
Some DIY decor that I put together was the fabric garland in the background that was inspired by the fabric garland created by Michelle of I Do Invitations by Michelle. I knew from the start that I wanted to use Blumeboxes for the cake pops and mustache lollipops, but they really took on a life of their own when I turned them into toy blocks with my son's name on them. I used Todd Oldham (Kid Made Modern) Washi tape from Target for the edges and various stickers and decals for the sides of the box. I cut out the letters from paint swatches from the hardware store since I couldn't find the type of letter stickers that I wanted to use.
Big thanks to Brittany of Edible Details for making my cake vision come true. I wanted toy blocks with Tyler's name on them and a big 3-made Toy Story style plus lots of fun fondant swirl pops. It was perfect. I also topped the cake with one of the Pizza Planet alien dudes and made some bunting using the Washi tape. Finishing off the cake were big gumballs and an Etch A Sketch cookie from Casey's Confections. Casey also made a huge batch of sugar cookies for the taking that matched my printables perfectly. Love the Woody-style one with Tyler's name on it.
Being a huge Pixar fan, I knew exactly what the cake pops should be; the Pixar ball. Niya from Candy Cake Company made my vision come true – and she even delivered! Rounding out the sweets were Rice Krispies treats, chocolate mini cupcakes, purple velvet mini cupcakes, and Mr. Potato Head style lollipops from Vintage Confections. The kids played outside on the front lawn. We set up a mock splash pad with a small wading pool, water blasters, water balloons, and bubbles. Lunch was outside as well with pizza, lemonade, and water.
Once they came inside to sing Happy Birthday and ate their treats, they got to hit up Ty's Toy Bar – a play on Al's Toy Barn. I set up a vintage red bench with buckets of various toys that they could fill up their treat bags with. Doing a play on the Bucket O Soldiers from the first movie, our toy buffet included buckets filled with water blasters, balls, bubbles, soldiers, play dough, and little green men. The party was a complete blast and the birthday boy had tons of fun. Super fun day based on one of my favorite movies ever.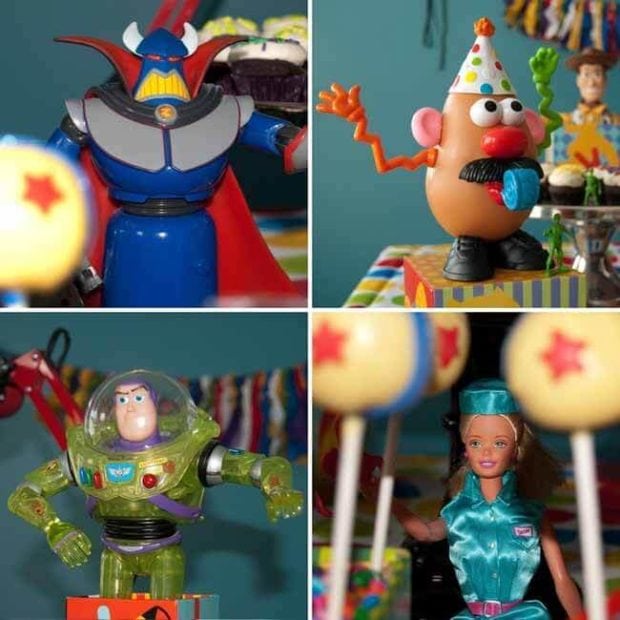 Check out some great nautical party ideas: