Monster Truck Birthday Party + Dessert Table
Table of Contents
Submitted by party-loving mom, Charlene, this boy's monster truck birthday party will excite monster truck lovers of all age. A blue and green color palette, mixed with just enough checkered raceway inspired party decorations make this celebration especially geared for boys.
Carrie Lee Photography captured all of the dirty details! Truck along with us as we check out the cool cake, loads of candy, and fun desserts like "mud shots." Don't miss the awesome favor buckets overflowing with treats and trinkets, and even a toy monster truck.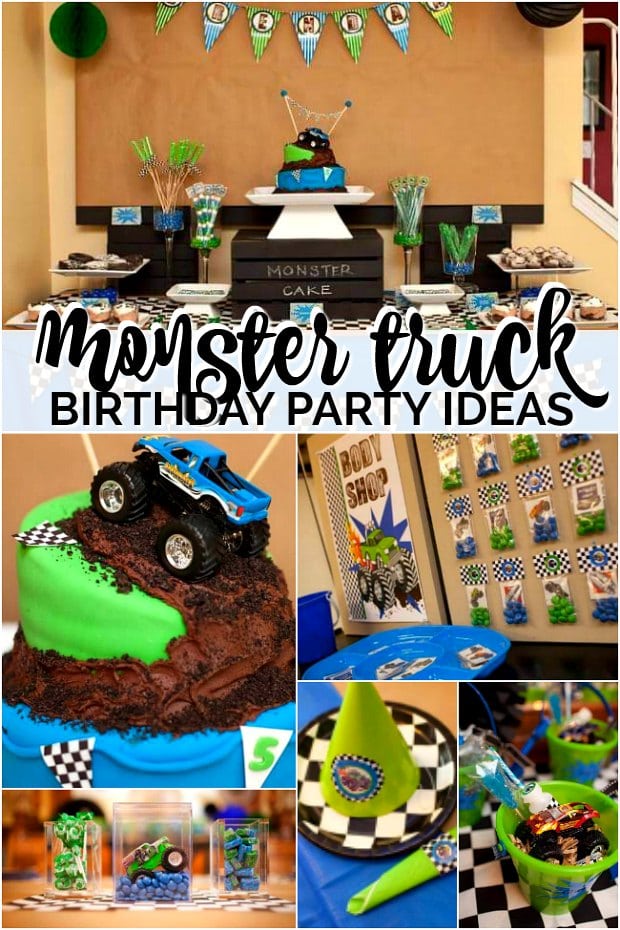 ---
See Also
This Monster Truck Birthday Cake will make a great addition to your dessert table.
---
Little boys (and big boys too) get excited about trucks, especially when they are monster trucks.
Imagine the excitement of the guests at this party when they realized the theme! Charlene did an amazing job of emphasizing the monster truck theme.
Vases were filled with mountains of candy complete with toy monster trucks prevailing on top of the mound.
Custom printable posters, signs, and embellishments all showcased the monster theme. The excitement over these monstrous vehicles was sure to be high.
A checkered scene setter provided an awesome backdrop for some seriously cool dining tables.
Charlene mixed royal blue with lime green and accented with a black and white checkered pattern. A little brown was mixed in for good measure, because…hello, dirt! Tables were covered in blue tablecloths with a brown butcher paper runner.
Cubes were filled with green and blue candy and mini monster trucks perched inside. These were perfect centerpieces. Place settings consisted of checkered plates with green party hats on top.
I love the monster truck printables from Amanda's Parties to Go, used to customize the hats to the theme. Printable napkin wraps held black utensils inside lime green napkins.
A separate space was decked out for a monster dessert display. Tissue fans and balls hung above a table decorated in a blue tablecloth and double runners in brown and black and white checks.
A printed birthday banner celebrated the guest of honor, spelling out Brendan.
I'm not a boy, but even I can appreciate the dessert table's totally cool centerpiece—a monster cake by Rebecca's Cakes & Confections, perched high atop a wooden crate.
The details on the cake are pretty spectacular. A monster truck appears to be making its way up some steep landscape, leaving an edible trail of "dirt" in its path. A checkered "bunting" tops the cake along with the monster truck.
Mini "mud shots" were another enticing dessert. I'd like a big cup of mud please, with extra whip cream!
Mini candy bars received a monster truck makeover with custom wrappers.
Small vials of green chocolate pieces and cellophane tubes of gumballs were displayed in glass containers, along with other candy.
I love the checkered ribbon used and all of the printable details added to each treat. Cake pops and other yummy desserts were enjoyed by guests too.
I bet boys went mad over their sand pail favor buckets. Each lime green bucket was filled to the brim with all sorts of goodies, including candy, bubbles, and a monster truck!
I love how Charlene personalized each one with the guest's name and a monster truck party logo.
These were displayed on a furniture hutch decked out in monster truck cutouts, paper fans, and tissue balls in party colors. Favor hang tags featured a clever sentiment: "Thanks for a smashing time."
With all the action taking place at this boy's monster truck birthday party, a visit to the "body shop" is a must. I love this additional creative party favor station that features monster truck temporary tattoos.
Charlene put together small party favor bags featuring a truck tattoo and color-coordinating candy.
To create a well-stocked beverage bar, Charlene styled a "refuel station". She had an assortment of soda, water, sports drinks, and chocolate milk.
The option of chocolate milk ("liquid mud") delighted many guests. It was housed in lidded mason jars with checkered lid inserts and crazy color-coordinating bendy straws. Checkered straw flags were added as a festive detail. So fun!
When hunger crept in at this party, guests could head to the "pit stop" and get a snack. Black and white checkered snack cups were on hand to fill up and fuel up party guests.
An abundance of snacks like popcorn, pretzel crackers, nuts, and dried fruit provided some healthy options
Monster props and applause to this party planning momma for planning an incredible monster truck party. It's a dirty job, but somebody's gotta do it!