Dr. Seuss Themed Birthday Party
Table of Contents
Do you like the idea of a Dr. Seuss birthday party plan? I do, I do, Sam I am!
Paying homage to some of the greatest children's book classics of all time, this Dr. Seuss-inspired boy's birthday party theme was cleverly created by Alison, from Alison Lawson Cakes.
Party decorations and food ideas jump off the book pages of Seuss favorites right onto a festive dessert table.
A boy's Dr. Seuss birthday party theme is the perfect place to have fun with color. The decked out dessert station is brought to life by a bright and fresh primary color scheme.
A yellow, blue, red, and white flag banner hangs above the table to frame the enticing desserts.
Party decorations like the checkered red and white tablecloth, polka dot popcorn cones, striped straws, and beribboned cookies were all inspired by bright and imaginative Dr. Seuss illustrations.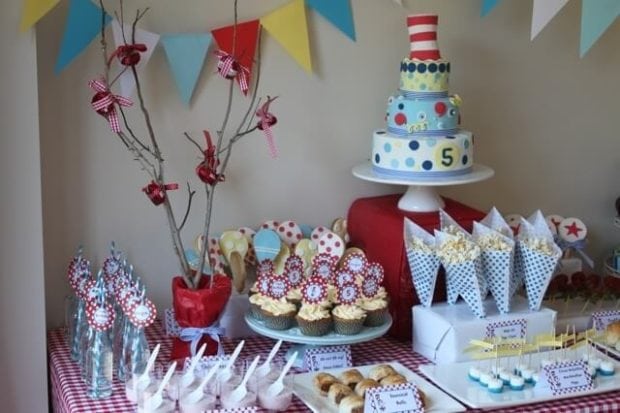 Alison had a lot of fun with the menu by creating desserts inspired by book titles. Colorful name tags give life to the Slury Seuss Syrup (water bottles), Pink Ink for the Yink (strawberry yogurt), New Bloo Goo (blue Jell-O cups), Pocket Wocket Sandwiches, Trufulla Fruits, Green Eggs (vanilla cookies), Hop on Popcorn, and Noodles for the Poodle.
At the far end of the table is my favorite: The Cheese Tree! A flowerpot wrapped in red tissue paper holds branches decorated with red and white ribbons.
Tied to the branches are Babybel cheese wheels for guests to unwrap and enjoy.
Even with all the colors and details that decorate the dessert station, it's hard to miss the star—the four-tier cake.
Standing high on a pedestal, and adorned with a number five for Alison's five-year-old son, the birthday cake is decorated in Dr. Seuss fashion with spirals and circles made of fondant, and a tipping top tier that pays tribute to the iconic red and white hat from The Cat in the Hat.
Not only is it down right adorable, this literary party theme is perfect for a boy with a big imagination or one that loves to read.
A Dr. Seuss party theme is a great way to celebrate a special little boy and will have guests eating (eggs and ham) out of the palm of your hand!
Create your own Dr. Seuss birthday party with these awesome party supplies:
(Amazon Affiliate Links)
Dr. Seuss's Beginner Book Collection
Dr. Seuss Hat
Dr. Seuss The Cat in the Hat Figurine Ornaments
Dr. Seuss Thing 1 or Thing 2 Red T-shirt
Dr. Seuss Horton Blankie
Eureka Dr. Seuss Thing Hair Wearable Hats
Eureka Dr. Seuss Cat in the Hat Adhesive Name Tags
Red & White Stripes Tablecover Party Accessory
Dr Seuss Cat in The Hat Key Chain Lanyard
Dr. Seuss – What's On the Menu? T-Shirt
Dr. Seuss Be Who You Are Quote Phone Case
Bumkins Dr. Seuss Footed Sleeper
Plus, check out more great Dr. Seuss ideas.