THESE EASY, HEALTHY HOMEMADE DOG TREATS ARE A SPECIAL RECIPE TO SERVE YOUR FAVORITE PET!
These easy, healthy Homemade Dog Treats are a special recipe to serve your favorite pet!
Homemade dog treats are a simple way to let your little puppy know they're loved. This easy, healthy homemade dog treats recipe is the best.
They are so simple to make homemade and deliver great flavor even for dogs with sensitive stomachs or allergies. We use a cookie cutter to get the cute shape.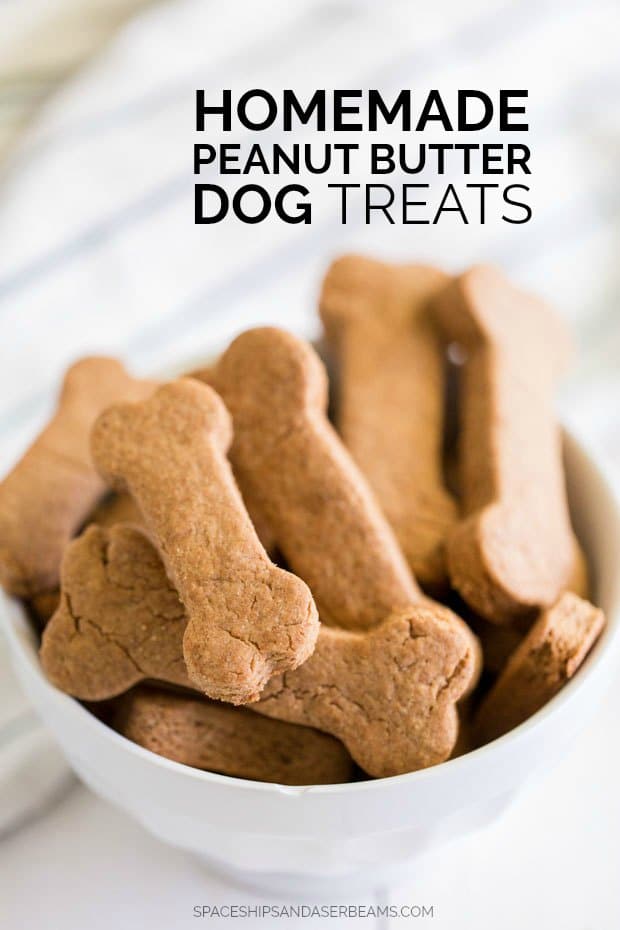 More Awesome Ideas for Your Dog
We use peanut butter, but there are lots of variations you could try. These include pumpkin, banana, sweet potato or baby food — there are lots of options.
You'll make your own homemade dog treats from now on once you try this simple recipe… enjoy!
Before we get to the recipe, I want you to meet Max. This little cutie patootie belongs to my sister. He's stolen my heart too, if I'm honest.
My sister is expecting her first (human) baby right now. Little Max is definitely sensing the changes in the family dynamic. It's amazing how in tune with emotions pets can be.
My sister and I had a conversation about this the other day. I offered to bring my boys over with some homemade dog biscuits and she agreed. Twist my arm to love on Max. 😉
I figured a little extra dose of attention might help Max as they prepare for the soon to be arrival of baby.
This homemade dog biscuit recipe is so easy to put together. Rowen helped me in the kitchen — something we both love.
Let me tell you: kiddo help in the kitchen is a great time to bond and I love that my boys can learn valuable life skills while we're at it.
Plus, Rowen loves to show off his muscles with all the measuring and mixing. 😉 He did a great job rolling out the dough and helping me with the cookie cutter.
Ingredients for This Dog Treats Recipe
This simple recipe has only five ingredients. FIVE. It's that simple.
You'll be using:
smooth peanut butter
molasses
milk
whole wheat flour
baking powder
How to Make Dog Treats
First up, you'll want to preheat your oven to 350 degrees.
Then, combine the ingredients in a mixer on low until well blended. Or borrow your son's muscles. In my experience, boy's love proving how big their muscles are and showcasing what they can accomplish.
Once well mixed, put the dough between two sheets of parchment paper and roll to approximately 1/4 inch in thickness.
We used a darling bone shaped cookie cutter for our puppy treats. You could also use a traditional circle cookie cutter or a glass.
Once we had the bone shapes, we popped them onto a cookie sheet for baking in the oven.
You'll bake for approximately 17 minutes.
You'll get about 40 medium sized dog cookies from this recipe.
How to Store Homemade Dog Treats
Now that you've learned how to make your own dog treats, how do you store them?
Although, your pal will want to devour them all in one sitting, I wouldn't recommend it. 😉
I stored Max's in an airtight container in the fridge. They can last for up to two months in the fridge or up to eight months in the freezer.
Max loved this recipe! And my boys loved giving them to him. Both my boys are definitely dog lovers and have a big soft spot for Max. He loves them as well — especially when they are in front of him with homemade dog treats! 🙂
While Max was noshing on his dog cookies, my sister and I did some chatting. I'm so excited watching her get ready for the birth of her daughter.
I'm excited that I was able to partner with PetArmor to bring you this recipe. Your four legged family members will thank you, trust me. 🙂
You see, as my sister and I talked about preparations, hospital bags and freezer meals, I asked what else she's doing to help get Max ready for baby.
One of the things on her list is making sure that Max is protected from fleas and ticks. Naturally, she doesn't want Max to have to deal with them or have them around the baby!
Fleas and ticks can be present year round, not just in warm weather. They can also lay dormant for several months before hatching. Um… ewww.
PetArmor Plus is a topical protection you apply to your pet. You can find it at Walmart and Walmart.com, making it a convenient and affordable option. It's a fast acting, waterproof formula that is available in four different weight brackets. They also have a formula for cats.
You can grab it while getting ingredients for your homemade dog biscuits!
Show your pet you care with these homemade peanut butter dog treats and PetArmor soon!
Plus, check out How to Make Apple Carrot Dog Biscuits!
Homemade Dog Treats
THESE EASY, HEALTHY HOMEMADE DOG TREATS ARE A SPECIAL RECIPE TO SERVE YOUR FAVORITE PET!
Print
Pin
Rate
Ingredients
1

cup

smooth peanut butter

1

tablespoon

molasses

1

cup

of milk

2

cups

of whole wheat flour

1

tablespoon

of baking powder
Instructions
Preheat oven to 350 degrees.

Combine ingredients in mixer on low until well blended.

Put dough between two sheets parchment paper.

Roll to approximately 1/4 inch in thickness.

Use cookie cutter (or glass) to cut out biscuits.

Bake for approximately 17 minutes.
Nutrition