Party Supplies
13 Iron Man Party Ideas
By
| Last Updated:
Planning an Iron Man themed party and stuck for ideas? Well, the good news is you won't have to break into Stark Industries for any secret party plans! Here's a roundup of 13 Iron Man party ideas that you can get to work on today! Learn to decorate Iron Man cookies.  Get inspiration on making an Iron Man cake or cake pops.  Find ideas for Iron Man dessert table treats and refreshments.  And, check out a cool DIY for making your own Iron Man gloves!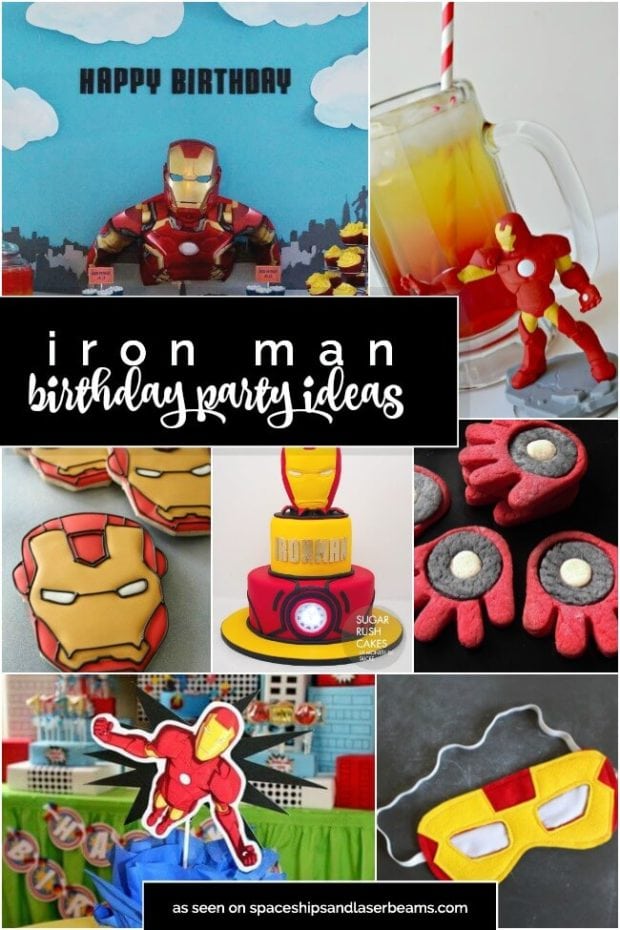 ---
See Also
---
1. How to Decorate Iron Man Cookies :: Sweet Sugarbelle
The technique this blogger uses to create impressive decorated cookies is absolutely genius! She made these awesome Iron Man frosted cookies using a mini projector, tracing the basic outline of Iron Man's mask and filling in the shapes with royal icing. The best part is that you don't have to get hung up on tiny mistakes or color bleeds because they usually get covered by the piped outlines.
2. Iron Man Mask :: Cutsey Crafts
Felt superhero masks are a great option for easy, inexpensive, and durable party costumes. They look amazing sewn, but for an even easier DIY project you can glue the felt pieces or use craft foam. Follow the detailed instructions and use the provided printable mask templates and you will have these made in no time!
3. Iron Man Drink :: The Cards We Drew
The idea for this drink is super simple and the finished product is totally delicious. Two drinks, cranberry juice and yellow Gatorade, gets layered on top of each other for a fun, gradient effect. It is the perfect festive drink for an Iron Man themed birthday party or Avengers themed bash. There is also a Captain America version that looks equally incredible.
4. Iron Man Cookies :: Handmade by Rianna
Enjoy these amazing Iron Man cookies that make the perfect treat for a super hero themed birthday party. They are baked with colored dough so they look great without needing a rainbow of regal icing or a steady hand for royal icing flooding. Hand shapes are cut from red cookie dough, then layered with black and white circles to make the palm. Leave to cool and enjoy!
5. Iron Man Birthday Party Treats :: 3 Little Greenwoods
Have you ever had to put a mom-guard next to the treat table at one of your birthday parties? Make these treats and I guarantee you are going to need one! Fun and easy Iron Man Birthday Treats take just minutes to make ad are fabulously scrumptious. They are perfect for an Avengers themed birthday party and are always a huge hit with kids. Along with simple supplies and this easy tutorial you can make your superhero's day with these birthday treats.
6. Iron Man Cake :: Sugar Rush Cakes
A birthday party isn't a birthday party without a delicious cake! This amazing fondant cake has three layers of delicious cake decorated with fondant to look exactly like Iron Man's suit. Iron Man's mask is bursting right out of the top of the cake and the bottom layer uses an LED light to look just like Tony Stark's Arc Reactor. Any superhero fan would go crazy for this impressive birthday cake.
7. DIY Iron Man Gloves :: Totally the Bomb
Superhero costumes are a fun way for kids to show off their superpowers in pretend play, but store-bought masks and accessories for big characters can get so expensive. You can make DIY Iron Man gloves for less than five dollars using supplies from your local dollar store. The best part about them is that they ACTUALLY glow, just like Tony Stark's high-tech gadgets from the movie.
8. Iron Man Centerpiece :: Partylicious E, as seen on Catch My Party
Make your party tables pop with these comic book inspired centerpieces! These decorations would be so simple to recreate and I love the pop-art style details. Wrap a box with comic book graphics, fill with brightly colored tissue paper, and then top with a superhero graphic and pop art action bubble. Iron Man will come to fly and soar across your party tables.
9. Iron Man's "Missile Launchers" Corn Dogs :: Southern Revivals
I'm always looking for exciting and on-theme ways to serve up classic party foods and kids birthdays. With a simple tag decorated with Iron Man's mask, this blogger transformed ordinary corndogs into Iron Man's Missile Launchers. These delicious hand held treats are perfect for on-the-go partiers and superhero fans alike.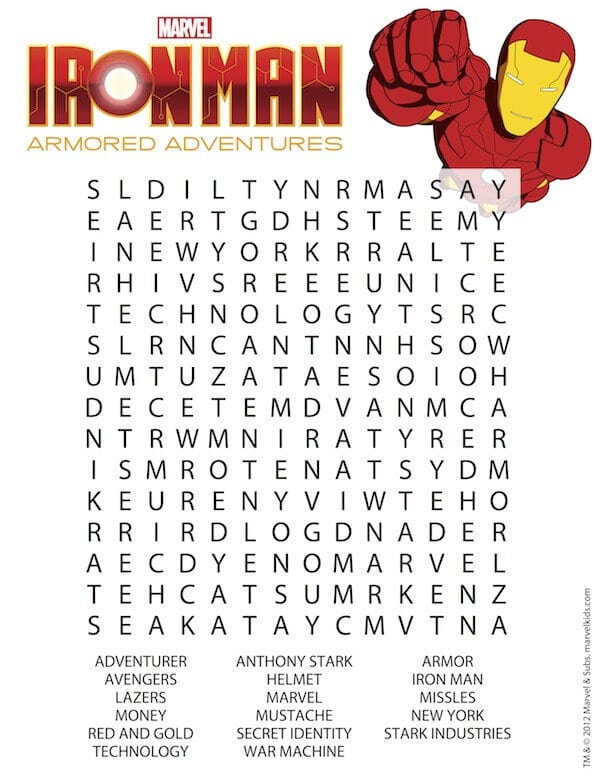 10. Iron Man Word Search :: Great Kids Birthday Parties
Word search printables are always popular with kids, especially if they go with the party theme. This printable Iron Man word search is a Marvel-ous way to entertain kids at your superhero party. Place them at the table for guests to work on as they arrive, keep them at a small table as a relaxed party activity, or roll them up to hand out as party favors. Get searching!
11. Iron Man Cake Pops :: The New Edge
12. Iron Man Dessert Table :: Sally M, as seen on Catch My Party
All of the details included in this Iron Man dessert display are amazing. The impressive backdrop would be simple to recreate, and makes it look like Iron Man is flying through the sky right into the party! Bright red and yellow cupcakes, a fantastic red and yellow punch, and armor rice krispies are among the tasty treats and Iron Man figurines hold all of the food tags.
13. Iron Man Pizza :: Will Cook for Smiles
Everyone's absolute favorite party food has to be pizza. It is super easy to prepare, all party guests are sure to like it, and it is a hand held snack which means no utensils necessary! Play into the Iron Man theme by recreating this incredible Iron Man pizza using pepperoni and cheese. Just arrange the toppings to look like Iron Man's mask and you have an easy, on-theme treat.
Suit up for your next super hero themed party with these super party ideas gathered by the team at Spaceships and Laser Beams.
Be sure to check out more great super hero party ideas.