23 Black and White Party Ideas
Table of Contents
There are few things that compare to the classic look of a black and white party. To help you plan your own stylish soiree, we've put together an impressive list of 23 black and white party ideas.
Will you serve pinstripe miniature cake or black and white cookies? How about creating a ceiling full of black and white balloons? Be sure to check out the black and white tablescape ideas.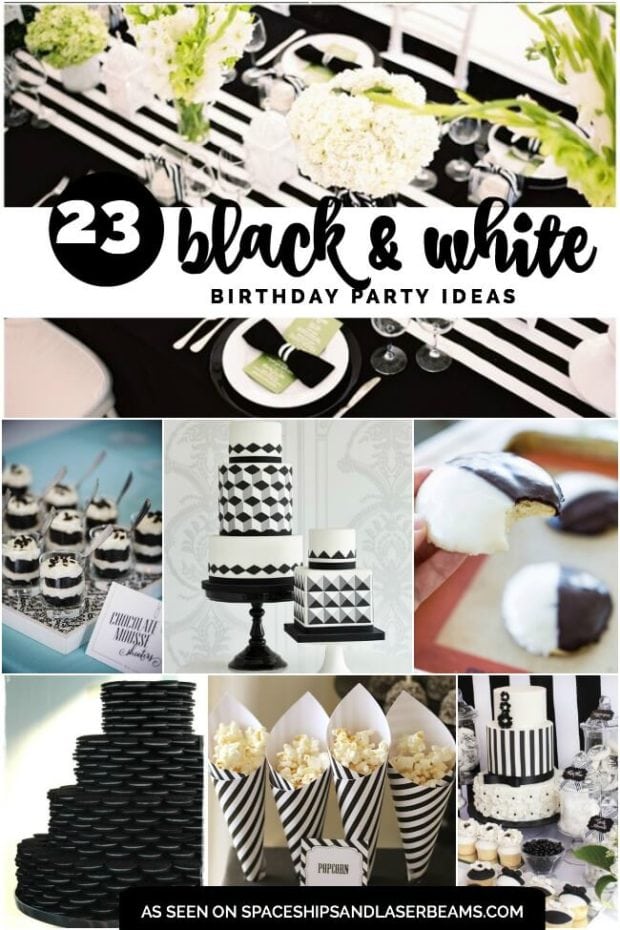 ---
See Also
Halloween doesn't have to be scary! Serve these Cute Halloween Party Food Ideas at your next bash.
Spruce up dinner or snack time with these fun Crescent Roll Witches.
---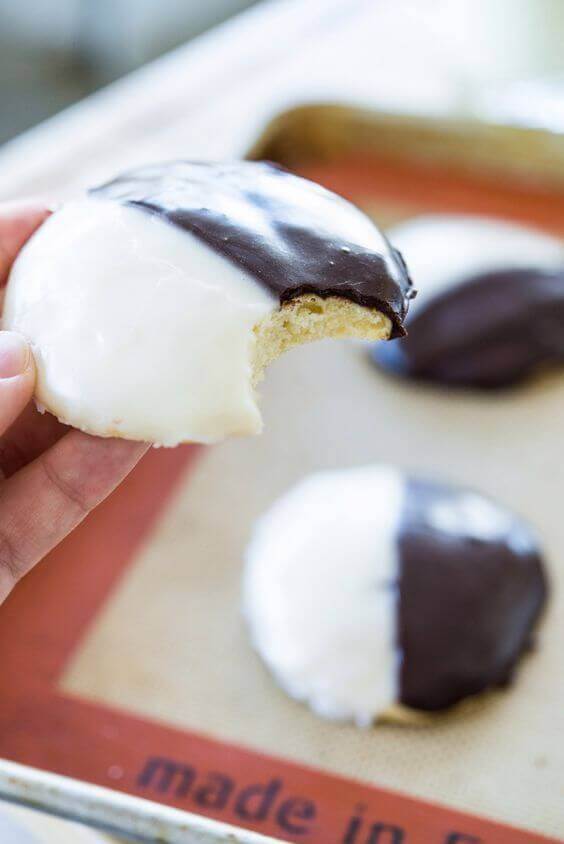 1. Black and White Cookies
From The Pioneer Woman
Why choose between chocolate and vanilla? These black and white cookies were invented by totally indecisive people for indecisive people. Soft and cakey cookies have the wonderful surprise of subtle lemon flavor. When the cookies are completely cool, each one gets glazed with half chocolate glaze and half vanilla glaze. Let the glaze dry and enjoy!
2. Pinstripe Miniature Cakes
From Hitched
Serve your guests their own personal cake at your next shower, wedding, or birthday party. These miniature cakes are bigger then a cupcake but smaller then a traditional cake. Plus, these black pinstripes and fondant bow makes it a perfect match for your black and white themed party. Serve them on matching platters or trays to make a big statement.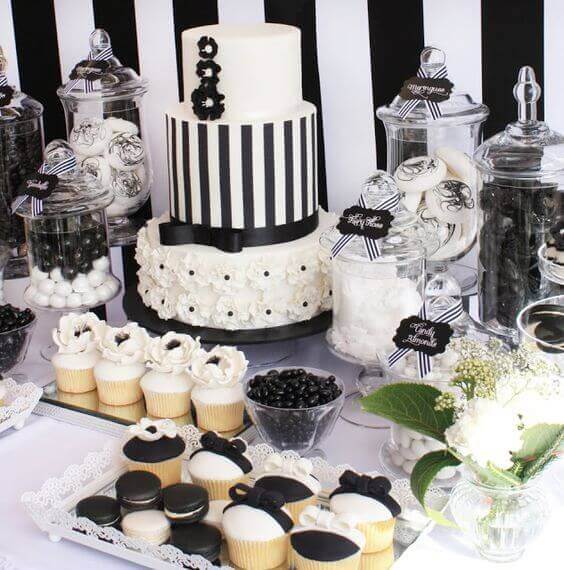 3. Elegant Black and White Party Dessert Table
This dessert and candy buffet table is so very elegant and filled with the most incredible treats. The beautiful cake is front and center, with handmade fondant flowers and a black fondant ribbon. Other treats include black and white rock candies, stunning black and white swirled cake pops, and glass jars filled with black M&Ms. I love the subtle pop of color from the small bouquets of fresh flowers.
4. Black and White Mini Cupcakes
From Bake-a-Boo Cakes, as seen on Flikr
Keep dessert classic with these beautifully simple black and white mini cupcakes. Rich and cakey dark chocolate cupcakes are topped with a swirl of vanilla buttercream topped with adorable fondant flowers and silver ball sprinkles. Tie everything together with some shiny silver cupcake wrappers for a classically elegant dessert.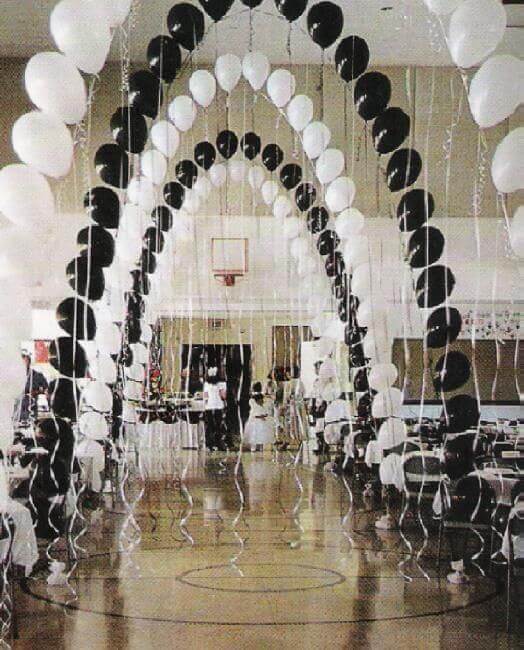 5. Black and White Balloon Arch
From Party, Party, Party Balloons Unlimited
Balloons aren't just for kid's birthday parties and carnivals anymore. You can transform any celebration space into a whimsical tunnel of black and white balloons with these beautiful balloon arches. I love the way that long ribbons hang from the arches sweeping the floor! Balloon arches can make a big impression on any space, including outdoor parties and banquet halls. You can make them to match any color scheme, too.
6. White Chocolate Oreo Truffles
From Leelalicious
Simple Oreo cookies can be turned into decadent truffles with a fine white chocolate shell. These Oreo Cookie Truffles are deliciously dense and chewy, with the most luxurious texture. They are made with crushed up Oreo cookies and a splash of sweetened condensed milk, then dipped in melted white chocolate for a sweet and crunchy coating. The best part is that you can serve them at room temperature, so no fridge space required.
7. Classic Black and White Cake Pops
From Nat via Catch My Party
These classic black and white cake pops will make a perfect addition to your black and white themed dessert table. Traditional cake pops are made using vanilla cake mix. Covered in white chocoalte coated and rolled in black pearl sprinkles. Once set to dry, black ribbon is tied to the ends of the sticks and placed on a white tray covered in a black candy covering.
8. Black and White Swirled Meringues
From Bake at 350
I am completely obsessed with these swirled black and white meringues! Perfectly crispy on the outside and slightly chewy on the inside, these little tastes of heaven are flavored with a hint of almond and oh so sweet. They are super easy to make too, and maintain a pretty sheen even after they are baked. These meringues would be a beautiful addition to a black and white dessert table on their own or tied with a ribbon as party favors.
9. Black and White Petit Fours
From Rozanne's Cakes
Crafted by hand, these black and white petit fours are beautiful in design and details. Each petit four square is decorated with a different hand decorated design from flowers and stripes, dots and swirls, a true work of art that is too pretty to eat. But, I am sure tastes just a delicious as it looks. They also make great favors as well as treats to serve your guests.
10. Black and White Bark
It's the best of both worlds with this black and white chocolate bark. Swirls of dark chocolate and white chocolate are sprinkled with crushed Oreo cookies and chocolate chips. I love how easy it is to make chocolate bark, and yet it turns out delicious and impressive looking every single time. This doubly delicious black and white chocolate bark is sure to satisfy even the biggest chocolate cravings.
11. Oreo Cake
From Weddbook
Oreo lovers will instantly fall in love with this amazing cake piled high with four layers of stacked Oreo cookies. On top of being completely delicious, this Oreo cookie cake fits perfectly with a black and white party theme! It would look amazing on a dessert table among other black and white treats. This cake is sure to be the talk of the party.
12. Black and White Picture Collage Decoration
From Fab Everyday
This blogger threw the most fun black and white themed birthday party for their dad's 70th birthday party. The color scheme was black, white, and grey, with pops of chevron pattern scattered throughout. My favorite part has to be the black and white photo collage made to look like a giant seven and zero. A decorative picture collage is such a touching way to look back on the life and memories of the guest of honor.
13. Black and White Water Bead Candle Decorations
From Holidappy
Water beads can be used in vases, bowls, and glass jars to make beautiful decorations for dinner tables and party decorations. These black and white decorations with floating water beads and a floating candle look so elegant and are so easy to recreate. You can also freshen the air by adding essential oils to the water or by using scented candles. The beads will make any room look fabulous and smell great.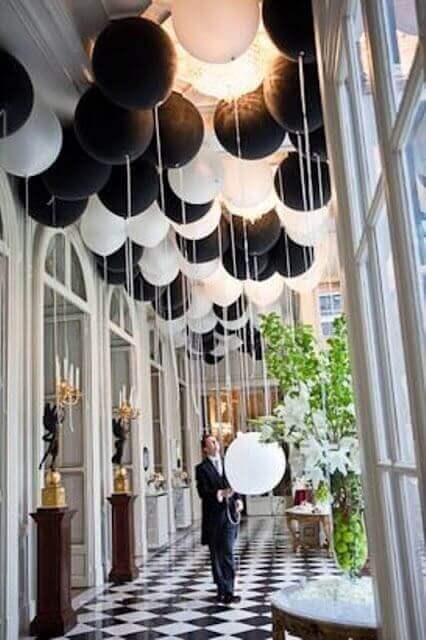 14. Black and White Balloon Covered Ceiling
From Habitually Chic
Giant balloons and high ceilings are a match made in heaven for party planners. Decorate any room with a ceiling full of black and white balloons to make an elegant and festive space for your big celebration. Long ribbons hanging from each balloon add the perfect finishing touch. Just imagine walking into a party through the hallway, and looking up to see this. Simply magical!
15. Black and White Rice Krispie Treats
From Shauna Krantz, as seen on Pizzazzerie
Rice Krispies are a favorite at birthday parties and other celebrations. They are easy to make a day or two before entertaining, can be decorated in a million brilliant ways to match any party theme, and are totally delicious to boot. These Rice Krispies treats dipped in dark chocolate and drizzled with white chocolate are perfect for a black and white bash.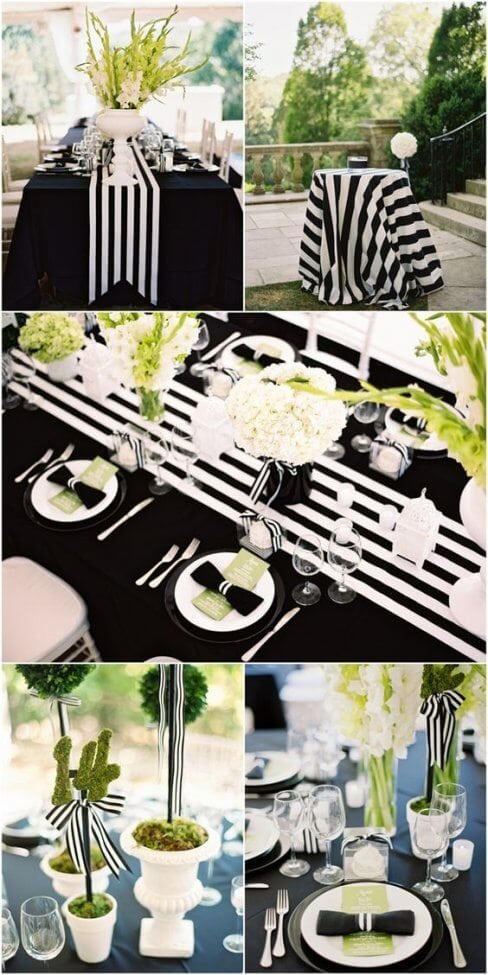 16. Black and White Tablescape
From Pizzazzerie
This black and white tablescape was created for an elegant outdoor wedding, but could easily provide inspiration for any beautiful bash. Bold black and white stripes and pretty bows are scattered throughout the table along with some bright accents of green in the floral displays. Other decorations include black napkins folded into the cutest bows, white lanterns filled with flickering candles and a pretty striped table runner.
17. Black and White Chocolate Mousse Shooters
From William Parkinson Events, as seen on Wedding Chicks
Black and white chocolate mousse shooters offer layer upon layer of rich, fudgy chocolate cake, and decadent white chocolate mousse. Topped with a sprinkle of chocolate shavings, these chocolate shooters are the most delicious single-serve desserts you could imagine. Single serve sweets are also a great addition to any party, making an easy and minimal clean up dessert that all of your party guests are sure to love.
18. Black and White Geometric Cake
This modern black and white geometric cake is the perfect way to make a statment for your non-tradional or modern party. Two-tiered squared cake is decorated with little black and white fondant squares placed perfectly to create a geometric pattern. You can customize your cake to create a different pattern on each side for a more dramatic effect. The top and bottom is topped off with a black strip to give it a finished look.
19. Black and White Baby Shower
From Cathy Durig, as seen on 100 Layer Cake-let
These handsome little cupcakes look absolutely scrumptious, not to mention totally adorable. Rich chocolate cupcakes are topped with a swirl of vanilla buttercream icing then drizzled with a delicious salted caramel sauce. Toothpicks with little black bowties attached make a brilliant and elegant cupcake topper! Lined up on a white serving dish, these cupcakes are sheer perfection!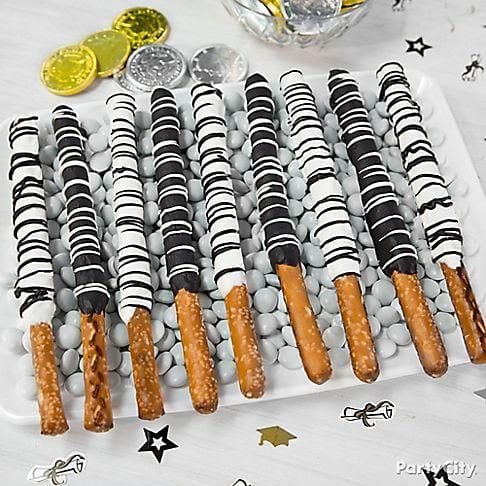 20. Black and White Chocolate Covered Pretzels
From Party City
A simple party treat everyone will love is choclate covered pretzles. Using large pretzel rods, simply dip your pretzles in white and dark chocolate. Once it dries, drizzle alternating chocolate across the already dipped rods and let dry. Serve on trays or platters to complete your dessert table.
21. Black and White Cake
This stunning and elegant black and white cake has three layers, each decorated in a unique and beautiful way. The bottom layer is filled with impressive fluffy white flowers, the middle layer features bold black and white strips wrapped with a pretty black bow, and the top layer is a simple white design with matching black flowers. It is the shining star of the black and white dessert table.
22. Black and White Popcorn Cones
From Paper and Party Love, as seen on Amy Atlas
Popcorn is a crowd pleaser at any party. Serve up your popcorn in style with matching popcorn cones. Just grab some paper that matches your theme and roll into a cone. Secure the ends so popcorn stays put. Using a box, wrap in coordinating paper, punch a few holes in the top so your cones will stand, and fill with popcorn. This allows your guests to serve themselves as well as provides great decorations for your table.
23. Black and White Popcorn Recipe
From Take Time for Style
These bloggers turned to the classic black and white cookie for inspiration for this tasty black and white popcorn recipe. The combination of chocolate and vanilla makes the classic cookie a household favorite, and the favorite flavors work great in popcorn, too! The sweet and salty treat features fresh popped popcorn drizzled with melted milk chocolate and white chocolate. Perfect for a party served in patterned paper cones, or just for family movie night!
Plan your next black and white bash with these great sources gathered by the team at Spaceships and Laser Beams.
(Amazon Affiliate Links)
8-Inch Wide Ribbon, Black Stripe
BLACK Striped Treat Cups
Wooden Forks
Cakepop Sticks DIY Kit
Stripes Cupcake Wrappers
Black Diamond Table Confetti
Serving Tray
Plastic Dessert Cups
Check out more great party ideas perfect for Halloween.
Purrfect Vintage Halloween Party