19 Awesome Teen Titans Go Birthday Party Ideas
Table of Contents
Are you gearing up for a Teen Titans Go birthday party or need tips on how to plan one?
Calling all Teen Titans Go fans! We've rounded up 19 awesome ideas.
From custom Teen Titans birthday invitations to a felt Teen Titans Go mask and a killer Beast Boy Teen Titans Go piñata, there is enough inspiration to plan a fully loaded party that all will enjoy! D
on't believe me? Go check out the Teen Titans Go cake! Wow!
1. Teen Titans Go Inspired Favor Boxes
From Eva's Party Designs
Guests will go crazy over these Teen Titans Go inspired favor boxes! Cyborg, Robin, Beast Boy, Starfire and Raven's character likenesses are on the labels
2. Beast Boy Teen Titans Go Pinata
From AbdisPinataShop
Kids can take a whack at this Teen Titans Go piñata! Fill it with candy, toys and other small party favors for a fun party game that ends with prizes!
3. Teen Titans Go Cupcake Wrapper Set
From Shnookers via Home Geekonomics
Cupcake wrappers and toppers make it so easy to dress up cupcakes to coordinate with a party theme! Can you identify the Teen Titans Go characters?
4. Teen Titans Go Masks
Made of felt, these Teen Titans Go masks help party attendees channel their Teen Titans alter egos. Letting guests get into costume makes for a really fun party!
5. Teen Titans Go Inspired Centerpiece Sticks
From MadeforyoubyMonica
This Teen Titans Go centerpiece stick set can be used to decorate your child's party décor. Customize them with your child's name and age for a party created just for them!
6. Teen Titans Go Cartoon Hershey Kiss Stickers
From LabelsandStickers
Dress up Hershey Kisses, goodie bags and envelopes using colorful Teen Titans Go Cartoon Hershey Kiss stickers. The possibilities are endless!
7. Teen Titans Go Candy Favors
From BubblyFav0rs
Personalized themed stickers on these little cups are a great idea. Candy is always a beloved party favor.
8. Custom Teen Titans Birthday Invitations
From emartisticdesigns
Let's get this party started. Send out these printable, customizable Teen Titans Birthday invitations to generate hype and excitement over the Youth programs.
9. Teen Titans Go Birthday Party
From Gabriela via Catch My Party
There is loads of inspiration in this Teen Titans Go Birthday party! From printable décor to over-the-top cakes and desserts, everything coordinates with the theme!
10. Teen Titans Go Cake
From Jenny Cakes
Wow guests with an impressive Teen Titans Go cake on your dessert table. Not only will guests get to eat it, they can enjoy it throughout the party as a focal points during the party.
11. Teen Titans Go Water Bottle Labels
From Jill's Creative Creations
Not just any water bottle will do at a Teen Titans Go party. Grab a set of these Teen Titans go water bottle labels to dress up your beverages.
12. Teen Titans Go Cookies
From Cakes and Cookies by Clau
Cookies are a dessert party staple. But guests will be wowed if you serve up these Teen Titans Go cookies!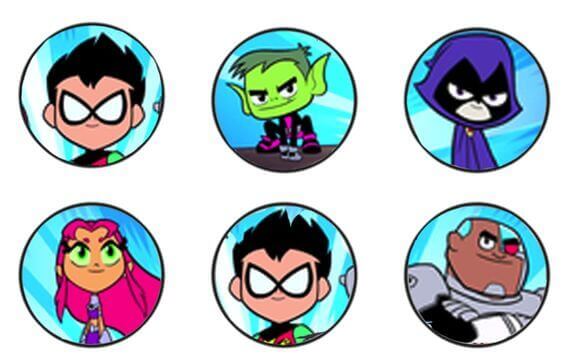 13. Free Teen Titans Go Printable Cupcake Toppers
From Daisy Celebrates
If you like embellishing cupcakes with toppers, these free Teen Titans Go printable cupcake toppers feature favorite characters. Just print, cut and adhere to a sucker stick or toothpick for an easy cupcake accent.
14. Teen Titans Go Printable Birthday Banner
From CarbenDesignStudio
Decorating for a Teen Titans Go party doesn't have to be hard. Print off this Teen Titans Go printable birthday banner to add some themed flair to your party space!
15. Teen Titans Go Bingo
From Kit Patricia Lira
Engage kids in a party classic—Bingo! This Teen Titans Go Bingo game will keep kids entertained and competing!
16. Teen Titans Birthday Invitation
From Classic Invitation
It's time to get this party started! Kick off the celebration by sending out Teen Titans Birthday invitations to family and friends!
17. Teen Titans Go Fondant Cupcake Toppers
From DSCustomToppers
For an edible cupcake topper option, these Teen Titans Go fondant toppers look incredible! They will definitely catch your eye on the dessert table.
18. Teen Titans Go Cake
From Mixed With Love Cake & Cookie Company via CakesDecor
Check out the fondant work on this Teen Titans Go Cake! The detailing on the characters is amazing!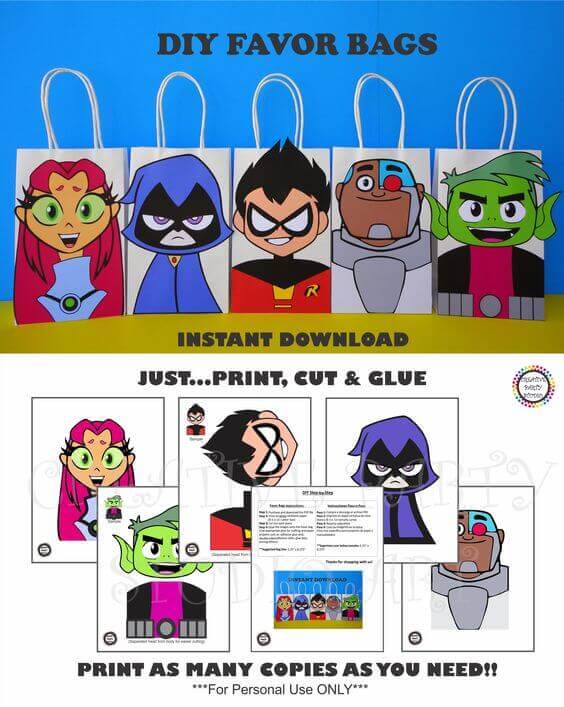 19. Teen Titans Printable Favor Bags
No time to DIY favor bags? No problem! Print these Teen Titans printable favor bag embellishments to add a special touch to your child's party favors.
Recreate your favorite Teen Titans Go party ideas with these great sources gathered by the crew at Spaceships and Laser Beams.
(Amazon Affiliate Links)
Teen Titans Go Cupcake Ring Topper
Black Treat Favor Boxes
Teen Titans Go Birthday Banner
Teen Titans Go Favor Cups
Teen Titans Go Mini Frisbee
Teen Titans Go Medal Necklace
Teen Titans Go Disc Shooters
Clear Plastic Candy Tubes
Teen Titans Robin Costume
Teen Titans Go Notepads
White Favor Gift Bags with Handles
More superhero party ideas: