Party Crafts and DIY
DIY LEGO Ninjago Movie Character Masks
By |
Make these easy DIY LEGO NINJAGO Movie masks.
I knew it would happen again. I've heard others talking about it too. Like a butterfly emerging from its chrysalis, somewhere between losing diapers and growing teeth, an amazing creature emerges: It's a LEGO fan! I now have two of them!
And if you have some of these awesome guys, you know the excitement an animated adventure like the LEGO NINJAGO Movie generates. So get ready for some hubbub and use our free printable character masks — and spend some quality time with your ninja warriors.
Somehow those tiny LEGO Minifigures contain huge personalities. And LEGO and ninjas? My boys think that Ninjago is SO COOL.
In the Ninjago movie, Young Master Builder Lloyd, aka the Green Ninja, and his friends are in a battle for NINJAGO City — and they try to defeat the evil warlord Garmadon, The Worst Guy Ever…who also happens to be Lloyd's dad.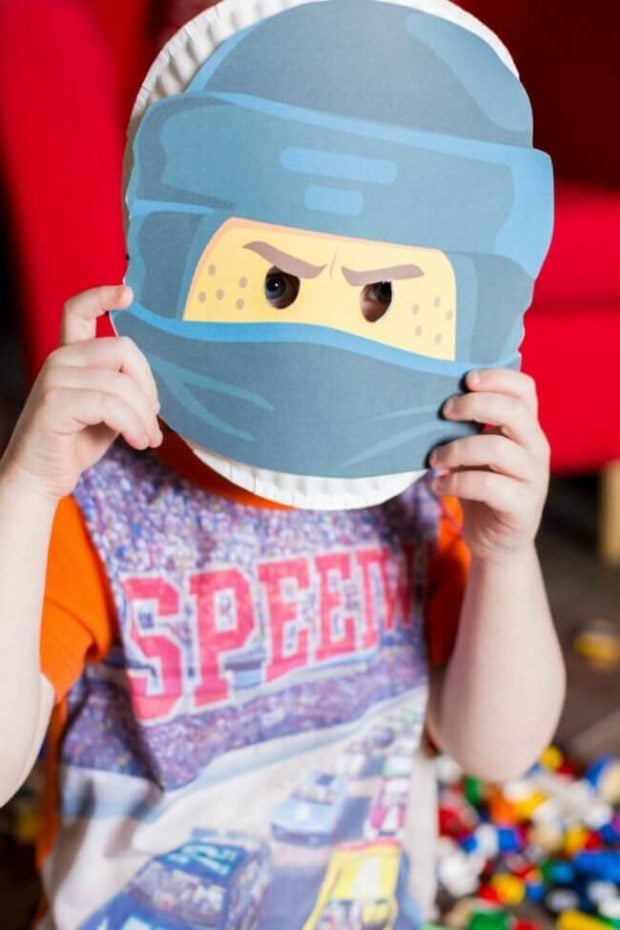 It's just the kind of stuff that sparks a kid's imagination. I think that calls for a little hands-on help to prime imaginary exploits.
These character masks are just the thing.
You can print them off HERE, cut them out, and mount them on paper plates for extra stability. Easy!
Use a hole punch on opposite sides of the paper plate and insert string for tying the mask on. If you're feeling especially ambitious, trim off any extra plate that shows on the edges.
Right before your eyes your little guy is transformed into a legend in his own mind.
Pretty tough looking, huh? 🙂