17 St. Patrick's Day Games and Activities for Kids
Table of Contents
Multiply the merriment with these St. Patrick's Day games and activities for kids!
St. Patrick's Day is just around the corner. Rainbows, revelry and wearing o' the green are fun ways to celebrate all things Irish.
You'll find a treasure hunt, coloring sheets, a DIY leprechaun hat, music, mazes, games, word searches, Do-a-Dots, Bingo, and themed worksheets.
And just like you'd expect when you discover that pot o' gold, you'll find more great ideas than you're looking for at several of these blogs!
---
See Also
Keep kids busy this St. Patrick's Day with 21 Free St. Patrick's Day Printables they will love.
Celebrate St. Patrick's Day with 28 St. Patrick's Day Crafts & Recipes that are full of great ideas and inspiration.
---
St Patrick's Day Games
1. Bingo Cards :: Mommy Gaga
Enjoy the St. Patrick's Day festivities with these awesome (and free!) St. Patrick's Day Bingo cards. It's a fun, holiday-themed game to play with your kids at home or for kindergarten classrooms. The graphics are adorable and the game is so easy to set up. Print out a bunch of cards, pull out the bingo dabbers or counters, and you are ready to go.

2. Pot o' Gold Coin Dig :: Simple Play Ideas
Have you ever made a sensory bin? They are a great way for your children to learn and explore all five senses while developing motor skills and more. For a special St. Patrick's Day activity, try out this shaving cream sensory coin dig! Your kids will have so much fun digging around in the slime to find the hidden leprechaun gold. It is an awesomely messy activity, but don't worry! It's super easy to clean up.
3. Dice Game :: From Crazy Speech World
Nothing beats a printable freebie. This post has four different downloadable pages that are perfect for St. Patrick's Day celebrations at home or even in a classroom. On top of a plain coloring page, there is a handy spelling activity, a fun number recognition game, and a roll and color activity. The best part of these downloads? No cutting, laminating, or color ink required.
4. St. Patrick's Day Joke Teller :: Bren Did
Paper cootie catchers have always been a favorite craft in our house. I even remember making them with my friends when we were kids! This St. Patrick's Day joke teller uses the same idea, with a fun and festive twist. It's easy to make with a printable templates and instructions. Kids are captivated by this easy paper craft full of fun designs, colorful images, and silly jokes. This St. Patrick's Day joke teller is also a great way to treat your kids while avoiding sweets and clutter.
5. Leprechaun Maze :: Printables for Kids
Help the leprechaun find the rest of his gold and collect some extra gold coins along the way! This fun little leprechaun maze is great for St. Patrick's Day celebrations or during down time after school. It is easy to print off in black and white or color, making it a super activity for younger classrooms too.
6. Let's Roll a Leprechaun Game :: The Joys of Boys
Complete with a fun printable and easy to follow instructions for your kids, this Let's Roll a Leprechaun game will set your family up for a hilarious and fun time. Take turns rolling the dice to find out which element to add to your leprechaun. The first person at the table to finish their leprechaun and show off their crazy creation is the winner. For an extra exciting twist switch papers with another person if you roll an eleven!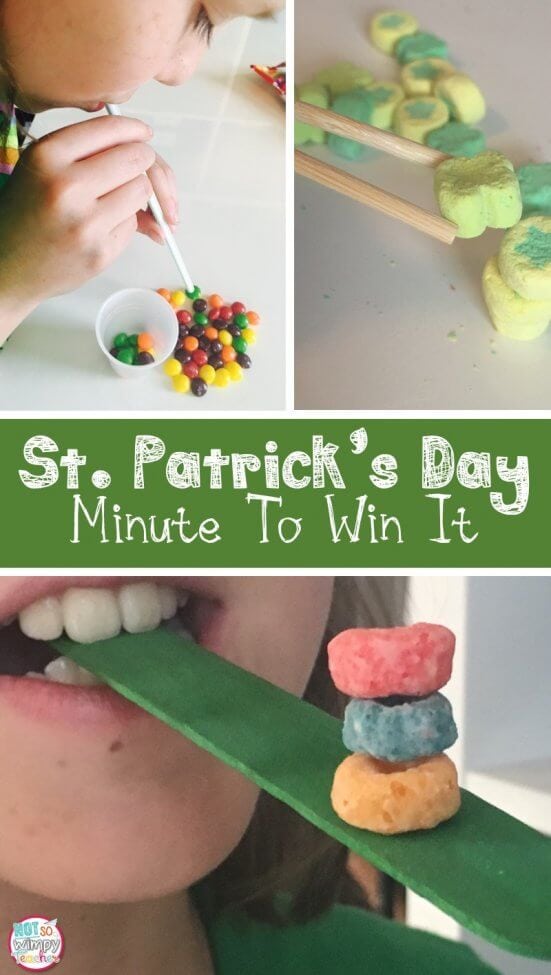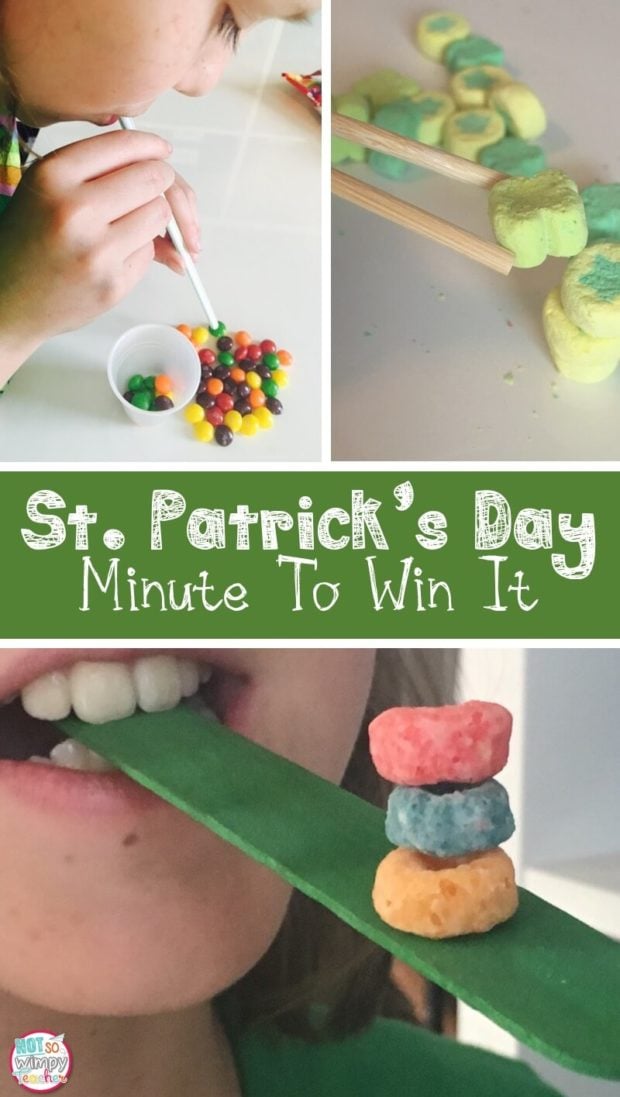 7. Minute to Win It Games :: Not So Wimpy Teacher
Challenge your family or students to these St. Patrick's Day themed minute to win it activities! Your kids will have a ball stacking Lucky Charms marshmallows, making rainbow fruit loop bracelets, stacking piles of treasure, and more. For added competition you can hand out chocolate gold medals to the winning teams at the end of every round.
Practice numbers with you little ones and get in the St. Patrick's Day spirit with this fantastic Pot O' Gold printable game. The game cards are free to download and print right from the site, then all you have to do is paint some clothespins in bright, rainbow colors. Each player gets a game card and takes turn rolling the dice. Match a clothespin to the corresponding number and be the first to finish a rainbow to win!
Kids love scavenger hunts, there is no doubt about it. Add a festive twist and you have the perfect St. Patrick's Day activity. Build on the enthusiasm by incorporating some of the learning goals your kids have been working on. Practice recognizing and writing the letters of the alphabet with this ABC gold scavenger hunt. It's easy to find all the supplies at the dollar store and set up is a breeze. For an extra treat you could even use chocolate gold coins!
St Patrick's Day Activities
10. Leprechaun Songs :: Kiboomu!
Add some musical magic to this year's St. Patrick's Day celebration with this fun and kid-friendly leprechaun playlist. The fun sing-alongs are easy to bop along too and most have lyrics for your kids to follow! Play the songs in the background at your class party, or get out of your seats and dance along to the catchy St. Paddy's day tunes.
11. DIY Leprechaun Hats :: Just is a Four Letter Word
Get crafty this March and make these adorable DIY Leprechaun Hats with your kids. The free download has a simple template you can print on cardstock to trace from and a full set of instructions that are super easy to follow. This would also make a great class craft if you are a teacher looking for St. Patrick's Day crafts to do with your preschool or kindergarten groups.
12. Rainbow and Leprechaun Color-by-Number :: Printables 4 Kids
Find your own pot of gold and the end of the rainbow in these St. Patrick's Day color by number activity sheets and coloring pages! The printable download is absolutely free and it prints for cheap in black and white. Keep them handy all month long for when your kids have nothing to do or just need a bit of down time and the end of the day.
13. Activity Sheet :: Printables 4 Kids
Four fun St. Patrick's Day activities in one printable worksheet! Color in a leprechaun, complete a St. Patrick's Day word search, make as many words as you can from the letters in leprechaun, and challenge a friend to a game of tic-tac-toe. No matter how you are celebrating St. Patrick's Day this year, these games are sure to be a hit.
14. Do-a-Dot Printables :: Gift of Curiosity
Do-a-Dot markers are great for little ones who can't hold a pencil or crayon yet. This awesome and downloadable package includes twenty-one pages of Do-a-Dot activities and games. They are designed to help kids practice a range of skills including shapes, patterning, letter recognition, counting, and more in a fun and engaging way. You are sure to find a bunch of pages that your kids will love.
15. Top 10 Rainbow Science Activities :: Preschool Powol Packets
These rainbow science activities are fantastic for kids of any age. They are fun, STEM inspired projects and experiments that your kids are sure to love. Make a sparkly fizzing rainbow with the classic baking soda and vinegar combo or explore reflections to make lovely dancing rainbows in your home! There are ten projects on this list that your kids are sure to go crazy for.
16. Free Shamrock Coloring Printable :: Finding Zest
The coloring craze is taking the world by storm, and it's not just for little kids anymore. Coloring is a great way for both kids and adults to calm their brains, relieve stress, and express a little creativity. These Shamrock printable coloring pages are the perfect activity for St. Patrick's Day and a great way to spend some quality time with your kids. Just download the free image and print out multiple copies to share!
Combine crafting and learning with this festive Crepe Paper Shamrock craft for St. Patrick's Day. It costs less than five dollars, making it perfect for a quick and easy children's activity. While you are crafting you can teach your kids about the history of St. Patrick's Day, help them develop fine motor skills, and offer a sensory experience.
Create a magical treat this St. Patrick's Day with these great sources gathered by crew at Spaceships and Laser Beams.
(Amazon Affiliate Links)
Shamrock Cookie Cutter Set
St. Patrick's Day Shamrock Towel
Shamrock Temporary Tattoos
Shamrock Light Set
Shamrock Happy St Patrick's Day Streamer Party Accessory
Stamped Table Runner/Scarf
Leprechaun Magnet Foam Craft Kits