DIY Christmas Wreath Ideas
Table of Contents
I am being compensated by Orkin for participating in this campaign. I am part of the Mom It Forward Blogger Network.
Ho, ho, holiday! Are you getting ready? I'm actually getting an early start this year and I'm sharing a few Christmas decorating tips, brought to you by ORKIN. Read on for my Christmas decoration idea you can make that doesn't attract pests.
Like many of you, I know I'll be hosting at least a couple of Christmas parties during the holidays. I have some favorite decorations that are always part of our holiday season, but I'm not a hard-core traditionalist so I like to change things up too. Sometimes that means buying a few new gorgeous decorative items I can't resist, and sometimes that means using what I have in new ways. I also like to personalize the season with at least one handmade item. Frequently that is my front door wreath because I love how it can make an awesome first impression. A welcoming wreath sets the tone for what's about to happen, once a guest steps inside your home.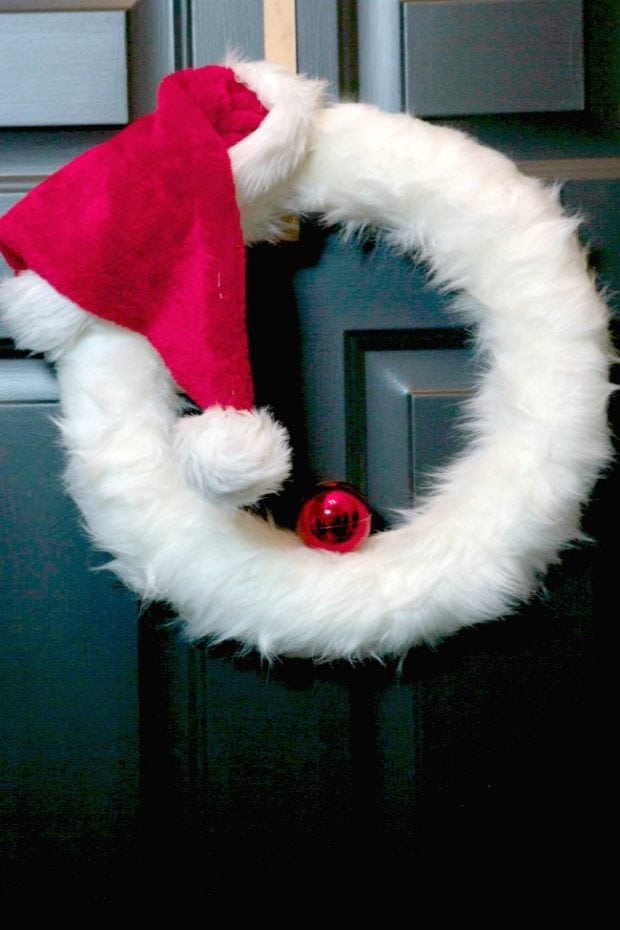 In the past, I've used live greenery and real fruit to make my Christmas wreaths. I love the look BUT I do not love that critters are also fond of the real deal. Open your door to guests and you open the door to a few bugs who rudely invite themselves inside.
Live trees, garlands, and wreaths can be hosts for cockroaches, carpenter ants, aphids and mealybugs. Add moths and spiders too. Plus, fruit flies seem to like to lay their eggs on overripe fruit—which always seems to happen before Christmas. Besides being a nuisance (and a potential source of embarrassment), nasty pests can contaminate food, trigger allergies, screams and sometimes, even spread disease. Bah humbug. This year I created my wreaths with artificial pieces. It couldn't get any easier and bonus: there will be no surprise insect visitors!
I found a couple of fun wreath forms at the craft store that got my imagination going. That white fur wreath just begs to be touched so I did. And thought: it must be Santa! I picked up a pre-made Santa cap and a package of red ornaments. A few ho-ho's and dabs of hot glue and there was Santa in his cap, complete with a rosy nose.
The second one is a glittered grapevine/rope combo. I like the texture and the fresh look of the grape vine being wrapped horizontally instead of the more typical diagonal pattern. When I saw the silly reindeer ears headband—which I would never wear!—I knew Rudolph was going home with me. It is simple to cut the ears and antlers off the headband and hot glue them to the back of the wreath. Rudolph's red nose ornament is the finishing touch.
A few other tips to make Christmas merry, not scary:
Store decorations in plastic storage bins with tight-fitting lids. Cardboard boxes stored in the basement, attic or garage are more likely to house rodents, spiders and cockroaches.
Check for ants/bugs on any potted plants you bring inside.
Holiday parties typically mean more food in the house. Store it in sealed containers and be sure to secure unwanted leftovers in trash bags that you discard asap.
If you do notice creepy-crawlies in the midst of your holiday, find help with identification and what to do about them by visiting these helpful links:
o Aphids
o Moths
o Spiders
o Barklice
Holiday or not, if you notice signs of unwanted critters, call the licensed pest professionals at ORKIN. They can give you a detailed inspection and suggest a customized treatment program.