21 of the Cutest Minion Birthday Party Ideas
Table of Contents
Despicable Me lovers will go bananas over this list of 21 mighty Minion birthday party ideas!
From cute treats like Minion pretzels, cookies, cupcakes, and lollipops to clever tips on DIY Minion balloons and a piñata, you must not miss these ideas. EVERYONE needs some minions.
Plus, don't miss out on these Toy Story inspired birthday party ideas for more fan favorites!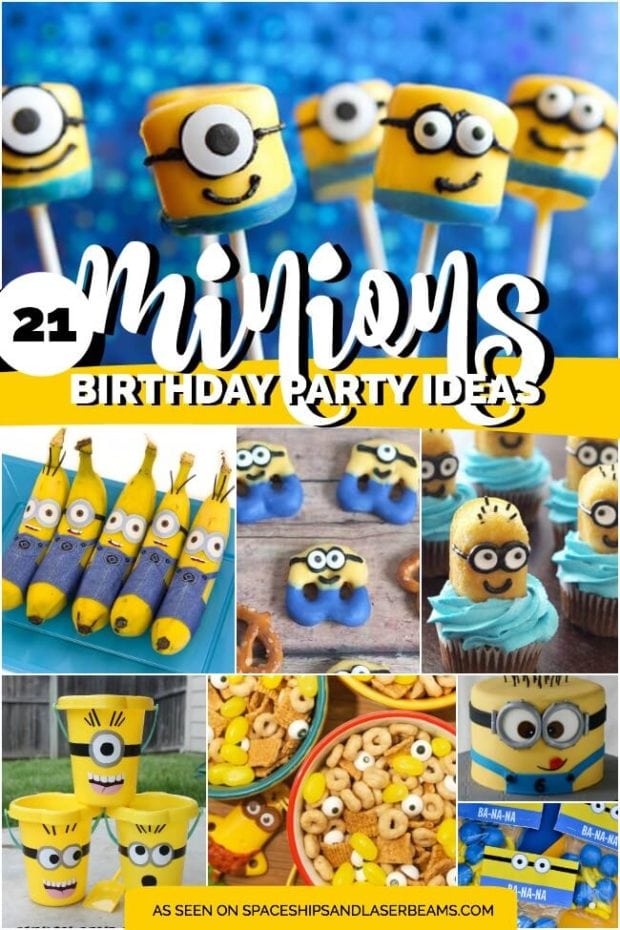 ---
See Also
---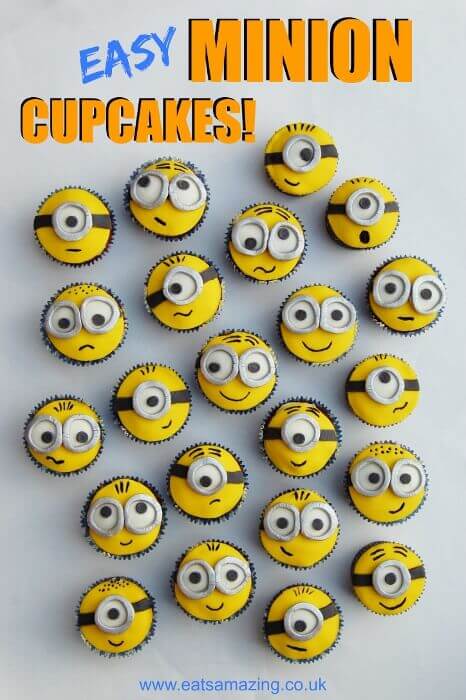 1. Easy Minion Cupcakes
From Eats Amazing :: Whether you're a seasoned baker or are just getting to know your oven, you should definitely give these Minion Cupcakes a try. How could you resist?
They are sure to be a great addition to a Minion party dessert table. You can even send these Minion cupcakes home as individual party favors.
If you've never made fondant before, don't sweat it!
You can purchase yellow and white fondant readymade. And an edible food marker will be your best friend for adding some of the facial features.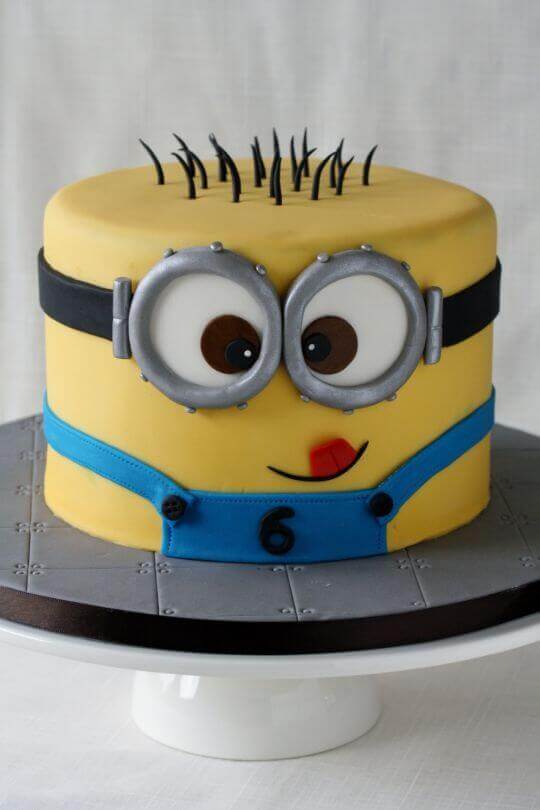 2. Minion Birthday Cake
From CrazyAboutCake, as seen on Cakes Decor :: Feel like a bit of a challenge? Why not DIY this Minion birthday cake?
You might need to sharpen your fondant skills (although making fondant from scratch is not required.)
If the skills to create this birthday care are more than you possess, do not fret! Simply take this Minion cake idea to a local bakery and see if they are up for the baking and decorating challenge.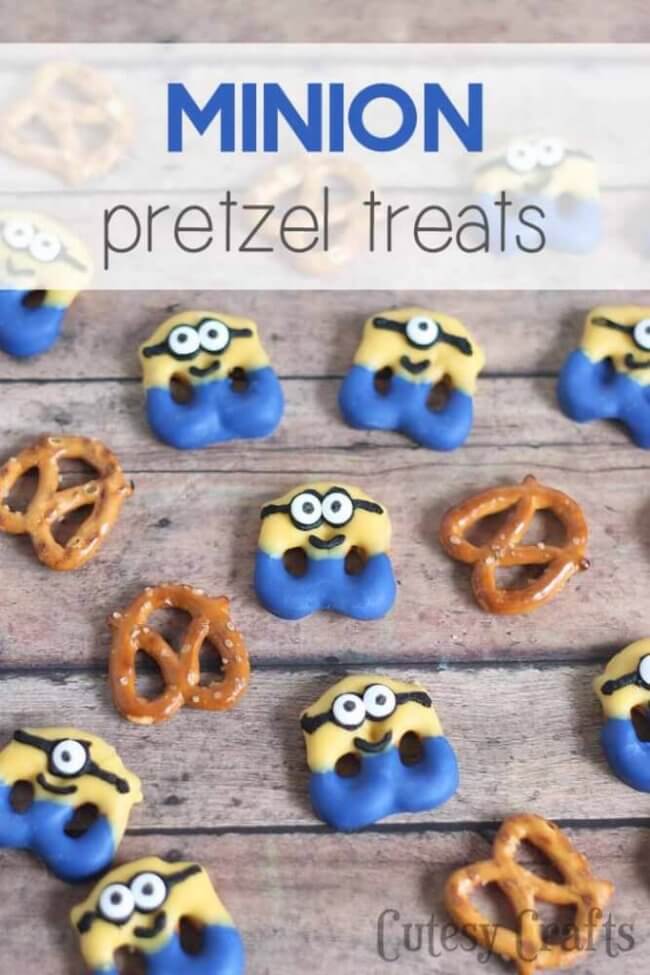 3. Minion Pretzels Party Food
From Cutesy Crafts :: These Minion Pretzels might take a little time and effort, but aren't they just too cute to handle?
You'll need blue, black, and yellow melting chocolates, candy eyes, and a piping bag to complete these cute treats. If they seem like a lot of work for a larger party, why not add them to a Minion-themed snack mix so a few go a lot further.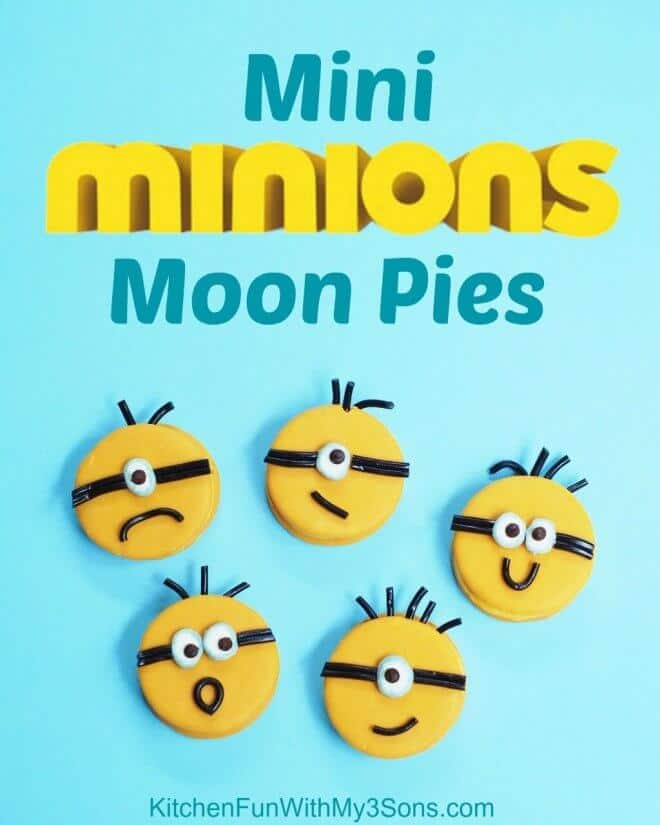 4. Minion Moon Pies
From Kitchen Fun with My Three Sons :: I just love these little guys. The instructions for these Minion Moon Pies are pretty simple.
And even better…they only require a few minutes to make! They start with a basic store bought banana-flavored Moon Pie. Black licorice laces, mini marshmallows, mini chocolate chips, and some white candy coating are the main ingredients needed to create the Minion look.
You can add a little personality by creating each Minion Moon Pie a little different. Cut licorice pieces to add hair or glasses. Give some Minions two marshmallow eyes. Curve the licorice mouth to express a different emotion.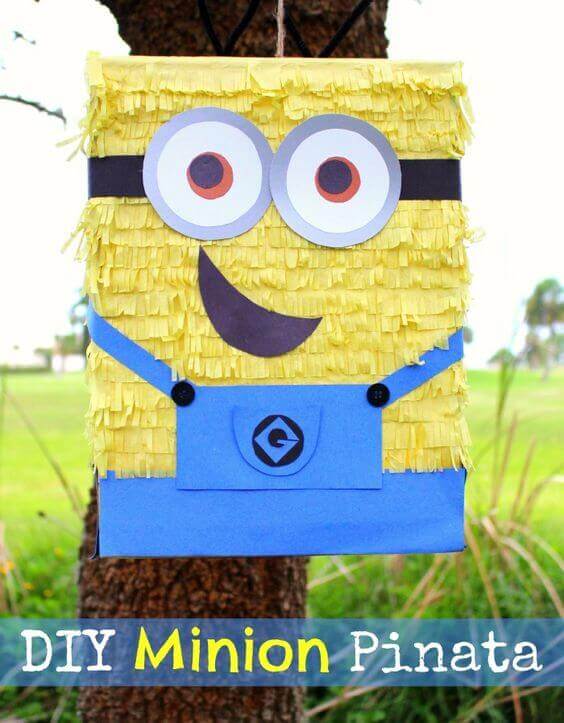 5. DIY Minion Pinata
From Raising Whasians :: Piñatas are pretty much a guaranteed party activity win. Filled with candy and prizes, a piñata is a hanging treasure chest, just waiting to be broken open.
Don't break the bank on a pricey store bought piñata! This DIY Minion piñata is a fraction of the cost of its store bought competitor and totally doable at home for the price of some simple craft supplies—tissue paper, construction paper, buttons, pipe cleaner, small silver dessert plates, and prize filler.
The only problem with this DIY Minion Piñata is that the kids might not want to break it, because it's so adorable.
This is a great DIY project to start ahead of time, so you can have a stress-free Minion party.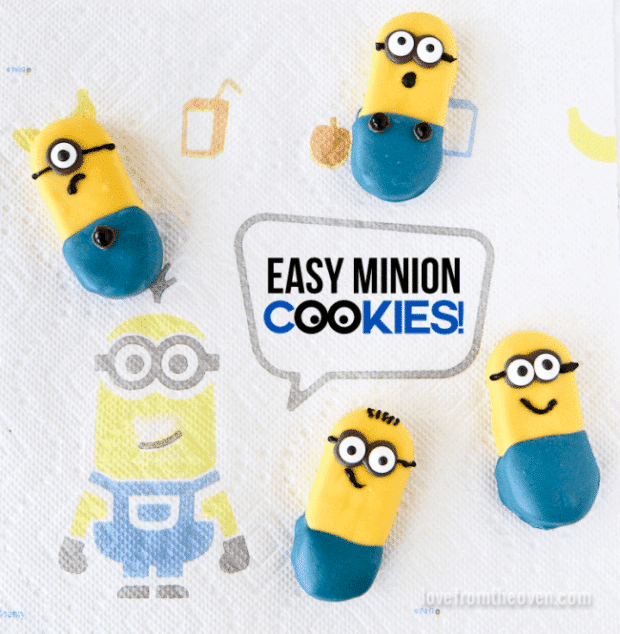 6. Easy Minion Cookies
From Love From the Oven :: If you and your oven aren't quite on speaking terms, but you still want cute "baked" goods for your Minion party, then you should give these easy Minion cookies a try.
They're no bake, so no fuss, and come out brilliantly. There are two versions to choose from, both equally cute.
You'll need cookies (Oreos and/or Vienna Fingers), candy melts, candy eyes, and either paper straws or lollipop sticks (optional).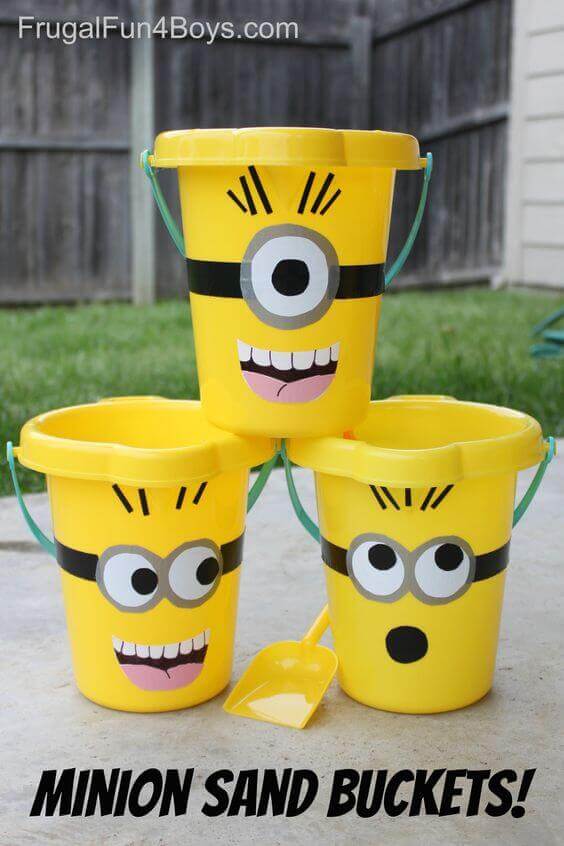 7. Minion Sand Bucket Favors + Free Printable
From Frugal Fun 4 Boys :: You can create a fun and affordable Minion party favor with just a few supplies and a little time spent crafting.
All you need for these Minion sand bucket favors is yellow buckets and some duct tape (white, black and pink). You can use the free printable pattern to help simplify the process.
This is perfect for your Minion party if you're on a budget, but is actually pretty great no matter what. The finished bucket makes a great gift as is, or can be filled with a small treat.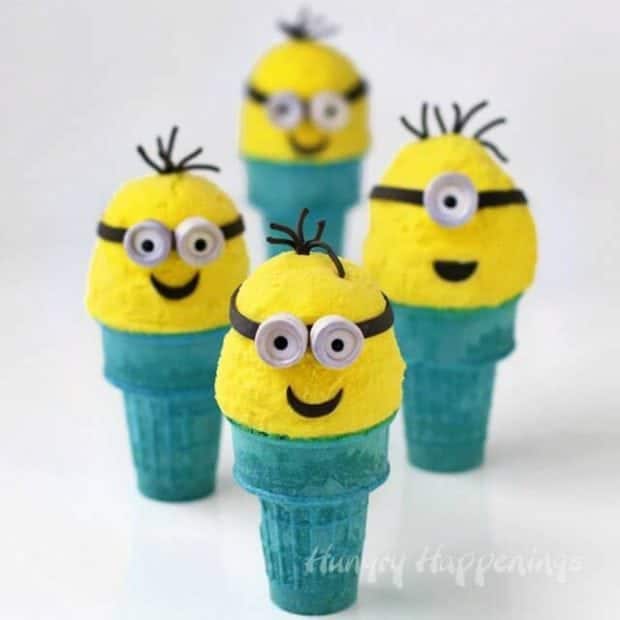 8. Banana Ice Cream Cone Minions
From Hungry Happenings :: If you're into details and not afraid of a little work, these banana ice cream cone Minions are adorable and would make an especially fun addition to a summer Minion birthday party.
This clever treat idea and ends with a kind of choose your own adventure ending.
There are two finished Minion cones to choose from—one which involves modeling chocolate and specialized tools, and the other that utilizes Tootsie Rolls and regular kitchen items.
Will edible Minions make their dessert table debut at your Minions party this year?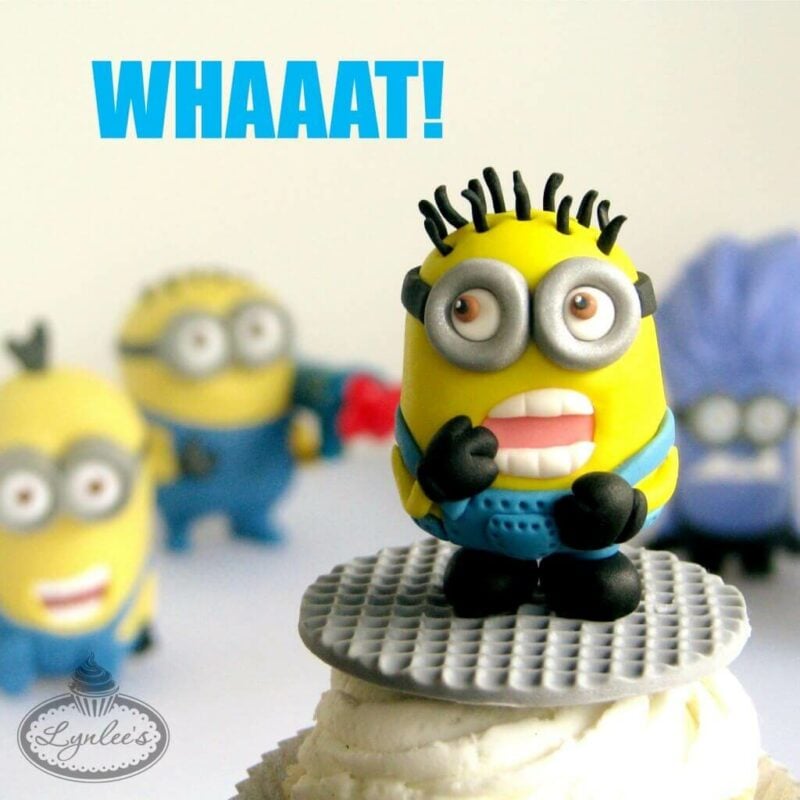 9. Minion Fondant Toppers (for Cupcakes/Desserts)
From Lynlee's :: If you want to take your dessert table to the next level, add these fondant Minion toppers to your favorite cupcakes.
Party guests will "ooh" and "ahh" and may even want to save the little edible creature partying on top of their mini cakes.
The detail on these fondant toppers is incredible! Plan to make or buy them ahead of your party for easy decorating on party day.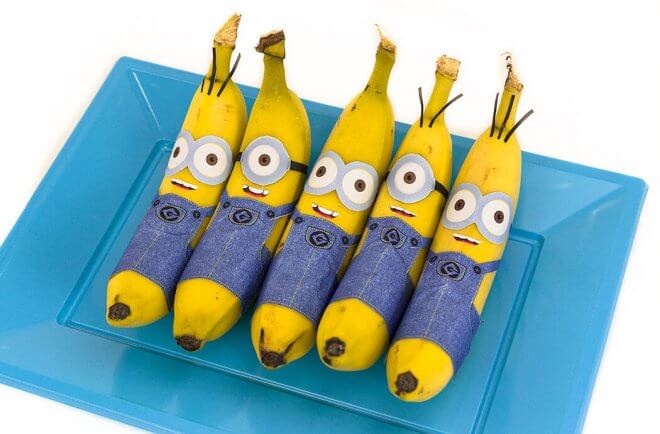 10. Minion Bananas + Free Printable
From Party Delights :: It's always nice to serve up a few healthy options at a birthday party, especially if you can find a way to still tie them into the party theme.
Use the free printable to create these cute Minion bananas for your Minion party. You'll just need bananas, the free printable Minion outfit, scissors, and glue.
Get ready for guests to go bananas!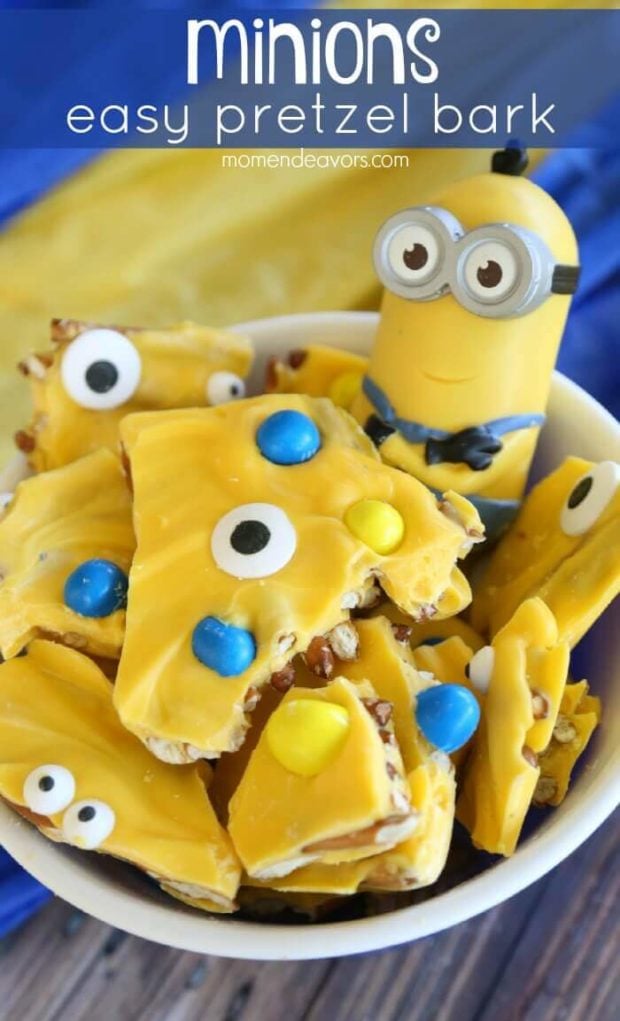 11. Minions Pretzel Bark
From Mom Endeavors :: With only 4 ingredients, Minion Pretzel Bark is definitely a great choice for a Minion party menu! Don't you just love easy recipe ideas that pack a punch?
And when we say "easy", we mean it! From start to finish, you'll only need about 10 minutes to create this treat! Grab the combo of salty and sweet ingredients (pretzels, yellow candy melts, candy eyes, and blue and yellow candy chocolates) and get ready for some Minion inspired baking fun.
You can make the Minions pretzel bark ahead to save time on party day. What more could you want?
12. Minions Treat Bag + Free Printable Topper
From Finding Zest :: Don't you just love these Minion Treat Bags? The printable for the topper is free, so it's a quick and cost effective DIY party favor.
You can print the toppers and cut them to size right from the comforts of your own home. Fill clear cellophane bags with banana Runts candy and blue chocolate balls.
Add the topper using glue or staples, and watch the smiles as you send them home with party guests.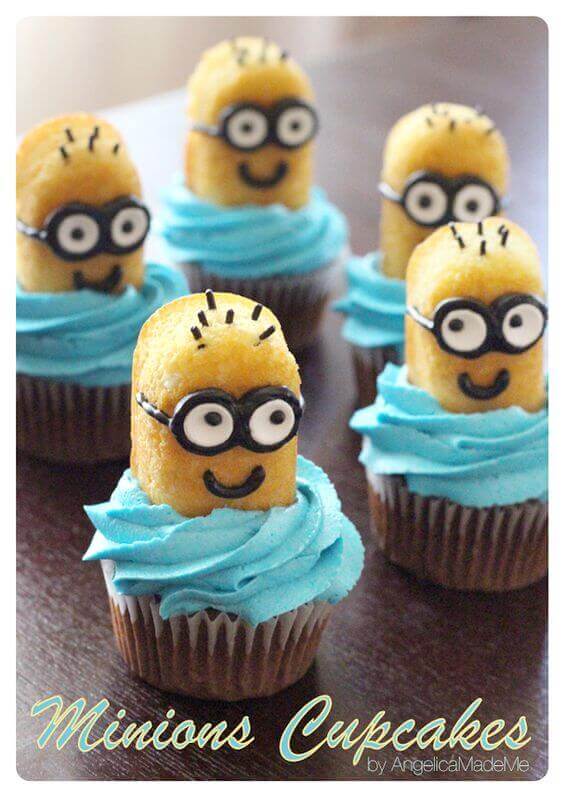 13. Minions Cupcakes
From Brownie Bites :: If you are a fan of quick and clever party ideas, this step-by-step guide for creating Minions cupcakes is a must-see.
The Minion decorations for these cupcakes are made with Twinkies, making this a super quick cupcake decorating project.
Plus, you get a Twinkie with your cupcake, which no one has ever complained about!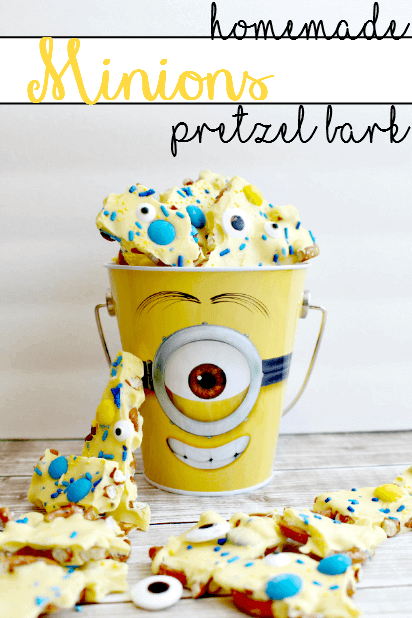 14. Homemade Minions Pretzel Bark
From Six Time Mommy :: Here's another delicious recipe for homemade Minions pretzel bark. The great thing about dessert bark is you can throw in any extra candy or ingredients of your choosing, based on what you have at home.
This version features blue and yellow sprinkles and two sizes of candy eyes, in addition to pretzels and chocolate candies.
The results are an easy-to-make Minion party treat idea that guests will love.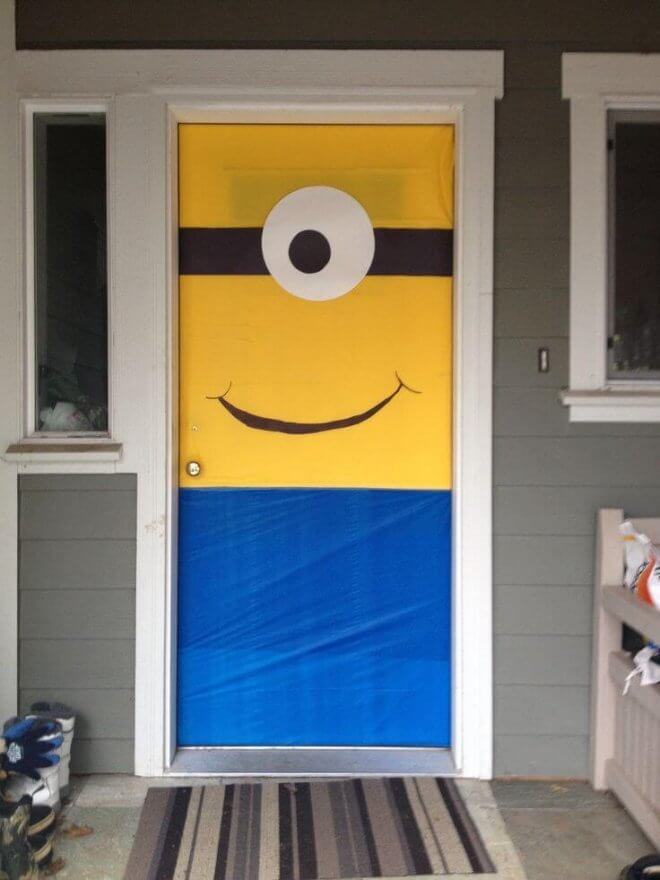 15. Minion Door Decoration
From homedit :: This Minion Door Decoration is the perfect way to get guests into the theme before they even step into the party.
You'll need some yellow and blue fabric to wrap your door. You can use scraps of black and white to create your favorite Minion's facial features.
What a fun decoration idea for a Minion party!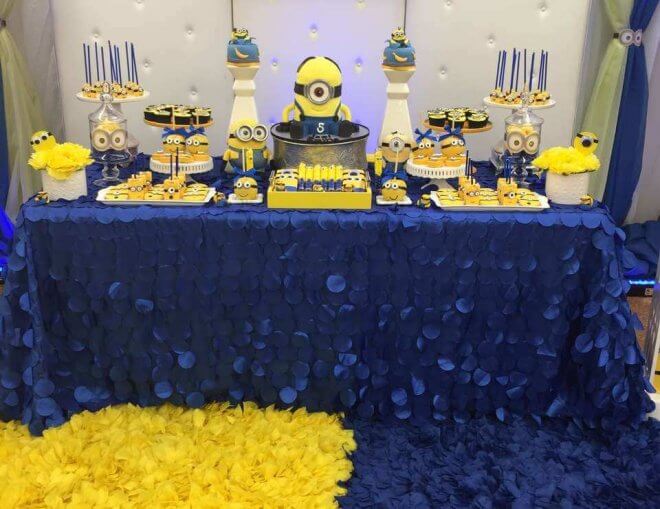 16. Minion Party Dessert Table
From Lenni U, as seen on Catch My Party :: There are so many delicious ideas on this Minion Party Dessert Table. Don't you just love the Minion Rice Krispies treats?
Check out the Minion candy apples and chocolate covered Oreos too. And how awesome are the Minion cupcakes and cake? Such adorable ideas.
17. Marshmallow Minions
From Tablespoon :: These Marshmallow Minions are just too cute. You could present them on skewers as in the photo, or you could even use them as cupcake toppers.
They are made from dipping marshmallows in yellow candy melts. The blue pants are strips of blue fruit rolls! Genius!
Candy eyes are used and embellished with black decorating icing to create glasses. These would make a fun addition to the dessert table.
18. Minion Balloons
From homedit :: What's a party without balloons? These Minion balloons make a great Despicable Me party decoration, and are cheap and easy to make yourself.
Just print the Minion template, cut and adhere to the balloons for an easy decoration. Send the balloons home with guests as a party favor!
19. Minion Lollipops
From Or So She Says :: Ten minute treat ideas that are easy enough for kids to help with are my kind of treat! These Minion Lollipops might be one of the most original ideas too.
The recipe just calls for melting Jolly Rancher candy in the oven, so no candy thermometers or scary melted sugar.
You'll add on some candy eyes and pipe on some frosting glasses to finish off these cute character lollipops.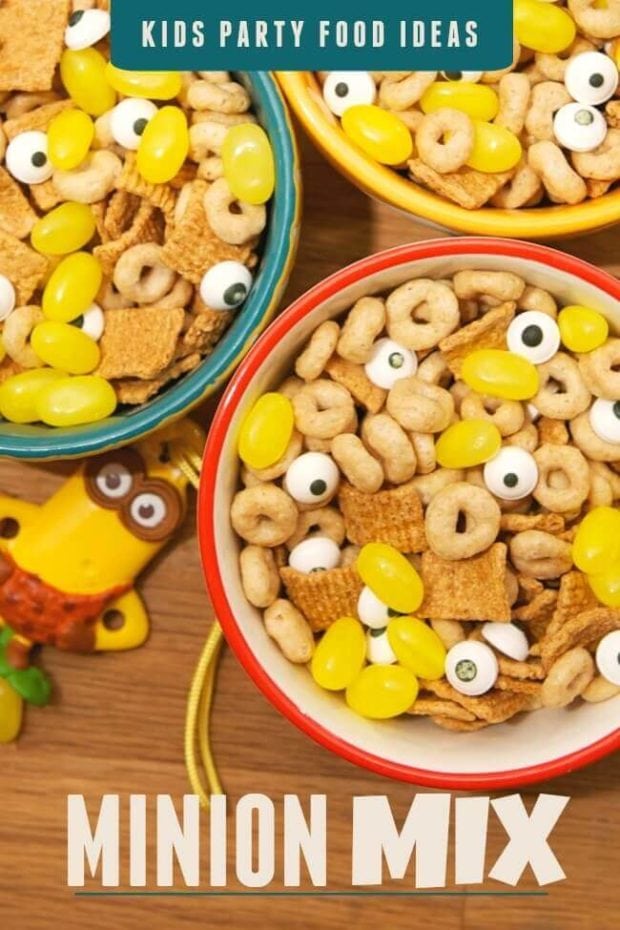 20. Minion Trail Mix
From Spaceships and Laser Beams :: This Minion Mix would be great for kids to much on while watching a movie at your Minion party. And because you choose the ingredients yourself, it's actually pretty low sugar too.
Set up a Minion trail mix station at your Minion party and let them fill cellophane favor bags with their favorite trail mix ingredients.
They can munch on it while at the party, and refill their bags as a take-home party favor.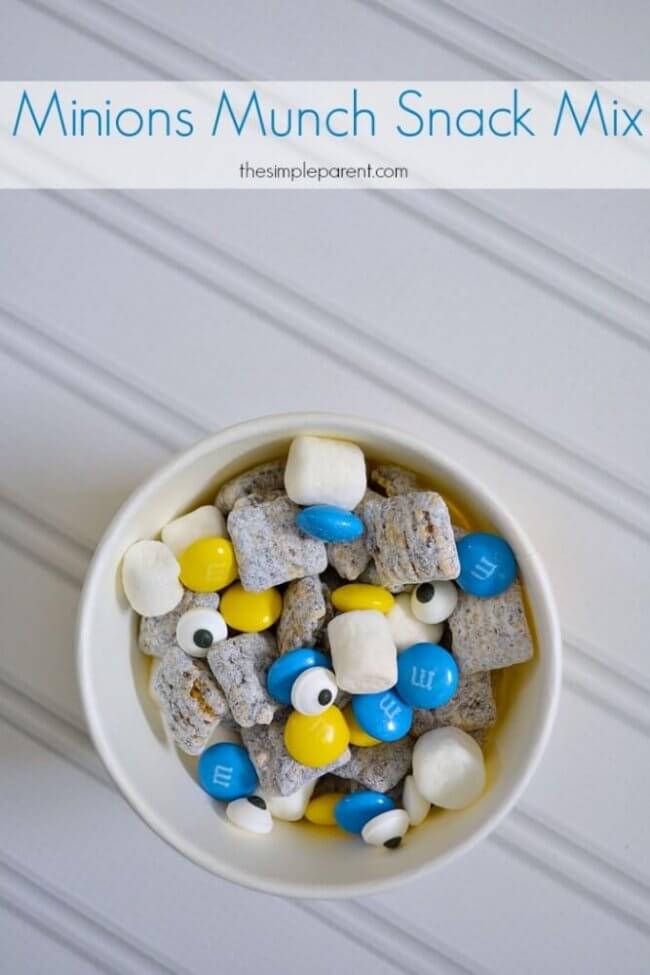 21. Minions Munch Snack Mix
From The Simple Parent :: This is a slightly sweeter version of the Minion Mix, but it would be great for a treat. Isn't that what parties are for, after all?
The great thing about this Minions munch snack mix is that it is easy enough to put together that kids can help.
You'll need 1 bag of Cookies 'n Cream Muddy Buddies, candy eyeballs, mini marshmallows, and the yellow and blue M&Ms sorted out from a large bag of M&Ms candies.
Get inspired with these boy birthday party ideas…
Don't miss these 23 Despicable Me Birthday Party Favors and Supplies…