18 Cute Healthy Valentine's Day Food Ideas
Table of Contents
I LOVE Valentine's Day! Depending on your perspective, there is only one possible drawback: too many sweets. We're still going to have a few sweet treats but this year I'm determined to make cute Valentine's Day food ideas that are healthy too.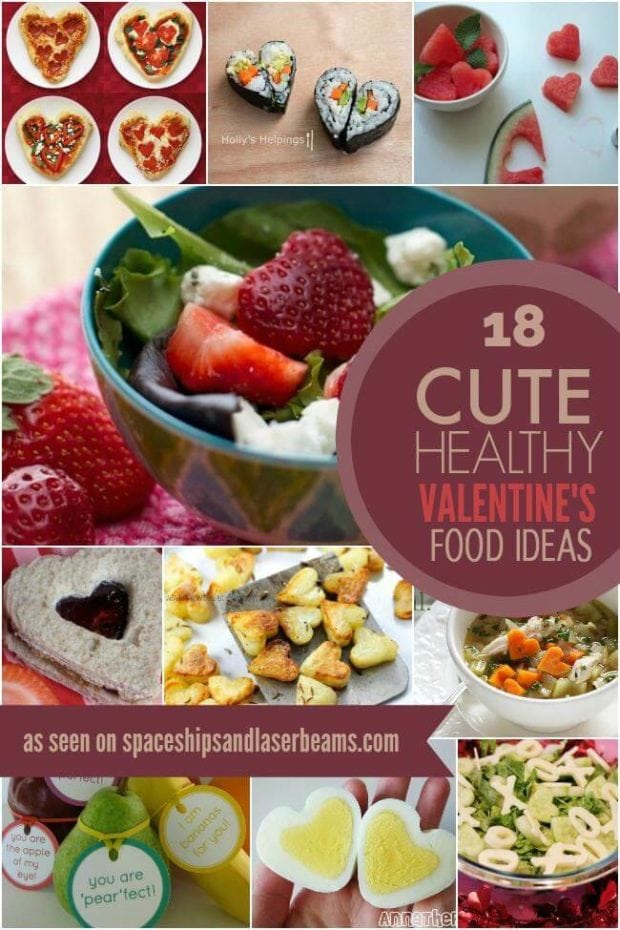 ---
See Also
These strawberry whoopie pies are a special treat.
This yummy bacon and rosemary wrapped chicken recipe would be perfect for Valentine's Day.
---
Ready to be inspired? There are soups, salads, sandwiches and more! Just look at these cute and tasty creations: tomato hearts, heart-shaped PB & J sandwich, roasted heart potatoes, strawberry goat cheese salad, Thai green curry chicken, sweet chili baked brie, tomato soup with heart-shaped grilled cheese, heart-shaped personal pizzas, heart-shaped wedge salad, frozen yogurt bark, Valentine's Day fruit messages (and printable labels), heart-shaped sushi, watermelon hearts, heart-shaped eggs, chicken soup with heart-shaped carrots, heart-shaped fruit salad, and heart milk cubes! Bonus: several of these sites have even more Valentine menu ideas.
1. Tomato Heart
From Eye Candy
Cupid strikes again! Only 2 cuts are needed to turn a cherry tomato into a heart! Add a cute arrow food pick for an adorable veggie tray idea.
2. Heart Shaped PB & J Sandwich
From School Bites
Surprise your kiddos with some love in their lunch! Use heart-shaped cookie cutters to create these heart-shaped PB & J Sandwiches.
3. No-Bake Heart-Shaped Granola Bites
From 360 Family Nutrition
These healthy, cute, no-bake heart-shaped granola bites make a quick grab-and-go snack for kids. The heart shape is easily made using a silicone ice tray.
4. Printable Valentine's Day Fruit Labels
From Alpha Mom
Fresh, sweet fruit is a healthy alternative to candy. Print these adorable Valentine's Day fruit labels and send a surprise to your kiddos at school.
5. Valentine's Day Salad
From Workman Family
Did you know you could say "I love you" with a salad? I didn't either. But this Valentine's Day salad is genius! Heart shaped cucumbers and "Xs and Os" shaped from cheese make this a perfect pick for Love Day.
6. Strawberry-Goat Cheese Salad
From Sweet Paul
You can't beat a 3-ingredient salad. This Strawberry-goat cheese salad incorporates baby spring mix greens, crumbled goat cheese and fresh strawberries (+ dressing).
7. Thai Green Curry Chicken
From The Spruce Eats
Treat your loved ones to this delicious Thai Green Curry Chicken recipe. They will feel the love when they see your heart-shaped red bell pepper accents.
8. Sweet Chili Baked Brie
From Spaceships and Laser Beams
Heart shaped baked brie? Yes please! The recipe is delicious and so easy!
9. Tomato Soup with Heart-Shaped Grilled Cheese
From Meaningful Mama
Why serve regular grilled cheese and tomato soup when you can serve heart-shaped grilled cheese and tomato soup? The transformation only takes ten seconds with a heart-shaped cookie cutter.
10. Heart-Shaped Personal Pizzas
From Once Upon a Cutting Board
Valentine's Day dinner doesn't get any cuter than heart-shaped personal pizzas with heart-shaped toppings (tomatoes, pepperoni, red peppers and roasted peppers). Plus, store bought pizza dough makes this an easy go-to idea.
11. Heart-Shaped Wedge Salad with Bacon Hearts
From Pretty Prudent
Would you believe an ordinary metal heart-shaped cookie cutter is what gives this wedge salad its shape? Check out how heart-shaped bacon and hardboiled eggs are prepared.
12. Frozen Yogurt Bark
Yogurt, strawberries, coconut, and chocolate shavings. Is your mouth watering?
13. Valentine's Day Fruit Message
From Cake Whiz
Imagine the looks on your loved ones' faces when they pull out these sweet Valentine's Day fruit messages! They are easy to make using an edible food marker. I'm loving all the love messages that coordinate with fruit!
14. Heart-Shaped Sushi
From Bored Fast Food
Serve up your own fancy dinner for Valentine's Day this year by creating this heart-shaped sushi. It's easier than you think.
15. Watermelon Hearts
From Louise Roe
Mini heart-shaped cookie cutters help transform this watermelon into the cutest watermelon heart salad you've ever seen.
16. How to Make a Heart-Shaped Egg
From Anna the Red
Did you know you can make a heart-shaped egg? Follow this Japanese method.
17. Heart-Shaped Fruit Salad
From Courtney's Sweets
Kids love fruit! Serve up a heart-shaped fruit salad by arranging halved strawberries, a few sliced kiwis plus a handful of blueberries and raspberries, on a heart-shaped plate.
18. Heart Milk Cubes
From A Subtle Revelry
Don't serve up boring beverages ever again! Add these heart cubes made from milk and food coloring. The process is so simple, but the results are adorable.
Create a healthy Valentine's Day treat with help from these great ideas gathered by the crew at Spaceships and Laser Beams.
(Amazon Affiliate Links)
Ghirardelli Chocolate Baking Chips
3-Tier Cooling Rack
6 Piece Mixing Bowl
Silicone Baking Mat Set
Mixing Bowls
Silicone Heart Mold
Measuring Cup and Measuring Spoon Set
Mini Springform Pan
Angled Icing Spatula
Check out more great ideas for Valentine's Day.
Valentine's Day Lunch Ideas for Kids
Valentine's Day Crispy Treat
Valentine's Day Day Date Ideas