Party Crafts and DIY
21 of the Cutest Minion Birthday Party Ideas
By
| Last Updated:
Despicable Me lovers will go bananas over this list of 21 mighty Minion birthday party ideas! From cute treats like Minion pretzels, cookies, cupcakes, and lollipops to clever tips on DIY Minion balloons and a piñata, you must not miss these ideas. EVERYONE needs some minions!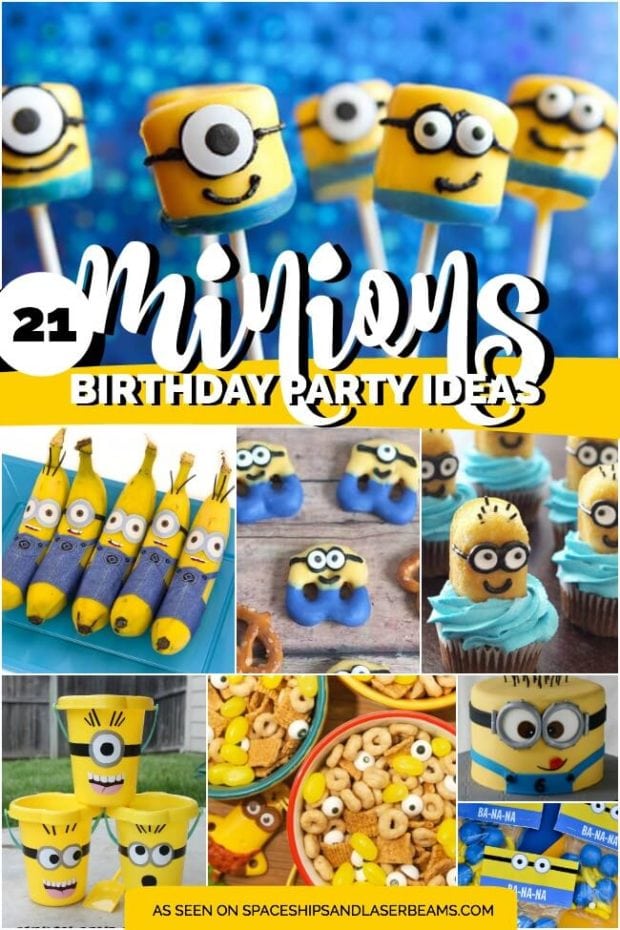 ---
See Also
---
1. Easy Minion Cupcakes
From Eats Amazing :: Whether you're a seasoned baker or are just getting to know your oven, you should definitely give these Minion Cupcakes a try. How could you resist?
2. Minion Birthday Cake
From CrazyAboutCake, as seen on Cakes Decor :: Feel like a bit of a challenge? Why not DIY this Minion Cake? If not, take the recipe to a local bakery and see if they are up for it.
3. Minion Pretzels Party Food
From Cutesy Crafts :: These Minion Pretzels might take a little time and effort, but aren't they just too cute to handle?
If they seem like a lot of work for a larger party, why not add them to a Minion-themed snack mix so a few go a lot further.
4. Minion Moon Pies
From Kitchen Fun with My Three Sons :: I just love these little guys! This recipe is not as much of a time commitment as the pretzels, but they're just as cute.
5. DIY Minion Pinata
From Raising Whasians :: The only problem with this DIY Minion Pinata is that the kids might not want to break it, because it's so adorable!
This is a great DIY project to start ahead of time, so you can have a stress-free Minion party.
6. Easy Minion Cookies
From Love From the Oven :: If you and your oven aren't quite on speaking terms, but you still want cute "baked" goods for your Minion party, then you should give these easy Minion cookies a try. They're no bake, so no fuss, and come out brilliantly.
7. Minion Sand Bucket Favors + Free Printable
From Frugal Fun 4 Boys :: All you need for this craft is yellow buckets and some duct tape (white, black and pink) — the printable pattern is free!
This is perfect for your Minion party if you're on a budget, but is actually pretty great no matter what.
8. Banana Ice Cream Cone Minions
From Hungry Happenings :: If your Minion party is in the summer, then you have to try these Banana Ice Cream Cone Minions.
It also includes a no-churn banana ice cream recipe, which I'm definitely going to try when the weather gets hot, minions or not!
9. Minion Fondant Toppers (for Cupcakes/Desserts)
From Lynlee's :: I know it's difficult for Minions not to be cute, but come on… Aren't these just the cherry on top?
These Minion Fondant Toppers would be great to make or buy ahead, and decorate with on the day.
10. Minion Bananas + Free Printable
From Party Delights :: If you're looking for a few healthier options, then these Minion Bananas are right up your alley, plus they include a free printable!
11. Minions Pretzel Bark
From Mom Endeavors :: With only 4 ingredients, Minion Pretzel Bark is definitely on the menu. It's really easy to make, can be made ahead and takes only a few minutes to put together. What more could you want?
12. Minions Treat Bag + Free Printable Topper
From Finding Zest :: Don't you just love these Minion Treat Bags? The printable for the topper is free, so it's a quick and cost effective DIY party favor.
13. Minions Cupcakes
From Brownie Bites :: The Minion decorations for these cupcakes are made with Twinkies, making this a super quick cupcake decorating project. Plus, you get a Twinkie with your cupcake, which no one has ever complained about!
14. Homemade Minions Pretzel Bark
From Six Time Mommy :: This Minion Pretzel Bark is similar to number 11, but has added sprinkles!
15. Minion Door Decoration
From homedit :: This Minion Door Decoration is the perfect way to get guests into the theme before they even step into the party.
16. Minion Party Dessert Table
From Lenni U, as seen on Catch My Party :: There are so many delicious ideas on this Minion Party Dessert Table. Don't you just love the Minion Rice Krispies treats? Such adorable ideas.
17. Marshmallow Minions
From Tablespoon :: These Marshmallow Minions are just too cute. You could present them on skewers as in the photo, or you could even use them as cupcake toppers.
18. Minion Balloons
From homedit :: These Minion Balloons make a great Despicable Me party decoration, and are cheap and easy to make yourself.
19. Minion Lollipops
From Or So She Says :: This might be one of the most original ideas on the list: Minion Lollipops. The recipe just calls for melting candy in the oven, so no candy thermometers or scary melted sugar!
20. Minion Trail Mix
From Spaceships and Laser Beams :: This Minion Mix would be great for kids to much on while watching a movie at your Minion party. And because you choose the ingredients yourself, it's actually pretty low sugar too!
21. Minions Munch Snack Mix
From The Simple Parent :: This is a slightly sweeter version of the Minion Mix, but it would be great for a treat. Isn't that what parties are for, after all?
Check out these great Minion party ideas, gathered by the crew at Spaceships and Laser Beams, perfect for your next party.
(Amazon Affiliate Links)
Plus, get inspired with these boy birthday party ideas…