Never Think About What to Make for Dinner for the Next Two Months with My Lazy Cooking Bundle
This is a paid conversation written by me on behalf of Sargento®. The opinions and texts are all mine.
I've never considered myself a beach bunny but now that there's a beach right across the street from our house, I might have to add that description to my resume. I'm learning people who live near a beach have lots of company whose appetites are enhanced by sunshine and water. What a great intro that makes for a fun backyard party!
Tasty sandwiches are a major player in our current menu, whether for our family or friends. Especially for party time, you can take it up a notch with a BBQ/grill idea.
I've found a grilled sandwich "bar" is simple to do and full of comfort food, yet it's a special way to serve guests a satisfying meal. A sandwich bar menu is also very flexible—it's easy to add more cheese and toppings for those extra, impromptu guests.
A sandwich bar is great when you're having mixed ages, too. Adults can make their sandwiches as sophisticated as they like and picky eaters can limit their options.
Quick, easy and delicious is my summer mantra. Sargento® Sliced Cheese is conveniently pre-sliced and ready-to-use—and I do!
Sargento® offers a unique variety of flavors which includes mozzarella, provolone, cheddar, Colby, gouda, Havarti, pepper Jack and more. With so many choices, everyone is sure to get just the big flavor they prefer in each little bite.
Sargento® Sliced Cheese is made from real, natural cheese and it tastes great on all sorts of sandwiches, hot and cold.
For casually impressive presentation, use a parchment paper table runner and simply label everything with a sharpie. Arrange a selection of cheeses, artisan breads, and lunch meats.
This time I offered Sargento® Provolone-Mozzarella and Pepper-Jack Sliced Cheeses with ham, turkey and bacon and sour dough or French bread—so good!
My local Kroger has a great selection of the Sargento® Sliced Cheeses, but it's such a popular brand you can find it at many grocers.
Along with mayo, honey mustard and balsamic vinegar, add accompaniments like spinach, tomato, onion, basil, and avocado so everyone can customize their creation.
Don't forget everyone is thirsty after a summer's day. A signature homemade lemonade is a choice beverage for all ages.
Make a batch in a fun ice cube shape and keep it in the freezer in lieu of plain water ice cubes and you'll always be ready to chill out with guests.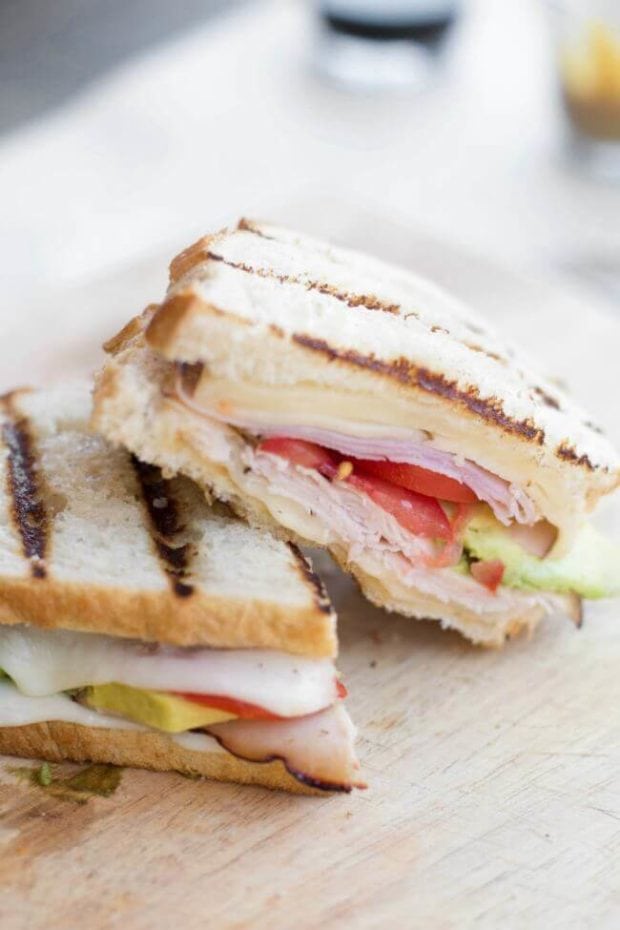 Even if I've been at the beach all day, I can't bear to just hand guests a plain, paper plate. Colorful tableware is a must and there are so many fun choices these days.
Pull out chairs with soft cushions, maybe smooth out a blanket on the ground, and add globe string lights to up party ambience at the end of the day.
My final advice? Make it easy on yourself and make mealtime a summer sandwich occasion!
SUMMER SANDWICH
To Grill:
Preheat grill to medium and then reduce to low heat. Low heat is important for this one, especially when a grill goes to high temp quickly.
Lightly butter one side of each slice of bread before you assemble your sandwich.
Build your sandwich and place it on the grill; close lid. Flip over in 2-3 minutes.