Plane Themed Boy's First Birthday Party
Table of Contents
A boy's first birthday party is a memorable one! Not only do you want to choose a theme that honors all the milestone moments of the first year, but also something that symbolizes hope for the future memorable moments that seasoned parents know seem to fly by.
This plane themed boy's first birthday party by Vania of Canadian Hostess tackles both of these challenges in a beautiful way.
Vania styled this party in honor of a friend's son and his first birthday.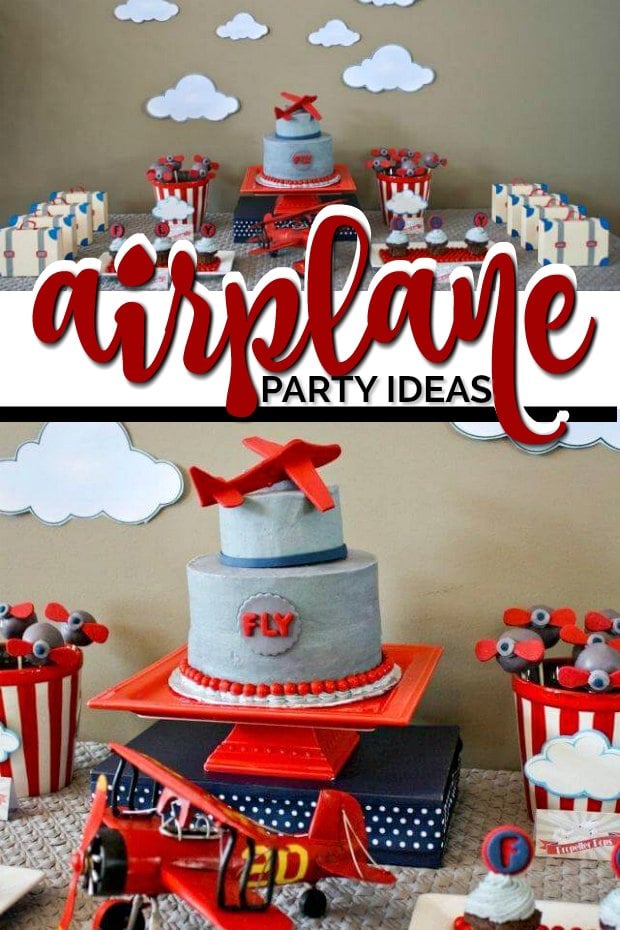 ---
See also
---
Choosing a birthday theme for a one-year old is not an easy feat.
One-year-olds are too young to demonstrate their interests and passions. A brainstorming session ensued, and party themes were listed that evoked joy and smiles.
Ultimately, the aviator theme was chosen because it represents the idea of adventure, journey, and exploration—nostalgic childhood passions.
Read on to see how planes were incorporated into the party details.
Everything from the party decorations, birthday cake, cupcakes, and party favors tie seamlessly into this plane themed boy's first birthday party.
Grey, red, and navy were the chosen color scheme for this special first birthday party. After a trip to the local fabric store, Vania settled on some great grey fabric to use for the "in flight" dessert table.
It was a nice neutral color to use as a tablecloth, but had a fun texture. Purchased for only $7, it was a total steal.
It proved to be a great foundation for colorful containers, cake stands, and dessert trays that housed creative plane themed treats!
Dessert tables are sometimes over-the-top with more desserts than can possibly be eaten by the invited guests. The focus of this dessert table was simplicity, however.
Paper clouds served as the only backdrop on a neutral wall, but gave the illusion of flying high above the horizon.
Vania chose to focus on 3 popular desserts for this plane themed party. Cake, cupcakes, and cake pops were the desserts of choice, and effectively tied into the theme.
Check out the darling plane cake with edible letters spelling out the word "fly" that are displayed front and center on the cake.
Isn't the plane perched on the top tier such a great way to reinforce the party theme and idea of adventure?
The cake pops couldn't be cuter featuring little edible propellers.
Popcorn buckets were repurposed and dressed up with cloud embellishments. They made a great display choice for the propeller cake pops.
Instead of using craft paper, Vania used red candy to line white dessert trays and add a pop of color.
The bed of candy provided a great visual effect and was a great place to display cupcakes with cloud inspired frosting.
Fondant toppers that spelled out "fly" were a creative detail not to be missed.
Mini paper suitcases, designed by Crafts by Rosa, served as a genius color and theme-coordinating party favor.
They were filled with treats and plane gliders for each little aviator to take home. I bet guests were excited to claim their party favor "baggage" before jetting home from the party.
What a fun way to celebrate the first year of adventure with a little one! A plane theme is perfect for a boy's first birthday party.
The sky is truly the limit when choosing decorations, cake, cupcakes, and party favors to coordinate with this creative party theme.
Plan a plane themed birthday party with these party supplies:
(Amazon Affiliate Links)
Airplane Cookie Cutter
Airplane Adventure Lunch Napkins
Airplane Adventure Dinner Plates
Child's Pilot Hat
Airplane Pinata
White Cloud Balloons
Check out some more plane party ideas: