I know some people find them annoying, but I love holiday catalogs. I do. I get quite a stack of them in the mail, starting way before Thanksgiving. My boys like them too. Give them a catalog and some sticky notes to mark favorites they might want and they'll happily daydream for quite a while. Try it sometime when you need a few quiet minutes during the holiday hustle. You're welcome.
Most of us order on-line anymore. It sure makes Christmas shopping easier! I have a few companies I routinely order from. One company that I really like is Harry & David. They're a great resource for the holidays. Have you ever ordered anything from them? They have lots of options. There are gift baskets with gourmet foods and cheese, flowers in really cool keepsake containers, cheesecakes, fruitcakes and nut tins. They also have gift clubs that deliver your choices for 3, 6, 9 or 12 months; order fruit, wine, Moose Munch® gourmet popcorn and more.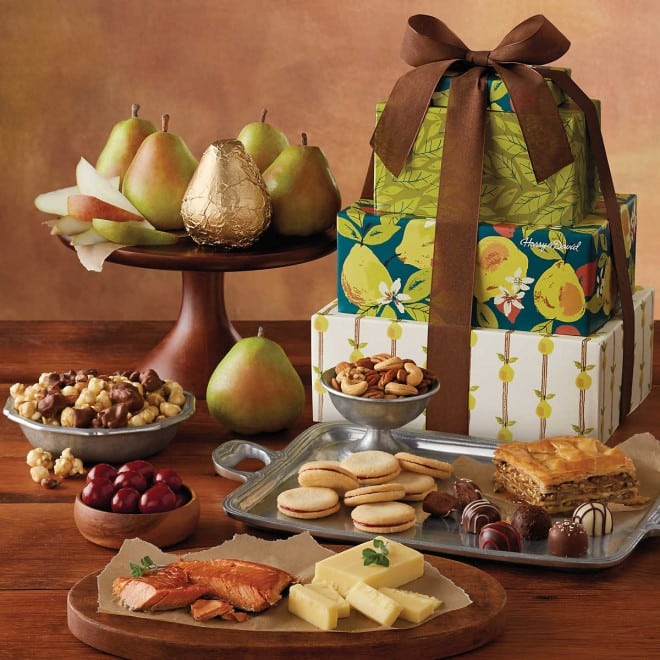 One year when I was quite young, I received my very own Tower of Treats® from some neighbors I had helped. I still remember the excitement of discovering all sorts of taste treats in those beautifully stacked boxes! Today's version contains Royal Riviera® Pears, milk chocolate Moose Munch®, mixed nuts, chocolate cherries, and truffles. I'd still enjoy receiving that package!
I really like their Personalized Christmas Stocking idea, too. It's stuffed with lots of yummies any aged good girl or boy would like! I think the yogurt-covered snowflake-shaped pretzels are especially appealing and dark chocolate peppermint cookies, mints, and caramel corn Moose Munch are just some of the contents that would make my mouth water.
Right now you can get 15% off a Harry & David order if you spend $75 or more with the code SNOW15 (offer is valid from 12/1-1/15).
You can also enter our Rafflecopter giveaway for a $300 Amazon Gift Card. This is open to U.S. residents ages 18 and up only. Giveaway dates: 12/4 -12/page/19 (ends at 11:59PM ET).
If you love giving tasty Christmas gifts with gorgeous packaging, check out Harry & David. The brothers started selling gourmet gifts of handpicked fresh fruit in 1934 and they're still committed to providing premium quality and excellence in every way.
Product purchase is exclusive of taxes and shipping and processing charges and offer excludes sale, discounted, and clearance priced items as well as the purchase of gift cards, wine products, chocolate-dipped fresh fruit, Surprise & Delight gifts, Stock Yards® products, and The Cheesecake Factory® products. Shipping and processing charges are based on the regular price of merchandise. Offer may not be combined with any other promotional discount or offer and cannot be used on previous purchases. Not valid on orders of $2,500 or more; for orders of $2,500 or more, contact the corporate sales division at 800-248-5567. No cash value.