If you've never experienced Arizona in the springtime, you've got to put it on your bucket list. While much of the country is tiptoeing around April's mud puddles and hoping for tulips, we're experiencing typical spring temps in the mid-80s. Our mountains, sky, and cactus are impressive year-round but the spring display of desert flowers is breathtaking. And this year even the desert floor has been uncommonly green!
Although higher temperatures convince us to hide inside with air conditioning for much of the year, nothing can keep me indoors during spring. Orange and yellow poppies, purple lupines, and pink mallow dot the landscape. A family bike n' hike is a super way to take it all in.
Since my guy is still a small-fry we don't go too far, but you don't have to cover a great distance to enjoy great beauty around here. But you do have to do some planning.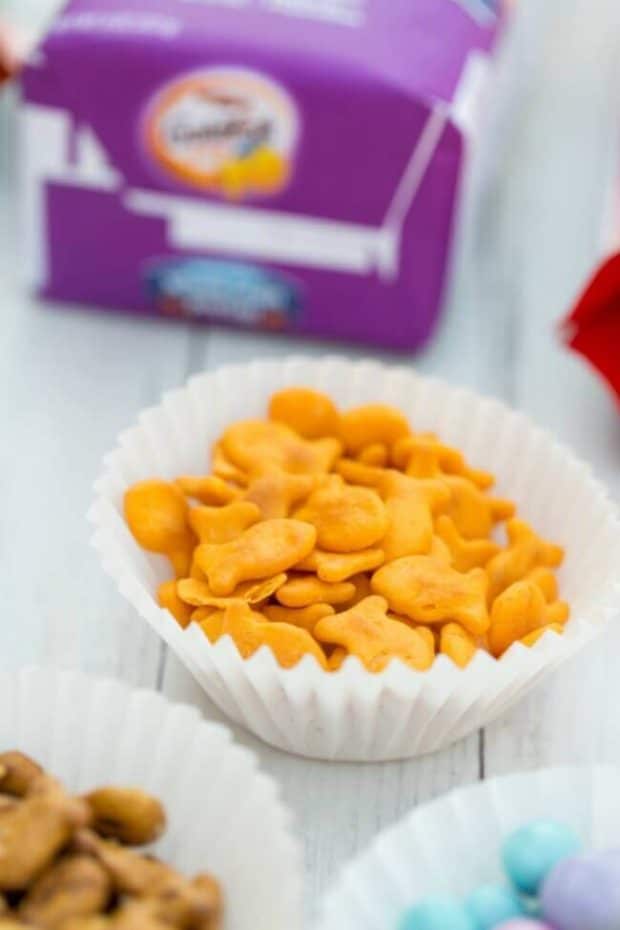 The key to a successful outing is mom-prep. That means helmets, comfy shoes, plenty of water, and snacks for everyone.
Lots of snacks.
Real cheese, no artificial flavors or preservatives and great taste make Goldfish Snacks a treat I feel good about serving (and eating!). Even their signature golden color that is sourced from plants is something I like.
I make it easy on myself by taking a convenient pack of resealable Goldfish Snacks or mixing up personal portions of Goldfish Trail Mix. Salty. Sweet. Perfect for on-the-go snacking.
Before we took our first bike n' hike this year I did something new: I made sponge cooler necklaces for everyone. I cut sponges into rectangles and triangles and threaded them on a loop of baker's twine.
The twine was thick and it meant I needed pliers to pull it through the sponge—but hey—I'm a boy mom. I knew no whimpy string would be sturdy enough to last with my guy.
Double knot the twine when you finish stringing the sponge pieces, wet the necklaces with water and then chill (or slightly freeze) them before using. They're a super way to stay a little cooler when outdoor activities are on the agenda.
Forget the tulips. An Arizona bike n' hike with snacks might be the perfect way to enjoy springtime, especially when you get to share it with your favorite guys. If you could see my bucket list, you'd see it's written there multiple times.
Ingredients
Cheddar Goldfish

Whole Grain Pretzel Goldfish

Raisins

Peanuts

Candy-coated chocolates
Instructions
Combine 1/2 cup of each ingredient and seal in individual bags or containers. Enjoy!