Gender Reveal Party Ideas
Table of Contents
Babies are born every month of the year but statistics point to an uptick in deliveries throughout July, August and September. So statistically speaking, you are likely to be hosting (or being invited to) a gender reveal party or baby shower in the near future. What fun! Do you need a few DIY ideas for décor? We've got 'em!


Gender reveals and baby showers are such happy occasions! Fresh color combos like this peach, pink, lavender, aqua, and mint contribute light-hearted energy that can be used for a baby boy or girl themed event. Gold accents add sparkle. Stripes and polka dots make it fun. Be sure that plates, napkins, table covering and favor bags coordinate.
Even desserts can repeat your chosen colors. One suggestion is personal-sized, mini Bundt cakes. They look adorable topped with a swirl of frosting and a colorful candy. Arrange them on a pedestal for special presentation.
For a simple backdrop, tissue tassel garland is an easy decorative idea. Add a bouquet of floating balloons—it telegraphs "time to party" like nothing else. Secure balloons by anchoring their ribbon tails to something substantive. In this instance, I used a compartmentalized gift bag. Hidden in the back is a bag of colorful marbles but the front sections hold rainbow-hued straws and cutlery.
Although I love to include balloons at my celebrations, I do not love having to blow them all up. Lung-powered balloons can look a little sad, like wilted decorations rather than perky décor. For that reason, I like using a helium tank. The Balloon Time Helium Tank is a convenient, quick way to do the job. Besides, I love their pink tank!
For this party set up, I made my own balloon tattoos. It's a great way to add personalization to a celebration. It is not difficult and the results look quite professional.
MYLAR BALLOON TATTOOS
Choose the image you want on the balloon and print according to directions on the tattoo paper package. Make sure you flip your image so it prints onto the paper backwards.
Cut out around the image, discarding extra paper.
Flip the printout ink side down on the balloon.
Use a damp cloth to adhere tattoo onto balloon. Make sure you dampen all the way to the edge to ensure the whole tattoo transfers.
Blow up balloon using Balloon Time Helium Tank and tie with string.
CONFETTI BALLOONS
tissue paper
Modge Podge
foam brush
latex balloons
string
Blow balloons up using Balloon Time Helium Tank. Tie the balloons, then tie string around the bottom of the balloon.
Using a foam brush, paint Modge Podge onto the bottom of the balloon and then roll in confetti.
Note: I cut the ends off of my tassel garland and cut them up to make confetti for the balloons—perfect décor color coordination!
GENDER REVEAL DIY
3-5 ultrasound pictures (or as many as needed, just make sure only one of them reveals baby's gender)
balloons
string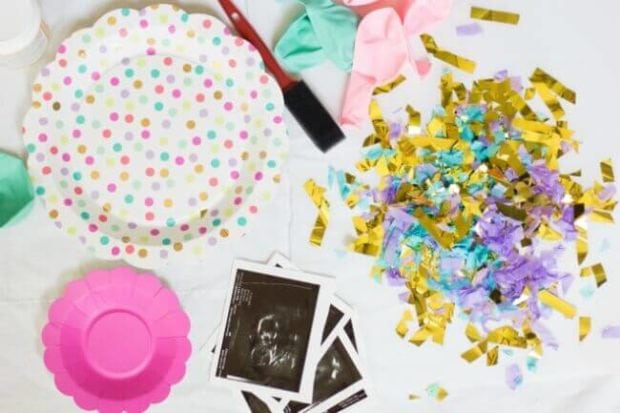 Roll up ultrasound pictures and put inside balloons.
Blow up balloons using a Balloon Time Helium Tank. Tie off the balloon, then tie with string.
Repeat for as many balloons as needed.
NOTE: I tried putting confetti on the balloons that contained the ultrasound pictures but the weight of the picture, glue and confetti pulled the balloon down. My advice? Just decorate balloons that do not include the ultrasound picture.
To REVEAL: Fill the room full of balloons! I would suggest three to four balloons per person for each participating person and give everyone a push pin or safety pin. Not all balloons need to have an ultrasound picture. Count down and have everyone pop the balloons to see who finds the one with the picture revealing the gender of the baby. Have fun!
The next time you host a gender reveal or a baby shower (or birthday, anniversary, etc.), add a little balloon magic to your event. It's guaranteed to bring out the kid in everyone! And make it easy on yourself. Check out BalloonTime.com for more tips, tricks and DIY.
This is a sponsored conversation written by me on behalf of Balloon Time. The opinions and text are all mine.