5 Awesome Downloadable Elf on the Shelf Letters, Ideas and Templates for 2021
Table of Contents
Printable Welcome Letters, Arrival Letters and Goodbye Letters from Your Elf on the Shelf
When I was a kid, I always wondered how Santa could see who was being naughty or nice. No one told me about his undercover agents.
Now I know: Elf on the Shelf is Santa's tattletale.
He's also a mom's secret weapon. When the kids are going bonkers with holiday overload, all Mom has to do is remind them Elf will be talking to Santa and he's certain to hear about the day's events.
————–
Elf on the Shelf Ideas in this Post:
If you're wondering how to introduce your Elf on the Shelf, there's a printable letter of introduction that's perfect for the arrival of a brand new Elf in the house.
We also have an Elf on the Shelf return letter for all those homes who have their cherished elves returning as well as ideas for their return.
Your Elf is Santa's eyes and ears on the ground — so we have an Elf on the Shelf letter on North Pole letterhead from Santa that you can print mid-way through your Elf's visit.
Goodbye's can be bittersweet so we have developed a printable Elf on the Shelf goodbye letter template as well as ideas for saying goodbye to your Elf.
————–
I've decided if I can't have my own hoard of minions, at least I can have an elf. So can you!
To help you work with your Elf this year, we have created PRINTABLE Elf on the Shelf letterhead and templates (all available for free download).
I'm sharing helpful ideas to make the most of your pint-sized house guest: How to Welcome Your Elf on the Shelf; 20 Fun Things to Do with Your Elf on the Shelf; How to Say Goodbye to Your Elf on the Shelf.
There are also free printable Santa letters to download that will make your job easier: Elf on the Shelf Introduction Letter; Returning Elf on the Shelf Welcome Letter; Mid-Christmas Season Letter from Santa; Good Bye Letter from Elf.
Ho! Ho! Ho! Let the season begin!
How to Welcome Your Elf on the Shelf
If you are new to the Elf tradition and are wondering how to introduce your house elf, have no fear. I'm sharing four ways to introduce your family to a new Christmas tradition.
Doorstep Delivery. Children love finding surprises left on their doorstep. Wrap up your elf and package him as if he were being mailed. Add creative "North Pole" and "fragile" labels to the box. Address your package to the children of the home. Include Santa Claus and the North Pole as part of the return address. If you'd like, include some candy canes or other simple Christmas treats with the elf, as well as an introductory letter and instructions. Whether you choose to go to the added effort and expense of mailing him to your home or not, you can still have him delivered. You could have a friend or neighbor join in on the fun and drop off the box on your front porch at a time you will be home. Have the person ring the doorbell and quickly leave, for even more suspense.
First Gift of Christmas. To start the Christmas season off with a bang, invite your children to open a family Christmas gift. If your Christmas tree is already up, place it carefully under the tree. It won't be long before your children notice the gift and speculate what is inside. Add a gift tag with your family name typed on it, and signed Santa. Include the story book that comes with the elf and read it together upon opening the package.
Elf Prank. Be sure the prank is pulled off at a central spot, where your children are certain to see it soon after waking. The kitchen and bathroom are great places. Whether your elf has left a lipstick message on the bathroom mirror or toilet papered the kitchen, your kids will know their Elf on the Shelf has arrived.
Elf Breakfast. Special breakfasts are always an exciting way to share surprises. Set up an elf themed breakfast and lead your children to their own elf via a thrilling treasure hunt, complete with clues. Donuts, cranberry muffins and candy cane hot chocolate would be perfect for the occasion.
However you choose to introduce your elf, we can guarantee Christmas will never be quite the same. Your kids will love the new Christmas tradition they can enjoy for years to come. You will love their improved behavior—it's a Christmas miracle!
New Elf on the Shelf Introduction Letter
You're welcoming a new elf into your family's Christmas traditions this year? Here's a great introductory letter from Santa Claus, complete with all of the rules your family will need to know to welcome this special new guest. Download this Elf on the Shelf letter of introduction here.
Returning Elf on the Shelf Welcome Letter
Is your Elf on the Shelf returning this Christmas season? He'll encourage stellar holiday behavior via crazy antics and silly games of hide and seek. Here's a fun "I'm back" letter you can send to your kids. It includes a reminder of all the rules your family will need to have a successful Elf on the Shelf experience for consecutive years running. Download this letter for Elf on the Shelf dolls returning to your family for another Christmas.
Elf on the Shelf "Official" Naughty or Nice Notice
Reports from the official Deparartment of Elf Surveillance. Download it here.
Fun Things to do with Your Elf on the Shelf
Have no idea what to do with your Elf on the Shelf every night? Check out these fun ideas for inspired activities, poses and mischief with your elf!
Mid-Christmas Season Letter from Santa
If your family is like most families, halfway through the month of December good behavior from little ones starts to wane and holiday stress starts to mount. If only Santa could save the day! Breaking news: he can! I've come up with an adaptable letter from Santa himself that can help reignite a spark of Christmas cheer and good behavior from young and old alike. Download your mid-Christmas season Elf on the Shelf letter from Santa.
How to Say Goodbye to Your Elf on the Shelf
For many children at Christmas, The Elf on the Shelf becomes a fun Christmas tradition that is hard to see end. Here are some fun ways to bid farewell to your Elf on the Shelf.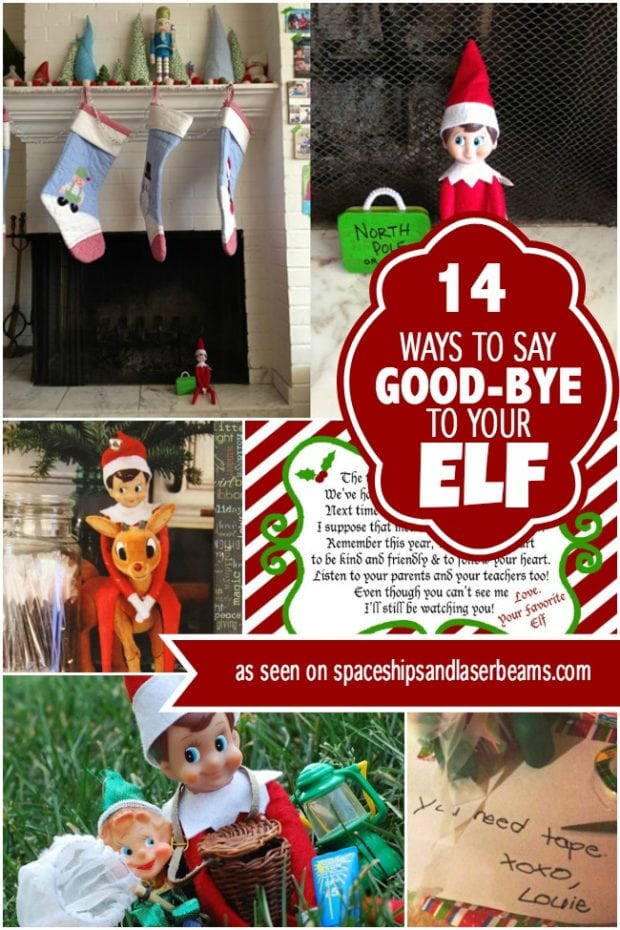 GOOD-BYE LETTER FROM YOUR ELF ON THE SHELF
Instead of having the elf head back to the North Pole without any final good-bye, here is an idea for a farewell letter he or she can leave behind, promising a return next Christmas season. Download a goodbye letter from your Elf on the Shelf here.
Check out these free printable letters from Santa as well.
Get set for your Elf on the Shelf with these great sources gathered by the team at Spaceships and Laser Beams.
(Amazon affiliate links)
Elf on the Shelf Doll
Elf on the Shelf Graphic Tee Multipack
Elf on the Shelf Hide & Seek Game
An Elf's Story DVD
Elf on the Shelf Pet Reindeer
30 Notes to Accompany Your Elf on the Shelf
Elf Snowflake Skirt
Elf Playful Pyjama Set
Elf on the Shelf Polar Pattern Set for Reindeer
Limited Edition Elf Puffer Vest
Elf on The Shelf Naughty or Nice Board Game
Game Day Jersey
Chef Apron Set
Keepsake Ornament Frame
Aviator Jacket and Goggles
Elf Make-a-Match Game