I'm proud to partner with Lowe's to bring you this DIY makeover idea.
The last six months have been a season of extreme change in my life: I left my day job to be a full time work-at-home mom and my marriage ended. As I have found a new routine for our day-to-day lives, I have been overwhelmed by the burning desire to clean, purge and revamp my home. I've needed the space to feel like my own and to be pretty.
My home is about 120 years old. The first moment I stepped inside, I was enthralled with the several inches deep woodwork and the arched doorways. I left all reason behind when it came to the updates the house needed — do you see that woodwork?! What else could possibly matter?!
I've lived in this house for two years. It's nestled in the middle of the block in the heart of our small town's downtown. Think Stars Hollow. It's magic. Strolls down the street for ice cream are a regular spring and summer occurrence. Trips to the grocery double as social hour as you meet folks you know in each aisle. My morning stop at the local coffee shop feels a lot like a Cheers episode. I love everything about where we live.
Thankfully, a lot of updates had been done by the previous owners. "Big" stuff like the windows being replaced and a new roof. But inside, the house hasn't looked like mine since I moved in.
When I was working outside the home, I ignored a lot of the updates that I wanted to do because they weren't in my face all day long. And honestly, I was so worn out by the daily grind of my life, I didn't have the energy to be creative. But now that life is more calm and peaceful for my boys and me, I have desperately needed a fresh space.
One of the rooms I have wanted to update is the mudroom. We use this side entrance to the house almost exclusively. And you know how important a first impression is. Let me tell you… my mudroom was making a pretty horrible first impression.
The small room is an addition to the original floor plan and was a shade of peach with stained glass cling wrap on the window to offer privacy to the bathroom on the other side. It became a catch all room for dirty shoes plus odds and ends that I didn't know what to do with. And it was filthy dirty. When I cleaned it this weekend, I was horrified to realize that other than some light vacuuming, I haven't deep cleaned the room the entire time we've lived here. Ugh!
My boys were having time at their dad's this weekend, so it was time to get my DIY on. Friday night I headed to Lowe's with my brother in tow to pick out my paint and supplies. I could spend hours upon hours in Lowe's. They have so many amazing products and things to choose from!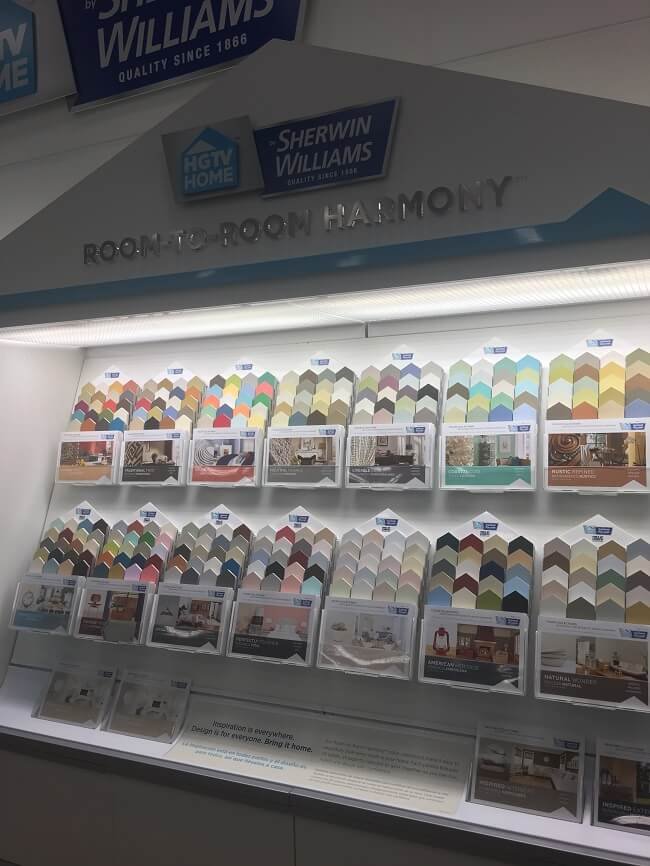 I loved that they had so many color grouping suggestions. If you are struggling to decide what would look best together, they take all of the guesswork out of the project. It made my mind in overdrive, thinking of all the amazing color scheme possibilities I could be using around my house!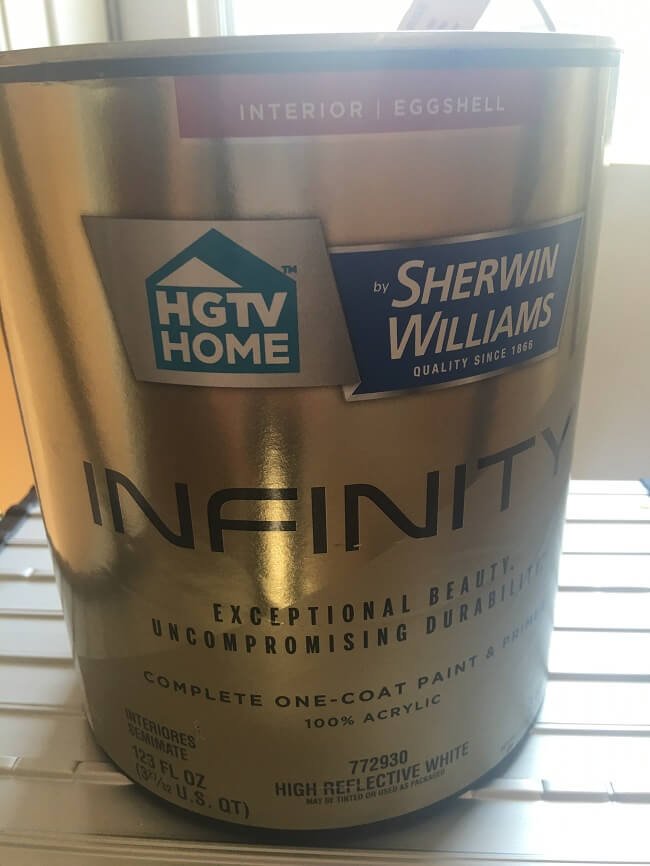 Lowe's takes paint serious with their "love your paint, it's guaranteed" promise. If you aren't completely satisfied, you can return the unused portion in the original container within 30 days of purchase. They'll replace it with a comparable can or refund your money. Plus, with their great prices — starting at $17.98 — it's affordable to make over your house this spring!
Once I chose my color, their staff helped me decide the best paint and finish for my room. I chose "Grayish" in Sherwin Williams Infinity with an eggshell finish. It's a complete one-coat paint and primer which cut down on my project time drastically and offered fantastic coverage. The gray and white color combo is amazing.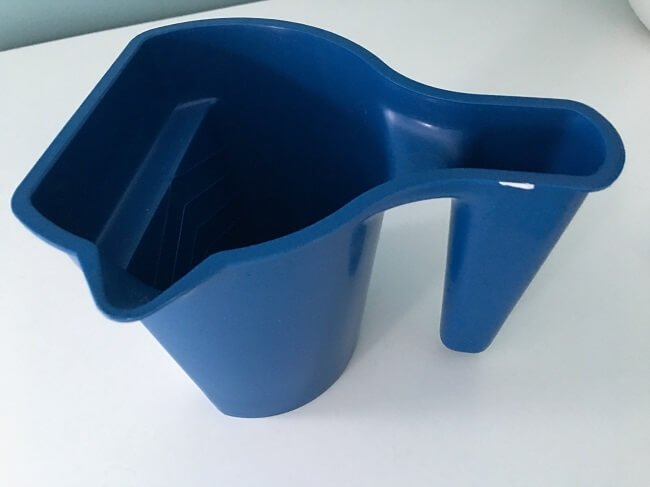 I also picked up this handy little paint cup, which I quickly became obsessed with on Saturday, as well as rollers and brushes. Seriously — if you're painting, you have to get this paint cup. I did all the cutting in and trim work using it and it was so simple.
My cousin arrived Saturday morning to help. Can I just say how thankful I am for amazing family!? Truly, what a blessing.
Since my Sherwin Williams was like two coats in one, we were able to skip traditional priming and get started. Jenny used the roller while I used the brush. Team work makes the dream work!
After one coat, I couldn't get over the tremendous difference! While we waited for the first coat to dry, we decided to have a little afternoon adventure. We went kayaking and then had lunch and ice cream. It was a sunny 80 degree day — our first this year — and we basked in every single minute of it.
Once we arrived home, we tackled the second coat and I did the trim. I also installed a new light fixture, which I'm completely in love with too. Talk about little changes making a big difference! While that dried, I scrubbed down the floor (I'll be replacing this another weekend soon!) and then we decided to do a little shopping for decor.
By the end of the day, the room was completely transformed. I love it so much now, I kind of just want to sit on the bench and stare.
This red dresser provides a ton of great storage, as well as a pop of color.
My Papa made this bench for me, which gives us a place to sit for shoes plus more storage space. Plus all the warm fuzzies when I think about him creating it for me.
I could talk about this darling bird all day long. I can't get enough of how cute she is.
A bright yellow pot plus a plant from Lowe's garden department are lovely together.
I'm amazed by the difference a day can make. I adore the space now — it feels bright and clean now. The perfect way to be welcomed home.
This is a sponsored post written by me on behalf of Lowe's.