26 Construction Birthday Party Ideas
Table of Contents
The construction-themed birthday party has been one of our most popular party ideas. We have included a round-up full of construction party supplies, decorations, cake and cupcake ideas, invitations, and party favors. There's lots of creativity represented in these parties. You're certain to be inspired to pull all the ideas together for a special birthday celebration.
---
See Also:
---

This construction-themed birthday party has a great rustic twist. With hard hats and vests for each guest and food served out of trucks, no detail was overlooked. A hammering station, a digging area, and even a building area awaited little workers. The two-tiered chocolate layer cake looked like it was pulled just from a work site.
We like this twist on the construction theme! The chocolate cake is decorated as a mining site, and guests are paid their days' wages in chocolate coins. Very clever! The party is done in classic yellow and black.
Polka dots join the more familiar stripes to energize this party table. The variety in heights, symmetry, and design details make this party a standout. Even an older birthday kid could enjoy this theme with this execution.
This mom tackled every aspect of the party herself. With a frugal eye and a creative touch, she built a fun celebration that lacked no good thing.
We especially like the Crazy Strawz that has been partnered with miniature construction signs on the top of this cake. The party is cheerfully centered on orange and yellow. A nice collection of dessert table details are especially noteworthy.
Every little detail is covered in this classic construction birthday party. A cardboard box tunnel, a sand quarry, a toy hammer and nail station plus a toothpick and marshmallow bridge-building station keeps little ones happy and busy. Great food ideas can be found here, too.
Aqua partners with yellow and orange in polka dots and stripes for a lighthearted construction-themed party. A balloon arch welcome, a dump truck slide, and a cardboard house for kids to paint are especially appealing components of this celebration. There are several pleasing diversions from the more familiar elements of this theme.
This party was actually for new-to-be neighbors who were breaking ground for building their new home, but the ideas would work perfectly well for a birthday, too. Lots of good cheer orange and clever display ideas.
This celebration for a four-year-old has a cone cake, plus dump trucks and hard hats are used as serving pieces. We are always amazed at the name tags moms come up with for their party food; Brittany thought up some new ones.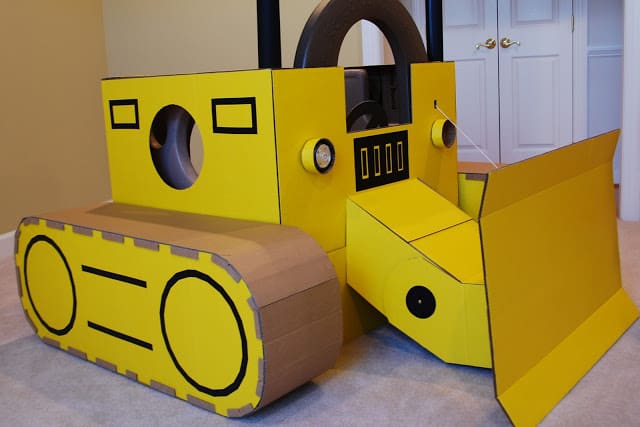 This party is full of construction-themed inspiration, including a one-of-a-kind giant bulldozer, with working parts! "Crew members" were able to work in a sand pile dig site complete with hard hats and gear. Traffic cone cups, DIY felt table runner made to look like a road and huge tools and toys were used for decoration and/or play. It's a perfect party to celebrate any young construction truck fan.
11. Smashing Construction Party
Yellow and black stripes are teamed up with tires at this party. Hard hats, cones, and trucks are plenty in this fun 1st birthday. Donuts, cookies, and a cone-shaped cake make this party perfect.
Yellow and black plastic table covers, balloons, trucks, buckets — yes, it's a construction-themed birthday party. Our favorite idea here is the three-dimensional invitation — very clever. We also like the party favor: take home your own box of rocks (candy).
Brown, yellow, and orange are the partners for this party. The patterns and textures are quite nice! Tool-shaped cookies satisfy the sweet tooth; full-favor buckets are sure to be appreciated.
A fun dessert table carries all the needful construction elements; we especially like the tall, orange scaffold. Really cute cupcakes and tool-shaped cookies in a toolbox help carry the theme. The outdoor construction zone would be popular with the kidlets.
With wood accents, black and white stripes, and candy in apothecary jars, this yellow, brown, and black construction party actually looks a little elegant. Lots of activity ideas for the kids here.
This party has ALL the bells and whistles! Work vests, hard hats, construction signs and fence, loads of treats and favors — check this out for lots of "wow"!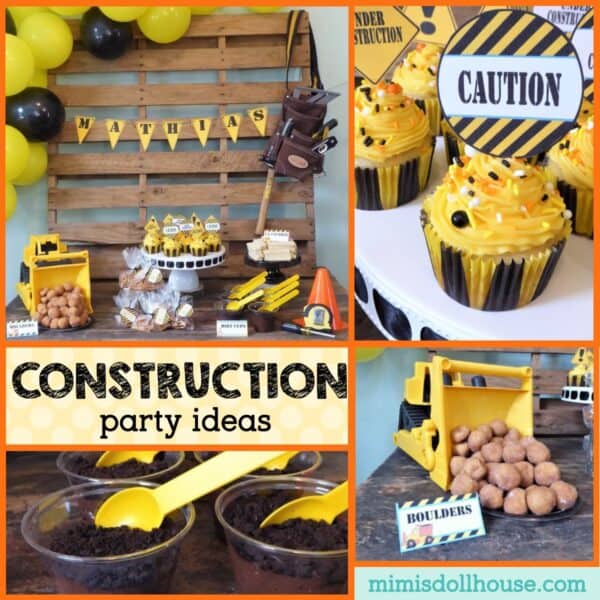 A charming rendition of the theme by a mom in love with her two-year-old son. This celebration includes a fuel-up beverage station, a load-up popcorn station, and a great truck piñata.
You've got to look at the awesome wreath that was created with an orange extension cord. Orange, yellow and black are the starring colors, but they look fresh because of the design elements that were chosen. Activities that dovetail with the construction theme proved popular with the guests.
Bright orange, yellow, and black colors complete this fun and creative construction party. Everything is well coordinated; this party is polished.
This isn't a party, but when we saw the fantastic truck and vehicles that were made from cardboard boxes, we knew anyone who is interested in construction parties would love to know how to make these, too.
A caution tape around the cake caught my attention; small construction vehicles work under a mini pennant to dig in the top of the cake. Dump truck lollipops in orange, brown, and yellow are an extra nice touch.
Here's a sweet celebration for a birthday guy who even has a bib that matches the party theme. His high chair is bedecked with a fabric strip pennant; his baby pictures make an interesting table pennant. As soon as guests arrive, they enter the party construction zone that has been thoughtfully prepared.
An innovative dessert table covered in chocolate brown caught my attention here. Loads of pint-sized activities look like a super idea for pint-sized birthday boys.
This treat table has it all. A truck cake, hard hat cake pops, tool-shaped cookies, cupcakes, dump truck lollipops, and more. Yellow and brown are used to fashion the décor for this gathering. An indoor sandbox is a very popular feature with young guests.
Of course, using Legos produces a color-filled party. Lots of fun activities at this celebration, including the popular construct your own pizza, build your own Lego racing car and construct a sand art picture. The dessert table surely enticed young guests to enjoy a variety of taste sensations, including rainbow popcorn in individual toolboxes.
Grab your hard hat and take in loads of fun in this construction celebration. Pint-size guests were put to work with coloring sheets and construction toys.
Check out a few more great themed parties:
Plus, you don't want to miss this A Music Party