Party Food
23 Oreo Cookie Dessert Ideas
In our house, Oreo cookies are a favorite of my husband and son. I, on the other hand, love them best when they're incorporated into desserts! Not much tastes better to me than Oreo ice cream, cookie bars, cupcakes and cheesecakes. Whoever first thought of the idea is a GENIUS! I've gathered some of my favorite Oreo cookie dessert recipes including those for Oreo cookie s'mores, butter, popcorn, fudge — and many other unique ways to incorporate Oreo cookies into baking!
---
See Also
---
1. Loaded M&M Oreo Cookie Bars :: Averie Cooks
2. White Chocolate Oreo Cookies :: The Recipe Critic
3. Cookies and Cream Red Velvet Brownies :: This Silly Girl's Life
4. No Churn Oreo Ice Cream :: Life Love Liz
5. Chocolate Peanut Butter Cup Madness :: Sober Julie
6. Oreo Cookie Butter :: Tales of a Ranting Ginger
7. Birthday Party Popcorn :: Moms and Munchkins
8. Peppermint Oreo Truffles :: Little Miss Kate
9. Oreo Cookies and Cream Fudge :: Mama Loves Food
10. Oreo Cupcakes :: Cupcake Diaries
11. Oreo Cheesecake Bars :: High Heels and Grills
12. Oreo Rice Crispy Treats :: High Heels and Grills
13. Cake Batter Oreo Cheesecake Dessert :: Kleinworth & Co.
14. No Bake Oreo Cheesecake Desserts :: Dinners, Dishes & Desserts
15. White Chocolate Oreo Truffles :: Like Mother Like Daughter
16. Peanut Butter Oreo Brownie Cups :: Like Mother Like Daughter
17. Coconut Oreo Fudge Cupcakes :: Living Better Together
18. Golden Oreo Cupcakes :: Living Better Together
19. Rolo Stuffed Chocolate Dipped Oreos :: Big Bear's Wife
20. Oreo Brownie Trifle :: 365-ish Days of Pins
21. Easy Oreo Ice Cream Cake :: Butter with a Side of Bread
22. Frozen Oreo Ice Cream Dessert :: Creations by Kara
23. Oreo S'mores :: Spaceships and Laser Beams
Bake up a sweet treat with these great baking sources gathered by the crew at Spaceships and Laser Beams.
Check out more great dessert ideas everyone will love.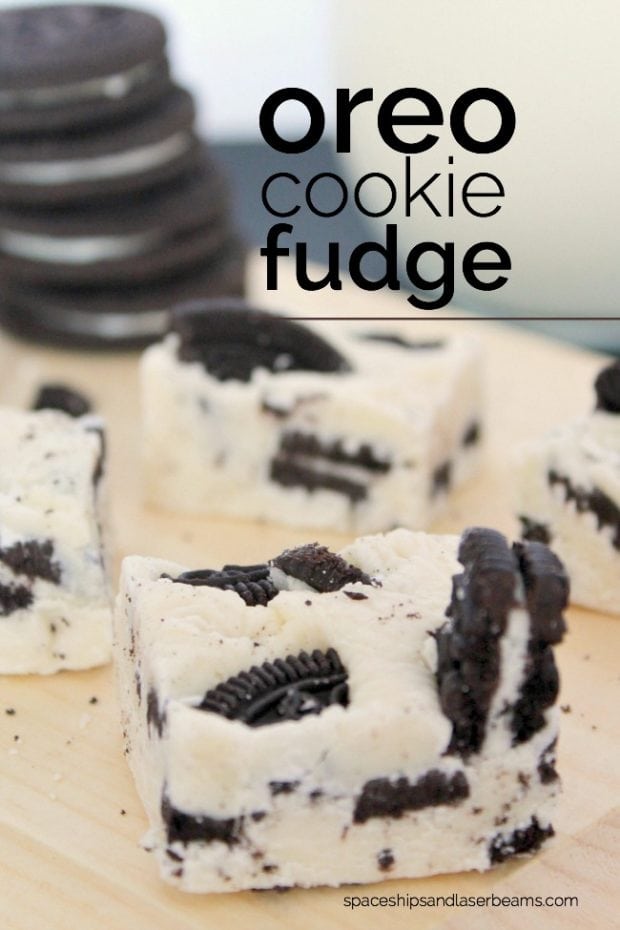 Stephanie Keeping
Stephanie is in love with a boy named Sam. He has taught her that it's okay to jump first and look later, to wear a dirty shirt to the park and to decide that today is a good day to take a nap in your rubber boots. She hangs out here blogging at Spaceships and Laser Beams and at our printable party shop on Etsy.