Party Central
Jack and the Beanstock First Birthday {Boy Book Party Ideas}
By
| Last Updated:
Anne Angel of UR Invited has styled an entire birthday theme around the Jack and the Beanstalk story. This was a party for one year old Cassius and featured a whimsical take on the beanstalk tale, complete with magic (jelly) beans.
---
See Also
---

If you have been following my blog, you know that I have a passion for wanting to inspire a love of reading into our boys. I've even made it the charitable effort of Spaceships and Laser Beams. So when I see a party based on a book, I absolutely cannot wait to feature it. Especially when the party is this delightful with so many great ideas and decorations.
The whimsical styling of the printables in this party is just adorable, plain and simple. Anne was able to use a variety of the same "Jack/Cassius" throughout the party, from the invites and backdrop to the small figure on the cake as well as on the food labels.
She also filled the dessert table – which was dressed with a simple swath of burlap – with clever items like magic jelly beans, rocky road, "gold" and a beautiful cake depicting Jack in the clouds along with several other sweet treats.

The colors of the party mostly stay within the blue sky realm, with some greens and browns as accents. The tables were set up to serve the little guests, using tiny tables and chairs. Fee fi fo fum – you know this party was fun!
Help them find a new favorite book with these great sources gathered by the crew at Spaceships and Laser Beams.
(Amazon Affiliate Links)
Be sure to check out more parties inspired by their favorite books…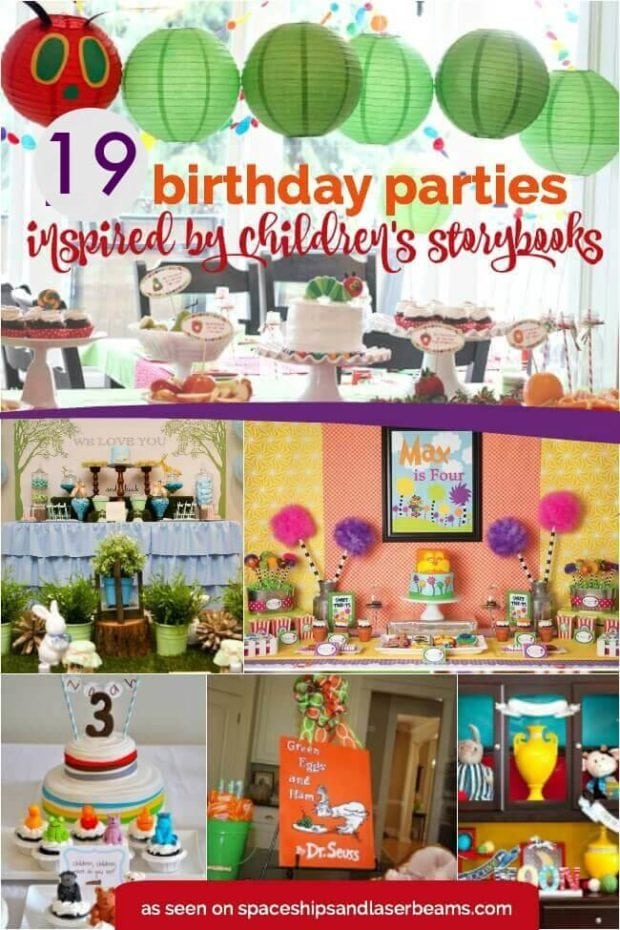 What is your favorite fairy tale book that you would love to incorporate into a party?
Follow Spaceships and Laser Beams on Pinterest.