Boyish Charm
New Mom Gift Basket Ideas
By
| Last Updated:
I'm sharing #JOHNSONS in my life as part of a JOHNSON'S® sponsored series for Socialstars™.
You wouldn't think it would be tough to come up with a new mom Christmas gift idea. But—most new moms have had a baby shower or two so the basics are covered and a newborn doesn't need 101 stuffed animals, no matter how cuddly cute they are. What do you put in her gift basket?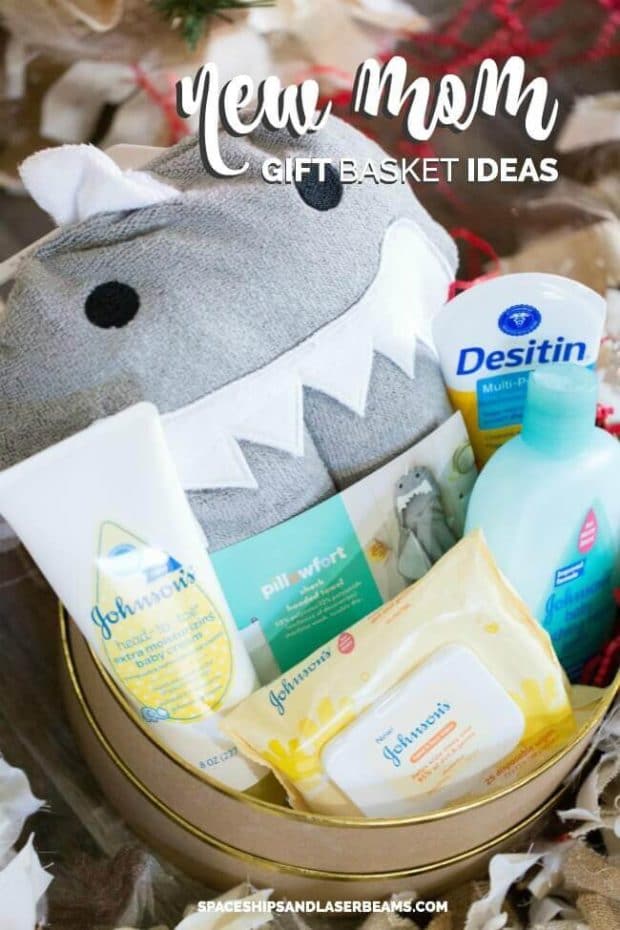 A certificate for meals. As in home cooked. Whether it's a one-time hot meal or you stack her freezer with a few ready-made dishes, new mom will be grateful. Find out about favorites or sensitivities beforehand.
Give her a promissory note for baby-sitting.
Gift certificate for a massage/spa treat.
It's easy to get behind on housekeeping and laundry chores when a newborn arrives. Hire a reliable service/student or offer to spiff things up yourself.
Fresh flowers brighten anyone's day and science says looking at some living, green thing is calming.
Play taxi. Go grocery shopping for her or offer to drive older children to lessons/commitments so mom doesn't need to take new baby out.
Gift her with practical, consumable items that must be replenished. That would mean diapers of course, but I also like to tuck in care products like JOHNSON'S® bath-time soaps and lotions. Add a super-cute towel, too!
I especially like the aromatherapy benefits of rosemary, eucalyptus and menthol in JOHNSON'S® Baby Soothing Vapor Bath. Winter season often brings stuffy noses so Mom can squirt the Baby Soothing Vapor Bath in warm bath water and the gentle NO MORE TEARS® formula comforts and soothes.
Partner that with JOHNSON'S® HEAD-TO-TOE™ extra moisturizing cream. Hypoallergenic and pediatrician and dermatologist-tested, it's the perfect formula to hydrate delicate skin. Baby skin is 30% thinner and loses moisture 2x faster than adults so moisturizing is especially needful during harsh winters.
For sure new mom will find a need for DESITIN® Multi-Purpose Ointment. It's good for minor skin irritations like diaper rash and the hypoallergenic formula soothes chapped skin.
Don't forget wipes. JOHNSON'S® NO MORE TEARS® wipes are effective for wiping away dirt and germs on tiny faces and hands, but as gentle to baby's eyes as pure water.
And if you can find a way to package it, give new mom some sleep. That's a basic she probably can't get enough of!