Boyish Charm
Laundry Hacks Every Mom Should Know
By
| Last Updated:
If you're like me, it feels like the laundry is never quite done. That's why I love these laundry hacks — they make life simpler! With our busy back to school schedule in full swing, I need all the help I can get around the house to get it all finished. Read on to find out the Moms Check In crew's favorite laundry hacks.
Our Favorite Laundry Hacks
Stephanie: Oh, laundry! No matter how much we do, it seems there is always more! Over the years, I've learned to quickly deal with stains so that removing them is easier. Taking advantage of great products also helps remove stains and smells. These are some of my favorite laundry hack ideas to keep things fresh and clean:
Clean your washing machine by filling the basin with warm water and 2 cups white vinegar. Let stand for an hour, then run the cycle as usual.
Get clothes dry faster (and fluffier!) by putting a couple of tennis balls in the dryer.
Use a mesh drying bag so you never lose another sock!
Find more great ideas from Spaceships and Laser Beams on Pinterest.
Jenni: Laundry is the never-ending chore. It goes away for 2 seconds and then it's right back. Nothing is worse than rough and stiff towels. I like mine super soft and fluffy. To fluff yours up, just add your towels to the washer, using hot water and one cup of vinegar and run a full cycle. Next, run another full cycle with hot water and 1/2 cup of baking soda. After 2nd cycle, dry towels in the dryer with tennis balls or dryer balls. You should notice a marked difference. If not, then repeat the process.
Find more great ideas from Sweet Pennies from Heaven on Pinterest.
Amanda: I'm a huge fan of sorting the laundry before it actually goes to the laundry! We have a 3 bin laundry hamper that really saves us time. One for towels, darks and lights. No more going through a pile!
I was probably the last person on Earth to know how to wash pillows in the washing machine, but it's so easy. You just wash them like your regular laundry and when you dry them be sure to throw in a few tennis balls or dryer balls. Nothing is better than getting in a bed with clean sheets and clean, sweet smelling pillows! 
Find more great ideas from It's a Fabulous Life on Pinterest.
Our Favorite Laundry Products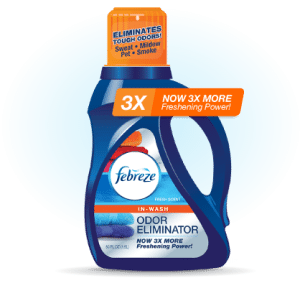 Febreze In-Wash Odor Eliminator is amazing for all things stinky: funky towels, sports uniforms, smoke or pet smells. It will tackle them all!
Downy Wrinkle Releaser Plus is amazing!  A few sprays and just a minute makes the wrinkles vanish. I love how quickly it works, which means we can get out the door looking neat and tidy even on busy mornings.